The magic sponge is loved by people all over the world gradually in the cleaning field. It also gained a lot of different names, like melamine foam, magic nano sponge, magic eraser sponge, magic sponge eraser melamine cleaner. Some friends may be confused about these names. Now I can tell you responsibly that they are the same. Exactly Topeco Clean is one manufacturer with nearly ten years of experience.
Hot Products of Topeco Clean
With continuously changing requirement of customers, Topeco Clean do hard work for developing magic sponges. We have the white magic eraser sponge, high-density magic sponge, compressed magic sponge, magic sponge mop, magic sponge brush, and magic sponge sheets, and so on.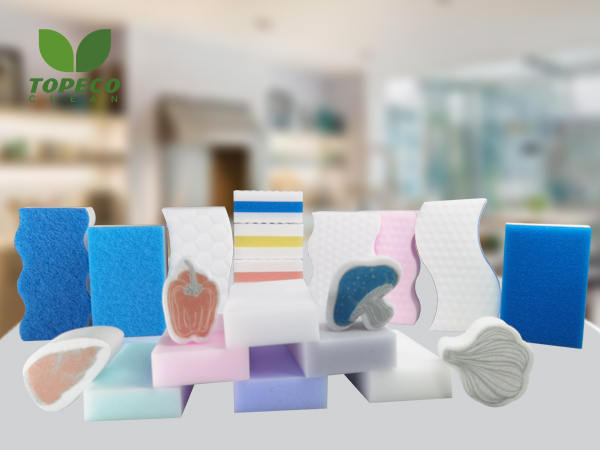 Various And Interesting Shapes of Topeco's Magic Sponge
Magic sponge came into our lives in the block shape. Square and rectangle blocks are still the most classic design. Now the shape of the block is also optimized. Wave-shaped edge, including small wave and big wave, make sponge easy to hold. Textured design, including round, triangle, and rhombus, create a more pretty look. Here I have to introduce you to some Topeco's entertaining shape style, including round, hexagon, flower, heart, cloud, etc.. Try them to make cleaning work more fun. Everyone will love cleaning in the future.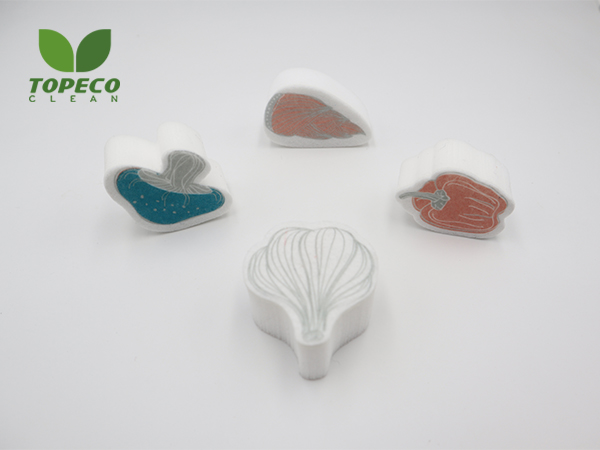 Colors of Magic Sponge
The white magic cleaning sponge is most familiar and appreciated when we choose to buy. The melamine foam sponge also has another two colors, pink and gray. Some manufacturers can't produce the two colors because of no related technology. Topeco Clean possesses its research team and advanced technology. All pink, gray, and white magic sponge can be assuring. The pink always is produced by high density melamine foam, with stronger durability, but also a higher price. The products of Topeco Clean are all real and premium melamine foam. Welcome to your question and inquiry.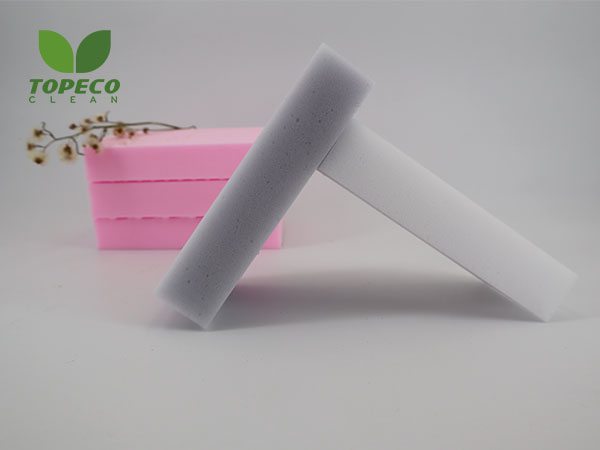 Topeco Clean's Magic Sponge Sizes
Topeco Clean can provide all kinds of sizes, accepting customized sizes. To make you understand well, I will introduce some dimensions for your reference. For magic block sponge , they are 10x6x2, 11x7x4, and 12x7x2.5cm normally. For magic sponge cloth, it is 17x17x0.3cm. The special-shaped magic sponges, like flower, round, cloud, heart, will be smaller than the block, too big look will not be lovely. The compound magic sponge will be thicker than the magic block sponge due to combining with PU, scouring pad, and non-woven. All in all, what size you need is what we can produce. Warm tip: buying the large melamine foam sponge with a large size, later you can cut it into any size you need, which can save your money too.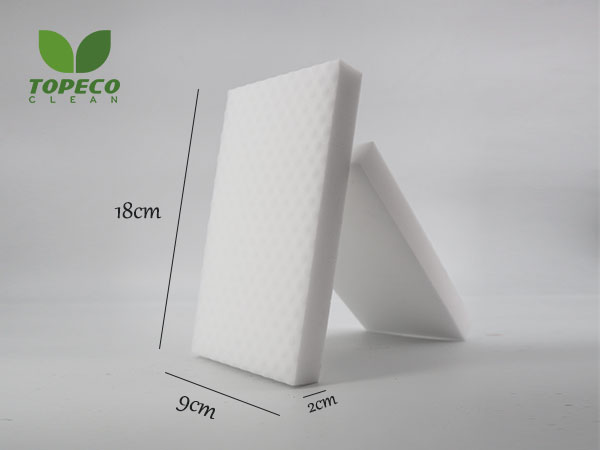 Packing Form of Topeco Clean
Topeco Clean receive wholesale order every year. According to the requirements of each customer, we can provide customized services such as inner package, outer package, and sales package. In general, the original packaging from the factory is the carton or plastic bag. Because Topeco Clean is a factory outlet, using large packing if no special requirement.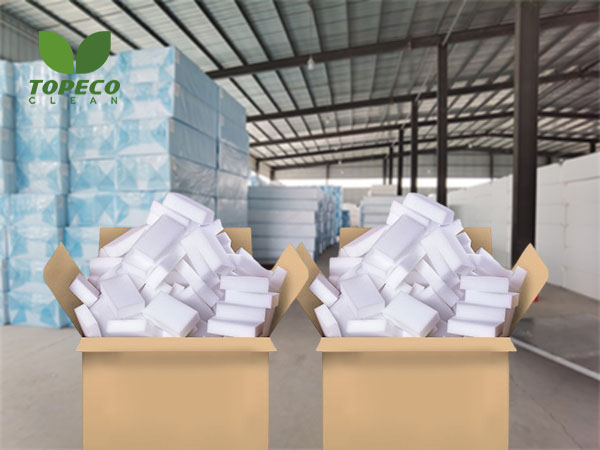 High-Density Magic Sponge
In general, the melamine foam cleaner we know is the original magic melamine foam with low density, 8kg/m3. Some user experiences show that the magic sponge is easy to break. We kept the problem in mind all the time and developed the high-density magic sponge, including 16kg/m3, 24kgm3, 32kg/m3. These cleaning sponges go through 2X, 3X, 4X compressed respectively, embodying tougher and more durable and stronger cleaning ability features.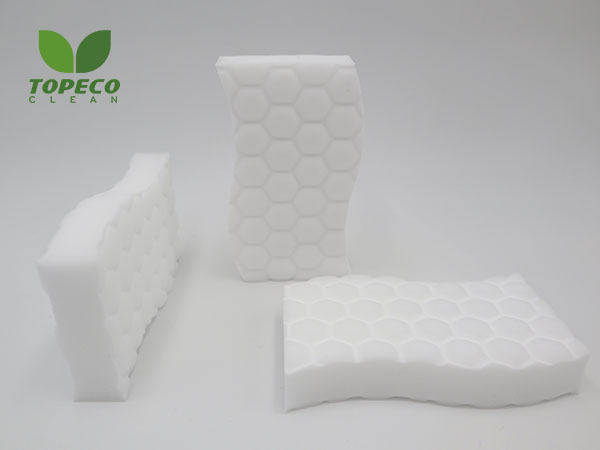 Compound Magic Sponge
The compound technique combines other materials with a melamine sponge tightly, like PU sponge, scouring pad, and non-woven fabrics. Then one product can have two uses. Compound magic sponge often makes use of high-density foam. Due to the help of them, the melamine foam sponge also will be stronger than only itself. Besides, PU sponge, scouring pad, and non-woven fabrics have a variety of colors, which enable the compound magic sponge group to look more pretty. PU can be composited on the surface of the magic sponges and also in the middle. By the way, any shape of melamine sponges could unite with the three materials, not only magic block sponge. Quickly get a customized product at Topeco Clean!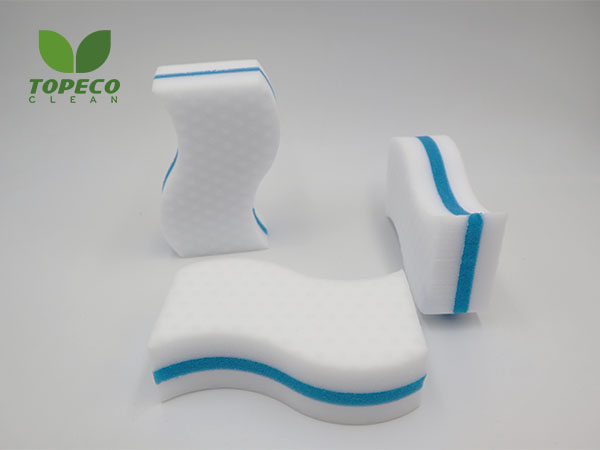 Magic Sponge Sheets
Sheets are thin magic sponges, minimum 1mm, like cloth. So it is also called magic sponge cloth. May you will worry that it will tear during cleaning easily. Magic sponge sheets of Topeco clean use more than 2X compressed technology to avoid falling apart. Besides, Topeco clean combines a scouring pad with magic sponge sheets to make it firmed and more durable. The magic sponge sheets are disposable products, aiming at handling grime on the kitchen and bathroom, such as spilled sauces, greasy knob, and so on. Super thin and flexible design make magic eraser reach and clean nooks and crannies well.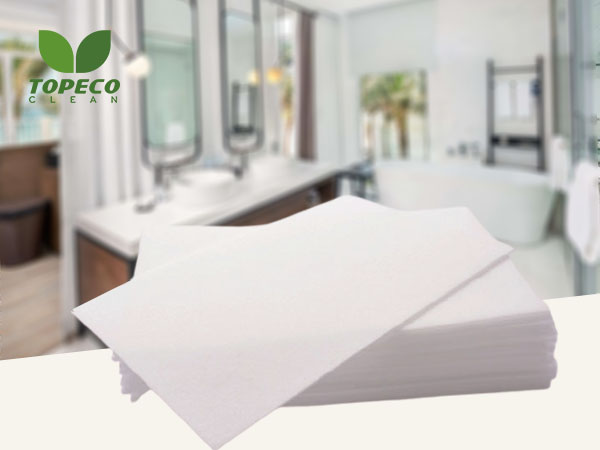 Magic Eraser Sponge Mop
The primary purpose of the magic eraser sponge mop is for the cleaning floor, including the familiar wooden floor and tile floor. After working with magic sponges, more and more customers are fond of cleaning power. But the cleaning floor by magic block sponges is high traffic and too tired. Topeco clean knows what you need, so Topeco Clean magic eraser mop comes to help. It is easy to get out dirt on the surface and also stains hiding in tile joints.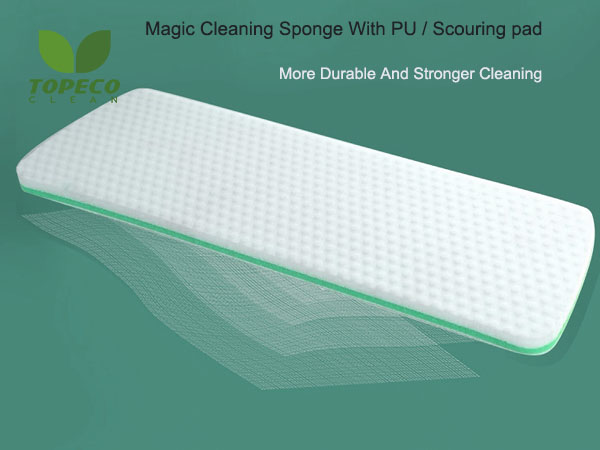 Magic Sponge Brush
We enjoy one cup of coffee every morning to get a good start for a new day. But the mug or coffee cup will be hard to clean after using over time. Not only coffee stains but also tea and red wine stain disturb us likewise. May some life tips will teach you to use vinegar or salts, which has no effect and wastes time. Now just one magic sponge brush, you can say bye to stuck-on stain forever.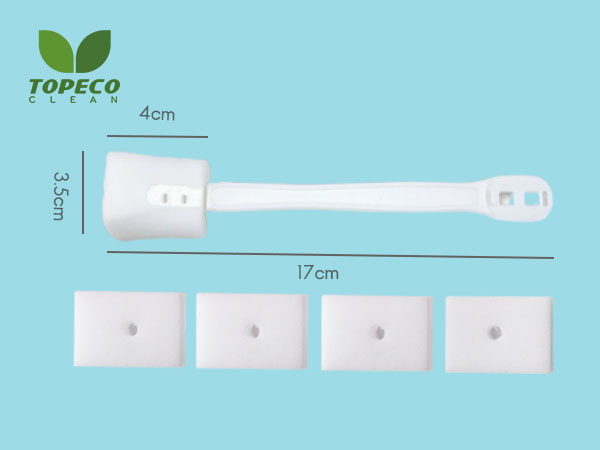 Large Magic Sponge Eraser
Some customers reviewed that they want a much large melamine sponge. A small magic eraser is strenuous for cleaning large areas, like the floor, the wall of the bathroom. Yes, we can produce larger sizes for your demand. Also, you can choose the magic sponge mop to help cleaning floors. Another method, you can buy a large sponge stain remover directly, like 40x28x4cm, later cut by yourself according to the different cleaning areas. The usual size may not be suitable for the hands and usage habits of everyone. Topeco Clean is very willing to rich size categories for you. Welcome to leave your favored size.
Magic Sponge Material
Magic sponges consist of melamine foam. Initially, people didn't know the cleaning use. It only is serviced as soundproof and thermal insulation material, widely applying railway station, airport, office buildings, and shopping mall, etc..
The Use Principle On Cleaning Field
During afterward research, people realized that melamine foam has a 3D structure. The multi-function foam cleaner has nanoscale open pore, and linked microfibres are quite hard. The cleaning principle that the magic cleaning sponge based on is that catches stains into the open pore and then lifts them away. Because magic sponges are melamine foam with high open porosity, feeling soft. Not like emery paper, the magic melamine sponge will not scrap the surface of the cleaning object.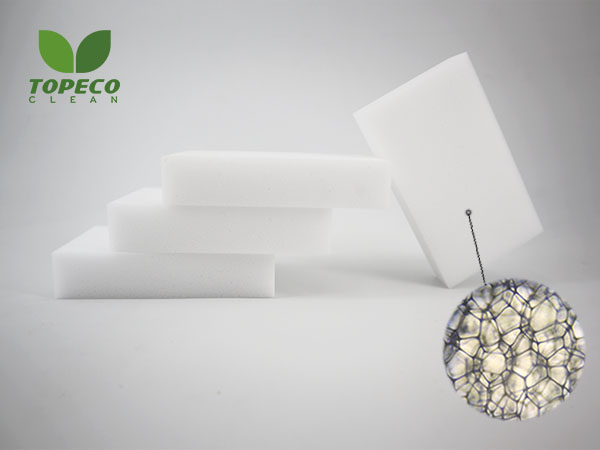 A Consumable Product
Sometimes I noticed that some reviews complained about the magic sponge crumbled quickly. One reason is that sorry may you buy an incompetent product. Or you may don't know that magic sponges are a consumable product. It gets off grime like an eraser. Stains will disappear, and the magic sponges itself will become small slowly. So we will call it magic eraser sponges at times. However, the qualified melamine sponge will not be disintegrated as small pieces when using. Topeco Clean is concentrating on advanced production technology, only providing high-quality products.
Eco-friendly Magic Eraser Sponge
As we know before, cleaning work has to match up chemical detergent. But melamine sponge changes our lifestyle since then. The melamine sponge with powerful physical cleaning ability doesn't need any detergent, only absorbing less water to rub dirt everywhere. That is only physical cleaning and reduces considerably harmful chemicals like phosphorus flowing into the ecological environment. So melamine foam sponge is an eco-friendly product and lifestyle.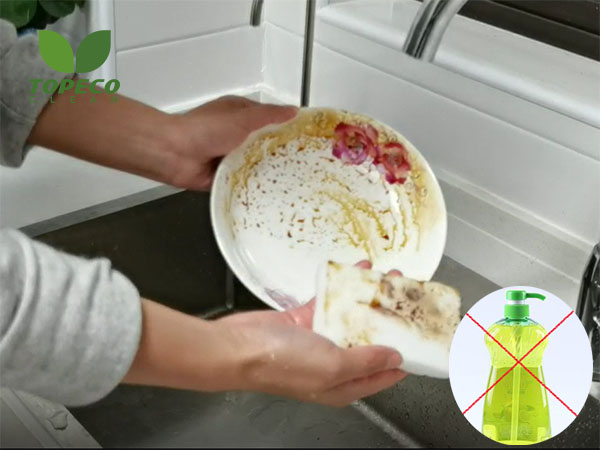 A Healthier Cleaning Product
In addition to the convenience of only work with water, the magic sponges will never go moldy. For coarse fiber sponge and cleaning rag, the stains and bacteria will exist and breed inside for a long time. That will bring harm to our health, especially cleaning the cooker, baby's tray, and dining-table. However, for magic sponge, inner stains will be washed out with the following water totally to keep itself clean forever.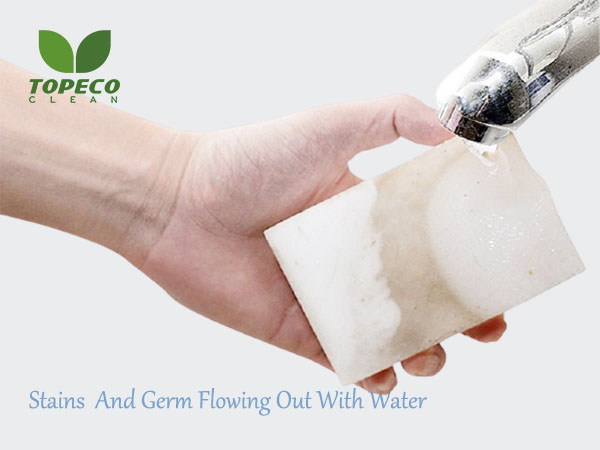 Certificate of Topeco Clean's Magic Sponge
Recently people tend to worry whether melamine foam has toxic composition. That refers to inside formaldehyde-releasing. Topeco Clean magic sponges accord with GB18401-2010Category B-direct contact with skin,<75mg/kg. Its emissions are far lower than our furniture. Besides, melamine is serviced widely for children's tableware. Also, formaldehyde is soluble in water, and it will disappear soon. If only you don't eat it, that is no problem. Verbal statements are no guarantee. So we also have a test report to prove our safe and great quality products. SGS Melamine Foam Formaldehy Certificate.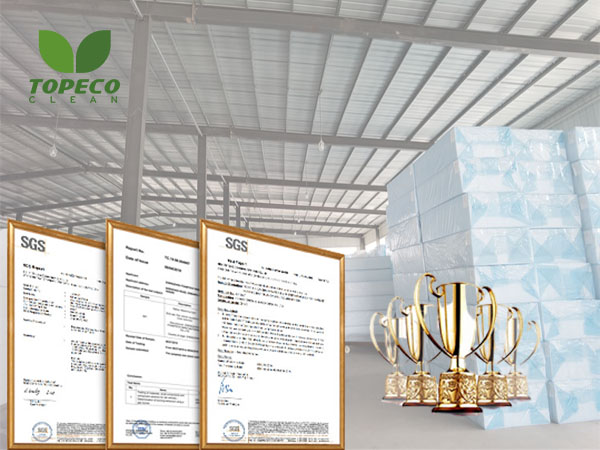 How To Use
A simple model of using:
Dunked water;
Get rid of extra water;
Clean on dirt on the surface of objects.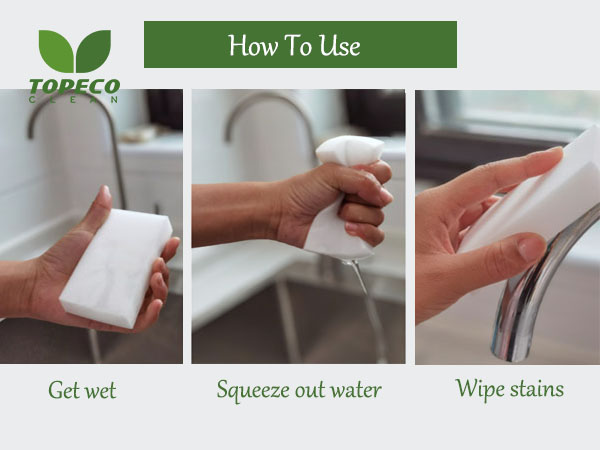 Magic Sponge For Kitchen
For the food lover, a clean and neat kitchen is indispensable. Meanwhile, a quick cleaner is also necessary. The magic sponges can clean greasy stove, microwave, countertop, block bottom of pot, cabinet, and household electrical appliances. After frying the beefsteak, grab a piece of the magic eraser to wipe the cooking splatter away and also can remove the rest sauces on the pan and won't lift the non-stick coating. Don't use to clean very thick grease directly. You can remove oil at first, and then use magic sponges to do deep stains removal.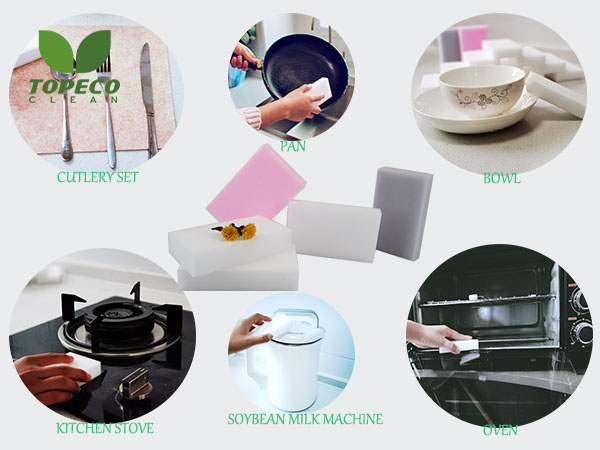 Magic Sponge For Bathroom
The magic melamine foam sponges have a fantastic cleaning effect on the bathroom, such as the yellowed sink and tiles, soap scum on the washbasin, water scum on the exit of faucet and showerhead, closestool, stuck-on dirt on the tub and shower curtain or shower door. The magic sponges are pretty useful to clean up these.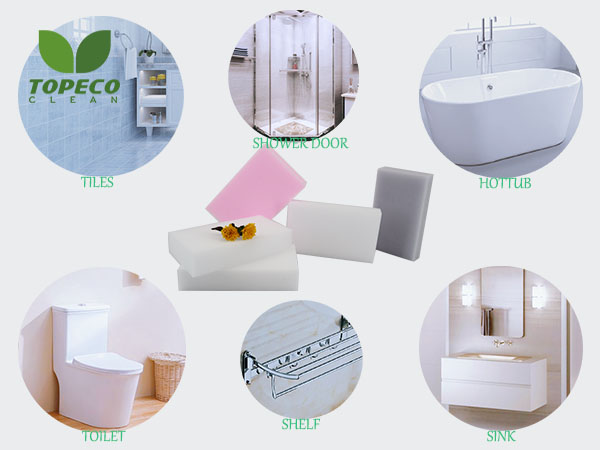 Magic Sponge Car Wash
The car and bicycle, like our fellow, take and accompany us to different places. At weekends, may we will consider cleaning this friend. The soft cleaning sponge with a strong cleaning ability is the first choice for cleaning the old guy. Tires, tire rims, lights, seats, steering wheel, bike handlebar, window, skylight, rearview mirror, trunk, treadle, etc.. Even though a small corner, a flexible magic eraser can reach and grab the dirt out flexibly. But no recommend washing painted surfaces to avoid scraping coating. But if you want to use, test inconspicuous area firstly.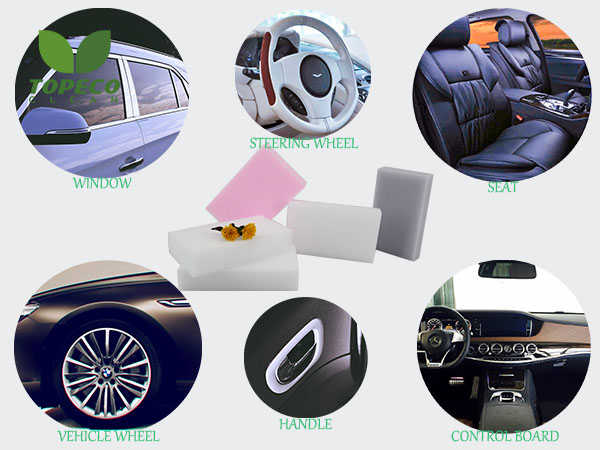 Magic Sponge For Shoes
Almost every coming day, we face the same problem of cleaning shoes. Especially the rubber part, it is hard to remove with a rag. However, we can't brush them every day vexatiously. But if you use a magic cleaning sponges to clean, the effect will make you surprised. No matter rubber, leather, or plastic, it can wipe dirty on them quickly to save your cleaning time further.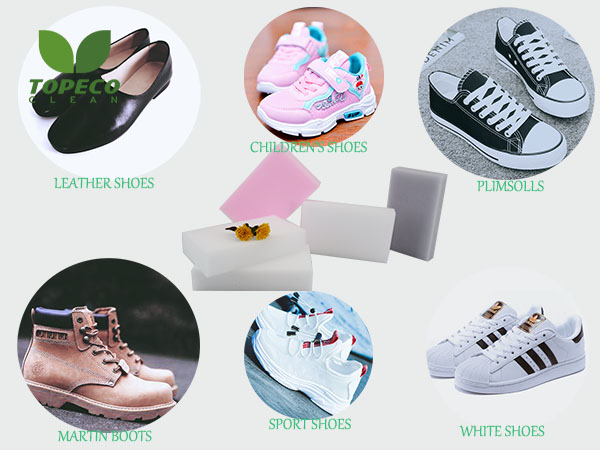 Magic Sponge To Clean Leather
In our daily life, leather goods are all around, such as shoes, steering wheel, leather seats, and sofa. Microfiber magic sponges can get into grooves on the leather surface and take inside dirt away. For instance, the leather seats of the car, after using for a long time, will become dim and dark gradually and felt hard. It can be wiped by rag, even with detergent. The magic nano eraser can remove these stains easily, just with water, which is good at leather, especially genuine leather, and deliver a shiny appearance. Due to strong cleaning ability, before using, you can use it in an inconspicuous area to test. If no issue, you can wipe the whole leather.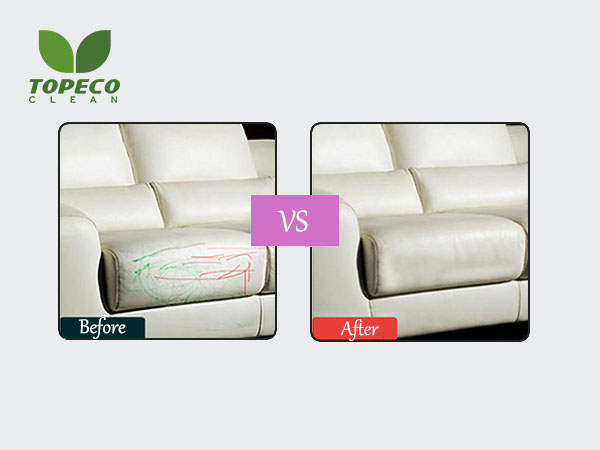 Magic Sponge Clean Wall
The pure white wall is the first impression when friends enter our house. But the wall is a big challenge for cleaning walls. The rag will leave behind wide water and detergent messes. That will be a more terrible situation. The magic sponges can take away various stains, such as crayon, mark pen, fingerprint, stuff mark, burnt-on messes above the stove, and so on. Don't soak much water for cleaning walls. You can find a spray bottle to make the magic sponge wall cleaner moist only to prevent extra water from remaining on the wall.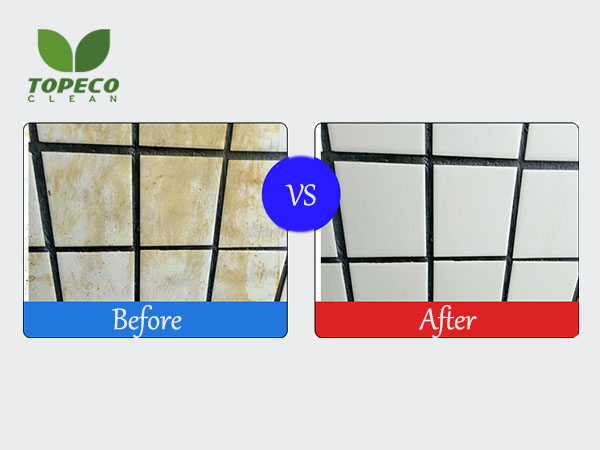 Magic Sponge For Glass
The glass seems to be cleaned easily due to the smooth surface. But when we use the cloth to wipe, dirty or water will texture, leaving behind in the meantime. For stubborn stains, you add detergent. That means that you need to wash more than twice to clean well. The cleaning sponge has outstanding cleaning ability and keeping water inside, taking stains away and no water dropping. It also can be used for windows, mirror, vase, light, cup, etc..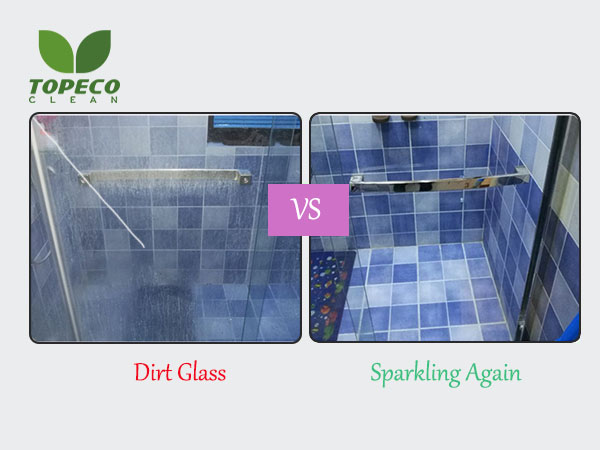 Magic Sponge At Party
No matter a family gathering or friends' party, the clean job is big trouble for every host, I think. Prepare some magic sponges in advance to clean anywhere at any time, for example, vomit, wine stain, juice stain, and spilling sauce. After the party is over, children's fingerprints and shoeprints on the wall, cooking grease, sofa mess, and stained table, you can handle these messes with melamine foam sponge easily. Especially, it has good performance on cleaning cups, no matter porcelain cup, glass cup, or plastic bottle.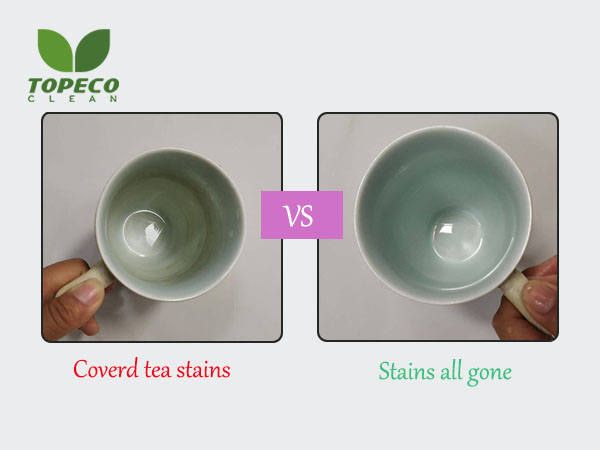 Magic Sponge For Office Area
In modern society, most people work at the office and also have their positions. We need to clean the computer, keyboard, locker, printer, folder, desk, and chair. Get the multi-function foam cleaner wet, and you can clean them all once. After using, just scouring it underwater, grime can come out directly. Not like a rag, you need to rinse repeatedly. Sometimes you also need detergent to clean it. You can use many times of a wonder eraser sponge. Honestly, the magic sponge sheets are also disposable and very convenient. One piece of the sheet can hold them all cleaning work, then throw it away to trash.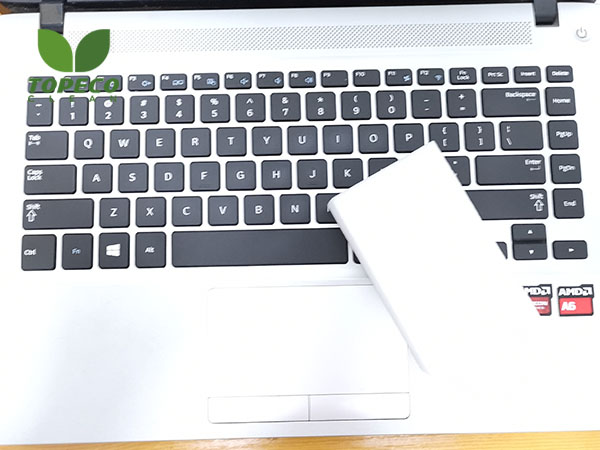 Other More Applications
Except above usage, the magic eraser has many other functions. For instance:
Polish stainless steel and brightwork, like the faucet, saucepan, salver, scullery, knife, scissor, etc..
Remove rusty car body and garden tools.
Rub tiles of the swimming pool, furniture in the garden, electric wire, musical instruments.
Put it into a skimmer basket to filter dreg.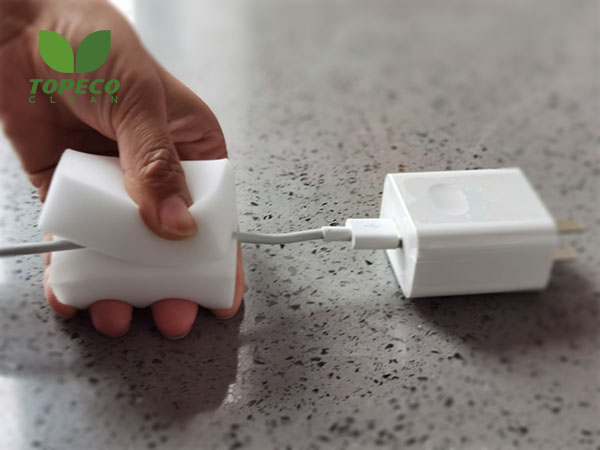 How To Overtime Use Lifespan
Wipe stains in one direction.
Squeeze out water instead of wringing.
After using, wash out the inside dirt thoroughly.
If you need to cut a large magic sponge, keep the edges smooth.
Don't use for scrubbing brass surfaces, like untreated wood and bare wall.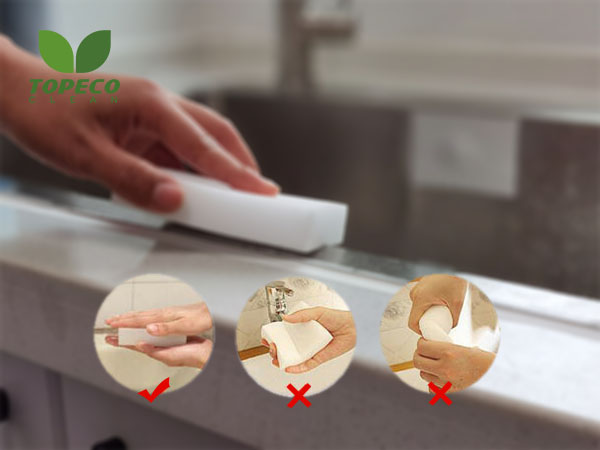 Caution About Using Magic Sponge
Don't wipe skin.
Keep away flame.
Keep away from baby and pet to avoid swallowing.
Better not use it for the screen of electronic products.
Rub slightly to cleaning glass, marble table, and polished surface.
Where To Buy Magic Sponge
Henan Topeco Clean Import&Export Co., Ltd is a manufacturer specializing in studying and selling magic cleaning sponges. The factory has 20 senior R&D engineers and 150 skilled workers, cooperating with a high-efficiency production line. The company culture is creating a warm and cozy life for customers and making more eco-friendly products. Keep innovating and developing more effective cleaning products.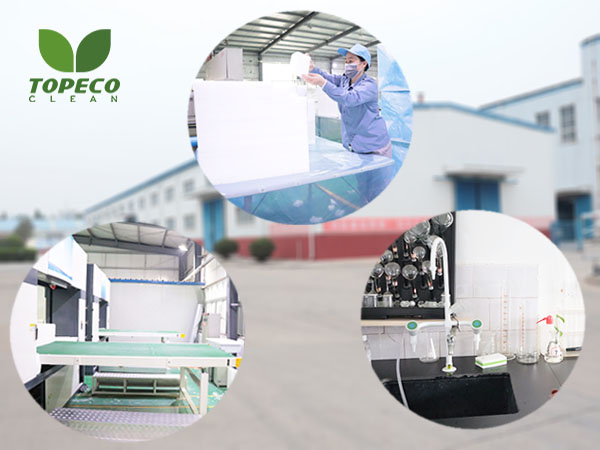 Highlights of China Sponge Supplier Topeco Clean
100% eco-friendly material.
A wealth of production experience, providing customized marketing service and technical support.
Strict inspection of our cleaning products by professional QC department to ensure stable high quality before delivery.
Large-scale factory with advanced core technology, good direct selling price benefit more users.
OEM service, insist on producing the products that customers like.
Professional support and solution to all your questions about products before and after. The sales and after-sales department is open round the clock for you.