Have you heard of magic kitchen sponge? With the development of modern society, science and technology continue to improve. People have invented many small things for convenience. The magic kitchen sponge is one of them, it can be multi-purpose, and according to the different stains objects will be cut into different sizes, use of better results.
White Cleaning Magic Kitchen Sponge
The white cleaning magic kitchen sponge become a hot-selling long. Before using it, I am always skeptical about its strong cleaning power that showed in ads. It made me curious about just how these sponges work, and it turns out the answer is pretty darn interesting. Until I first try it in the kitchen, the effects attracts me. I can not imagine why the small white sponge block works so well until I found its material on the internet.
Magic kitchen sponges are made of melamine foam, internal material that is the top-class cleaning ingredient in the household cleaning field. But what is interesting is that melamine foam has been used for decades as an insulation and soundproofing material. In the industrial field, melamine is a good excellent material. White is the most popular color, pink, gray, and blue are all available. Magic kitchen sponges are received by most people for their strong cleaning power and lower price. Now, magic kitchen sponges have a high frequency of utilization, which makes it become economical household cleaning alternatives at home.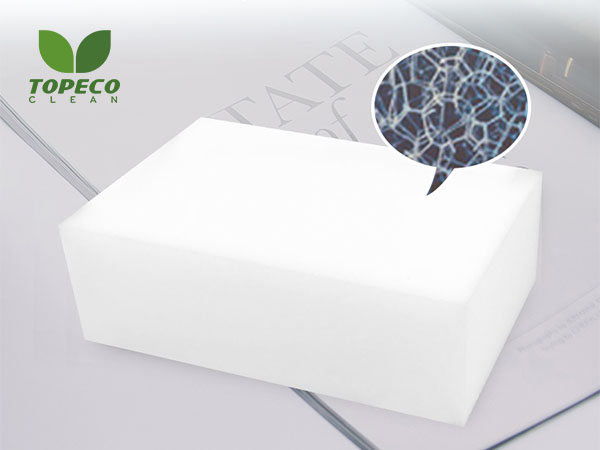 Magic Kitchen Sponge With Scouring Pad
Magic sponge with scouring pad is a kind of new type cleaning product, in which is that one side is a nano sponge and the other side is a scouring pad. Both sides are the best cleaning material. The scouring pad magic sponge combined with those two cleaning materials enhances it using feelings. A magic kitchen sponge with a scouring pad brings much convenience to us. It can handle almost every mess around your house.
The internal material of the scouring pad is Polyester, which is a kind of synthetic fiber. It is of longer life and better cleaning ability. It is no exaggeration to say that the cleaning ability of the scouring pad should be stronger than steel wool. It can withstand tens of thousands of flexures without breaking. The size of the sponge is 10x6x2cm,10x7x3cm, or customized. Colors are multiple, commonly showing green, pink, blue, and customized. What's more, topeco clean support OEM service including logo design, and package design. View more here to discover more colorful sponges.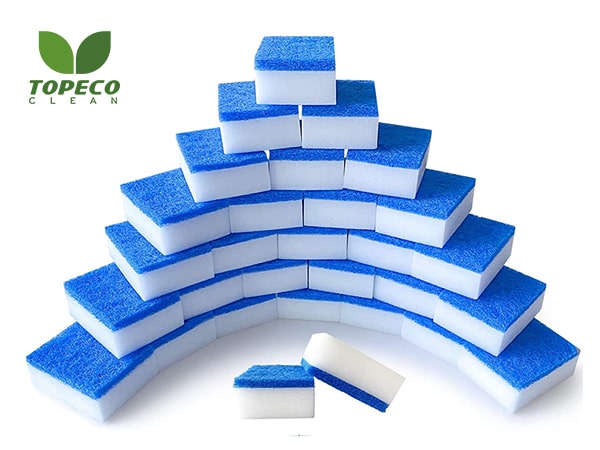 Is Magic Kitchen Sponge Better Than Washcloth?
A magic kitchen sponge to some extent is better than a washcloth. The following aspects will show you clearly.
1.In the matter of safety. Magic kitchen sponge is made of melamine foam. It works in that melamine foam cures into foam, the internal micro-structure or porous structure becomes almost as hard as glass. Eco-friendly and safe to use.
2.In the terms of usage. Magic kitchen sponge can remove almost every stubborn stain without any detergent. For washcloths, matching some cleaners can exert their cleaning power.
3.In the case of the price. A box of magic melamine sponges only needs a few dollars. On the contrary, a piece of washcloth costs a few dollars. Same costs but different quantity.
4.From the point of durability. Magic kitchen sponge will wear away when cleaning. Washcloths can be reused long.
Both of those household cleaning tools have respective advantages in a different areas. The above lists just show you in small aspect. Hope that is helpful for you.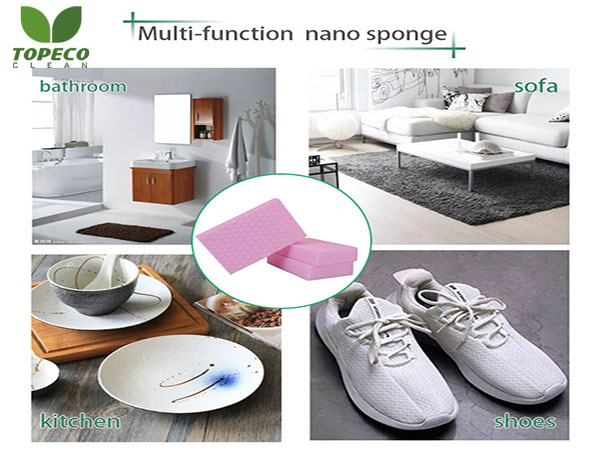 Do Magic Kitchen Sponges Hold Bacteria?
No, magic kitchen sponge does not hold bacteria. Magic Nano Sponge, a type of nanoparticle. These nanoparticles, coated with a red blood cell membrane, remove toxins from the body and can be used to fight bacterial infections. This "nano sponge" can not only absorb bacterial toxins, but also snake venom, bee stings, and other venoms that can lead to toxic shock in humans. In the cleaning, magic kitchen sponge absorbs the dust and wears off along with it. Physical decontamination and safe to use. The magic kitchen sponge is not harmful to the human body, you can rest assured that the use. The raw material of this sponge is honey amine foam, which is certified by the international SGS environmental recognition. The sponge is dissolved in water, water, the sponge stain disappears.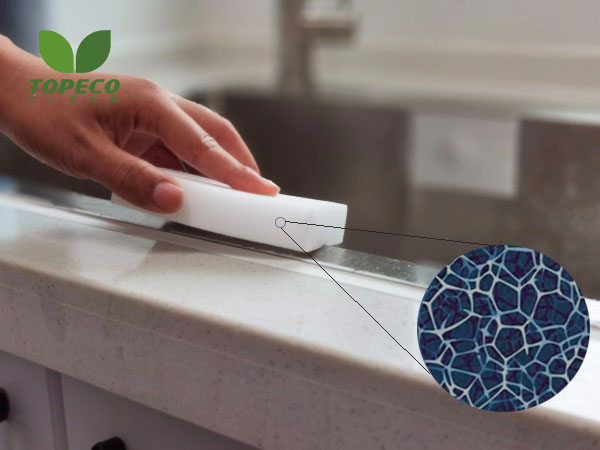 Magic Kitchen Sponge With Handle
A magic kitchen sponge with a handle is a new type of cleaning tool. Matching to the handle, directly enlarging the usage of the magic sponge. Magic sponge with handle for cleaning can handle stains from walls to cloth. The appearance of the sponge is similar to a mop, but with different functions. Magic sponge with a handle is suitable for higher and hard cleaning areas such as the corner of the walls, and the corner of the cabinet. For those hard-to-reach areas, the magic kitchen sponge can extend over 4 feet and comes with 2 cleaning materials: melamine sponge, and PU.
Magic kitchen sponge has a course side that securely adheres to the Velcro on the head of the extension handle; the other side is our diverse and powerful white magic sponge. Use on painted walls, floors, and doors. Try the eraser on soap scum, mold, appliances, and windows. Just like the magical show.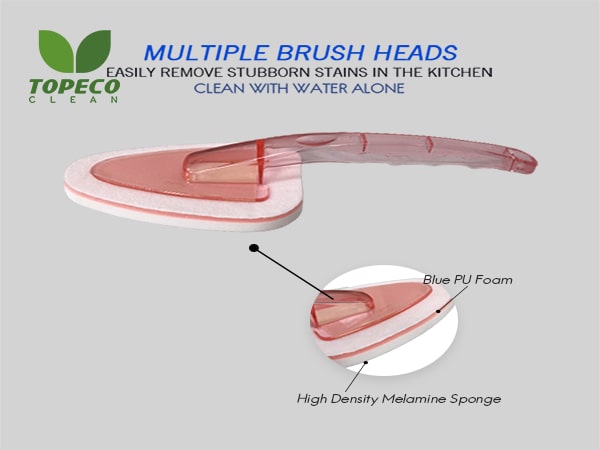 What Can Magic Kitchen Sponges Do?
Magic sponges uses are large than any other cleaning sponges. But it is not omnipotent. I just list some areas that the magic kitchen sponge can do for us!
1.Clean Tiles, linoleum floors, and no-wax floors. Scuffed and worn flooring can be cleaned to look like new again.
2.Remove stubborn stains from caulking and grout. No harsh chemicals are needed.
3.Clean up adhesive residue after removing stickers from windows, mirrors, or glass jars.
4.Clean up the stove, top to bottom, inside and out. More than one sponge is required if you have old baked-on messes.
5.Clean and shine inside your car. The handles, window ledge, armrests, dashboard, and built-up grime on the car steering wheel all can be cleaned up totally. Don't use it on the exterior paint, you may damage it.
6.Remove carbon or baked-on stains from pots, crock pots, deep fryers, and pans
7.Remove stains inside plastic food containers. No need to throw away those "not so clear" containers, just scrub, rinse, and reuse.
8.Remove stains on leather seats, purses, chairs, light-colored suede, etc. Don't replace these expensive pieces when there is such an inexpensive solution to cleaning them
9.Remove magic marker, permanent marker, and ballpoint ink from virtually any surface – walls, tables, glass, desks…
10.Get the brown spots off your glass bakeware and inside coffee mugs. Those ugly stains do come out!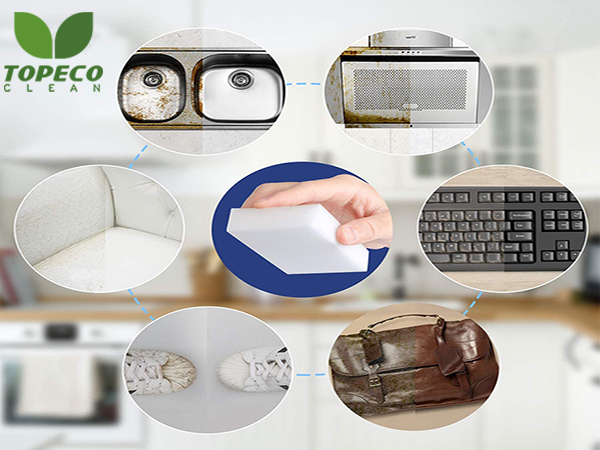 Where To Got Economic But High-Class Magic Kitchen Sponge?
Many brands in the market are active in the household cleaning field, such as Mr. Clean, Brillo, and Scotch-Brite. No matter which options you make, the quality is higher. However, top-class brands will also put up the prices. Now, where to buy magic kitchen sponges at lower prices? I suppose that Topeco Clean is a better choice for you. The magic sponge here with different designs and types. The cleaning sponge here is all got international quality like SGS, MSDS, and MSDS. The whole making process is directed by a professional group. Mr,topeco will be your good partner in the household cleaning field. If any questions or requirements, please feel free to contact us.