What Can Magic Sponge Block Do For You?
What do you think can magic sponge block do for you? The answer may differ from person to person. The multifunctional magic sponge blocks will bring general-purpose benefits to your home. It can be used in a kitchen, furniture, home appliances, glass and leather areas, etc.

Nano sponges are a type of nanoparticle, often a synthesized carbon-containing polymer. They are porous in structure, pores being about 1-2 nanometers in size, and can therefore be targeted to absorb small amounts of matter or toxin.
When you clean porcelain and porcelain tiles, a magic nano sponge melamine with strong hygroscopic property will absorb the surface stains as it can. It does not abrade the surface of porcelain but also retains its delicate color. The reason for the best magic melamine sponge blocks for glass is the same principle as porcelain cleaning.

Are you worried about stubborn stains or intractable grease stains in the kitchen? Using a magic sponge eraser can handle all kitchen problems for you. Back a new kitchen or glass to you easily. For windows cleaning, a magic sponge block not only can clean up the frame but also remove dust in the gap.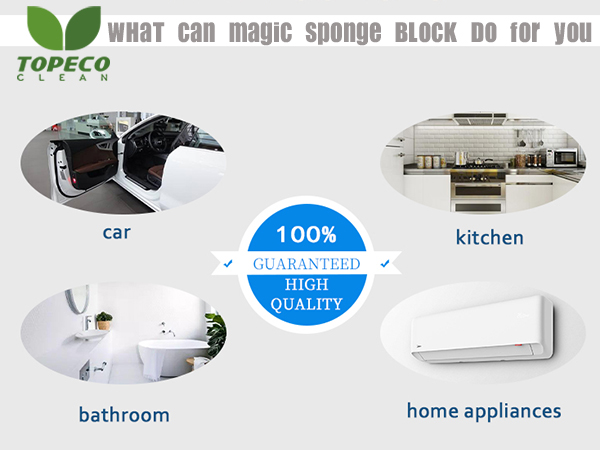 Magic Sponge Blocks Cut Your Spending
Are you always confused with your budget in-home cleaning section? Indeed there are a lot of cleaning tools or items in the market. However, it is not much easy to choose the most suitable one when clean at home. Whatever detergent or clean brushes or cleaning cloths, which prices are somewhat high. How to choose an affordable price and good performance cleaning tool is a hot topic among people. Thankfully, the magic sponge block recently come into fashion online or offline.
Magic sponge blocks are also known as nano sponges, magic erasers, nano melamine sponges, and so on. It is mainly made from melamine foam. As to melamine foam, I have some authoritative messages sent to you. Melamine foam is a foam-like material consisting of a melamine-formaldehyde condensate.
In the early 21st century, it was discovered that melamine foam is an effective abrasive cleaner. The open-cell foam is microporous and its polymeric substance is very hard so that when used for cleaning it works like extremely fine sandpaper, getting into tiny grooves and pits in the object being cleaned. It is physical decontamination, Innocuous, odorless, cheap but portable in the life. I think it is the best option when you worry about what to buy.
The lower price is the biggest reason when people buy magic sponge blocks. I suppose that it is the cheapest cleaning tool on the market. If you are still hesitant to buy magic sponge blocks in topeco clean, I think this is your answer.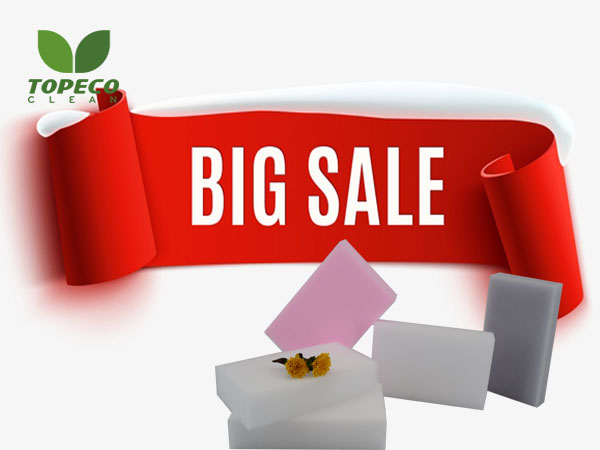 Magic Sponge Blocks For Porcelain
In modern life, there are many items made of porcelain such as teacups, dishes, vases, porcelain bowls, bathtubs, sinks, floors, and so on. Those household supplies beautify our home, however, stains on these items will exert retroaction.
We also regularly use porcelains in our life, so cleaning up the stain on them is important to us. Topeco clean magic sponge block with high density and high quality provides multiple options to clean. Magic sponge block can effectively clean tea scale, dust, dirt, limescale, soap scum, etc. For a hard and smooth surface, it can play a good decontamination effect. Nano melamine sponges can be cut into different sizes to facilitate the use of different items or ranges.
The smooth and soft nano sponge will not scratch the surface of the porcelain during the rubbing process. For example, the magic sponge block is based on the principle of physical decontamination. Relying on the nanoscale capillary open pore structure within the sponge, it automatically absorbs stains on the surface of objects during the wiping process. Like countless super micro vacuum cleaners at work, it requires only water and does not rely on any chemical detergent to help degrade it at all.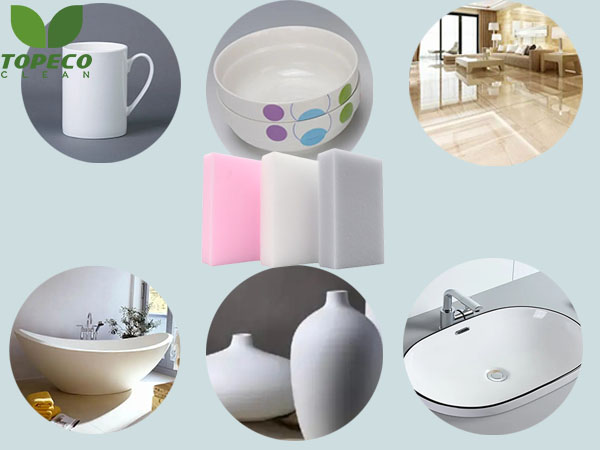 What are the Advantages of Magic Sponge Block?
The magic sponge block become popular abroad and domestic mainly because of its advantages. The white block is made from melamine foam with excellent cleaning power. It is a three-dimensional mesh structure, with hard particles in addition to pores up to more than 90 percent. Therefore, when wiping items, it first rubs off the dirt and adsorbs into the pores, so the surface of the items is clean immediately. The characters and advantages are shown as follows:

Fireproof, the magic cleaing sponge block is non-toxic, non-combustible, and self-extinguishing after contact with an open flame.

Efficient cleaning: no need for any detergent, just wet with water can easily remove stains. Stains that cannot be cleaned by ordinary detergents can be easily removed with strong stain removal power.

Sound absorption: magic sponge melamine with high porosity of 99% makes it easy and fast for sound waves to enter the interior of the foam body and absorb the sound waves.

Thermal insulation: magic sponge melamine is made by a three-dimensional grid structure which makes the convective heat transfer of air effectively blocked.

Thermostability: long-time working temperature is about 200°C, and the short-term peak temperature can reach 240°C.
Lightweight: magic sponge melamine is the lightest plastic, with a minimum density of 4kg/m³.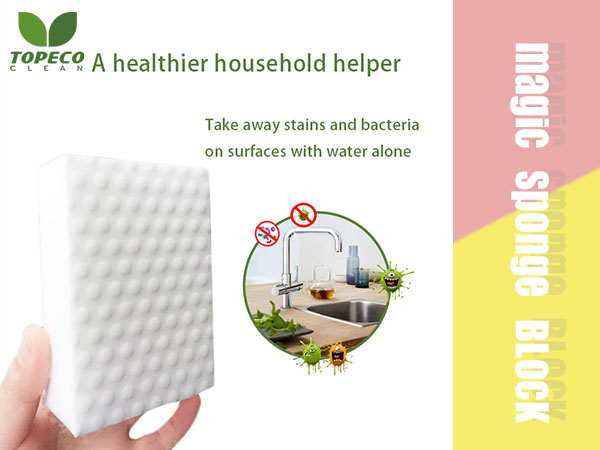 How to Use Magic Sponge Block?
In daily cleaning life, a nano sponge for cleaning is an indispensable tool. By the way, when to use and can not use should be important part people to know. It is not as same as the traditional cleaning sponge, which effect is higher than theirs.

First, wet nano magic sponge with water under the faucet. This part is the same as wetting a normal sponge.
Second, squeeze out excess water with your hands. The magic sponge block that you squeezed is like a magic tool when you use it.
Third, wipe stains located in the object with a magic nano topeco clean sponge. It is no need to add extra detergent, just wipe in a signal sponge.
Fourth, rinse the dusty sponge with water. In this step, you will find how magic the nano sponge is. Stains on the surface of the magic sponge block will rinse out easily.
Fifth, wash up the used nano sponge aside from the ventilator scoop for next time use. The magic sponge block can be used many times. Cheap and easy to use.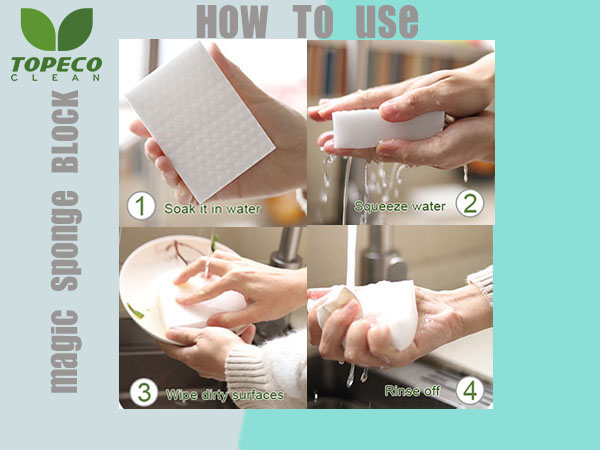 DIY Your Own Magic Sponge Block
Topeco clean support customized service for you! Colors and shapes of magic sponge blocks are not just the default in our company. We supply different nano sponge shapes like rectangle, circle, octagonal, hexagonal, small waist, flower, S shape, and wave. Depending on your need and fashion trend, a large number of types can be delivered to your home. Different shapes meet different needs. Magic sponge with angles can remove dead corners in many places.

Without a doubt, the magic sponge block is designed into diversiform types but of the same quality. The color of the magic sponge block includes gray, pink, and white. Each color can be made into high density and shapes. Besides, textures like honeycomb and bumping are also popular with everyone in the market.

In addition, a magic function of the magic sponge block you should know. If you think a whole magic sponge block can not use up one time, cutting into a small block as you like maybe suitable well for you. Triangle, round, heart-shaped, and any DIY shapes that you want.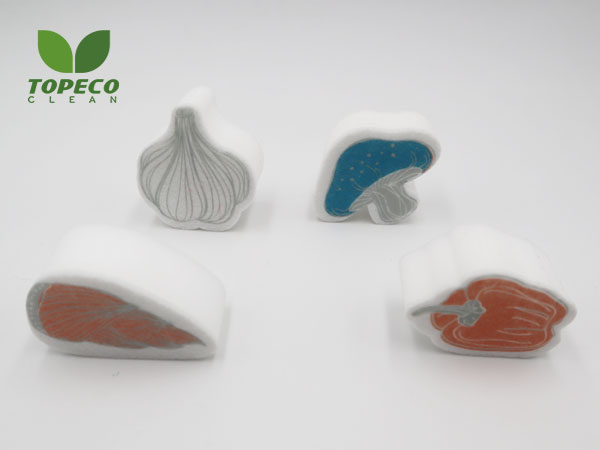 General Cleaning, Chose Topeco Clean Magic Sponge Block
When general cleaning, stocking up on some cleaning supplies at home will really make the chore easier. Especially the magic nano sponge, it makes you love doing housework. Come on, let's have a shiny home together!

The magic sponge block is very practical, for example, just dip it in some water, and wipe it to remove the accumulated tea scale over the years. It can also save the dirty stovetop. When cleaning your furniture, the kitchen and bathroom tiles parts should be the most difficult place to deal with.
Because every time so tired to clean that have a backache, but also may not be able to totally wash out the old and stubborn dirt on tiles. This time, it is recommended that you can use the magic sponge block. It is also a small white fat square, use it to sweep, and you will experience what is called the feeling of flying.

The tiles covered with limescale in the bathroom can be removed with it by brushing. Kitchen tiles covered with grease, no need to add with the cleaning agent, can also be cleaned up thoroughly. In addition, magic sponge blocks handle dead-ends with ease.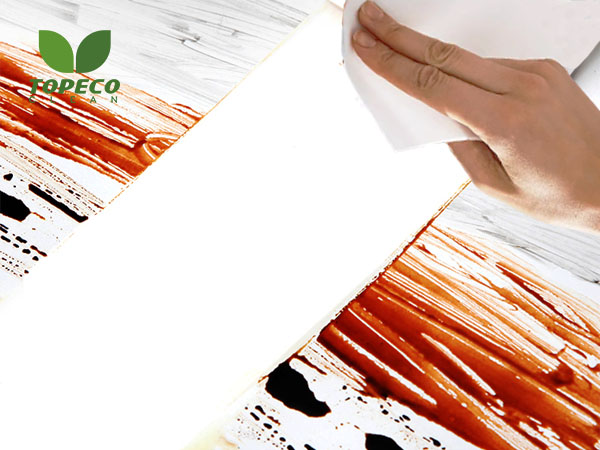 Choosing Magic Sponge Block, Topeco Clean Provide a Better One for You
Why chose Topeco Clean? Our product already passed quality certifications by leading international recognition, SGS, MSDS, and CRS. The production of all materials is subject to stringent quality control to guarantee 100% non-toxic melamine foam. Besides, the processing of Topeco Clean magic sponge is governed by more than 150 skilled workers and technicians day and night to create superior quality.

Best prices, high-quality products, and professional colleagues are waiting for you here. If you are interested in working together please feel free to contact us. We look forward to hearing from you!