The magic sponge blocks are your best choice when you're looking for a quick way to clean up dirt and filth. With them, you can clean so many things effortlessly, just use water. Then let me tell you the advantages of our products, and you will find magic sponge blocks are your best friend in the future.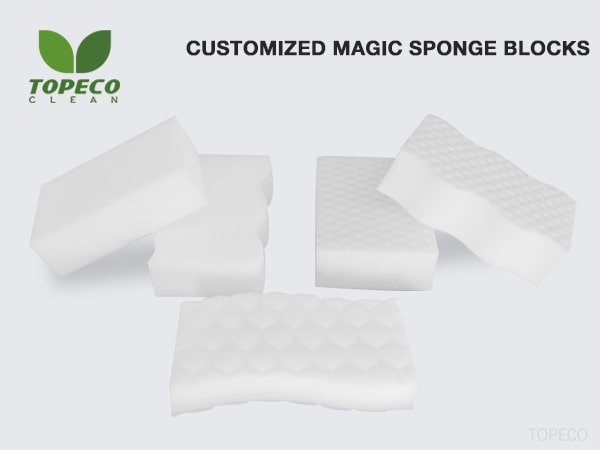 Magic Sponge Blocks Invented
Our magic sponge blocks are made from melamine foam with advanced nanotechnology, and their interior is a three-dimensional mesh opening structure. That means the magic sponge blocks are much advanced than other ordinary sponges on the market. Meanwhile, this structure makes the sponges can automatically absorb the dirt on the surface of the object after wetting. Just like countless ultra-micro vacuum cleaners in the work.
Physical Decontamination Principle
And you do not need to rely on any chemical detergent to help degradation, pure physical decontamination principle. Because our products don't dissolve in water, put them in water extrusion, the stains in them will naturally fall off in the water. That means the magic sponge cleaning pad can be used over and over again. They're convenient for your life.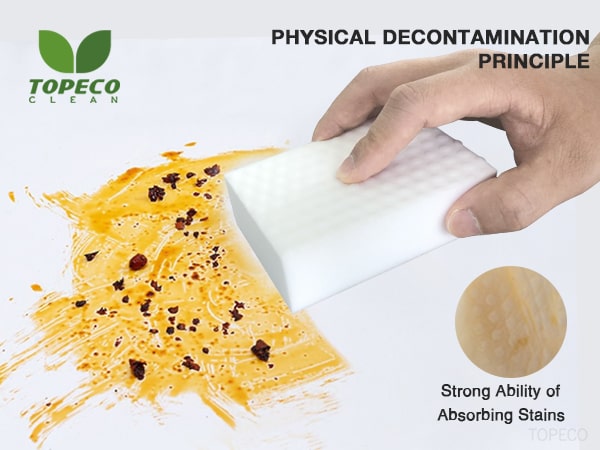 The Environment Protection of the Magic Sponge Blocks
Our magic sponge blocks are made from 100% melamine foam. And they fit well with modern human skin. That means you can use them safely without causing any harm to your body and the same is true for your family. The most important thing is that our magic eraser blocks also have ninety-nine point nine percent natural antibacterial effort, which means they can rinse quickly.
Cleaning Without Detergent
More safe and hygienic means a better life. You can scrub the dirt without using detergent. Just some water, stains, and grime will be clean. In the meantime, our magic eraser sponge will get smaller when you use them. Just like erasers, and these sponges can automatically be biodegradable to protect the environment.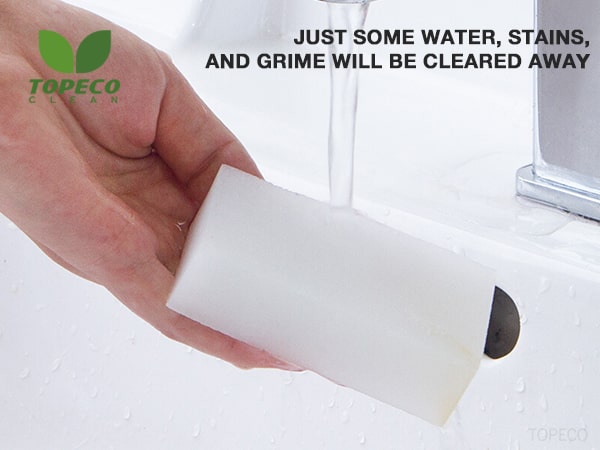 The High Adaption of the Magic Sponge Blocks
Topeco™ magic sponge blocks apply to a variety of home and office environment cleanliness. The magic sponge blocks have high adsorption so that they can easily remove dirt and stains. It can be used in the induction cooker, microwave oven, sports shoes, leather sofa seat, car seat, faucet, tile, ceramic bathroom, coffee cup, glass, and soon. Besides, our products are much more powerful than ordinary sponges. So that it doesn't matter how permanent you scrub stains. The magic sponge blocks will give you the experience of meticulous and clean life.
The Good Quality of the Magic Sponge Blocks
I think someone may ask if your sponges fall out during use, I can truly tell you don't worry about this. Our magic sponge blocks have a strict quality guarantee and through the SGS certification. The hard structure inside makes you don't have to worry about dropping slag. And our best magic eraser sponge is very resilient so that they can be bend at will and have a longer service life. Whenever we produce a batch of products, we firstly conduct an internal inspection. And we have training our staffs every week. We won't sell them to you until the products are of good quality.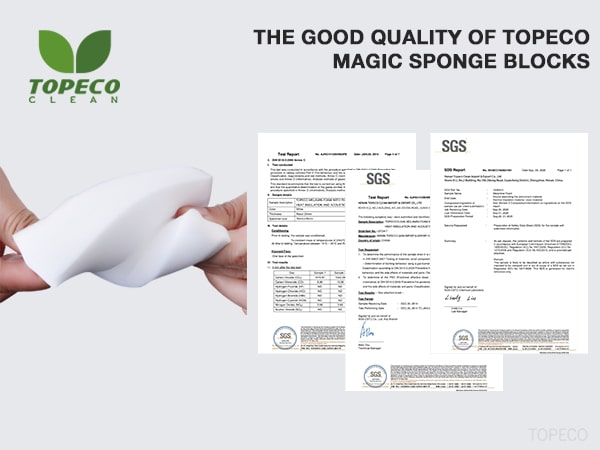 The Varied Shapes of the Magic Sponge Blocks
As we know, the advantage of these products is that they can be cut at will, and our magic sponge blocks are no exception. You can easily cut wonder sponge blocks into any shapes you want and use them for cleaning purposes. For example, some small crevices need small pieces of sponges to clean. Just like the purpose of our products, cut at will, make the best use of everything. By the way, I know some children like animal shapes of sponge blocks, and we can also provide, like a cat, mouse, rabbit, and so on.
The Perfect Design Philosophy of the Magic Sponge Blocks
The perfect "S" shape or slim shape can help you master it better. Protuberance with a pattern of shape can create more friction to make it easier to scrub items. The internal nano-capillary opening structure makes the magic nano sponge have a strong adsorption ability, which makes deep stains can be easily absorbed. All of these cutting-edge designs are designed to serve you better.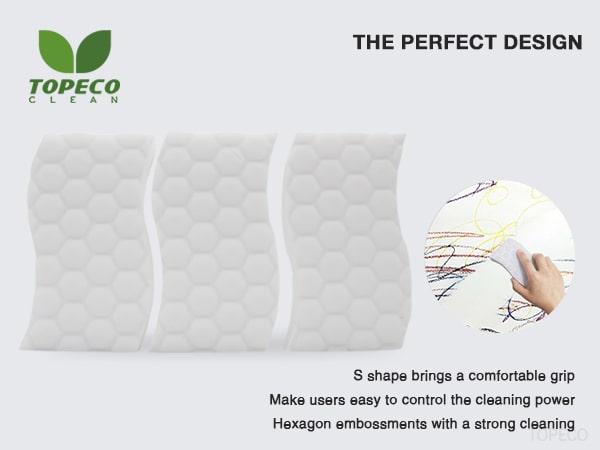 Magic Sponge Blocks Easily Used
Everybody can use our magic eraser blocks easily. Firstly cut the sponge into the shapes you want. Secondly, dip the sponge in water. Thirdly, squeeze the excess water out of the sponge. Fourthly, rub it in the same direction. When you're done, rinse the sponge with clean water for the next use. By the way, our product can be used multiple times. You will find it's amazing to clean things after you first use them.
Magic Sponge Block Other Applications
Because the magic sponge blocks have unique chemical and physical stability, the products themselves have inflammability, high-temperature stability, and flexibility. As a high-tech material, they have been widely used in many fields. Just like: building decoration, traffic vehicles, water ships, aerospace, industrial sound absorption, thermal insulation, and soon. With the development of science and technology, magic sponges are becoming more and more important.
The Technology of the Magic Sponge Block
Our company is also a leading enterprise in the magic sponge supplier. The production process of our magic sponge blocks go through three strict processes. The products you see now have been experienced in foaming, cutting, and packing. We use the most advanced and rigorous technology to exchange for the best quality products. In the meantime, we have the most advanced large automated production line and storage rooms, which can meet your large number of order needs. All of these only to better offer the best products.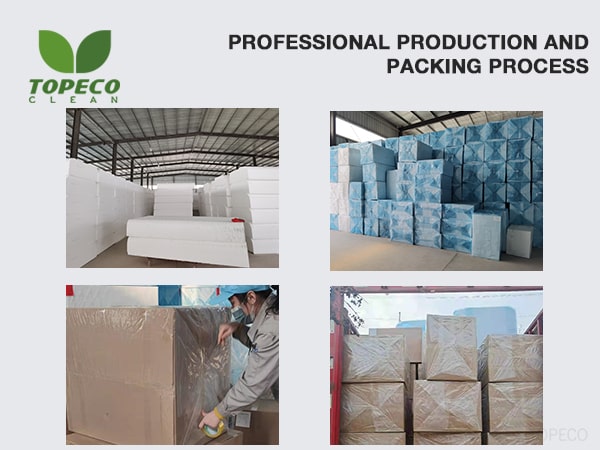 Our Great Services
The quality of goods is the foundation of an enterprise and the good service will make it get twice the result with half the effort. No exception, Topeco also pays great attention to the needs of our customers. For example, we can accept your customized size or thickness. If your order is large enough, we can also accept custom style. We also have a professional art design team and can print your logo on the package. By the way, with many years of experience in selling magic sponge blocks, we can recommend the most suitable products and purchase quantity for you. The concept of our magic sponge is to let you buy at ease and use happy.
Value Long-Term Cooperation With Clients
The above are the main our magic sponge uses and features. In the magic sponge block territory, we are the professional. Topeco has state-of-the-art machinery, the most professional team, the most authoritative experts. All of this is to provide you with the best service and buying experience. At the same time, we'll give you the best price and do our best to meet your requirements. The excellent after-sales services are also beyond doubt. I hope we can become a trusted trading partner.