What Magic Sponge Cleaner Eraser Made of?
It goes without saying that magic sponge cleaner eraser has become more and more popular online and offline. The secret behind it arises to many people's attention. The material is what people are always curious about magic sponge cleaner eraser. Melamine foam is just the secret, which is the main material made from the sponge. However, is it toxic or is it harmless for people in life is the main question
Melamine foam is safe to use in life. It is common cleaning material used in various areas. The "magic" simply lies in the melamine, which is a simple organic base. Combining with formaldehyde, melamine creates a resin that, the cured converts into a foam. Which foam is hard, using fine sandpaper. In addition, it is like a glass-like surface that is a widespread chemical compound used almost everywhere. Melamine foam is used in everything from acoustic panels to cleaning tools at home to your grandparents' Formica table.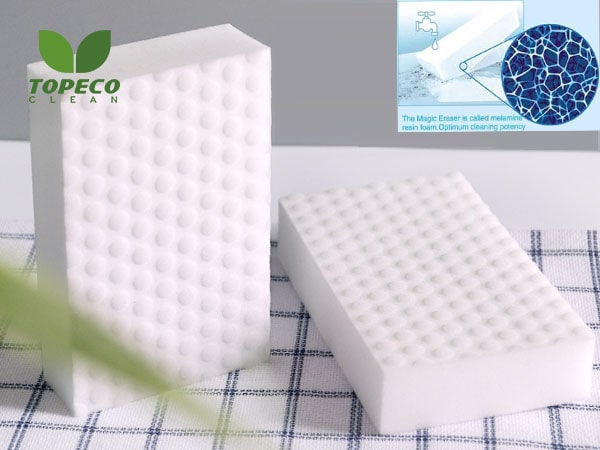 What Incredible Uses For a Magic Sponge Cleaner Erasers?
When it comes to magic sponge cleaner eraser, the application is the most concerning question among the masses. Since it is non-toxic, has excellent cleaning power, and is harmless, used as a home cleaning tool generated by scientists several years ago. Because magic sponge cleaner eraser is so porous, more like pencil erasers and open pore structure can absorb small stain molecules easily. It can remove almost all stubborn stains during doing a home cleaning job. The below lists will show its applications clearly.
Tarnish from silver removed. In comparison with cleaning toothpaste, a magic sponge cleaner eraser is more simple to use. Just simply a few steps, no need for any chemical cleaner or detergent.
Clean and polish gold jewelry. Just wet the magic sponge→squeeze excess water→wipe stains on the surface→wash up the magic sponge. Like-new jewelry will back to you easily
Clean scale or soap scum in the tub and shower.
Remove dirt difficult to clean on the shoe edges. Just clean with a piece or cut a small piece of magic eraser, no need for a shoe brush or shoe cleaners. To some extent, it cut your spending on cleaning tools.
Remove adhesive residue after removing stickers. Regardless of hook stickers in the kitchen, sticker marks on the refrigerator door, or traces left by sticky notes, a magic sponge cleaner erasers can remove and handle all of these stubborn stains easily for you. It is the best cleaning assistant and helper accompanying you long.
Sweep away marks on walls. The difficult to clean stains like children's graffiti, marker marks, oil stains, hair dye, etc., can be solved by a magic sponge cleaner erasers.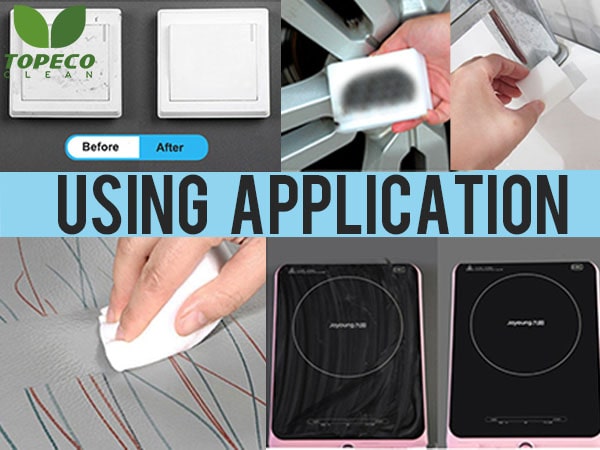 Where Uou Can Not Use a Magic Sponge Cleaner Erasers For?
Although a magic sponge cleaner eraser can be used almost everywhere, there are still some items inside or outdoor that can be wiped by the sponges. Especially in the kitchen or bathroom. If you are unsure whether stuff can use or not, just experiment on a small "patch" before committing to do a cleaning job. I draw up a list as below for you to check easily.
Can not be eaten. Although the magic sponge cleaner eraser contains formaldehyde, the formaldehyde is within the standard range of values. So it more or less has some chemical ingredients, which means that it can not be eaten.
Try not to use it on high-gloss surfaces, as the abrasiveness could permanently dull the luster of the finish.
The screen of electronic devices. In that magic, an eraser can scratch and ruin the surfaces. So you'd better use it on that.
Can not wipe wood surfaces. Magic sponge eraser will to some degree fade its glory or luster in the surfaces and scratch it.
Stainless steel. The magic sponge can make stainless steel look dull and work not well.
Shiny painted. It can damage the gloss.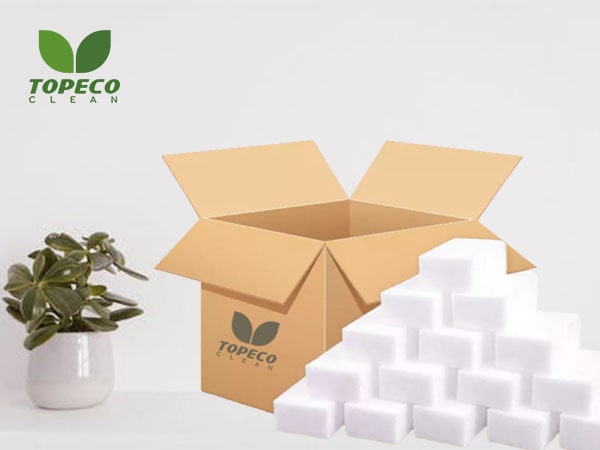 Best Cleaning Tool – Magic Sponge Cleaner Eraser
Are you always having trouble with home cleaning? If yes. The magic sponge cleaner eraser will come in handy. Magic eraser expertise in cleaning ordinary dirt, grime, and sticky messes. They are no match for a magic sponge cleaner eraser. Most stains are easily eliminated like magic that you can not believe just with a simple wipe across the surface. Besides, for tougher stains, just a bit of extra elbow grease should do the trick.
Cutting into many useful types as you need is the best choice for you when you are cleaning. Big piece clean your faucet, teacup, sink, keyboard, shoes, and cooking bench.
You can put the magic eraser sponge at the bottom of the pot and cover the soil with the magic sponge. It plays the role of water storage when watering the flowers. Then, it can provide sufficient water to the flowers for a longer period of time.
Magic sponge cleaner eraser is best for cleaning tea cups, bathtubs, and other objects on the surface of the scale, rusting, and tea stains also have a good cleaning effect. Formaldehyde-free magic erasers have multi-purpose, many hard cleaning spaces can be wiped away faster. It is safe, cheaper, eco-friendly, and healthy.
Work so well on hardware products such as locks, switches and sockets, wires, and knives. It can be used again and again. High quality and high efficiency.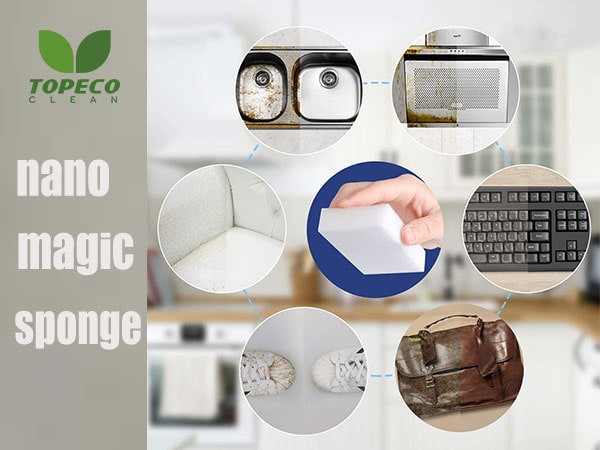 Good Magic Sponge Cleaner Eraser Derived from Good Toughness
TOPECO CLEAN has produced nano sponges for several years in the market, receiving a lot of quality feedback all over the world. We guarantee that all sponge comes from here for your peace of mind when using them. We design a magic sponge cleaner erasers in many styles and combine current fashion trend colors and types into our products. The magic sponge cleaner erasers we made with high density. This means high elasticity that is not easy to damage when wiping stubborn stains. It is of excellent cleaning power, light, and physical decontamination, and is cheap.
Besides, we also support customized services and technical support. Our magic sponge cleaner eraser got quality certifications by leading international recognition, SGS, MSDS, and CRS. The stringent quality control materials made from magic erasers guarantee harmless and non-toxic to people. Professional colleagues here wait for your coming.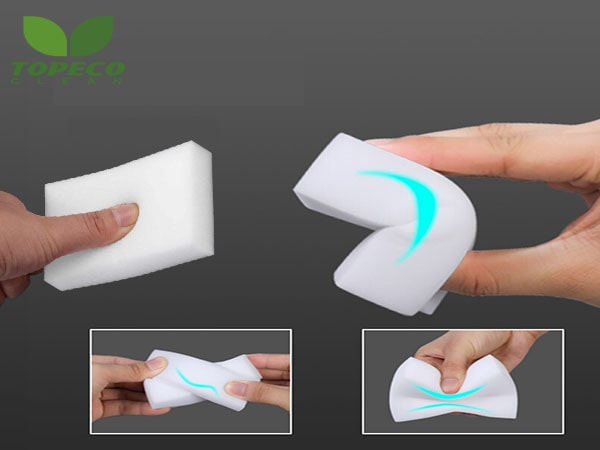 Unique Topeco Clean Designs of Magic Sponge Cleaner Eraser
By popular demand, we need to inject some new fashionable elements into the original white nano magic eraser. As to its appearance, we combine composite ingredients with nano sponge, extending out nano sponge with PU, nano sponge with scouring pad, and nano sponge with non-woven fibers. In addition, we designed many colors you can select following your like.

Many densities you can chose here. Different densities but enjoy the same quality and good reputation. The size of magic sponge cleaner erasers can be design as your needs. You can also customize your favorite styles in Topeco Clean. If there is anything we can do to help you, we shall be more than pleased to do so!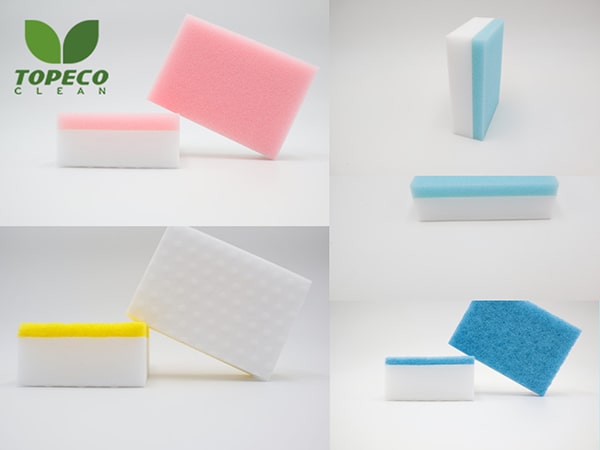 How to use magic sponge cleaner eraser
Simple steps can figure out stains difficult to remove with a magic sponge cleaner eraser.
Soak the cleaning sponge in water, no need for any detergent. It is careful for the skin and easy to use. If too much water, please use your hands to lightly press to dry, do not wring. Also, it can be cut to any size fast.
Gently wipe the area located. When wiping stuff, do not use excessive force to avoid damaging items that are easily brittle and cracked
Wipe the dirt floating up after wiping with a rag to dry.
Will be used after the magic sponge into the water soak or faucet under the rinse, no need to wring rub, dirt can be dissolved by itself, and then repeatedly use.
Magic sponge cleaner eraser as an eraser can be used until the last small piece, not waste.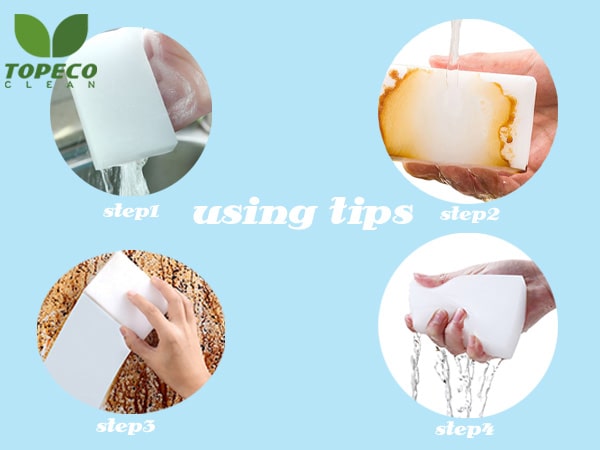 Usage Tips of Magic Sponge Cleaner Eraser
Fully moisten the magic cleaning wipe with water, then squeeze the excess water out and scrub various surface stains. As long as it contains sufficient water and is used like an eraser, it can remove dirt. And scrubbing in a single direction is more effective than scrubbing back and forth.
A magic eraser can be cut into different sizes at will to facilitate different items or ranges. Cut into the small piece will double the cleaning power on the dead corners or cracks.
Magic cleaner eraser is a consumable product, that will become fragments and gradually peel off after use. Proper control of moisture effect is better, too dry is easy to peel off consumption.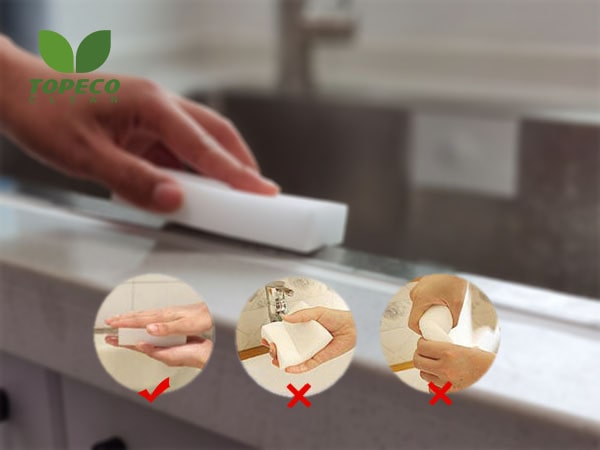 Cautions When To Use Magic Sponge Cleaner Erasers That You Should Know
Can not be edible, please put it away from your children.
Put ventilation, cool place, do not expose to the sun.
For valuable items, please first wipe them in the hidden place to avoid unnecessary losses.
Please first power off when wiping electrical appliances, so as not to get an electric shock.
Please do not twist the sponge, the sponge structure is delicate to avoid damage.
It is recommended to wipe with different pads depending on the degree of dirt.
Do not use n human body.