What Exactly is the White Magic Sponge Cleaners?
The white magic sponge cleaners, originally not yet be discovered as a home cleaning tool. It is manufactured from the soundproofing and insulating material melamine. Apparently, as a multifunctional sponge, the potential universal applications are not totally found among the masses. Thankfully, about a decade ago it was discovered that you could use melamine foam as an abrasive cleaner. That means that white magic sponge cleaners can be used in industrial fields as well as applied as a cleaning item.
Melamine, as the main material made from white magic sponge cleaners, can act like the finest sandpaper. It's amazing that soft melamine when the resin cures into a foam, its microstructure turns into another substance. The substance could be as hard as glass that you can not imagine.

For its inside porous structure, the abrasive foam easily loosens the grime when using the white magic sponge cleaners for cleaning. Use it you will find that the magic cleaning sponge is similar to a rubber or pencil eraser. It is almost like a consumable in that the magic eraser will wear away, leaving a slight residue behind, which is rinsed off.
The funny fact is that when you search white magic sponge cleaners online you will find a lot of aliases extended from it. Magic eraser, white cleaning sponge, cleaning nano sponge, magic cleaner sponges, white erasers, etc., all are original nano sponges essentially.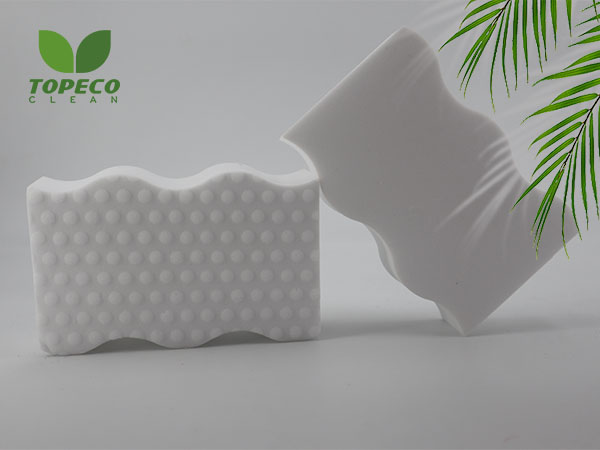 How do you Use White Magic Sponge Cleaners?
Compared with complex traditional home cleaning tools, the using steps of the white magic sponge cleaner is much easier. Apart from being simple to use, any detergent or chemical cleaners are not needed during the cleaning process. So what to do when using the magic sponge? JUST WATER IS OK.
Step1. Soak your magic eraser in your hands with just water. Squeeze excess water with your hands because excess water inside the sponge can affect the absorption of the magic eraser sponge. Also, too much water will wet the object that you want to wipe consequently leading to a not good effect.
Step2. Gently wipe the stains located. Wipe the stains on the surface of pieces of stuff without any detergent or chemical cleaners. For the older and stubborn stains, you can wipe with a little bit of force. Meanwhile, it is a normal phenomenon that magic erasers will wear away.
Step3. Wash up stains from the sponge. You can rinse it also just with water rather than rubbing it with your hands and with chemical cleaners. Stains on the surface of the sponge will wash off automatically with water rinsing.
Step4. Put it in dry. This will not make the sponge moldy or breed bacteria. It can be used again and again. Cheap and utility.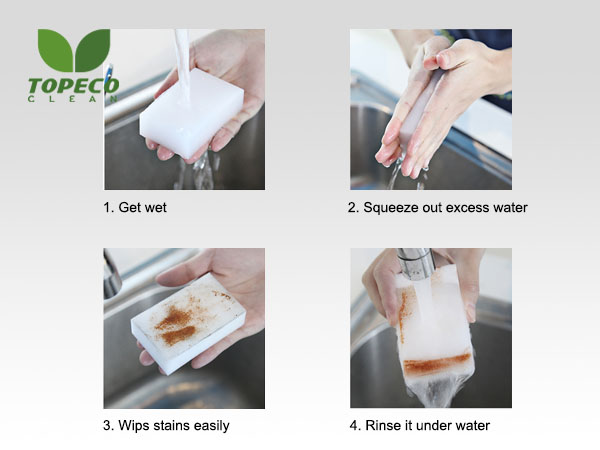 Why White Magic Sponge Cleaner Clean so Well
Goog cleaning white magic sponge cleaners source from high quality. A magic eraser that topeco clean produced got international quality recognition as SGS, MSDS, and CGS.
I will show you the benefits of the magic cleaning sponge below:
No need for any detergent, just water for easy stain removal!
Suitable for a wide range of applications, suitable for any place such as home, kitchen, bathroom, office, etc.
Strong dirt removal power, the dirt that can't be cleaned by general detergents can be easily removed. 
Suitable for cleaning uneven surfaces, or any deep dirt, just use water, a wipe, and clean!
Easy to use, can be cut into shapes of different sizes as needed. 
With 99.9% natural antibacterial effect. 
New high-tech environmental products from Germany, consisting of very fine particles, easily clean stubborn stains.
Except for those advantages, it is of polymer nanostructure. That means that the white magic sponge cleaners can strongly absorb micro-dirt easily. Whether it's a confetti-stained blanket or animal hair on the sofa, or hard-to-clean stains in the kitchen and bathroom, all you need is a sponge. It will be a good cleaning assistant at your home.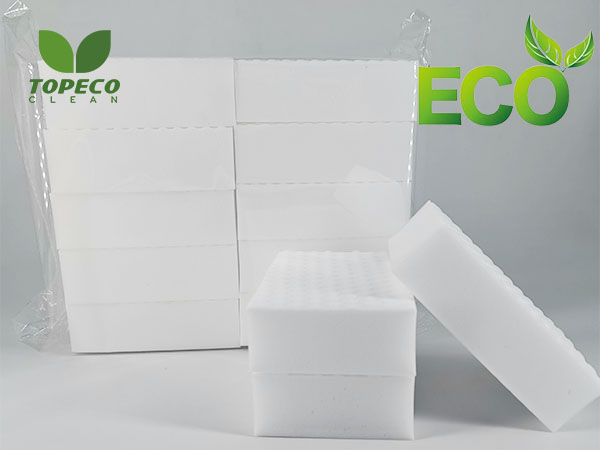 Small White Magic Sponge Cleaners with Big Use
I guess you might doubt the white magic sponge cleaners can really clean up stains easily as the advertisements show. The answer is YES. Magic erasers sold in the market all enjoy many using applications, the truth is it is correct.
Best White Magic Sponge Cleaners for Walls
Stains on white walls are a difficult part of home cleaning. When you wipe with a normal absorbent towel you can also wipe off the stain, but after a while, the color of the white wall will gradually become darker. The situation will be worse than at the beginning. So what should we do to handle those hard stains? Magic sponge!

Pencils crayon marks and the marks left by the fresco on the wall definitely smear the whole family's look. Due to the magic eraser's special material structure, the stain removal nano sponge has strong physical stain removal power after absorbing water. It is rough enough but does not scratch the wall. Without the help of detergents such as laundry detergent, only water can be used to wipe clean the surface stains. Decontamination nano sponges are called a new generation of cleaning tools. Many stubborn stains on the surface of the object have a good decontamination effect.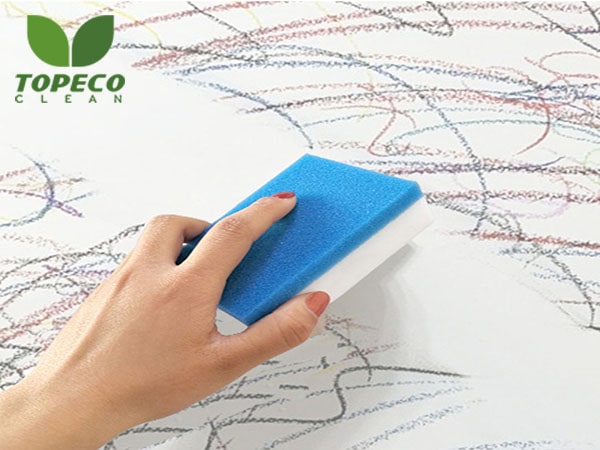 For Shoes, White Magic Sponge Cleaners is Unique
Mr. Topeco can help just in the kitchen? No. It can apply everywhere. Whether a pair of sneakers or a whole closet full of your loving shoes, Mr. Topeco can help you keep them looking as good as they make you feel. White magic sponge cleaners can clean sneakers in a flash without any detergent or chemical cleaners. Also, you can cut the sponge into many types as you want and need.

Mr. Topeco white magic sponge cleaner is best way to clean sneakers is right in the palm of your hand, so you can power through tough scuffs and stuck-on dirt in no time. Soon, your sneakers will look almost like new. When using white magic sponge cleaners to tackle tough marks, stuck-on dirt, and scuffs, the effect you saw will surprise you soon. The mess virtually disappears after swiping the white magic sponge cleaners across the desired area. The effect on the sole, toe box, eyelets, and wedge will totally surprise you a lot. Soon you will get a pair of sneakers that look almost like new, so you are ready to step out in style.

Here is something you should know. Before use, please test a small area with light pressure to avoid unnecessary trouble.
Not recommended for the following surfaces: high gloss, polished, dark, brushed, satin, faux, bare/polished wood, copper, stainless steel appliances, non-stick coating, or vehicle body.
Do not use chlorine bleach or other household cleaners.
Do not use it on the skin or other parts of the body.
Using on the skin will likely cause abrasions.
Keep out of reach of toddlers and pets to avoid accidental ingestion.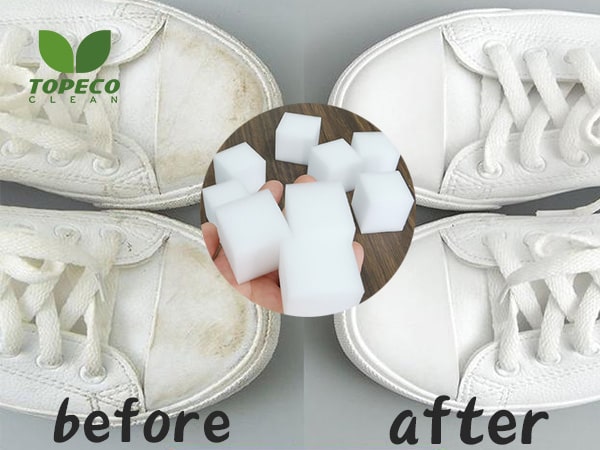 White Magic Sponge Cleaners — Glass Cleaning
When it comes to magic eraser cleaner, there is no denying that it can get you rid of those tough stains on your bathtubs, remove scuff marks from furniture, and clean kitchen grease stains. But for cleaning glass, it is a better way you get to clean.
For different glass surfaces such as glass shower doors, automobile glass, and frosted glass, the magic eraser will not scratch glass. For tea scale on glass, you will find it hard to wash off if you clean it with a normal cleaning brush plus detergent. There is still a slight odor after use. But a magic eraser will not. Just wet the sponge with some water. Wipe the area with tea stains several times, and the dirt will automatically adhere to the white sponge. You can clearly see the dirty dirt wiped off the sponge. Moreover, it does not leave any trace after wiping. The glass becomes clear and translucent.
Find Special Designs of White Magic Sponge Cleaners in Topeco Clean
All the products that topeco clean offers can be customized according to people's needs. The white magic sponge cleaners will be an excellent cleaning partner to accompany you every day.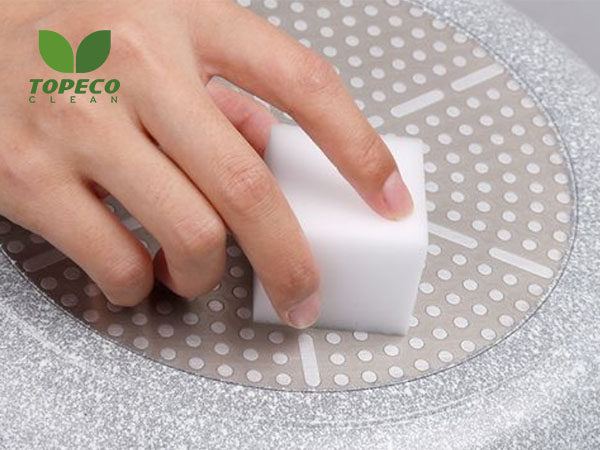 About Mr. Topeco
Topeco clean is a manufacturer specializing in the research, development, and production of nano sponges. We are located in Henan, China. We are pursuing the progress of technology all the time to provide more dense and even micro-hole melamine foam. The production plant and warehouse cover an area of some 30,000 square kilometers to ensure orders are on time. At present, Topeco Clean can already produce almost all magic sponges on the market. Our product already passed quality certifications by leading international recognition, SGS, MSDS, and CRS. If you have any problems with topeco clean, feel free to contact us, we will be glad to serve you.