When it comes to the sponge magic eraser, you will find many topics about it online. Is the sponge magic eraser really work so well as people say online? The answer will come after trying.
What are Sponge Magic Eraser Made of?
If you search it online, the material of the sponge magic eraser is not strange to you. Sponge magic eraser are made from melamine foam, using a compound called formaldehyde-melamine-sodium bisulfite copolymer.
Apart from being an excellent stain removal option for the otherwise"uncleanable", melamine foam has a variety of other applications. For example, the sound insulation feature of the magic sponge can improve acoustics and lessen outside noises. For its temperature insulation, used as protecting against hot or cold temperatures.
The interesting history of the sponge magic eraser might raise people's concerns long. The melamine foam has been manufactured since the late 20th century and it was discovered in the early 21st century to be an effective cleaning tool. The cleaning principle lies in mix combining soft structures, hydrogen, carbon, and nitrogen to combat stains. Without harming the surface underneath, the white sponge blocks the cleaning work so well that beyond my imagination.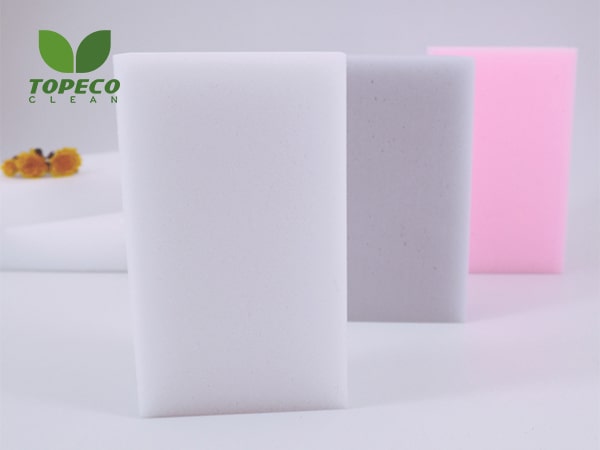 Sponge Magic Eraser — Safe to Use
Although many tests posted online show that there has formaldehyde inside the sponge magic eraser, it is within safe limits. Melamine foam is non-toxic, itself has good physical stability, and is insoluble in water.
Be aware that the measurement of formaldehyde concentration is the concentration of formaldehyde in the indoor air, not to buy the decoration put in a small closed box to measure the concentration of formaldehyde. Strangely, many people put the sponge magic eraser in a largely closed beaker to measure the concentration of formaldehyde. According to such a measurement method, all the materials put inside the home decoration are estimated to exceed the standard.
In fact, a sponge magic eraser only needs water to effectively clean most stains—no chemicals or soaps are necessary. Physical decontamination without any chemical cleaners as using. On the outside, they look, act and feel like most other sponges, but that's where the similarities end.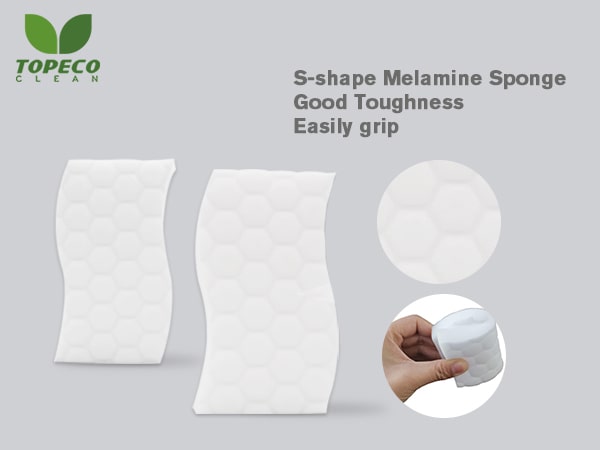 How to Use and Store Sponge Magic Eraser
How to use
Perform a spot test before you use the magic eraser on a surface.
Wet the magic eraser when you're ready to use it.
Wipe down the surface you want to clean.
Wash up the sponge under the faucet without wringing.
How to store
Put it in the vent after use and keep it dry. Avoid exposure to the sun. This will prevent the sponge from getting moldy.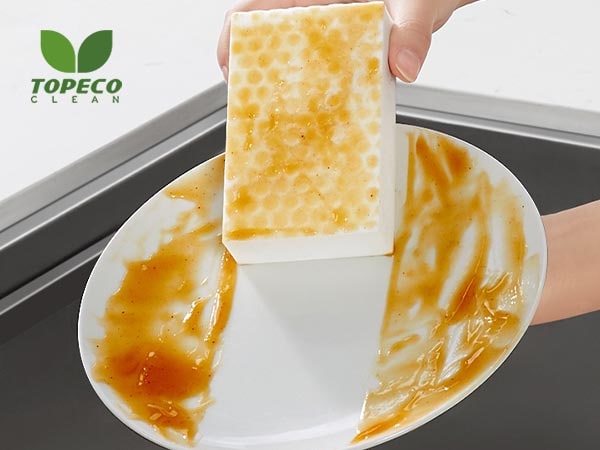 Sponge Magic Eraser-Applying in Cleaning Charging Cable Well
Internal porous and open cell structure made the magic eraser acts like very fine sandpaper to gently remove stains. Damp it and wipe, the magic will show in front of you. Although it feels soft on the outside, each sponge magic eraser is actually uniquely abrasive.
To the features of the sponge magic eraser, many newfangled applications have been found by people. Cleaning charging cable, sponge magic eraser is suitable best. Compared to ordinary cleaning tools, less cleaning steps during the process when you use the magic eraser.
Turn off the power, and wipe the cable repeatedly with the damped sponge. Magic eraser will absorb stains and locks dirt on the surface of it. Wipe harder in hard-to-clean areas. The effects will show you soon after wiping.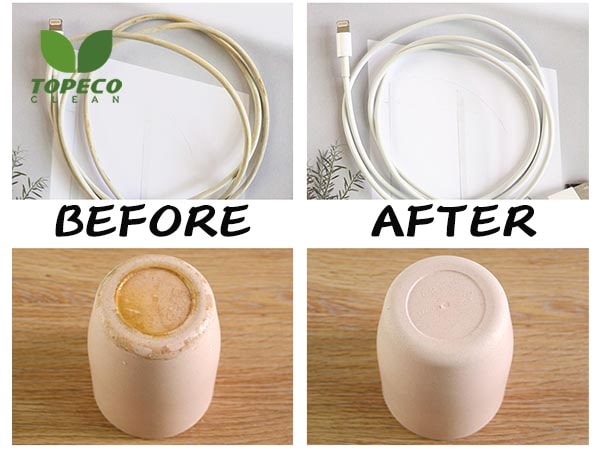 Best Sponge Magic Eraser Mop For Cleaning Floor
Sponge magic erasers' deep penetrating action gets out grime and dirt trapped in grooves and surfaces. Topeco Clean magic eraser sponge mop is the best tool for cleaning the floor. Cleaning footprints, water scum, dust, hair and oil, and magic eraser mop can work so well for you. Simple to operate, chemical detergent free and excellent cleaning ability make you finish a large area quickly, like the floor. The new design aims to help further relieve heavy household jobs.
Adopts the compound magic sponge, like combining a PU sponge or scouring pad with a large magic sponge. The PU sponge and scouring pad have a good performance on toughness, which makes the magic sponge more durable and flexible. On this base, the magic sponge can work better on cleaning power. Besides, the magic sponge can control the water to avoid destroying the floor and sponge. Topeco Clean offers customization, including color, thickness, size, packing, density, and composite material.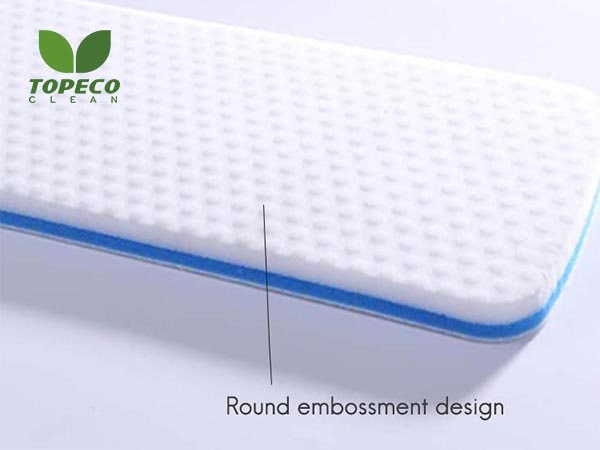 Sponge Magic Erasers-Areas Avoid
Though sponge magic eraser apply almost everywhere, some places where magic erasers can not use you should know. It is important to avoid using a sponge magic erasers on polished, delicate, easily scratched surfaces. The reason why can not be used on in that it may end up removing the exterior finish or cause potential damage to the outer surface.
Electronic screens
Sponge magic eraser is a big no-no for screens like your tablet, phone, or TV. Mucky fingerprints covered on those screens should be gently clean. Do not run the risk of completely destroying them.
Non-stick pots and pans
The seemingly ordinary sponge can not wash your non-stick pots and pans. A magic eraser will not only scratch the surface of your cookware but could completely strip the non-stick coating and release chemicals from the coating into your food too.
Stainless Steel
May be very shiny after rubbing, but wait until the shine fades sponge magic erasers can actually make it look dull. If your stainless steel appliances have scratches, try sanding them out instead.
The Outside of Your Car
Sponge magic erasers best for removing dirt and the grim interior of the car, while it is not suited for polishing the outside of your car. Looks soft but abrasive like sandpaper. The eraser's abrasiveness can do damage to your car's paint.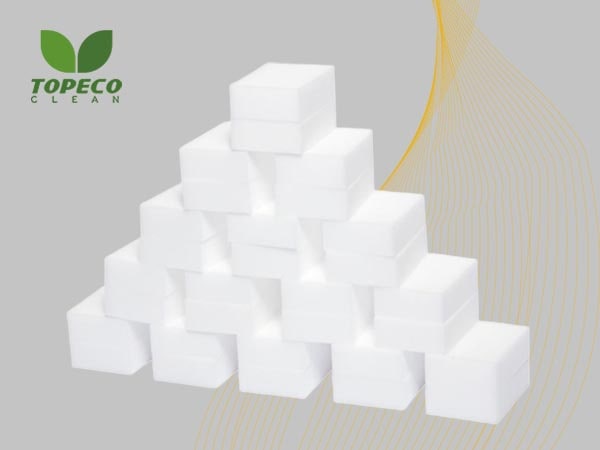 Hot-Sell Cleaning Item– Sponge Magic Eraser
In the market, a series of magic melamine sponge were put in the showcases in the shops. Since it comes to the market, has got many good reviews from users. The top-reviewed cleaning products on Amazon or E-Bay or other online selling platforms become more and more popular. This is because the delicate sponge-like cell structure loosens the dirt and grabs the grime simultaneously, breaking down the material. Rich features of the magic cleaning sponge may help you soon know it.
Fireproof: the magic sponge melamine is non-toxic, non-combustible, and self-extinguishing after contact with an open flame.
Efficient cleaning: no need for any detergent, just wet with water can easily remove stains. Stains that cannot be cleaned by ordinary detergents can be easily removed with strong stain removal power.
Sound absorption: magic sponge melamine with high porosity of 99% makes it easy and fast for sound waves to enter the interior of the foam body and absorb the sound waves.
Thermal insulation: magic sponge melamine is made by a three-dimensional grid structure which makes the convective heat transfer of air effectively blocked.
Thermostability: long-time working temperature is about 200°C, and the short-term peak temperature can reach 240°C.
Lightweight: magic sponge melamine is the lightest plastic, with a minimum density of 4kg/m³.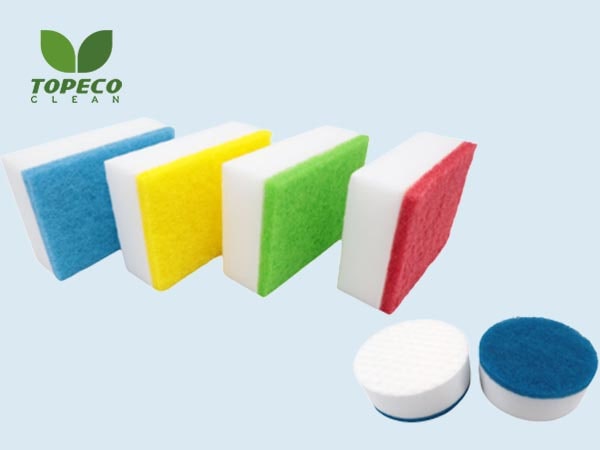 Customize Service In Topeco Clean
Mr. Topeco support customizes services and samples to serve customers perfectly. Like loges, packages, textures impressed on magic erasers and colors can customize as you needed. Customized products like compound nano sponges include nano sponges with PU, nano sponges with non-woven fibers, and nano sponges with a scouring pad. In addition, the shapes of magic melamine sponge include rectangle, circle, octagonal, hexagonal, small waist, flower, S shape, and wave.
Combining compound magic eraser with different shapes here appeals to customers the most. For example, a nano sponge with a scouring pad in an s shape, a white nano sponge combine with blue non-woven fibers and a yellow scouring pad. Those designs are so unique that attract people best. Packages like OPP bags and different cartons are also not problems here.