Magic sponge for shoes is a new use. Whether white shoes, sneakers, or leather shoes, the Topeco™ magic sponge can erase them easily and fast to make you look cool every day. Nowadays, many people have one pair of the most beloved shoes that can't be washed frequently by laundry detergent and brush. But do not worry about it anymore, Topeco™magic sponge for shoes can make them bling and shine again safely.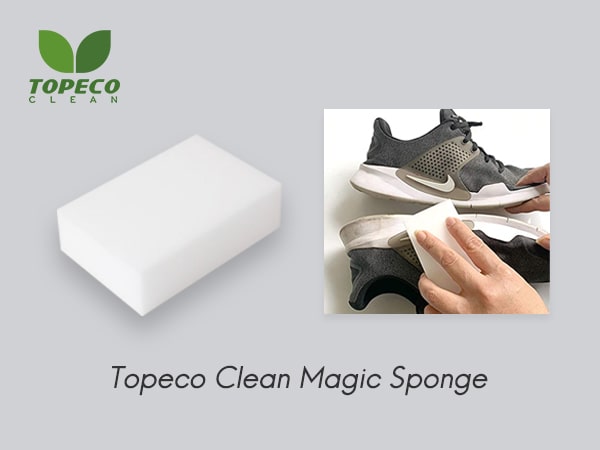 Magic Eraser Sponge for Shoes
Maybe you have the question of why the magic sponge can erase away marks and scuffs quickly without an emulsifying agent. The reason is the 3D physical decontamination structures inside. Inner of sponge, there are countless open cells. The nano microfibers link them together. Then, they become the firm mesh structures. These structures get into grooves of stains. When wiping, the magic sponge for shoes will take the dirt away.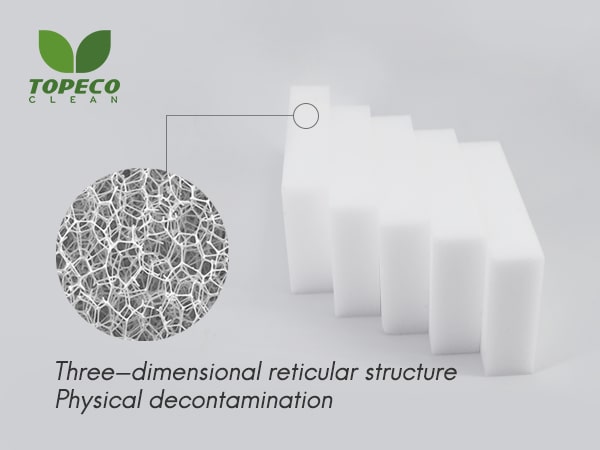 Magic Sponge for White Shoes
The white shoes are popular with all age groups in recent years. But due to its color that will be easily dirty, many white shoes cleaning products come with it. It is one wish to find one useful tool for many young people. The Topeco™magic sponge for shoes, that's it, can eliminate all kinds of messes with only water. The outstanding strength saves a lot of cleaning time, which makes magic sponge hot-selling in retail platforms, such as Amazon, eBay, Tmall, and so on.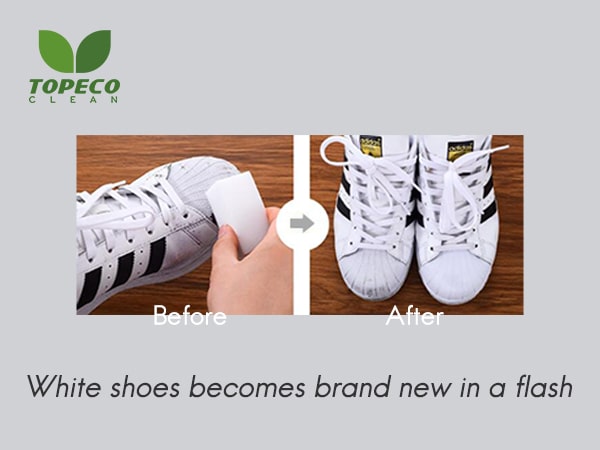 The High Density Magic Sponge for Shoes
Many users start to know magic sponge from original density, the 8kg/m3. As time goes on, when customers use it for cleaning shoes, especially on the uneven sneaker sole, the original magic sponges consume a little fast. Then the upgrade was studied and produced to make up the defect. The high density magic sponge adopts the improved hot compression technology. Although the same volume as the original sponge, the compressed magic sponge is 50 percent stronger than the original white magic eraser sponge.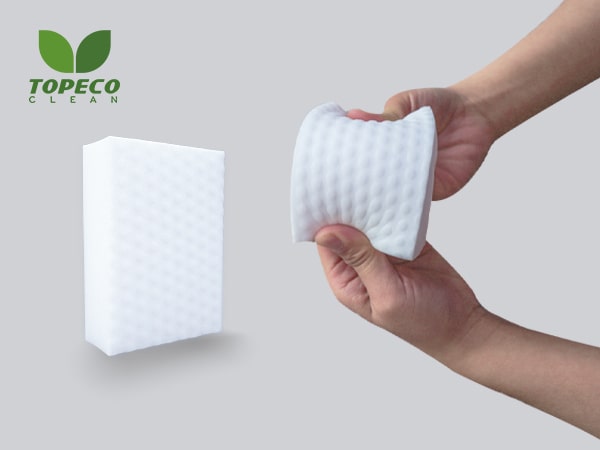 How Do You Use a Magic Melamine Sponge On Shoes?
Cleaning shoes is so simple and fast with the magic sponges. Step one: prepare one magic sponge and make it wet. The water can activate the cleaning power well. Step two: squeeze out excess water to preventing dripping. The step three: only wipe the dirty area, you can see the effect immediately, especially the sole, toe box, or eyelets. Step four: wipe away leave water messes by rag with good water absorption.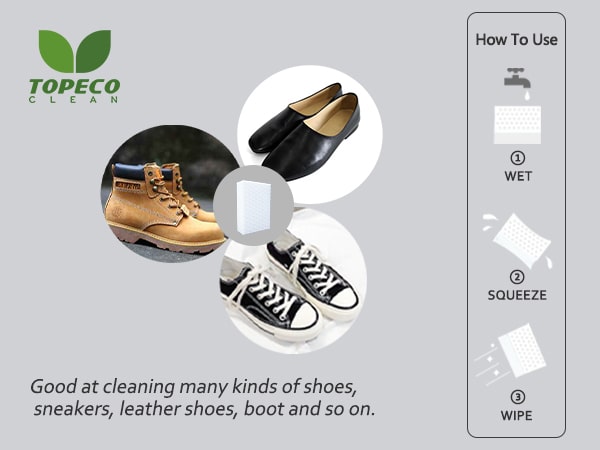 What Parts of Shoes Magic Sponge Can Clean?
Whether outsole, upper, tongue, eyelets, or cut, and no matter what materials, leather, plastic, canvas, or rubber, the magic sponge can wash them beyond all question. After kids played with their little friends, the shoes are full of mud. Grab one magic sponge to clean them in a flash. When we back home, the leather shoes attract dust, take one shoe cleaner sponge to wipe it in no time, even the stuck-on dirt. The next day, family members can wear clean and neat shoes.
The Cautions When Using Magic Sponge for Shoes
Topeco™ magic sponge can solve cleaning problems of many brands of shoes, like Jordans, canvas Adidas, and so on. But for mesh shoes, the upper is too rough and will break the magic shoes cleaning foam. And for dark leather shoes, do a patch test at first to prevent finish off.
Daiso Package Magic Sponge for Shoes
Topeco is an integrated set of industry and trade enterprise. The factory has more than ten years of production experience. We can supply customized service in addition to guarantee high quality. Like the popular package all over the world, daiso magic sponge for shoes, we can custom it for you, no matter one piece or other packagings.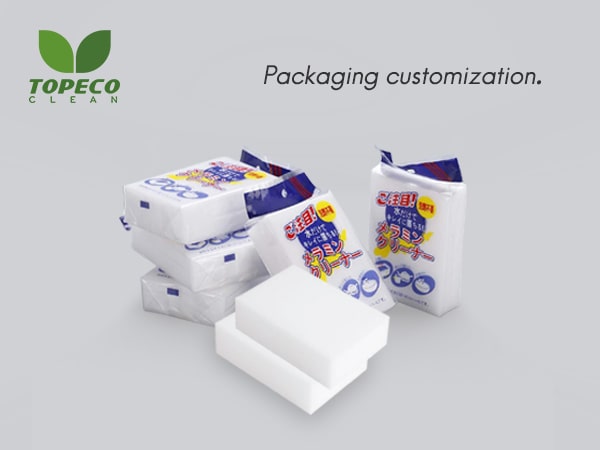 The Innovative Shapes of Magic Sponge for shoes
Our customized service is not limited to customized packages. Also, Topeco can custom different sizes and shapes. The most familiar shape is the rectangular magic sponge block. Up to now, the contoured and S-shaped magic sponge blending ergonomic design showed up, more fitting your hand when wiping. New products contain huge marketing potential. We believe the products will win for catering to terminal customer needs.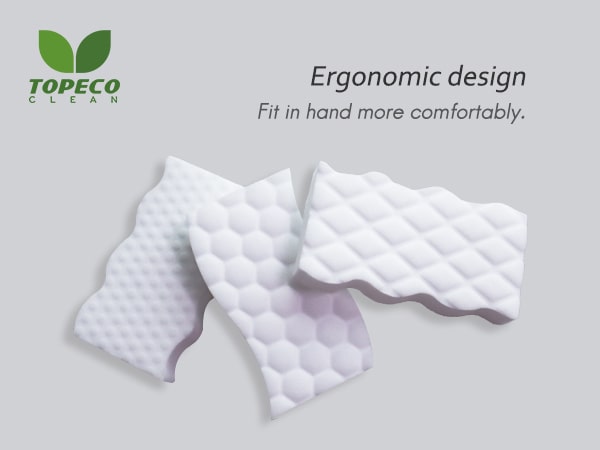 The Price of Magic Nano Shoe Eraser
After talking about our customization power, the other advantage is the magic sponge supplier's factory direct sale price. That means Topeco can give our clients the best prices in the market, sharing more benefit to them. By the way, we also can provide free samples of shoe melamine sponge to clients. We hope to push the use of eco-friendly magic sponge cleaner to the world.
Cleaning Shoes Video with Magic Sponge
Topeco is not only one strong manufacturer but also one trading company. We wholesale Topeco™ magic sponges are welcome among retailers who come from all over the world, like the USA, UK, Australia, and Korea. Besides, we have own online trading platform on Alibaba. Every day, we will share different videos of magic eraser sponge. Here is the video of cleaning white shoes by the original nano shoe eraser. You can feel its miracle real.