White cleaning sponge with a textured design can complete tough cleaning tasks around the home or outdoors. The most durable Topeco Clean magic white cleaning sponge is of stronger cleaning effect than an ordinary cleaning wipe or sponge.
Magic White Cleaning Sponge
Have you ever seen some ads online or offline about magic sponge blocks? Is its cleaning power like a magical show? Ads show that just gently wipe with a piece of the magic white cleaning sponges, stains or dirt have been removed totally. As fast as a matter, related ads are not faked. White cleaning sponges sold in the market can be designed into many colors, white, pink, and gray are popular colors. Of course, customized color is available in Topeco Clean.
The appearance of magic white cleaning sponges look like a sponge but cleans like a magic pad. Apart from the magic white cleaning sponge, the high-density magic sponge may attract you a lot. The density scale can be from 8 to 24kg/m3. The denser, the more durable. Magic white cleaning sponges with high density is thicker and stronger so you can use it for a long time. For the long-lasting cleaning power of the magic melamine sponge, we raised its standard and material choosing up to a higher level. With excellent quality white cleaning sponge and incredible density, it can easily fix mess problems for you.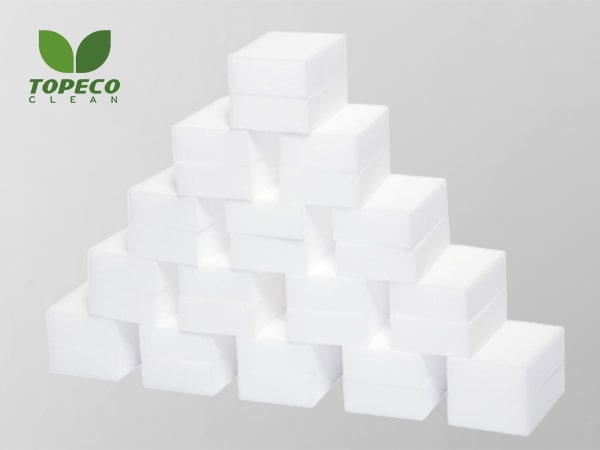 White Cleaning Sponges Home Depot
Magic sponge uses for cleaning, attracting many fans a lot, and can remove stubborn stains even dead corners. Magic white cleaning sponge is tougher on dirt, grease, and grout around the house. For almost smooth surfaces, such as bathtubs, countertops, tiles, and walls, it is just a piece of cake for the magic sponge eraser. What's more, the magical sponge's power is effective in soap scum removal, greasy kitchen cleaning, and oven cleaning. Are you curious about it? Let's together discover the secret behind that. White cleaning sponges, a gentle and effective cleaning tool, is an alternative to detergent and smelly bleach. With it, you can say no to corrosive chemicals. Simply wet it with water, squeeze, and wipe, then the product that needs cleaning will like new.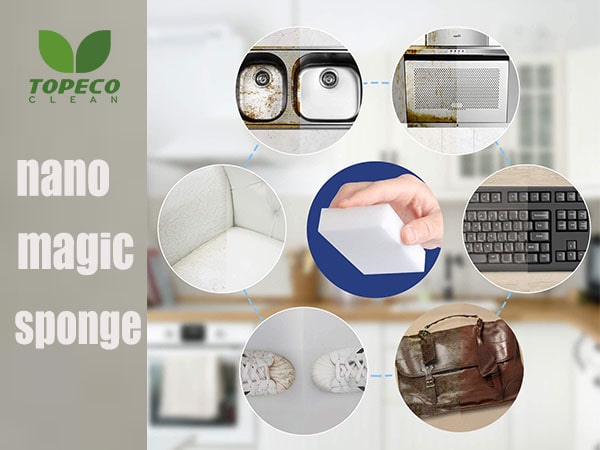 How Does White Cleaning Sponge Work?
The above article shows you the strong cleaning effect of the white cleaning sponges. So, how does a tiny white cleaning sponge block just clean with a little bit of water work so well? What's the magic that goes into a magic nano sponge? It comes down to one powerful ingredient. Melamine foam is made of carbon, hydrogen, and nitrogen. And it is a main material made of the magic white cleaning sponge. The combination of hard and soft structures within the white cleaning sponge is what makes the magic. Once internal magic material is activated by water, the sponge will work just like sandpaper. However, melamine foam is softer than most of the surfaces those stains are on, that why it can apply on many surfaces. This allows the white cleaning sponge to remove stains without scratching the surface underneath or around the stain.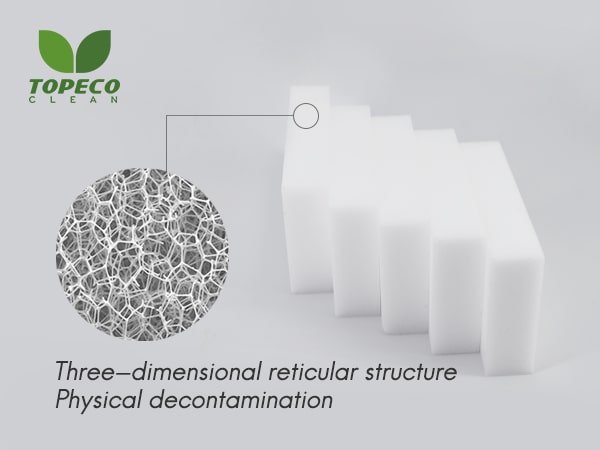 White Cleaning Sponge For Cleaning Walls
White cleaning sponges clean only need water to effectively remove stains. It is convenient to use. Once it is wet by water, the magic foam sponge can be used to remove crayons, maker, sticker residue, and grease from painted walls. Cutting the white cleaning sponge into small pieces or blocks, which is useful for getting into tiny grooves where stains tend to settle. Moreover, magic sponge wall cleaner can be used repeatedly. The step of magic sponge for walls are simple.
Step1. Soak the white cleaning sponge with water only and squeeze off excess water with both hands to keep it moist.
Step2. Gently wipe the stained area in the same direction. Do not use too much force.
Step3. Then wipe off the dirt that floats after wiping with a cloth or paper towel (not absorbed).
Step4.After wiping it a few times, put the magic eraser into the faucet to rinse or soak it in water. Do not wring rub, dirt can be dissolved by itself, and can be used repeatedly.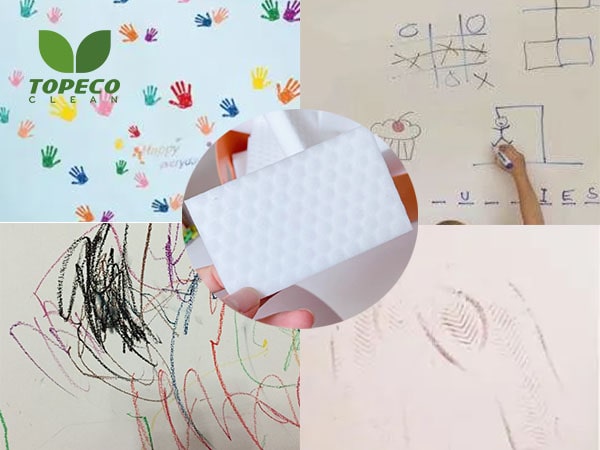 White Cleaning Sponge For Shoes
Magic sponge for shoes is an effective cleaning tool for our white shoes or sneakers. If you can not find a better brush or cloth, please give the white cleaning sponge a chance. It will amaze you. White cleaning sponge is made of melamine foam, open pore structure highly helps the sponges loosen grout or dirt from shoes. Wet the sponge with water, then can use it to start. Focus on the sole, toe box, eyelets, and wedge, the magic cleaning effects will show you soon. After cleaning, wash off the white cleaning sponges for the next use.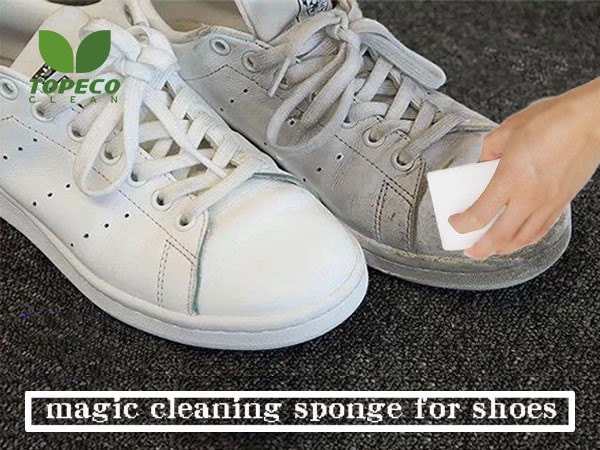 White Cleaning Sponge For Glass
White cleaning sponges also have a certain adsorption effect, used to wipe the glass is also very suitable. We can first put the magic sponge in the water to wet, it and then wipe the glass with the sponge. After wiping the glass with a sponge and then dry the glass with a newspaper or dry rag, so the cleaning effect is also very obvious. During wiping, there is no need for any detergent or washing cleaners. For stubborn stains, just wipe one more time, cleaning effects are clear after using.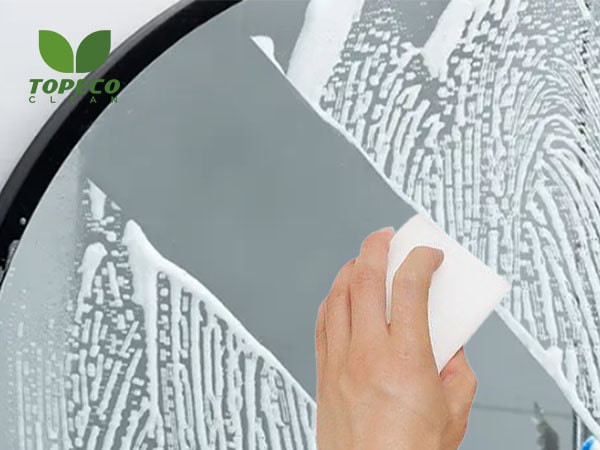 White Cleaning Sponge For Doors
For door cleaning, a magic eraser with a scouring pad is more suitable. Composite magic sponge made of two sides. One side is a scouring pad, one side is a melamine sponge. With those double side white cleaning sponges, stubborn stains are not a problem. If your door is smudged with mud, dirt, or glue, please wet the sponge, then wipe. You can first try the scouring pad side, after losing stains, the magic sponge side wipes easily.
Can You Clean Teeth With A Magic Cleaning Sponge?
Yes. White cleaning sponge is a new cleaning product for teeth cleaning. It is safe to use. Suitable for cleaning stains (tobacco, coffee, and tea stains) and yellowing and darkening on the surface of teeth. Well, the using step of magic sponges on teeth. This sponge has a finer texture than tooth enamel, so it can thoroughly clean stains that cannot be cleaned with a toothbrush. Plus, it's easy to do without a lot of force, so you don't have to worry about hurting your teeth at all! After cleaning, just rinse your mouth with water.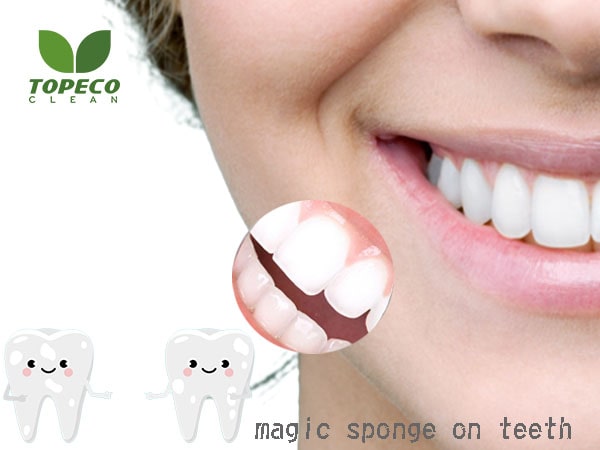 Other Magical Effects Of White Cleaning Sponge
Clean the glass shelves, and glass layer windows. Glass shelves look great in your home, but cleaning them is super troublesome! Try sponge + baking folder! It's like getting twice as much done with half the effort.
Handy soap holder. Soap in the soap box, not only will accumulate water, soap is getting smaller and smaller and simply can not hold. Try this method! On one of the sides, cut the opening where the soap can be placed. Put in the soap. Add some water when you wash your hands, you can wash your hands and clean things, and there is a place for soap fragments to be collected!
As glue table. A large can of glue every time you want to use, will be afraid of handshaking accidentally pour a bunch? Pour the glue into the sponge. Super convenient when doing crafts!
Stick to the envelope mouth. This use is relatively simple, after the sponge is wet, it is convenient to seal the letter of the gadget!
As ice retention bag. Prepare a zipper bag and the sponge style you want. You can make ice bags for use on the go, or as emergency ice packs for sports injuries!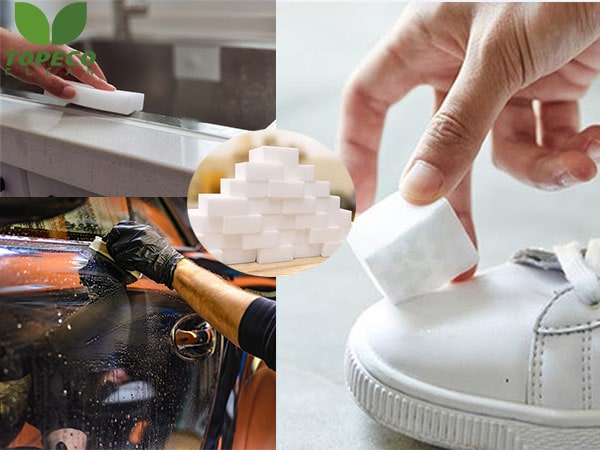 Cheap Magic Sponges Supplier Options
There are many magic sponge suppliers in the market. Because of numerous shop shows online, buying magic sponge seems to become a little difficult. Have you ever heard of Topeco Clean? It is a magic sponge supplier in china, which do the household cleaning tools business for several decades. White cleaning sponges in topeco clean support OEM service.