Have you used the sponge with handle for cleaning? Have you felt its magical cleaning effects? If not, let's explore it together.
What Is Sponge With Handle For Cleaning?
Topeco Clean Sponges with handle for cleaning is a kind of new type design, which incorporates new elements. Its raw material is as same as the magic sponge. The sponge with handle for cleaning is made of melamine foam, which has emerged in previous pages often. Apart from the melamine foam, another material for production is also worth mentioning. As we all know, the sponge with handle for cleaning is made of 3 layers-nano sponge, pu, and velcro. When it comes to these three materials, everyone should be unfamiliar with them. They appear and are used quite frequently in daily life. So have you ever imagined the magical use of them mixed together?
The bottom is a layer of sponge, the middle part of the sandwich is pu, and the layer connected to the handle is velcro. With the 3-layer sponges with handle for cleaning, any stains and dirt is no problem.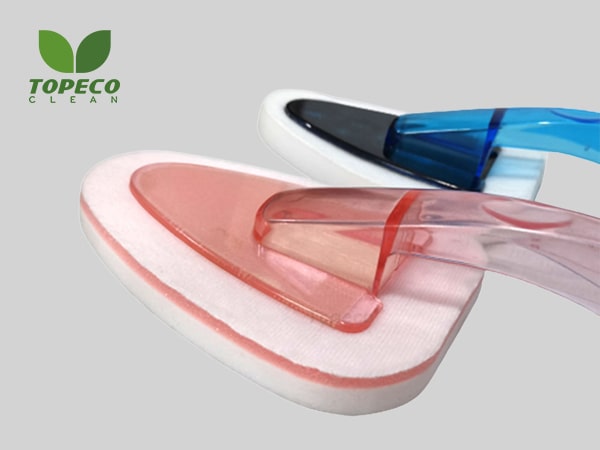 Where You Can Use Sponge Handle For Cleaning?
The incorporation of the handle design makes the otherwise difficult cleaning chores much easier. The more durable function does the cleaning work just water alone. So what can the sponge handle for cleaning do for us?
Clean up the wall. Large sponges are very good for cleaning up walls. Wet the magic nano sponge in water and squeeze off excess water with both hands to keep it moist. Gently wipe the stained area in the same direction. Then use a rag towel to wipe off dirt that rises up after wiping. After wiping it a few times, rinse the product under the faucet or soak it in water without wringing it, and the dirt will dissolve on its own. Can be used repeatedly. The sponge handle for cleaning will be used in the process of loss, which is a normal phenomenon.
Clean up black suit pants. Black suit pants are easy to stick to the lint, and it is difficult to wipe clean with a towel. Unintentionally low coffee stains are also difficult to clean. You can try the sponge with handle for cleaning, wet it just with water, then wipe the stains located. The magical cleaning effect will surprise you a lot. No need for any cleaners or detergent, a piece of sponge can do amazing cleaning work for you.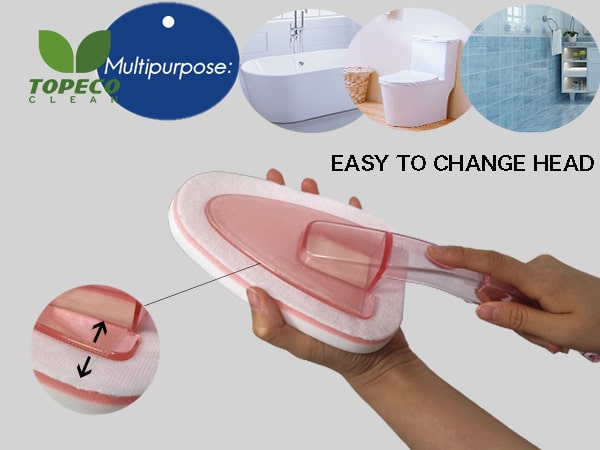 Sponge With Handle For Cleaning-Upgrade Sponge Version
Compared with a single original magic sponge, the sponge with handle for cleaning is a new type upgrade sponge version. First of all, it has a shape similar to an iron, with a larger sponge area. Secondly, The handle combines the design of manual science, which is more convenient to use. Finally, the sponge head can be replaced many times and the handle can be used for a long time. This special design strongly cuts costs and is more convenient.
What's more, OEM service on the sponge with handle for cleaning is hot now. Any innovative ideas you want, Mr. Topeco try to meet your needs.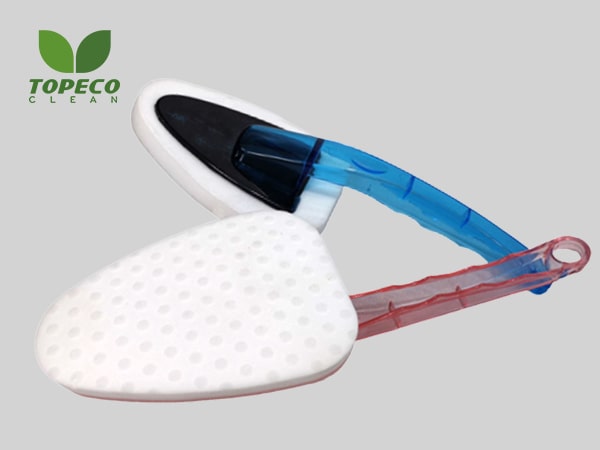 Where To Get The Sponge Handle For Cleaning?
There are many sponges with handle for cleaning on the market, but it is not easy to pick a high-quality one. Because of the sea of merchants of varying quality, resulting in more and more shoddy products. For cleaning products, quality comes first. No one wants to buy back poor quality products to affect the mood. I have tried many cleaning products in Topeco Clean and I have to say that every time I have been very satisfied. Why? High quality and excellent service. Topeco clean always provides product analysis from the consumer's point of view. Also, samples here are free! If there is a need for magic cleaning tools, Topeco Clean is worth contacting.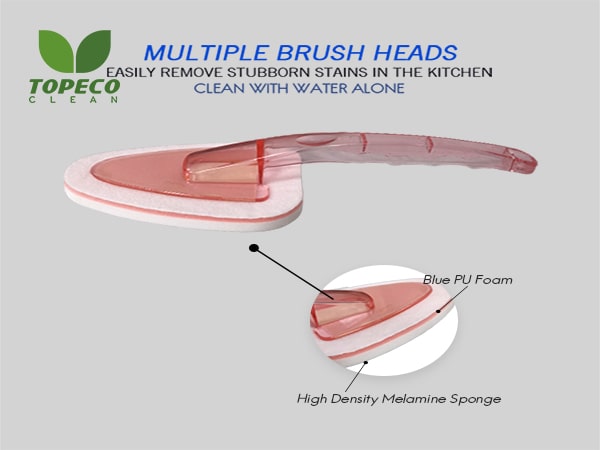 What Does The Sponge With Handle For Cleaning Look Like?
Unlike the Topeco Clean magic sponge brush, it has a sponge in the form of a sheet. The long handle sticks to it delicately. The brush has a blocky head. The color of the sponge is white and the color of the handle is variable. So how to store it? The sponge absorbs moisture after use and becomes moist, which can easily cause bacteria to multiply. Therefore, it should be washed with water often, so as to ensure the use of safe and healthy. After washing, put the sponges with handle for cleaning in a ventilated place to dry naturally. Then, Just hang it up.