Topeco clean products are loved by customers all over the world. People spend most of their time indoors every day, and house cleaning hygiene is closely related to people's physical and mental health. For families, home cleaning is even more indispensable, whether it is a small family of three or four people or a large family of five or six people, the collision of work, study, and family will inevitably be some trivial troubles. If the home is a mess, it is difficult to live in order. Now, the topeco clean products, handling all messes fast, will be your good option.
Topeco Clean Products-Single Magic Sponge
A single magic sponge is one of the popular tools from topeco clean products. The material of the magic sponge is melamine foam, which is the hot and main ingredient. Melamine foam is an excellent cleaning material in the household cleaning field. Magic sponge uses can not only wipe the induction cooker but also wipe the data line, tea scale, shoes, oil and ash mixed stains, and so on. Just wet it with water, and then wipe, very good. The cleaning principle of topeco clean products relies on the nanoscale capillary open pore structure inside the sponge to automatically absorb stains from the surface of the object. It works like a vacuum cleaner and does not rely on any detergent to help degrade it. In addition, the magic sponge is non-toxic. Under normal circumstances, the formaldehyde released by the magic sponge will be washed away by water, and will not enter the food. The media make a big claim that the use of sponge wipes will be "dangerous to health" or "carcinogenic", inevitably some exaggerated words.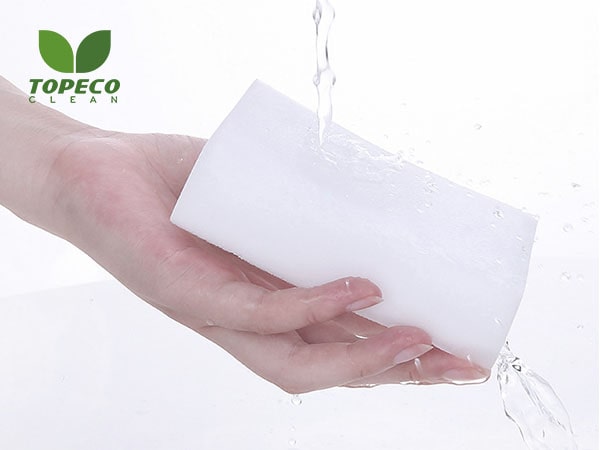 Topeco Clean Product-Round Shoe Eraser
Topeco magic sponge for shoes activated by a little bit of water goes a long way on dirty shoes. Before you toss dirty sneakers out in favor of a new pair, try this topeco clean products-round shoe eraser, the result will not disappoint you.
It can be designed into a single round magic sponge or combined with other cleaning materials like non-woven fibers and a scouring pad. The cleaning principle also just needs water alone. The topeco clean products-shoes eraser is a melamine foam, which is a super-fine scrub brush that gets into all the little grooves and crannies. Since it is more convenient and easy to use, round shoe erasers are favored by customers and gradually become one of our company's hot-selling cleaning sponge products.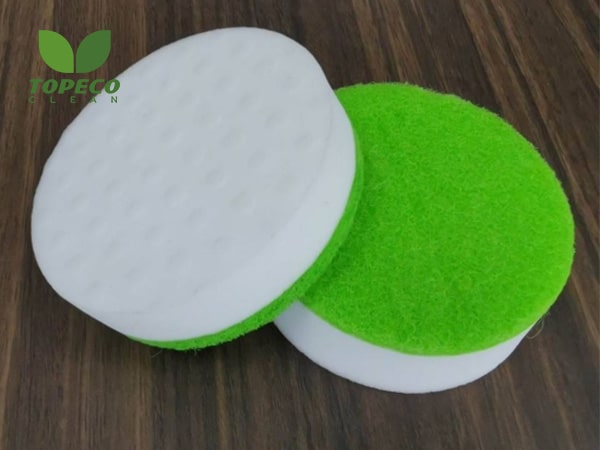 Topeco Clean Product-Nano Sponge With PU
Nano sponge with PU is one of the popular and excellent compound cleaning tools in topeco clean. It combines double cleaning material: nano cleaning sponge and PU. Two sides of topeco clean products enhance the cleaning power and effect. One tool brings out the best in both the two cleaning materials. The material of the PU sponge is polyurethane. The color of the nano sponge with PU is colorful. Similar to other products, white, pink, and gray are popular magic sponges. More options for PU sponges are blue, yellow, orange, and so on. More designs can be customized to your needs.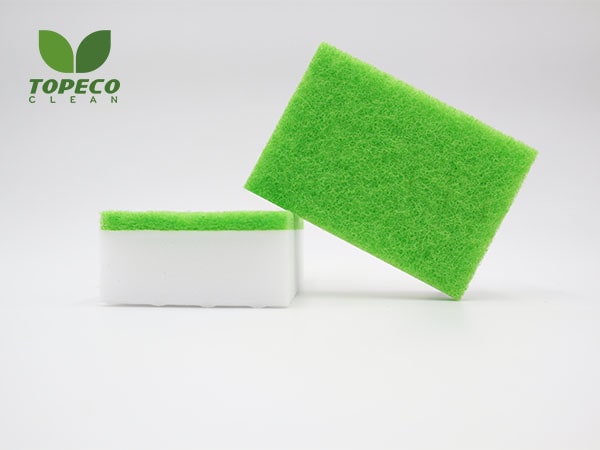 Topeco Clean Product-Magic Sponge With Non-Woven Fiber
Topeco clean magic sponge with non-woven fiber enlarges the using fields from kitchen cleaning and bathroom to car and shoe cleaning. Such durable topeco clean products can do almost any cleaning work in our daily routine. Double cleaning material makes the density and quality higher. The compound products are more durable than ordinary magic cleaning sponges. When used, its strong cleaning effect will amaze you a lot. Due to the fast drying of the non-woven fabric cloth and the material itself is not easy to breed bacteria. It is safe to use.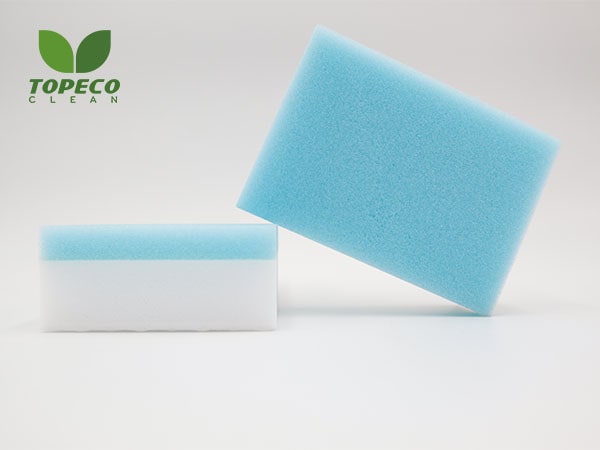 Topeco Clean Products-Magic Sponge With Scouring Pad
Magic sponge with scouring pad uses can apply in many areas. When it comes to magic sponges with scouring pads, everyone should know about them. It is very common in our kitchen. There are several magic sponges with scouring pads in every household. It is very convenient to use such a cleaning tool to scrub stubborn stains on dishes and bowls. Magic sponge with scouring pad actually consists of two parts. One side is the thicker sponge, which is softer and larger, making it easier to absorb water and foam. Perfect for scrubbing dishes. Of course, it is also effective for wiping and finishing countertops. The other side is the hard-felt part. The advantage of a scouring pad is that it is both soft and hard, and does not leave scratches via steel wool does.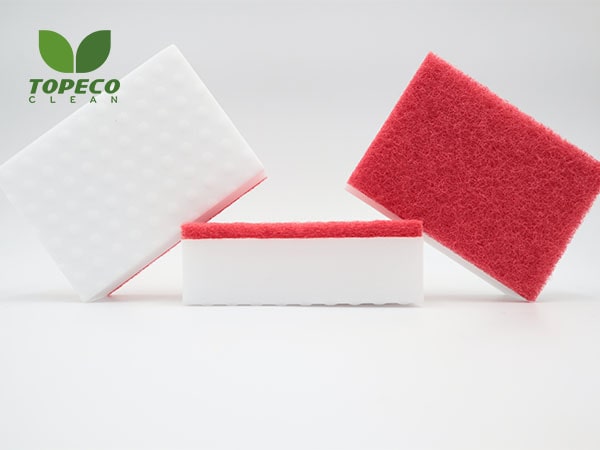 More About Topeco Clean Products
The cleaning products in topeco clean support oeOEMervices. The size here popular of 10x7x3cm and 10x6x2cm. Large sizes are available here. Density includes 8kg/m3 and 16kg/m3. More types of the density of topeco clean products are supported. Magic foam sponges come in a variety of shapes, with different shapes for the same effect. There are rectangular, round, octagonal, hexagonal, small waist, flower, S-shaped, and wave-shaped. Different shapes can be cut into different shapes for use. The package of the sponge is single with opp bags. A magic eraser can be packed with cartons, box transparent bags, and color packages. All the above designs can be customized to your requirements. Package logos, stickers, and cards will match your needs to design. To read more click here.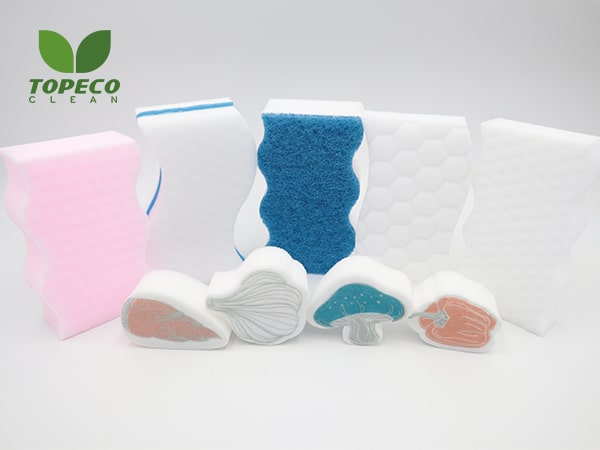 MR.TOPECO
Henan Topeco Clean Sponge Co., Ltd (Topeco Clean) has been established for nearly 20 years with an export license, which is a stable and gradually developing foreign trade company. Topeco Clean specializes in manufacturing and supplying a wide range of household cleaning products and multifunctional cleaning tools, including detergent-free magic sponges, natural bamboo cloth, wood pulp cellulose sponges, emery sponges, and so on. We have experience in exporting disposable items all over the world, and our products are mainly sold to Asia, Australia, Central, America, North, America, South, America Eastern Europe, Western Europe, Middle East, and Africa markets, and our products are very popular. At present, we are committed to developing more new items and expanding our market.
Product Promotion Method Of Topeco Clean Products
You can find topeco clean products on many websites such as Quora, Reddit, Linkedin, Alibaba, Made In China, and so on. The price from those websites is the same. We just would like to recommend the magic cleaning household products to many people in that it is really handy. Those cleaning magic sponges here are all factory direct sales. We have our production factory located in Henan China. If any questions please feel free to contact us.