As a magic sponge supplier, Henan Topeco Clean Import&Export Co., Ltd is a sponge manufacturer with leading technology. So, we specialize in research, development, production, and trading of eco-friendly melamine magic nano sponge. Topeco Clean can produce various melamine sponges. Like the magic melamine sponge, magic sponge wall cleaner, magic sponge cloth, compound magic sponge, and magic block sponge, they are all hot selling.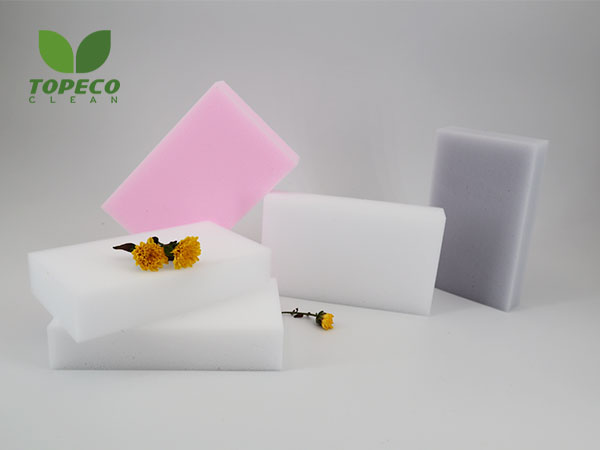 Magic Sponge China Supplier -Topeco Clean
Topeco Clean locates in Zhengzhou City, Henan province, nearby Xinzheng International Airport. So we can deliver orders at the fastest speed. Besides, in our city, there are many railways and highways in each direction. Consequently, every port of China can be easy to reach. Shipping by the ocean is quite convenient. Qingdao and Lianyungang port are closing to us. Also, the Zhengzhou-Europe block train, all direct train, ensure delivery time for EU customers.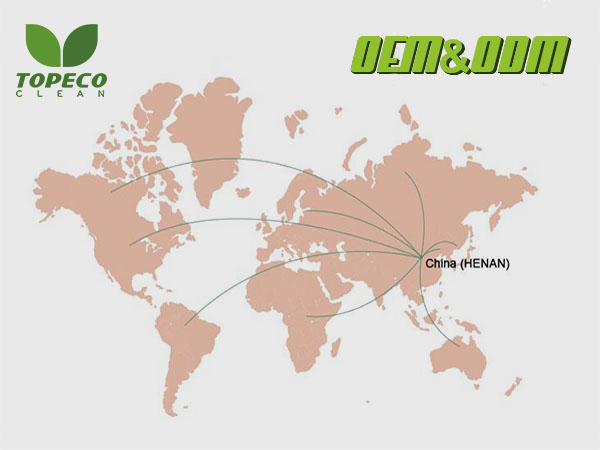 Topeco Clean Magic Sponge Supplier's Factory
The magic sponge factory of Topeco Clean supplier has nearly ten years of production experience. With time going, Topeco Clean magic sponge supplier perseveres in deeply developing the magic sponge and innovate. The highly automatic production line ensures the precision of the product. In addition, we possess the world's advanced production technology of polymer nano melamine foam, especially in cleaning products. Consequently, the melamine sponge of Topeco Clean is getting favored by more and more people. Our factory covers an area of some 30,000 square kilometers, accepting orders from around the world.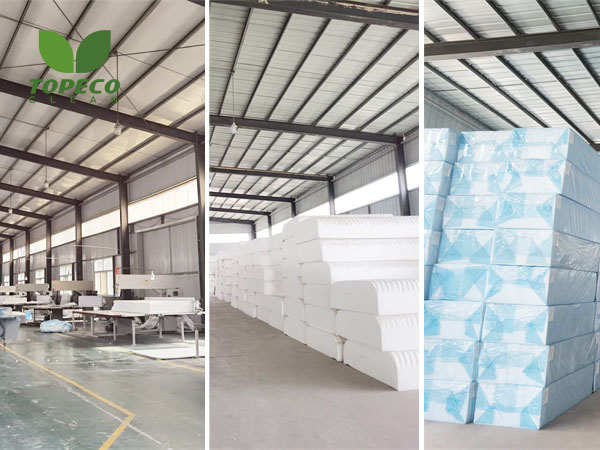 Skilled Factory Workers
Topeco Clean magic sponge supplier has 130experienced workers and 20professional researchers holding their position. The production process is in good order every day. Our technology is mature. Also, workers have a long experience. Once clients have an urgent order, we can handle it.
Certificates of Security of Topeco Clean Magic Melamine Sponge
Our factory has its laboratory and quality assurance department and experienced research team. For all magic melamine sponges we sell, the production process is under supervision. So, quality is secured firmly. What's more, our researchers will participate in regular training and seminar. Our research department of the factory is committed to developing new materials and more eco-friendly products. Melamine sponge of magic sponge supplier Topeco Clean obtains the certification of ISO9001 quality control system and ISO14001 environment management system. We also have other international authoritative certificates. SGS flame retardant test, thermal conductivity test, and non-toxic test were done by SGS Group.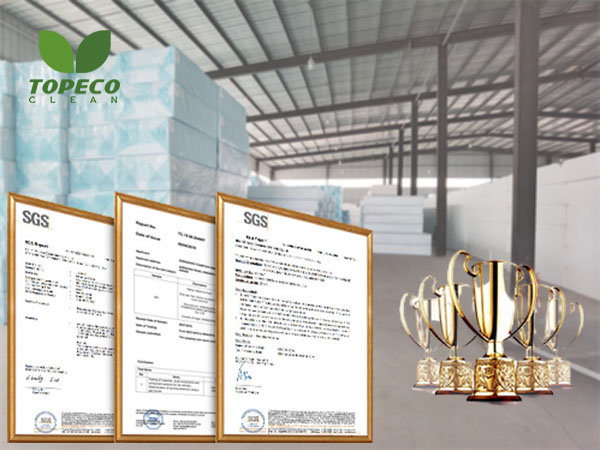 OEM Wholesale Sponges
For wholesale sponges, please contact us and show your inquiry. The most favorable price provides you with quality products. Samples are free of charge. Also, Topeco Clean magic sponge supplier can support OEM, professionally customizing your exclusive packing. For any question, please tell us without hesitation, knowing, and solving your problem is our pleasure.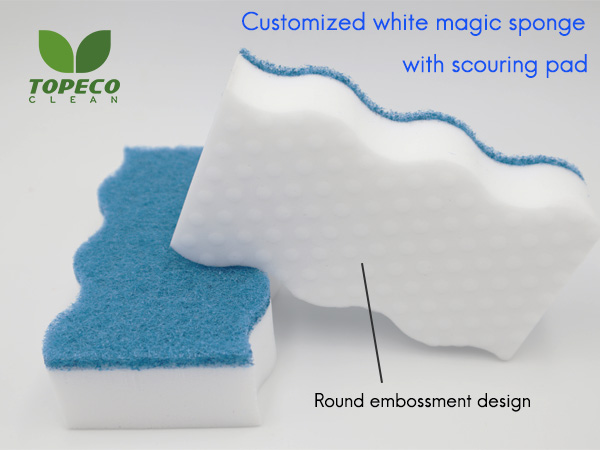 Professional Sales And After-sales Team Topeco Clean
To service and satisfy customers, Topeco Clean magic sponge supplier establishes a dynamic elite group for sales and after-sales. They will learn manufacturing techniques at a fixed period. So customer service staff can have a better understanding of the customer's problem. We focus on each question from customers. That impels us continuously to study techniques and improve our services. Our goal is to be a world-famous magic sponge supplier and bring user-friendly to more people.
Topeco Clean Magic Sponge Online Supplier
As an export magic sponge supplier, we have our own stores on Alibaba. Many clients found us on this platform. There is customer service staff paying attention to all information. So, our customers and potential customers can get a quick response. Besides, we are the supplier of many retail online stores on Amazon and eBay, they get many pretty good ratings.
Melamine Sponge of Magic Sponge Supplier Topeco Clean
Melamine sponge is also called nano sponge. Also, product materials of magic sponge supplier Topeco Clean are 100% non-toxic. In addition, they have excellent flame retardant, high-temperature resistance, and thermal stability. Additionally, it is a kind of eco-friendly product with safe and light foam. Its material has features of high porosity, water absorption, dirt removal, softness. Topeco Clean magic melamine sponge has become more and more popular on daily cleaning. So it has another fashion name, the magic sponge eraser.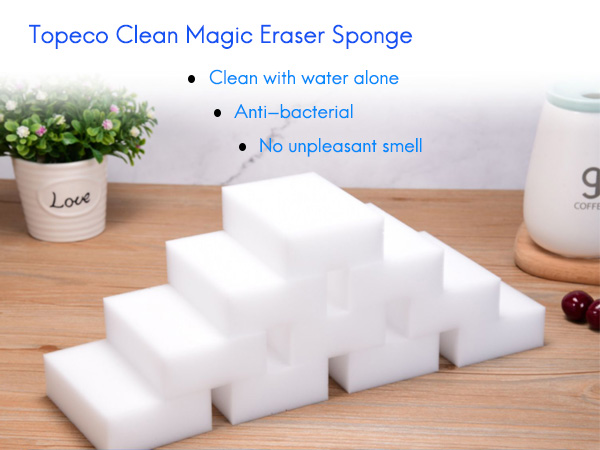 Other Applications of Magic Sponge
In addition to cleaning products, magic Topeco melamine sponge has excellent flame retardant, sound-absorbing, and heat insulation. It is applied widely to improve sound quality, reduce noise, heat insulation requirements. So the construction, industrial, automotive, aviation, space, electronic products, and textile industry need magic sponges indispensably.
No Unpleasant Smell After Long-term Using Melamine Magic Sponge
As above-mentioned, melamine sponge from Topeco Clean magic sponge supplier only needs water to do clean. After using, washing it under flowing water, the inside stain will come out following water. Besides, Topeco magic melamine sponge has a 99.9% natural anti-bacterial effect. Not cause germ breeding, and give you back a healthy lifestyle.
The Difference Between Melamine Sponge of Topeco Magic Sponge Supplier With Traditional Sponge
The biggest difference is that Topeco magic melamine sponge adopts physical decontamination technology. Its internal opening structure with nanoscale porosity. So, melamine sponge from Topeco Clean magic sponge supplier can automatically adsorb stains on the surface. For the traditional sponge, it is more like a rag, needing a chemical cleaning agent to help.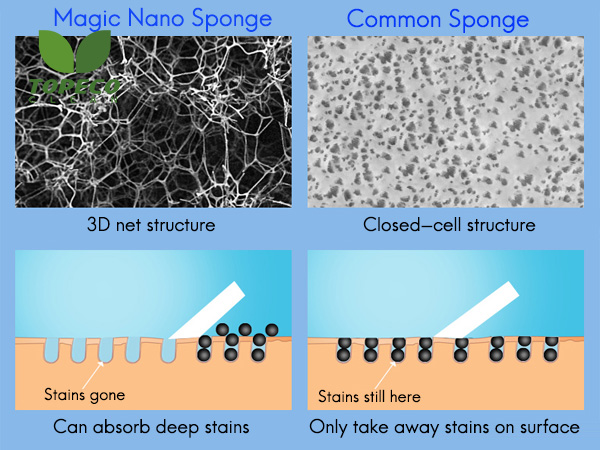 The Advantage of Magic Nano Eraser
Topco magic melamine sponge only needs to get wet and rub stains directly. Besides, no detergent and no more pollution for the environment and save water. Topeco Clean magic sponge supplier always support and practice environmental protection. It is also our firm principle. We hope you will join us!
Core Competences of Topeco Magic Sponge Supplier
Quality assurance for customers is the primary task for us. Also, the high tech production line and the development team will guarantee and bring each customer the best user experience. Besides, our after-sales team will also be an escort for every customer. It is worth mentioning that the employees of Topeco Clean magic sponge supplier have the same faith. We pursue to create clean, efficient, and ecofriendly products. Save users' cleaning time and protect our shared environment. It has to be said that concern for the environment is always on our minds.