What do you understand by melamine foam pads? A small piece or a big piece? In fact, it can change according to your needs. The multi-purpose use is one of the major reasons why it is popular in the market. Any item in your life that needs cleaning can be solved with melamine foam pads.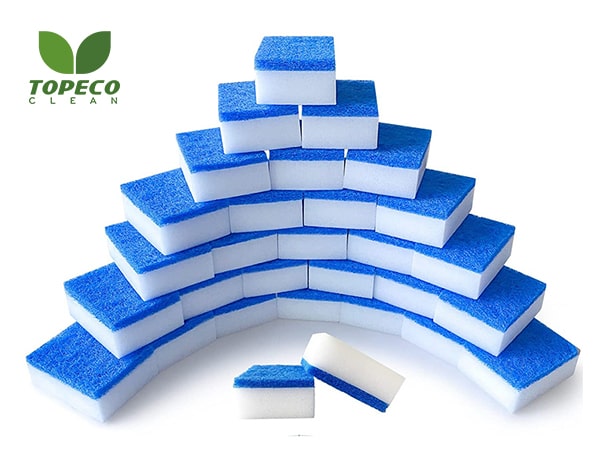 Double Density Thick Melamine Foam Pads
Melamine foam pads are always known as magic erasers, magic sponges, or melamine sponges, which enjoy many names but apply the same cleaning principle. Because sponges achieve a high level of corrosion during use, people prefer magic eraser sponges for scrubbing surface stains in their daily lives. Chemical-free Nano foam technology provides excellent eco-friendly cleaning. Can be unique in household cleaning. This makes the cleaning sponge excellent for cleaning walls, skirting boards, floors, switch plates, tiles, plastics, and other items.
In addition, the popular styles are melamine foam pads with compound materials. Combining melamine foam pads with scouring pads can enlarge its cleaning power of it. Double density thick magic sponge cleaning pad can deep absorption stains and oil on the surfaces.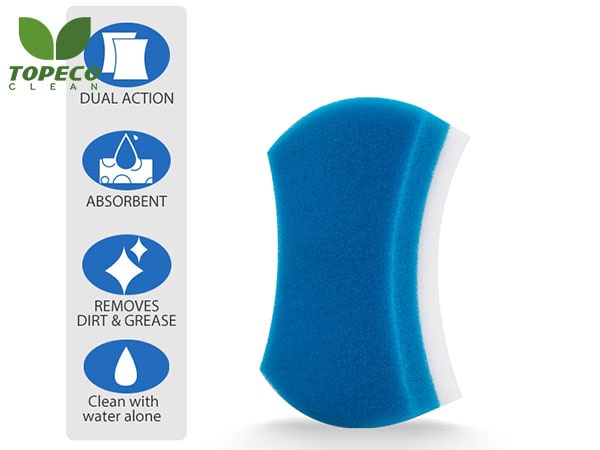 Melamine Foam Ppads Remove Marks And Smudges On The Wall
Before using the Magic Sponge Eraser, cleaning crayon marks on the walls was a pain. Then I listened to my friend's advice. Try Topeco Clean magic sponge and its effect is really obvious. It's also very easy to operate.
First, wet the cleaning sponge in water and squeeze off the excess water with both hands to keep it moist.
Next, gently wipe the stained area in the same direction.
Then, use a rag or paper towel to dry the floating dirt after wiping.
Finally, after wiping a few times, put the product into the faucet to rinse or soak in water, do not wring rub, dirt can dissolve on its own, and can be used repeatedly.
It is important to note that the magic sponge block is a consumable product. It will be slowly consumed with the cleaning time. This is a normal phenomenon.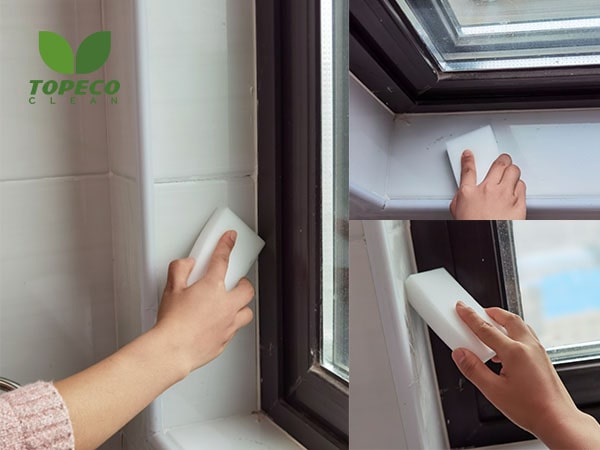 Non-Abrasive and Chemical Free Melamine Foam Pads
Melamine foam pads are made of melamine foam, which makes its cleaning power the most. When it comes to melamine foam, its internal ingredient also appeals to our topics. The reason why melamine foam combats stain or grime without harming the surfaces underneath is that it is a mix of hard and soft structures. Combining hydrogen, carbon, and nitrogen enhances its power. What's more, melamine foam has been manufactured since the late 20th century and it was discovered in the early 21st century to be an effective cleaning tool.
It is also due to the inherent non-abrasive nature that Topeco Clean is easy to wear away when used. The cleaning sponge is not suitable for use in places where oil is particularly strong such as range hoods, stoves, etc. If you need to use it, please remove the heavy oil from the surface before the final cleaning.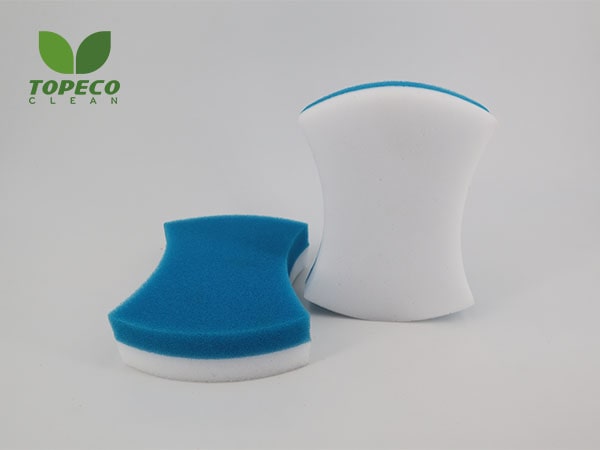 Melamine Foam Pads For Floor Cleaning
Melamine foam pads are the best cleaning products on the floor. Whether it's a tile floor or a wooden floor, the melamine foam pads will be your best helper. It can clean floating dust and oil stains and hair on the floor in a large area. After wetting and rubbing it on the stained surface a few more times, even the hardest stains can be easily handled. Melamine sponge pad for floor machine tiles, two materials have dual cleaning effects. Use the best glue to bonding, not easy to deform. Easy to replace, save cleaning time. For example, the chewing gum on the floor is difficult to clean, you can first use a household spatula to shovel off large pieces of chewing gum. Then use a magic sponge cleaner to wipe the sticky stains on the surface a few times. The floor as good as new will be in front of your eyes.
The dust in the floor cracks can also be wiped with a sponge. You can DIY the magic sponge with many shapes. Cutting into the smaller block is good at removing stains from floor cracks. This approach not only brings out your creativity but also saves the use of a sponge.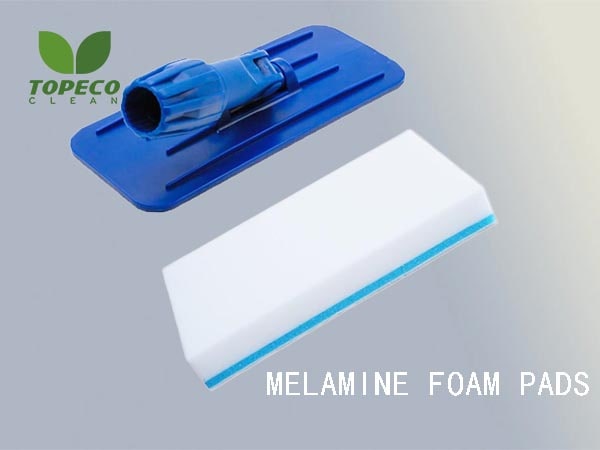 Melamine Foam Pads Sheets
The heavy-duty magic sponge sheet works like a miracle. It does not need any help with dish liquid during cleaning. Do not worry about the detergent residual affecting our health anymore. So, a heavy duty magic sponge sheet could be called a faster and safer cleaning product. Furthermore, the thin and flexible heavy-duty magic sponge sheet can reach and cleans small corner. Melamine foam sheets can clean the kitchen stove, wipe the glass windows, wipe the dishes, wipe the shoes, and almost everything else.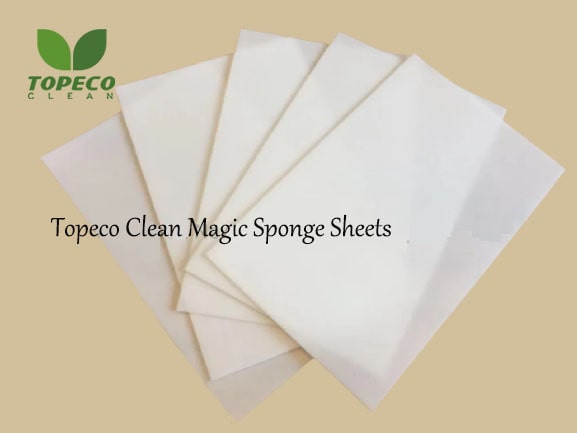 Melamine Foam Cleaning Pads
Topeco Clean has been in the household cleaning market for more than ten years. We specialize in creating melamine foam cleaning pads that are suitable for everyone's use. All products are shipped factory-direct. As a manufacturer and wholesaler, customization service is available here. Customized product logos, packaging, and product impress. If you are worried about the quality of the products, we can provide you with international quality inspection certificates and reports, such as SGS, CRS, and MSDS, at any time. If have any questions, please feel free to contact us. We will be glad to serve you.
What Shapes Can Melamine Foam Pad Be?
Two of the most popular melamine foam pad on the market are rectangular and round. The rectangular foam pads are popular among household cleaning mops. The three-layer compressed cleaning material makes the melamine foam pads look small and simple. It is slightly better to use with the handle. It can be used for mopping floors and cleaning walls and windows. The large round sponge is most commonly found in shopping mall cleaning machines. The strong suction power locks the water stains on the floor.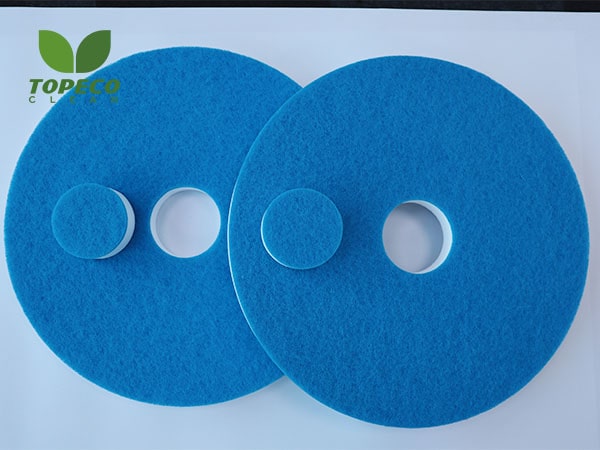 Melamine Foam Pad Design
The magic sponge is mostly white and the scouring pad is available in a variety of colors. The simple white and colorful sponge collides to make the melamine foam pad follow the fashion trend. Whether it is for home use, gifts, or on the go, it will never go out of style! Different densities and sizes have the same cleaning power and Topeco clean high-density sponges reduce wear time and make them more durable. Of course, we can also customize them according to your needs.
Melamine Foam Pads For Sale
You can buy cleaning sponges at any supermarket. You can get a large pack of sponges for about $3. The sponges can be found in stores both on and offline. Topeco clean is one of the online stores, selling popular styles of magic sponges. Topeco clean is currently listed on Alibaba and MIC as well as major foreign trade websites. Not only do we offer great prices but we also offer free samples. Let you use it with confidence.