What Is The Melamine Foam Blocks?
Melamine foam blocks with hardness and foaming properties make it easy to physically scrape off and absorb stains. It looks like a normal white sponge shape. But the cleaning strength is very different. It can handle almost all stains in the house, especially stubborn ones. The safety of this cleaning product has been a concern since it joined the market.
One of the characteristics of formaldehyde is that it is very soluble in water. We use melamine foam block when dishwashing is first soaked in water before using, and the pore structure up to 95% or more is easy to absorb. So even if there is some formaldehyde inside the melamine foam block, there is the very little residue after dissolving in water. And formaldehyde use is not in a confined space, wait for the enrichment of how much, it has dissipated. In addition, melamine is synthesized by melamine and a 37% aqueous solution of formaldehyde, which can be used for food and also for industrial use. So it is safe to use, feel free to use it.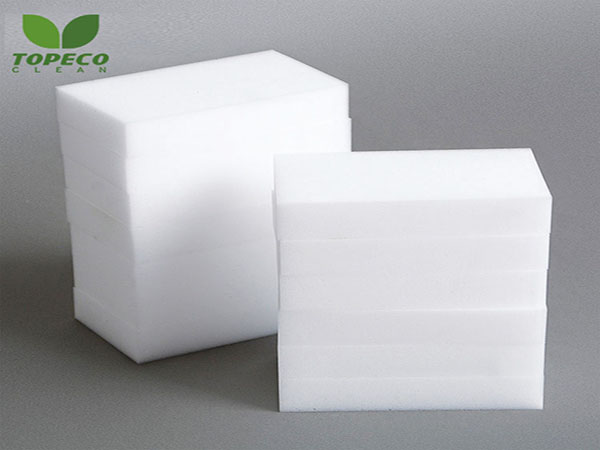 Why Do Melamine Foam Block Break So Easily?
The sponge is brittle and tears easily when it is dry. This is not because the sponge quality is not good, the sponge's internal open structure makes the sponge this special structure of cleaning products more brittle. The melamine foam blocks work like a pencil eraser. The inner structure of the sponge automatically absorbs surface dust. The larger the dust area, the more visible the wear will be.
In contrast, high quality and high density sponges wear more slowly. The magic melamine sponge in topeco clean not only can design into high quality but also compressed ones are no problem.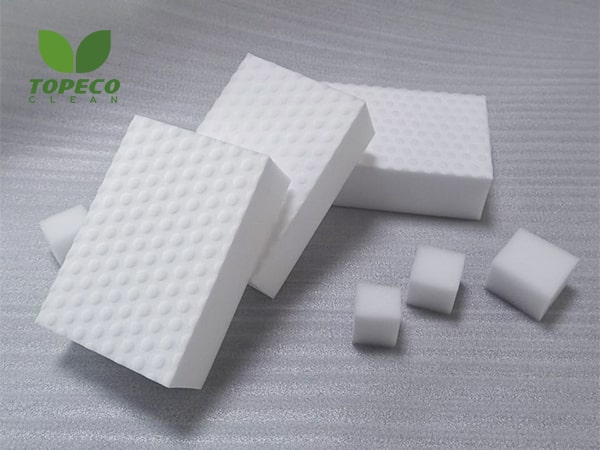 What Difference Between Melamine Foam And Melamine Foam Blocks?
Melamine foam is a kind of material that also is a cleaning sponge. Melamine foam blocks are made of melamine foam. In other words, they are the same thing. Melamine foam block, also known as cleaning sponge wipes, magic erasers, magic sponges, etc., are generally used to clean dirt, limescale, soap scum, oil stains, tea scum, etc. Ceramic mirror, glass, stainless steel, and other hard and smooth surface also has a good cleaning effect. The characteristics of the cleaning sponge are:
1, the use of physical principles of cleaning antibacterial, economic and environmental protection
2, the use of cleaning sponge does not hurt the material surface, human skin, clean without residue.
3, cleaning sponge can be cut into different sizes at will, very convenient to use.
4, cleaning dirt, cleaning sponge can absorb most of the dirt, so as to achieve the effect of decontamination.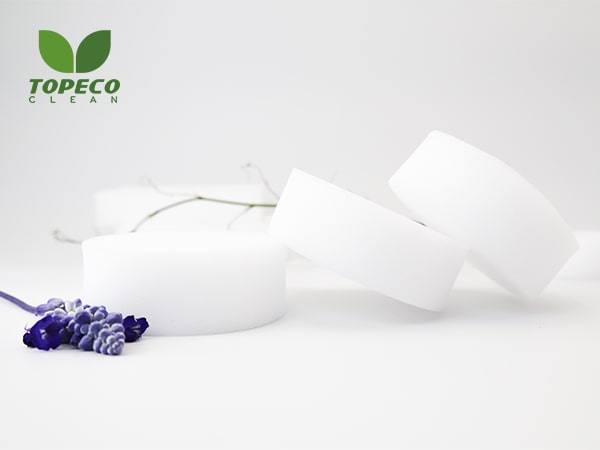 Best Melamine Foam Blocks For Tile Floor
Topeco clean magic eraser sponge, dipped in water, no detergent, by its friction can clean the dirt. In the kitchen, the melamine foam blocks can be used to wipe the tile surface, stove top, and quartz stone countertops. Especially the countertop near the sink, often scuffed by the pot black, with a rag and detergent difficult to wipe clean, but with the magic, melamine foam blocks can easily handle.
If your tile floor has accumulated a lot of dust that is hard to clear off, then a sponge is your biggest helper. Wet the sponge and wipe it over the dirty floor a few times. The clean sponge then appears perfectly.