The magic sponge brush with handle is a very utility tool for everyone. We all need to use cups or mugs every day to drink water, coffee, tea, juice, or wine. The residue will attach to the internal wall or bottom. It is hard to touch them with general cleaning products, like rags, PU sponge, and steel wool. Sometimes, even if these tools can reach stains, the stuck-on dirt can't be moved by them. So this is the purpose for the existence of Topeco Clean magic sponge brush with handle.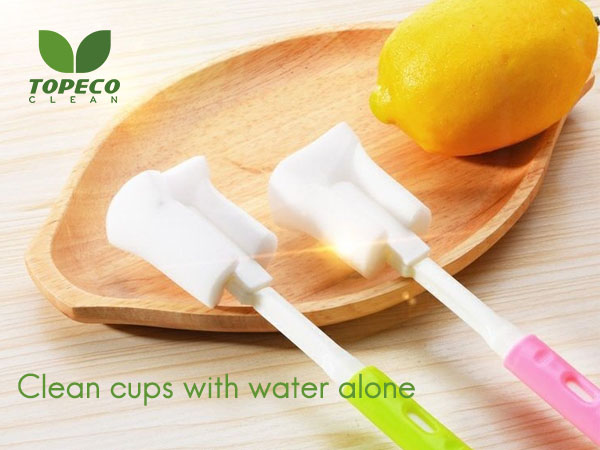 The Effective Cleaning Tool
Sometimes, we may hear of some tips to brush cups, like baking soda, vinegar, salt, or bleach. If you tried, you could find these methods can't help thoroughly. It also will take a long time to soak, and the final effect is not good. However, Topeco Clean magic sponge brush with a handle can solve various stains on cups quickly relying on its structure, no need to add something to produce a chemical reaction with residue. A faster physical cleaning method!
Easy Use of Magic Sponge Brush With Handle
The magic sponge brush adopts 100% non-toxic melamine foam. The microstructures of material have strong stain-removing capabilities. This residue and stains setting the inner wall are pieces of cake for magic cleaning sponge. Before use, soaking some water to arouse its cleaning power, then directly wipe down stains on cups effortlessly. There is one flexible handle to help get to the bottom and inner wall. After done, rinse cups several times.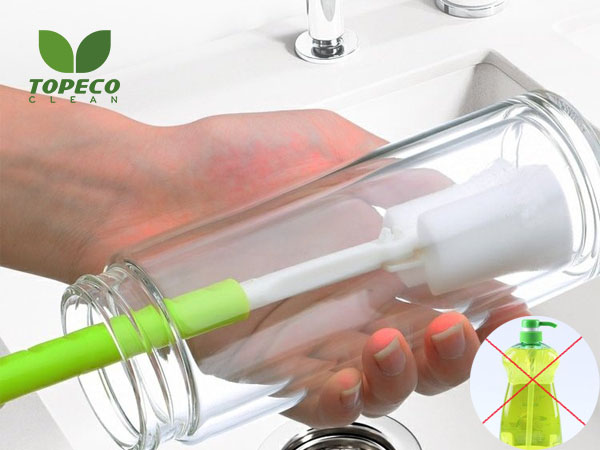 The Design Purpose of Magic Sponge Brush With Handle
The cups of hardest wash are slender shape or/and too narrow open, like milk cup and champagne glass. The magic sponge brush with bundle can touch grime stuck on each place. Besides, the magic sponge head has good elasticity. Even the most narrow mouth, it can enter in. By the way, the short and open-mouthed cups, like coffee cup and teacup, it also can wipe off set-in coffee or tea stains.
Advantages Compared To Ordinary Cup Brush
The ordinary cup brush produced by PU sponge, it also can reach stains. But due to limited cleaning function, it can't wipe down stains well, especially permanent stains. Sometimes, the cup brush has to cooperate with dish liquid, which will cause difficult scouring. In case that the detergent leaves the inner wall, that will be detrimental to our health. However, the magic sponge brush with handle has no such problem. The unique physical decontamination can lift away stubborn stains with ease and make cups easy to rinse.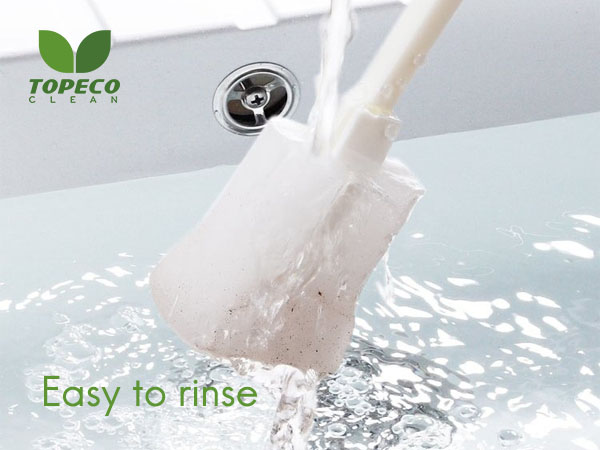 The Notice About Cleaning Cups
Now modern people are extremely busy working during the weekday. If the time is too tight in the morning, we will wash coffee mugs or milk cups when coming back. But the inside cup, the air has trouble moving, which will cause bacteria to grow. The quick cleaning by the magic sponge brush with handle can help you on urgent mornings and protect your health.
How To Clean Cups By Magic Sponge Brush With Rotatable Handle Correctly
Some people think that the most unhygienic part of the cup is the rim. They only choose to clean it. In fact, dirty stuff tends to sink into the bottom. So the major part you should brush is the bottom of the cups. In a word, we had better clean the whole cup, not just caring for one part. Don't be afraid, slightly rotate the wet brush head gently, chemical-free, the dirt will go away instantly.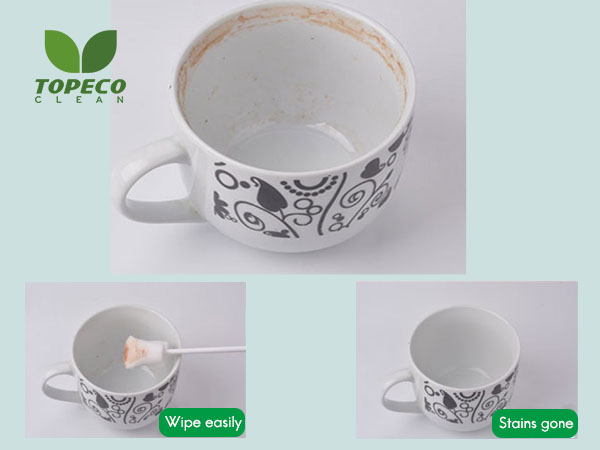 The Range of Application of Magic Sponge Brush With Flexible Handle
The magic sponge brush with a flexible handle aims at scrubbing stains on various cups, no matter narrow-mouth, wide-mouth, tall, or short. Furthermore, all kinds of bottles and jars, like sugar-basin, coffee cans, jug, cruet, vase, kid's bottle, wine decanter, and so on, can be cleaned too. Also, it has a function in cleaning hard-to-reach areas, like the bottom of the soya-bean milk machine, coffee machine, teakettle, cocktail shakers, etc..
How To Place Used Magic Sponge Brush With Handle
After the cleaning job is done, rinse the magic sponge brush with handle by water. The stains inside will come out smoothly, no need dish liquid to clean it. Then squeeze out excess water. Try not to wring it here, or you can shake the remaining water out slightly. The brush head is a consumable product. You can use it until it disappears completely. On top of the handle, there is a small hook. You can hang on it above the sink in the kitchen for the next use.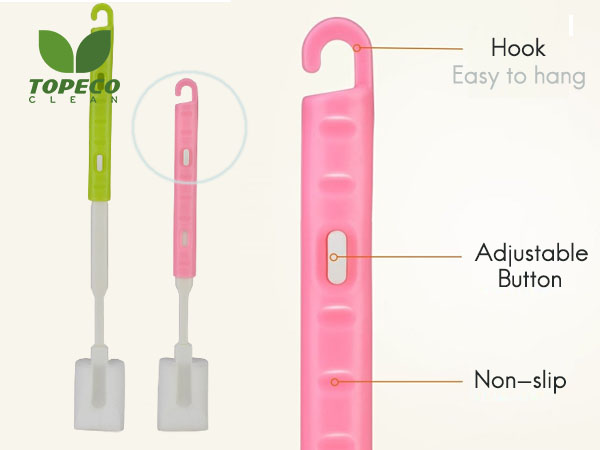 The High Density Magic Sponge Brush With Handle
Facing some permanent stains, we need to put much effort into wiping off. To Increase durability, Topeco Clean offers the high density magic sponge brush, the general density is16kg/m3. Besides, this kind of melamine foam has a more powerful cleaning ability and elasticity, which means that you can remove stains faster and easier. The soft surfaces will not hurt the texture of cups or bottles, no matter plastic, stainless steel, glass, ceramic, and mugs.
The Packing of Topeco Clean Magic Sponge Brushes
Topeco Clean can provide the magic sponge brush with handle in bulk directly. Also, the normal packing is a box set available for sale, four replaceable sponges & one handle with one sponge. The magic sponge brush heads are durable and long-lasting. The hook on top of the handle makes it convenient for hanging. By the way, the head replacement is easy to operate.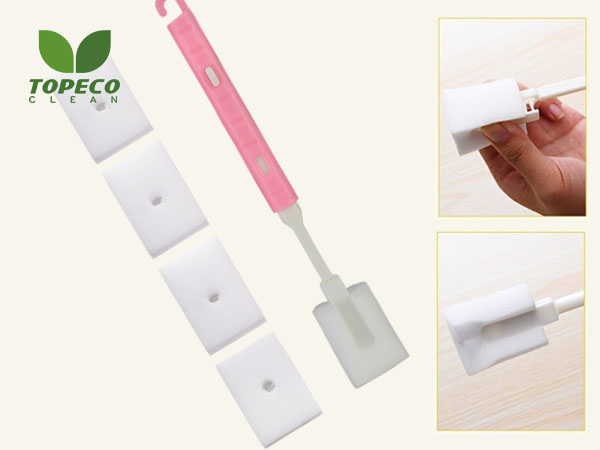 Customized Service About Magic Sponge Brush With Handle
We supply OEM service, including the handle's length and color, the brush head size, density, color, and composite material, and packaging. Besides, samples are free to ensure worry-free shopping. 24hours comprehensive service will answer your questions.
Why Choose Topeco Clean Magic Sponge Brush With Handle?
Topeco Clean always pays the most attention to the user's experience and needs. Our goal is to provide all kinds of specialized cleaning products and solve cleaning problems in life. Topeco Clean was aware of the trouble when cleaning and washing cups. Then we take advantage of the strengths of our products, super physical decontamination to address the problem. We possess extensive experience in producing practical magic sponge brushes with high quality and can meet the requirement of customization.