Magic soap sponge is a new type and new innovative household cleaning product in the market. Do you really know the magic soap sponge? The material of this sponge is actually similar to the nano sponge. Let's discover its secret.
What Is The Magic Soap Sponge?
A multi-purpose magic soap sponge is an innovative household cleaning tool. It is made of melamine foam. The internal cleaning principle lies in its raw material and soap. When it comes to the magic soap sponges, a few users may understand it literally. However, it is just aggregation combined with magic sponges and soap. When cleaning, there is no need for any soap or cleaner. Because internal soap inbuilt with unique technology will automatically foam, which helps the soap sponge enhance its cleaning effect. Also, such a working principle makes it more durable, has no breakage, and last longer.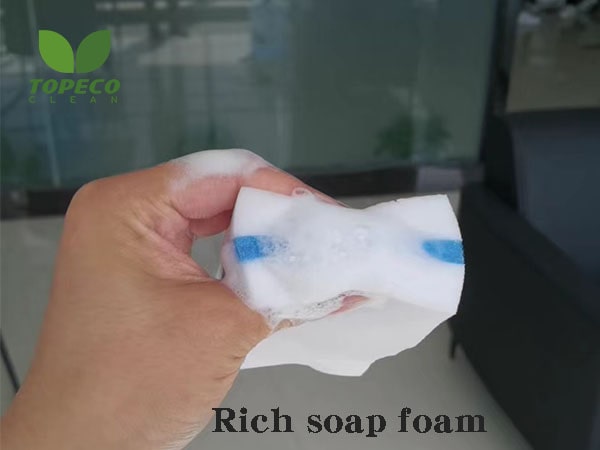 What Makes The Magic Soap Sponge Different?
1.Magical cleaning with water alone. Wet and rinse the magic soap sponges just with water only. The topeco clean magic soap sponges must be activated by water, thus it can exert strong cleaning power as we need, absorbing the stains just like countless micro-vacuum cleaners. Fast to remove stubborn marks, stains, grout, and dirt.
2.More durable. Complex with soap and pu enhanced its using time. Can work for last long. Super strong cleaning power, make you easier and happier with for daily cleaning routine.
3.Excellent performance. Higher density and high quality are stronger. Powerful cleaning with soap inbuilt share magic soap sponge is mainly made of compressed melamine with higher density. Such a type is denser and more durable. Magic soap sponge is the best way to handle uneven surfaces in that internal microfibers are much smaller than ten-thousandths of hair, which make it expert at deep into the surfaces.
4.Good toughness. The magic soap sponges are of flexibility and free kneading. Less deformation during cleaning or rinsing, more durable.
5.Cut your spending. The magic foam sponge is cheaper than other cleaners and cleaning tools. Save your cleaning time. Save labor and money. Best cleaning products for you.
6.Eco-friendly. Convenient and healthy for us. Authoritative sellers support quality recognition like SGS, CRS, and MADS. What's more, it can be cut into different sizes you need. No detergent, no hazard. More Healthy and eco-friendly.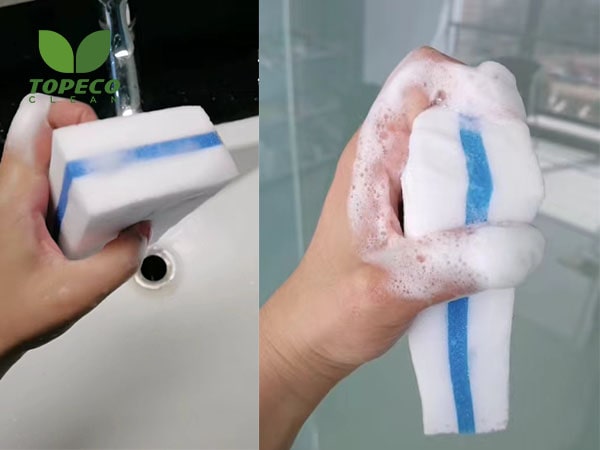 What Can Magic Soap Sponges Do For You?
1.Clean grease stains in the kitchen.
2.Remove coffee and tea stains.
3.Wash off all kinds of tableware.
4.Eliminate stubborn grease on the cooking bench.
5.Polish stainless steel without scratching like the faucet and sink.
6.Clean up glass such as cups, glass doors, and mirrors.
7.Remove mold and mildew from anything plastic.
8.Remove melted plastic on a glass top stove.
9.Remove stickers on the surfaces.
10.Remove soap scum and gunk from around the bathroom faucets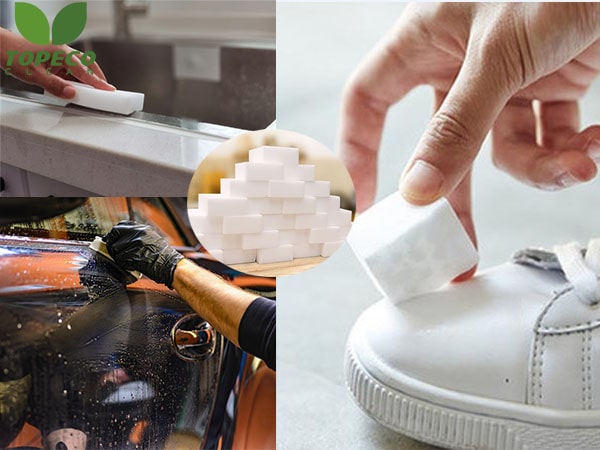 Nano Magic Sponge Vs Magic Soap Sponge
In terms of appearance. Nano magic sponges and magic soap sponges both have the same appearance. Both the shape and color are exactly the same.
In terms of function. Both nano magic sponges and magic soap sponges require water when cleaning. However, the nano sponge will not rub out foam when cleaning, while the magic soap sponges will.
In terms of the cleaning effect. Excellent cleaning power is the most powerful function of magic melamine sponges regardless of nano sponge and soap magic sponges. There is a subtle difference between them lies in soap sponge is of light scratch.
In terms of quality. Their quality is comparable, they are all the same. High quality leads to better results.
When you choose high quality, the smell, touching feel, and flexibility are required for them. If you have no idea about that, contact Mr.Topeco at any time. We will answer you from a professional perspective. And we are glad to serve you!