The magic sponge for car interior is sweeping the world literally. No matter personal use or garage, they all enjoy purchasing and stock it. No matter door panels, central control board, and dirty textured window, you can adjust the cleaning power by controlling the pressure and wiping when cleaning different parts. Use magic sponge car interior to make cleaning car easier and the life simpler. Click here to see video of cleaning car.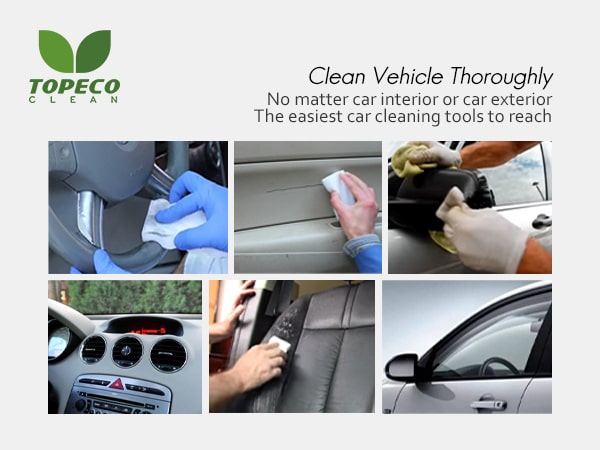 Magic Eraser Sponge Car Interior
The cheap magic eraser sponge is not only efficient for cleaning car interior but also economical for washing. The car owner can spend the extra budget on maintenance. The Topeco™magic eraser sponge can not only remove all grime on surfaces quickly but also pull up the dirt in the texture on the leather seat, steering wheel, and so on.
Magic Sponge Car Seat Scratch and Cleaning
In general, the car seat is made from leather. For example, the clothes of family members rub against the seat with color. The food residue drops on the seats, or the kid scratches the seats accidentally. So, how to remove that as the simplest method. Just put one magic sponge car interior and a bottle of leather cleaner inside. After the trip over, just grab the soiled part fast. The messes caused by kids and the scuff mark will disappear instantly.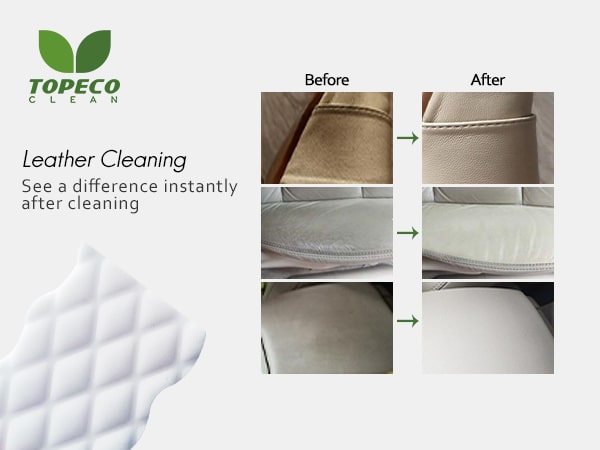 How To Use Magic Sponge for Car Interior
Why can be magic sponge loved by so many guys? The reason is that it is easy to reach and can save a lot of cleaning time. The vehicle owners don't have to go to the garage to wash the car so frequently. They can do it by themself. Prepare one bucket of water. Soak magic sponge car interior in water. Then get rid of extra water. Wipe the dirty area in one direction. You can see that the magic sponge has already absorbed the stains into it.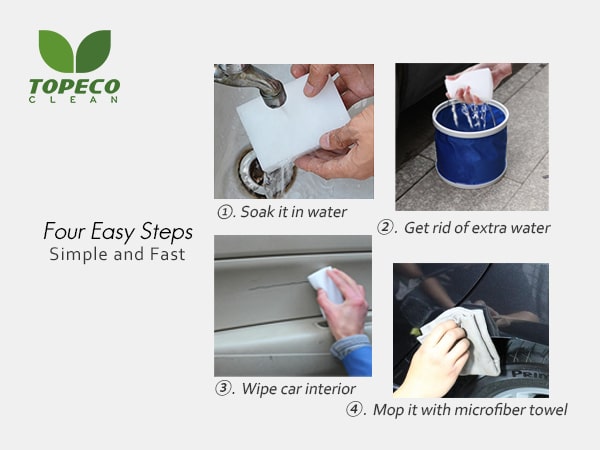 Magic Sponge Car Wash
When you use the magic sponge on the car interior, pay attention to this point. For leather cleaning, you can take one leather cleaner instead of water cooperating with a magic sponge. Spray some leather cleaner on leather at first. Then take one magic sponge to erase it lightly. Mop it with a microfiber cloth with better water absorption. You can even clean the junction.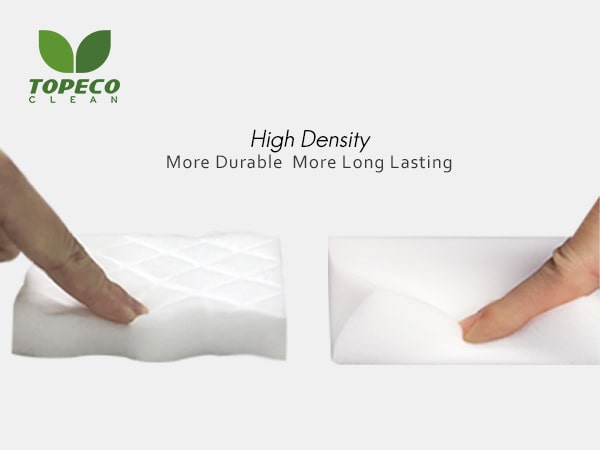 Flexible And Soft Magic Car Cleaning Sponge
Compared to rags, the magic sponges car interior is a better cleaner with an abrasive effect. Magic sponge scrubber cleans just with water alone, compared to other car sponges. Compared to brush, magic car cleaning sponge can reach and clean recess, like cup slot. Topeco™ high density magic sponge has the best toughness and flexibility to reach most places and lift away most stains. By the way, the high density one is more long-lasting.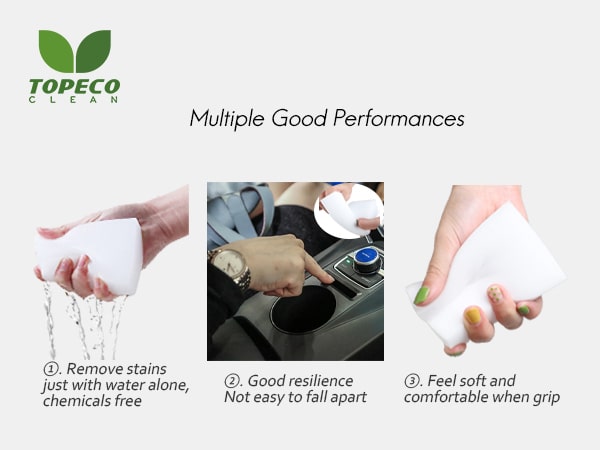 Removing Scuff Marks With Magic Sponge
Scuff marks often happen on interior car plastic, which is hard to avoid, like door paneling, leather seats, door handle, and so on. Just a degreaser can not help reach a good result. When magic sponge car interior came up, it is not a problem anymore. It also can remove cumulative gunky oil on the steering wheel and shift lever. Besides, the magic sponge can couple with the liquid cleaner to enhance cleaning power for removing scuff marks more effectively!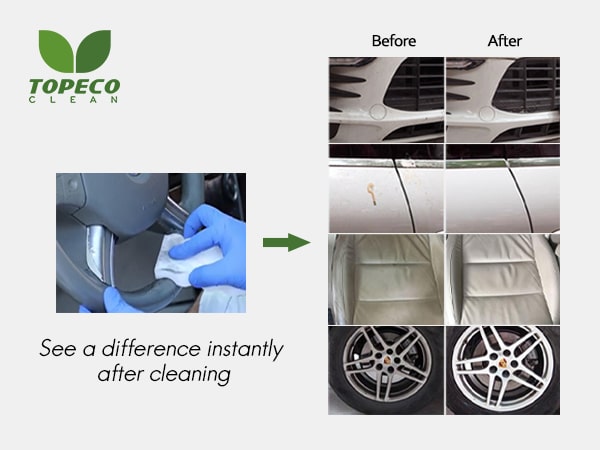 The New Design Of Topeco™ Magic Sponge Car Interior
The popular shape is the rectangular magic block sponge. Due to rising demand, the kind of contoured magic sponge with the 3D diamond pattern becomes a new fashion. It not only has a beautiful curve but also better cleaning ability. The wave shape is more aligned with ergonomics, which gives users a comfortable grip while cleaning.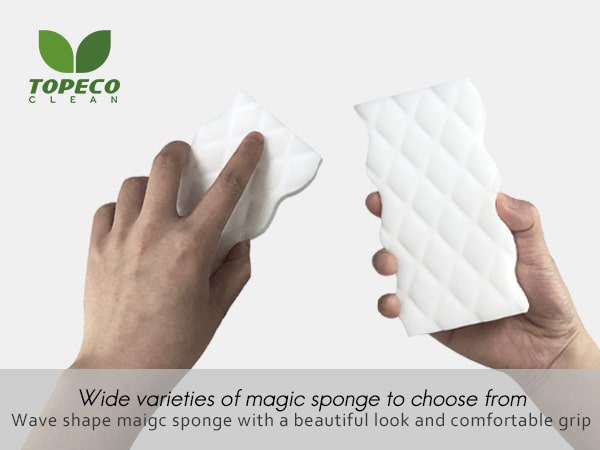 White Magic Sponge Car Interior
The familiar product is the white melamine foam block. Now, there is a new arrival, blue PU foam combining with a white magic eraser sponge. Some people think the cleaning of magic sponges car interior will scratch the car paint. So, the new arrival, compound magic sponge, can end the concern. You can use PU foam to wipe the car body and use white melamine foam to do the deep cleaning. One item has two usages. Highly efficient product!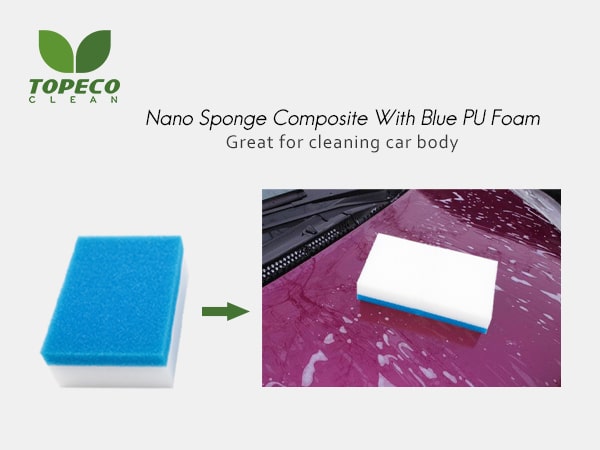 The Strong Supplier of Car Scrubber Magic Sponge
Magic Sponge car interior is made from special material, melamine foam, that needs a strong factory grasping the core technology. Topeco factory, a professional magic sponge supplier, has production experience of more than ten years. Accordingly, We can provide high quality magic sponge with any design and size at the best price. Customized services including LOGO, brand, and other customer requirements are available.