Water-Activated Magic Eraser Sponge Pad
Topeco clean magic eraser sponge pad clean just need some water. This should be familiar to everyone about the principle of using only water for sponge cleaning. A magic eraser sponge is a non-abrasive cleaning sponge. It is loved for its versatility and powerful cleaning. The microfiber inside removes all kinds of stains and also removes residues and marks. The secret inside is that simply getting it wet with water activates its tough exfoliating power and can be used on almost any surface. Pure physical stain removal. This design reduces the cost of household cleaners. Use only with water, so there is no need for strong chemicals or toxic cleaners. It can also be cut into smaller pieces that are easier to clean into the crevices if you feel it is wasteful to use in large pieces.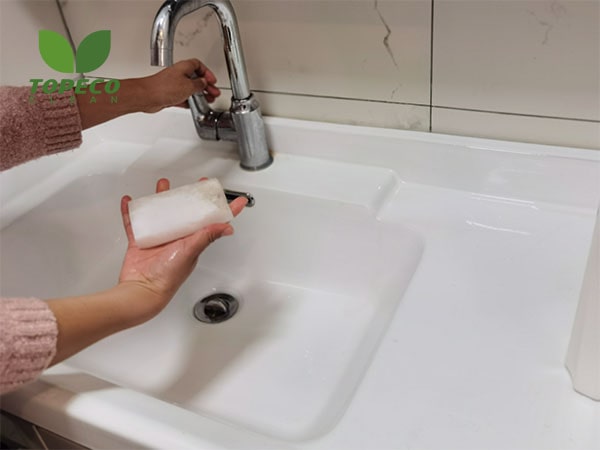 Magic Eraser Floor Scrubber Pad
Magic eraser sponge pad is not just a small sponge as we know it. The large floor pad is also a unique design expend from the magic foam sponge. Our company continues to innovate and research more convenient cleaning tools. The sponge is divided into round and rectangular shapes. The best part of this product is that it is made of compound material. When a magic eraser pad combines with a scouring pad, a dual floor scrubber must be the best way to handle unwanted mess on the floor. Because the composite structure absorbs enough moisture, it can easily remove slurry and grease. Enhances the abrasive effect and increases the friction between the sponge and the floor.
We can easily see the figure of a magic eraser floor scrubber pad. The floor cleaning machine in the mall is using this round magic floor sponge. Moreover, the magic floor mop is also an invention from it.
The Magic Floor Mop is the perfect tool for cleaning floors. Footprints, dirt, hair, and jam on the floor can be figured out by it. Easy to operate and can quickly clean large areas. Both of the Topeco Clean cleaning floor pads are dedicated to creating more convenient cleaning ways for everyone.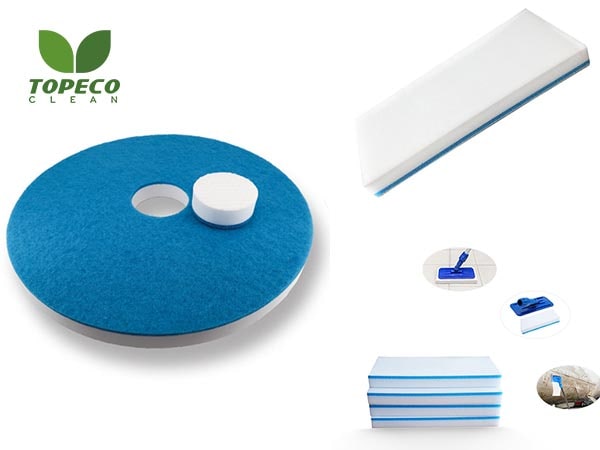 Do Magic Eraser Sponge Pad Works Better Wet Or Dry?
A multifunctional magic eraser pad can be used wet or dry. Using position depend on when you use it. Magic sponge in dry is the best way to absorb excess water on the surface. But, if you use it on a hard or firm gloss surface, may the effect disappoint you. Because internal fragile material makes the magic eraser rubbing hard surfaces consume faster. A wetted sponge is more versatile, and this is the way people commonly use it. Internal tiny elements and porous structures adding water actually can soften them. A soft damp sponge does not scratch surfaces. The water-activated sponge works better when absorbing satin and grout compared with the dry one.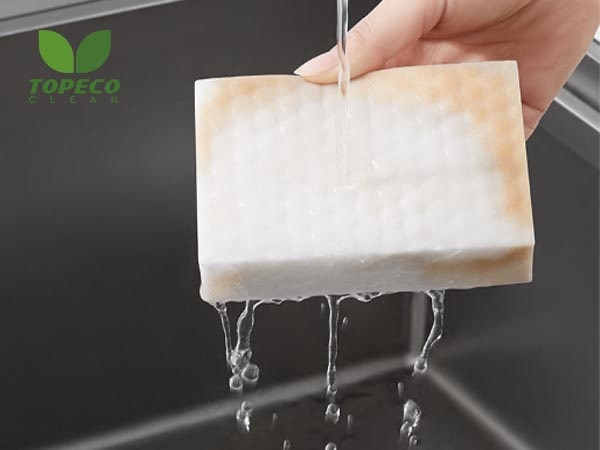 Green Magic Eraser Sponge Pads
When it comes to the magic eraser sponge pad, the internal material will be the main question brows in our minds. Melamine foam is the main material made of magic eraser, which is explored as a cleaning material long. Identified by the international quality institution. Therefore, the magic melamine sponge become worldwide, gradually accepted by the masses.
The size of the magic eraser sponge is multiple. From original to customized, Topeco Clean aim to design all size to meet you. The most popular size here belongs to 10*6*2cm, which received the best review from worldwide customers. It is the best way to handle the mess around the house. Apart from the popular size appeal our customers, the color as well as is popular in our company. The cleaning products here are direct factory sell. If you want to view more, please click here. Opening cleaning world for you to explore.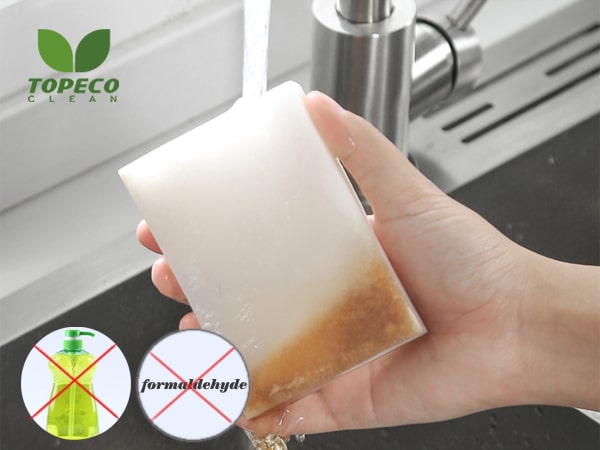 Is Magic Eraser Sponge Pad Bad For Environment?
I suppose that you may hear may topic of whether the magic eraser sponge pad is toxic or not. The answer is not. As we all know, all companies must get certificated quality and recognition. Only then can all products be officially sold in the store. So the anxiety of those cleaning sponge products is not necessary. People are confused by some incorrect experiments on the Internet. Formaldehyde is toxic, but it dissolves in water. The formaldehyde dissipated by a sponge is very little and dissolves when it is used in combination with water.
What's more, all cleaning products in topeco clean have got international quality recognition like SGS, CRS, and MSDS. The production process is strictly controlled by professional staff and designers. For inferior products, we uphold the principle of destroying all of them.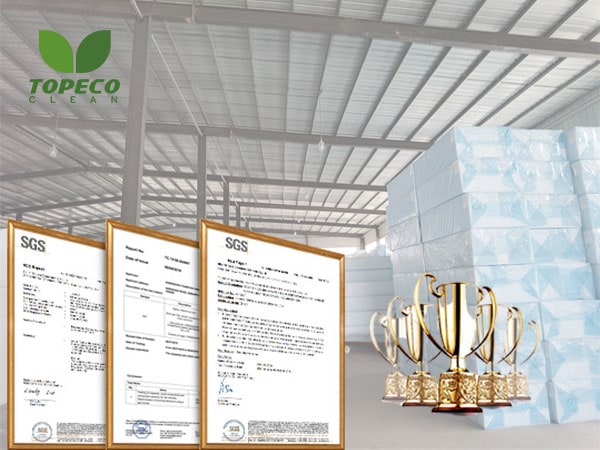 The Durability Of Magic Eraser Sponge Pads
The magic eraser sponge pads are famous because they make cleaning look magical. As their name suggests, their sponges have magical and powerful stain removal abilities. Since sponges are a consumable item, they get smaller as they are used for more time. The duration of erasers usually depends on where they are used and how often they are used. For instance, if magic eraser sponge pads are used to remove rough and dirty large stains, they can wear out fast. On the contrary, if used for simple and routine cleaning items, such as cleaning up the kitchen sink, then they may last longer. If melamine sponge blocks are used alone on smooth surfaces, they can last a long time. However, magic erasers are more popular for their effectiveness, even though they are used for not a long time.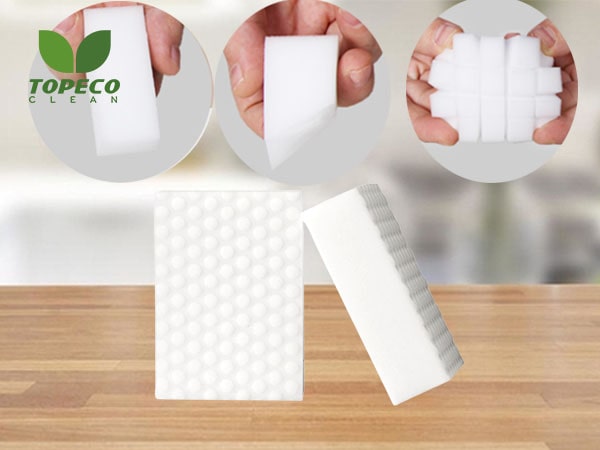 Magic Eraser Sponge Pads Texture
High-density magic eraser sponge pad is a popular cleaning item in the past two years. It can be praised by everyone whether it is for home or outdoor cleaning. The small particle molecules inside are even 10,000 times smaller than a hair. It can automatically absorb stains on the surface of objects. It has a 99.9% natural antibacterial effect. Super effective and fine material. Use a wide range, almost all of the household cleaning he can help you to deal with. Cheap price and good value for money.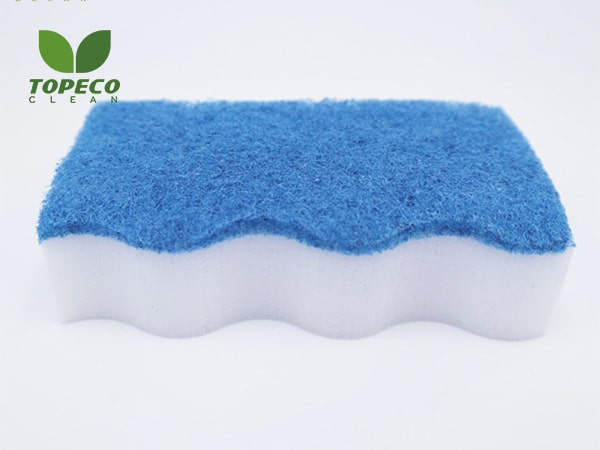 Make The Magic Eraser Sponge Pad More Durable
Short usage time is the magic sponge shortcoming, but here are some tricks to help make the magic eraser last longer.
First, use creatively with the magic eraser sponge pad. Try to avoid using it dry, it is better to work to absorb more dirt by adding water. Not only does this make the household cleaning job easier, but it also means using the sponge for less time to achieve the same results. This makes the scrubber less prone to wear and tear and it lasts longer.
Second, it should be used only when necessary. For stains that are hard to get rid of at home, a nano sponge is a right thing to do. The problem for many people is that they use erasers in their daily cleaning. The magic sponge should only be used on stubborn stains that cannot be washed off with regular cleaners. This way, the magic eraser will not be overused and will last longer.
Finally, It is best not to use magic cleaning erasers on rough surfaces because their spongy material does not tolerate friction. Therefore, using it on a rough surface will make it wear out quickly. Another proven way to extend the use time is to limit the use of magic erasers to smooth surfaces. In addition, the longer you use it, the less money you will spend.