When it comes to using a magic eraser on car, the topics about it online come with bad or good.
Let's learn how to effectively clean the areas in your car that can't be cleaned with a magic eraser. It is the best way to handle the mess in your car and is a best magic sponge car interior. Although it effectively works well on part of your car, the magic eraser is not almighty for cleaning the whole auto. It is necessary to know where you can use and where you can not use it in your car.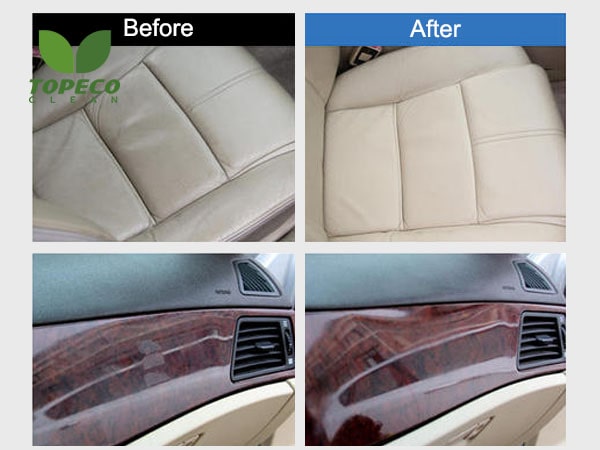 Where You Can Use Magic Eraser On Car
The magic eraser is made of melamine foam, which is the best abrasive material in the cleaning sponge industry. The reason why people like it is its cleaning power and multifunctional usage in our daily life. Therefore, where can a magic eraser work best on a car?
On glass. The crystal-clear windshield is important for safety when driving. Struggling to clean it effectively by ourselves becomes a big trouble. Thankfully, a magic eraser will save you from the cleaning mess. A magic eraser can remove water spots on car glass. In addition, it removes any dirt adhering to the car glass like debris, haze, and insects without a scratch.
Car carpets. Magic erasers are actually a great tool for giving a car carpet a thorough cleaning. First, use a carpet cleaning solution to loosen up stains and dirt on the carpet. Second, dampen the magic eraser, and start by wiping the dirt located. Then, vacuum the whole carpet afterward and aim to have the carpet clean again. Suggest you use a high-density magic sponge to clean.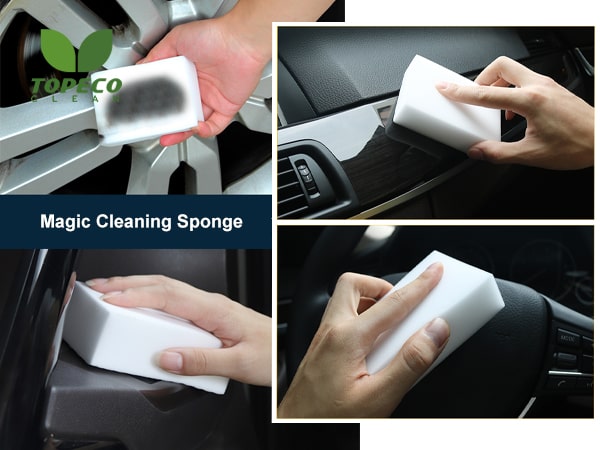 Can Be Used But Not Highly Recommended
Exterior Paint. You should not try a magic eraser to paint the exterior of your car. Internal open pores and porous structure will wear away the layer, leaving dull marks. But topeco clean magic sponge cloth is useful for that.
Leather Seats. Leather seats are always protected by us, which is in that leather is a sensitive and delicate material. Magic eraser is a very easy way to remove all dirt on the surface of the leather seats, but it will cause damage in the wrong usage. Too much pressure is forbidden way in cleaning because internal abrasiveness of melamine foam. To prevent leather seats from the magic eraser scratching off the leather protection or the leather itself, gently wiping is necessary.
Scratches. A magic eraser may be not suitable well to clean and remove scratches on the car. Scratches are not stains, it is damage to the surface of the car. The sponge is only suitable for wiping off stains. Scratches on the car can only be done to repair.
As a daily all-purpose magic eraser, it can use in many places around our house. Cleaning walls, removing dirt off sneakers, wipe up sink, which magic eraser can do for you. you can help to return them to their original matte look after wiping these smooth areas with a magic eraser. Click here to read more cleaning tips in Topeco Clean.