More and more people prefer to use the magic sponge wall cleaner to rub stains on the wall. If you used magic sponges before, you should understand its strong cleaning power. It also can be used on cleaning stains on the wall surface, including painted walls, tiles wall and glass wall, and so on.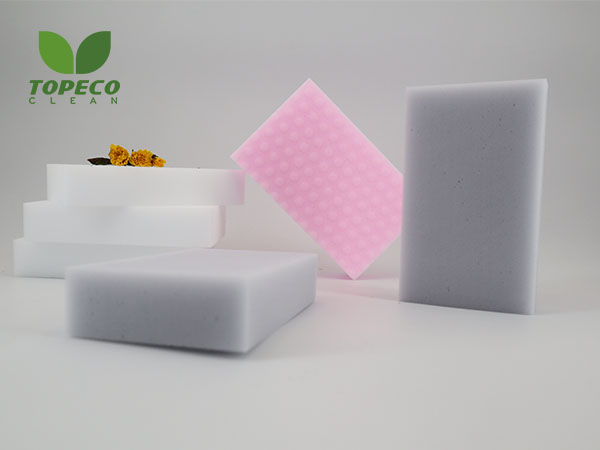 Magic Sponge For Walls – Saving Innocent Wall
In daily life, we are so busy working and taking care of kids, less time to arrange cleaning work, especially stuff mark or doodle by children on the wall. We have no better way to conquer the problem, almost giving up fighting with them. But we are not resigned to that. Sometimes we will find specialized cleaning workers to clean. But there is the high cost hard to be afforded frequently. Or some friends will mop or whitewash them again, which will bring an ugly wall and tiring task. Magic sponge wall cleaners can help you to solve the trouble excellently. Besides, the magic sponge wall cleaner is so soft to protect the wall.
The Various And Interesting Shape of Topeco's Magic Sponge Wall Cleaner
Topeco Clean can produce a variety of shapes. Basic magic sponge blocks and white magic sponge were added waved shaped with easy holding, special-shaped sponge, like circle, hexagonal, flower, cute bear, and so on. Magic sponge wall cleaner is easy to use. Even kids can handle it.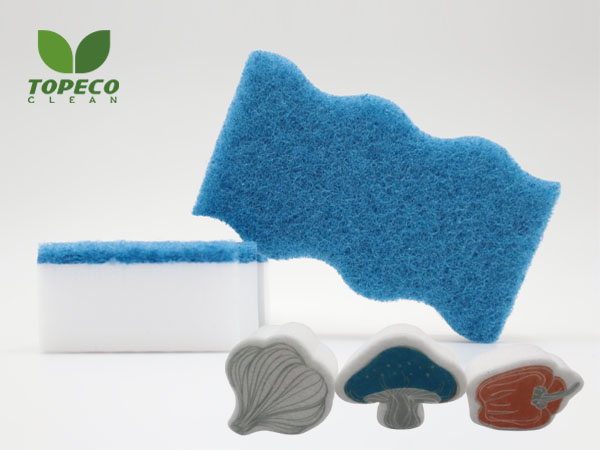 High Density Magic Sponge Wall Cleaner
For slightly rough wall surfaces, like the concrete wall, it is good to use high density magic sponge wall cleaner. High density magic sponge wears more slowly and more durable. At the same time, there are various embossment textures to increase wipe stains more easily and fastly. The high density magic sponge wall cleaner has three colors including white, pink, and gray.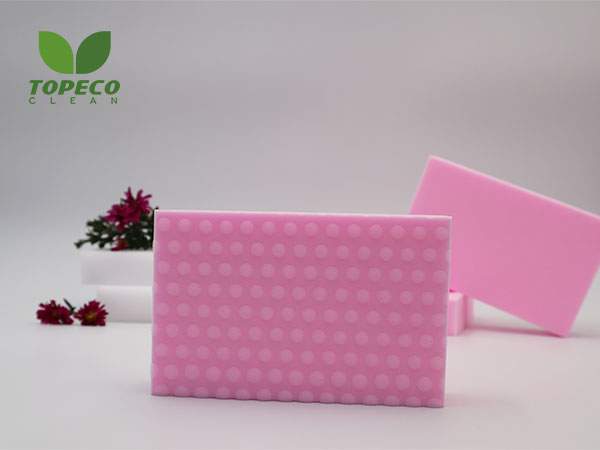 What Kinds of Stains Magic Sponge Wall Cleaners Can Clean?
The clean power of the magic sponge wall cleaner is beyond your imagination. It is perfect for handling various stains, for instance, the permanent marker of pens, stuff mark, crayon by children, greasy fingerprints, and rest mark after tearing off posters, etc.. Thanks to the show-up of the magic sponge, let them disappear in no time. Keep a fresh and clear wall for you forever!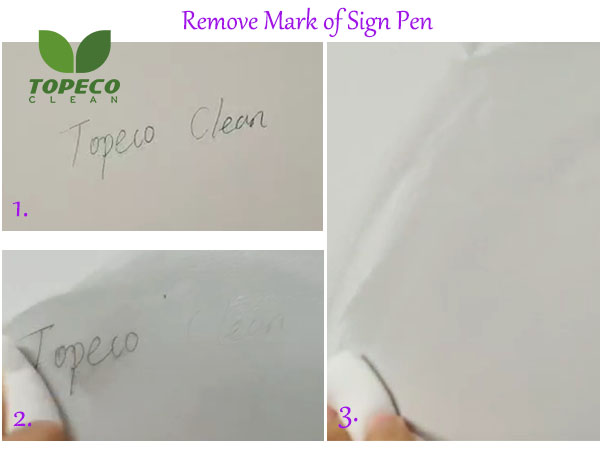 The Application of Topeco's Magic Sponge For Different Walls
Cleaning painted wall surfaces should be paid more attention, particularly dark walls. The magic sponge may take the coating on the wall away. There will be metope paint on most house walls, which will be no problem for cleaning by the magic sponge. For the tiles wall and glass wall, including permanent stains, it is useful. So in the end, one magic sponge wall cleaner can solve almost all dirt and all daily wall surfaces. If your wall has wallpaper, please rub the invisible corner to test. If not loose color, you can clean it with the magic sponge.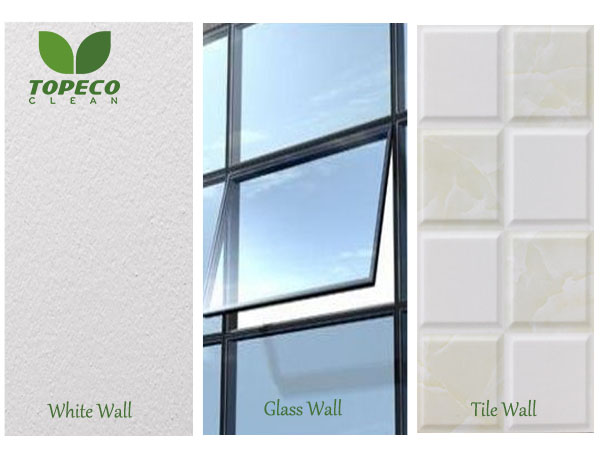 Helpful For Cleaning Doodles of Kids
Every kid loves to express their thoughts for the world by painting whenever and wherever. As parents, it is joyful to see their child's growing-up. But when kids create these masterpieces on the wall, parents will have a headache about removing them. But now, it is not a problem anymore, Topeco's magic sponge for walls can get doodles off. Also, we can teach kids to clean their drawing canvas just in time. On the one hand, you can clean the house. On the other hand, it is also a great way of communicating with kids and cultivating their responsibility.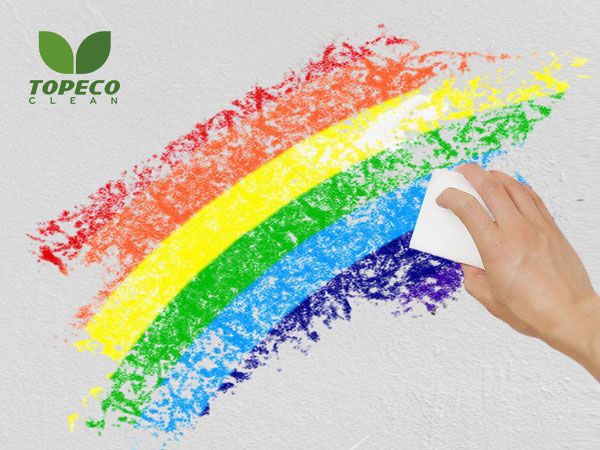 No Problem For Cleaning Ceiling
The ceiling doesn't have so many cleaning problems like a wall. But dust attaches to it. We need to clear a period. Otherwise, the dust will affect that we breathe freely. Using the magic sponge is easy. At first, you need to find a ladder, then swipe the magic sponge wall cleaner across the dust ceiling. Just one magic sponge can make a whole new home for you. Don't soak magic sponge so much water so that it doesn't drip on your head.
Remember To Clean the Baseboards
How could a bright wall have dirty wall baseboards? Baseboards always are kicked accidentally. They carry marks of our happy life. So please give them more care. At a fixed period, by the magic sponge wall cleaner, remember to clean scuffs mark and dirt for these contributors silently. By the way, remember to clean the switch on the wall together. After that, you can treat guests or invite the boyfriend and girlfriend to your home confidently.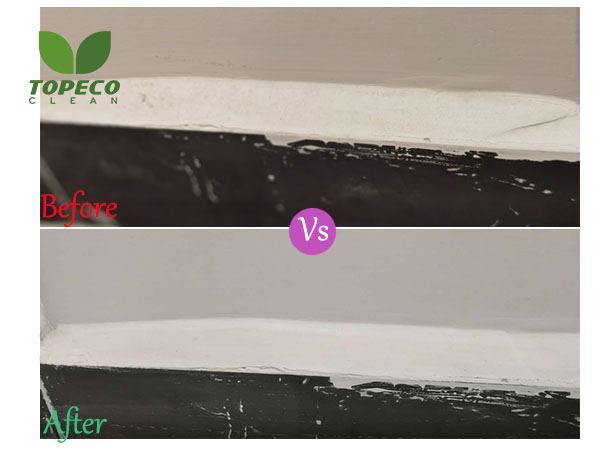 Magic Sponge Wall Cleaner Meeting the Demand of Modern City Life
Nowadays, we live in a competitive and faster society, facing stressful work or lifestyle. When returning home, we want to take off all burden to relax or enjoy rest time immediately. However, dirty grey walls make us uncomfortable. Maybe you live metropolis to pursue your dream, renting a house, always bothered by leaving the mark of sticky tape or even fingerprints from the last lessee. We hope we can give you a hand when you are struggling with chasing a dream, not disturbed by the cleaning problem. Topeco's magic sponge wall cleaners can get various stain gone quickly. No matter stuff mark, the mark of adhesive tape or fingerprints and footprint.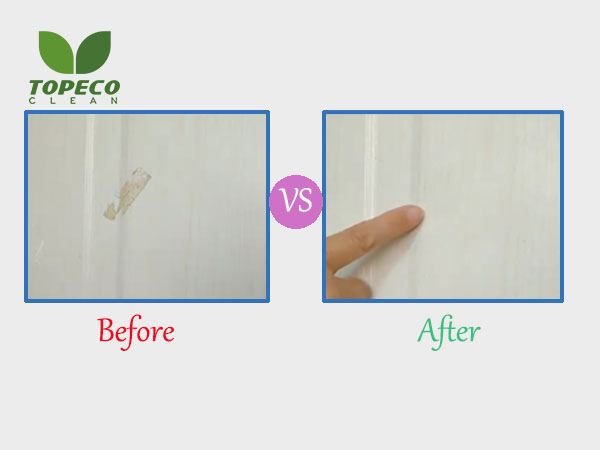 Notes of Using Magic Sponge Wall Cleaner
Wet magic sponge and rub the wall gently. For tenacious stain, you can put much effort into cleaning it off. Magic sponge for walls has a strong cleanability. Test a small invisible area before use. Don't soak so much water to prevent excess dripping down your walls. And, keep away from children and pets after using them. If magic sponge touch with food or little kid's molar rod, please rinse the surfaces. Not recommended for use on polished and non-stick coating walls.
Why Choose Topeco Clean Magic Sponge To Clean Wall?
Magic sponge wall cleaner can remove stains soon, merely work with water. After done, the wall will be dry naturally. Don't leave behind a mess. If using duster cloth, you need to cooperate with detergent. After rubbing, the detergent foam will be there. You have to wash it over and over again. That will cause the second pollution for the wall. By the way, chemical detergent harms the wall. Besides, duster cloth is easy to wet more wall area. Magic sponge wall cleaner can wipe stains with water alone, and just getting the desired area of grime wet.