Are you curious about how wall cleaning sponge remove stubborn stains on the white wall? In fact, it is not difficult to guess the magic effect of the sponge. No one wants to pay a lot of money for repainting walls covered with grubby hands from the kids and oil stains. So it is lucky for you. Here is a kind of new-type and popular Topeco Clean wall cleaning sponges, which save you from chaos and mess. So we're going to share with you exact ways to clean walls in your home, this is in our opinion that clean painted walls easily.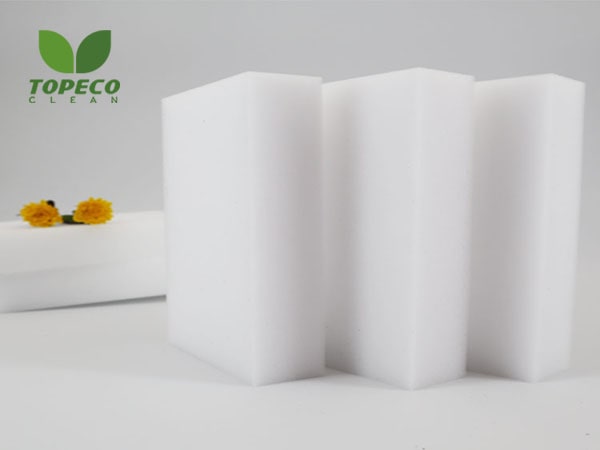 Which Walls Can Use Wall Cleaning Sponges On?
The wall cleaning sponge with excellent cleaning power can deeply absorb stains on the wall without ruining the walls themselves. So the magic sponge wall cleaners can fix every wall? According to many tests we have done, some useful cleaning tips and matters need attention shared as followings:
Wall cleaning sponge can fix many walls such as emulsion paint walls, Wallpaper walls, white clay walls, tile walls, and wood panel walls. These walls that we often meet in our life, the sponge can handle its cleaning total work. Wall cleaning sponge is a melamine which is a synthetic material that can be used to remove permanent markers from walls and other surfaces. It is a good alternative to using chemicals because it is safe to use on most surfaces. Remember, if you are using the sponge on wood or painted walls or the above-mentioned walls, you need to test an area first to avoid any unexpected results along the way!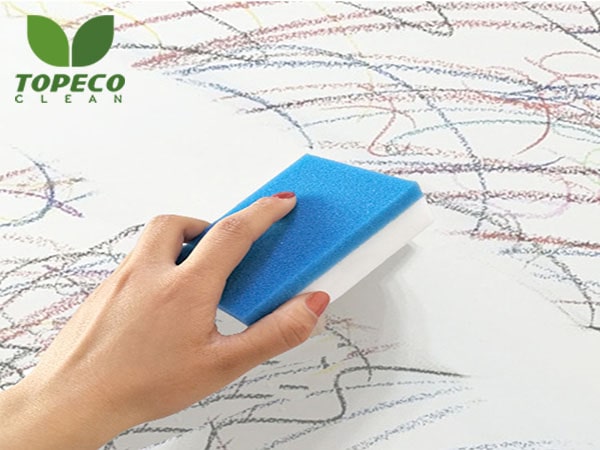 How To Remove Marks From Walls With Wall Cleaning Sponge?
If you ever do not use magic nano sponge in wall cleaning way, I really recommended you can try it. Wall marks will virtually disappear just like a magic show when you use the wall cleaning sponges. After using it, you can say goodbye to graffiti, scuffs, and pencil marks.
Remove glue from walls. If you've ever used glue in a craft or DIY walls, then you know that removing it can be tricky. Magic wall cleaning sponges are great for removing glue from walls because they are very absorbent and have a rough texture. However, there's one important thing to remember when using them: they won't work on any walls that have been painted or treated with oil-based paint. If your walls have been painted with latex paint, the Topeco Clean magic sponge will work fine but may leave some white residue behind.
Clean the grout. To clean grout on walls, wet a wall cleaning sponges and scrub the grout. You can first use a toothbrush to get into all corners and crevices before wiping. When facing hard grout, the high-density magic sponge is better for that.
Erase the marks on the wall. Use the flat surface of the magic wall cleaning sponges to remove marks on the wall. It works on wall decals or posters that leave wear and tear and other marks.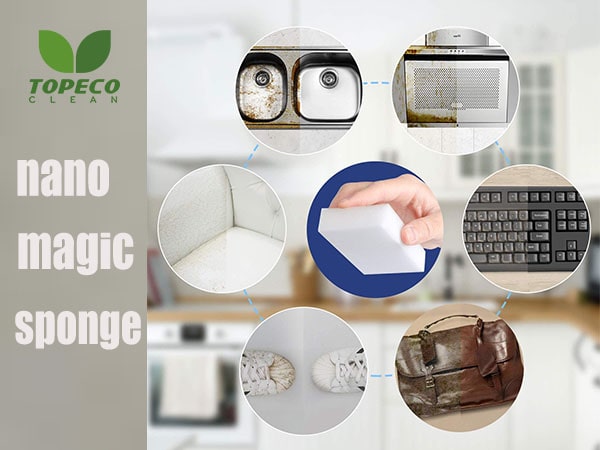 Do Wall Cleaning Sponge Mess Up Walls?
NO. Wall cleaning sponge is also called melamine sponge or nano sponge. It is made of 100% melamine foam, a material applied widely in many industries. What's more, melamine foam is a special foam that was first discovered as a cleaning ingredient. So magic wall cleaning sponges should not ruin or damage your wall paint. However, always test in an inconspicuous area first to check for compatibility. When using Mr.Topeco sponge on walls, be sure to go slowly and use gentle pressure to avoid taking off the paint.
How To Use Wall Cleaning Sponge On Walls?
Wet the wall cleaning sponges in water and squeeze off excess water with both hands to keep it moist. Gently wipe the stained area in the same direction.
Then use a rag or paper towel to wipe off the floating dirt after wiping.
After wiping a few times, put the product into the faucet to rinse or soak in water, do not wring rub, dirt can dissolve by itself, and can be used repeatedly.
The product will have a loss in the process of use, which is a normal phenomenon.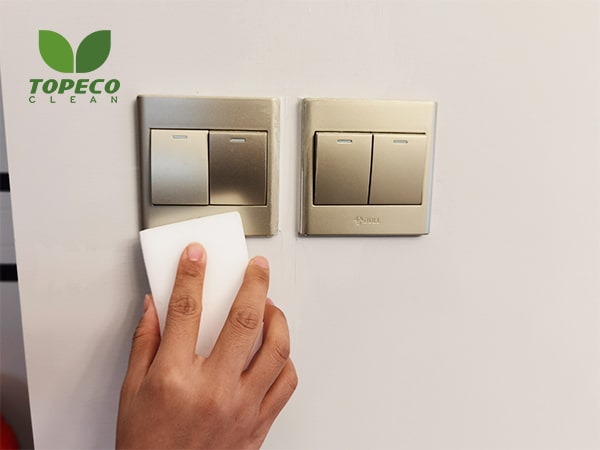 Wall Cleaning Sponge With Handle
Our newly developed wall cleaning sponge with handle has recently been updated. We update the sponge head into a bigger one, designed with handle. It more or less increases its service life. Wall cleaning sponges with handle is the most common tool in our home, it is not a large piece, but its ability to absorb water and cleaning ability are very strong. A long handle design makes the wall cleaning sponge can reach higher places. The area of the sponge head is slightly larger than the area of a single magic sponge.
Wall cleaning sponge with handle is a good way to clean cleaning dead corners. Because it adopts 3-layer material: magic sponge, pu, and velcro. Each of them is a good helper in household cleaning. Combining them into one magic cleaning tool, the cleaning power will be beyond my imagination. If you are interested in the magic wall cleaning sponge with handle, contact Mr.Topeco, and you will have unexpected rewards.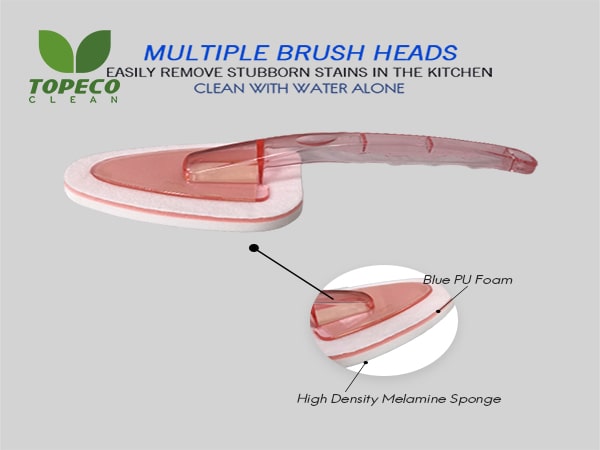 What Is The Wall Cleaning Sponges Ingredient?
Why are we using magic nano sponges? Of course, because the cleaning effect is really good. The nano sponge can be used to wipe tea stains from teacups and dusty mud spots from spilled shoes. It can remove stains on kitchen or bathroom tiles, and black light switches on the walls. These stains we usually wipe these with a rag, it may be difficult to wipe clean, but change the nano sponge, there is a significant cleaning effect. So what magic is the wall cleaning sponges more power? Melamine foam. It is the main raw material and ingredient made from magic nano sponge. The main components of the nano sponge are melamine. The main difference with the traditional cleaning sponge is the physical decontamination, relying on the nano-scale capillary porous structure within the sponge, which automatically adsorbs stains and dirt on the smooth surface.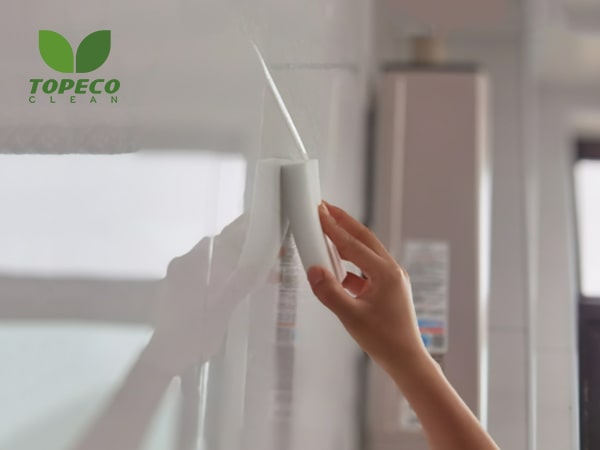 Is The Wall Cleaning Sponge Safe For Us?
Yes. The wall cleaning sponge is safe for us. Formaldehyde is extremely soluble in water with pore structure up to 95% or more. Use a wall cleaning sponge to clean the dish often after soaked in water. So even if there is some formaldehyde inside the nano sponge, after dissolving in the water there is very little residue. And formaldehyde use is not in a confined space, and so on does not enrich how much, it has dissipated. Melamine foam is synthesized from melamine and a 37% aqueous solution of formaldehyde, which can be used in food and also in industry. It is safe to use.
What Else Can Wall Cleaning Sponge Do?
Expect to remove marks on the wall, all-purpose usage is the popular cleaning function that attracts us the most.
Removing soap scum from tubs and sinks. Soap scum is a buildup of soap and minerals that is difficult to remove. One way to remove unsightly residue is to use a wall cleaning sponges, which removes all the grime without scratching or damaging your tub or sink.
Clean floor. It is the same as wall cleaning. Just wipe the stains located with a dampened sponge.
Removes crayon marks from walls, windows, and other surfaces. Using a damp wall cleaning sponges, simply wipe the crayon paint off the walls and other surfaces. If there are multiple layers of crayons on the wall, it may take some time to remove all the paint. But once removed, they will be much cleaner than when you try to use any other material! The same goes for windows: Use a damp Topeco Clean magic sponge to wipe off any dirt or grime on the glass panes. Your windows will look like new!
Remove signs of wear from your floors. If you have hardwood, tile, or linoleum floors in your home, you probably know that wear marks can be an ongoing problem. They are followed outside the door track, kids leave them on their shoes, and pets walk all over them! But there is an easy way to remove those pesky stains and scratches with the help of a wall cleaning sponge and scratches with the help of the magic sponge.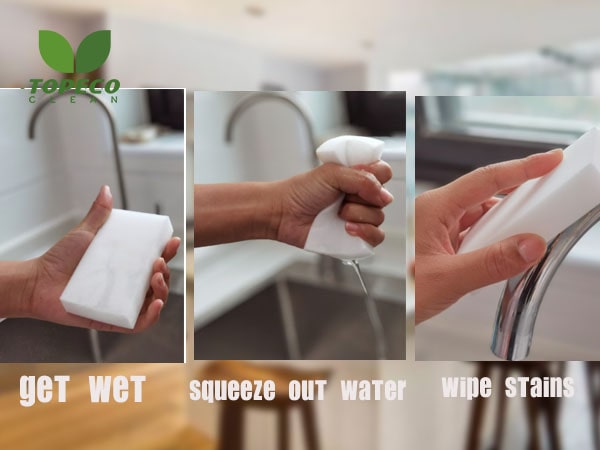 Composite Wall Cleaning Sponge
Composite wall cleaning sponge consists of a compressed melamine sponge and PU, combined with the toughness of the PU sponge, the magic sponge is not easy to break and break, extending its service life. Apart from the magic sponge with PU, magic sponge with scouring pad and magic sponge with non-woven fibers are the best options when using. Double cleaning sides make its cleaning effect more wonderful. Quickly removes stubborn dirt from everyday life with high efficiency. Makes it easy to complete your daily cleaning tasks at home. The special lamination process of compound wall cleaning sponges makes the product firmly bonded and water resistant.
How To Store Wall Cleaning Sponges?
It is easy to store the wall cleaning sponge.
1.Wash out the stains on the surface of the sponge just with water.
2.Put it in the vent to avoid the appearance of mildew.
3.Avoid sunlight and rain. Prevent the sponge from being more brittle after exposure to the sun.
4.For reuse, above mentioned tips may help you well. If any questions, please contact us feel free.