We have to clean up our house within and without, and the magic cleaning sponge can be our most effective assistant. From kitchen to bathroom, from ceiling to ground, from inside to outdoor, every fraction and corner, you can use the magic sponges to complete the cleaning job.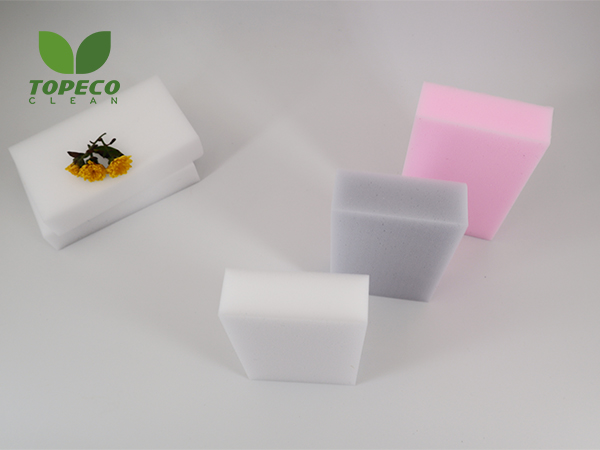 Magic Foam Cleaning Sponge
Above we talked that the magic cleaning sponge can help a lot, so why can it do? Its material is a foam made of melamine mainly. It is like an effective abrasive cleanser with infinitesimal pore, but the fibers connecting the pore indicate well rigidity. Due to the fibers are at nano-level, some distributors call it the magic nano sponge sometimes. Stains can enter into easily magic melamine sponge, due to microfiber magic sponge adsorbing dirt. When wiping, the magic nano cleaner sponge could take all grime away.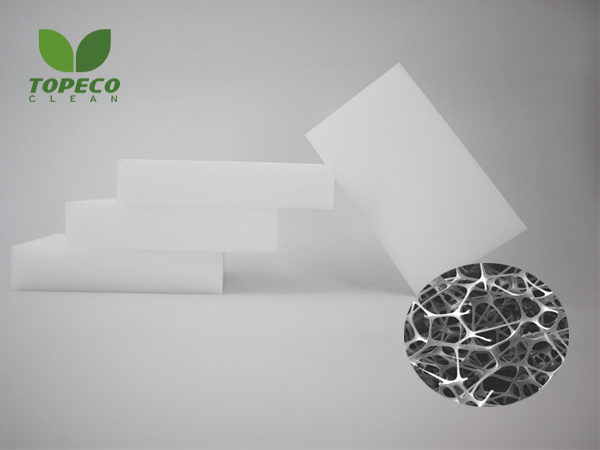 The Magic Sponge For Cleaning
Now that the magic cleaning sponge sounds such good, what are the virtues it has? From the principle, the magic sponge can do the decontamination by itself, not like the traditional clean method by detergent and rag or brush. It is hard to clean stubborn stains only by rag, even with detergent. The stainless steel brush will harm the surfaces if put much effort. However, the magic sponge feels soft but has strong decontamination power, without needing detergent. That is where the magic happens.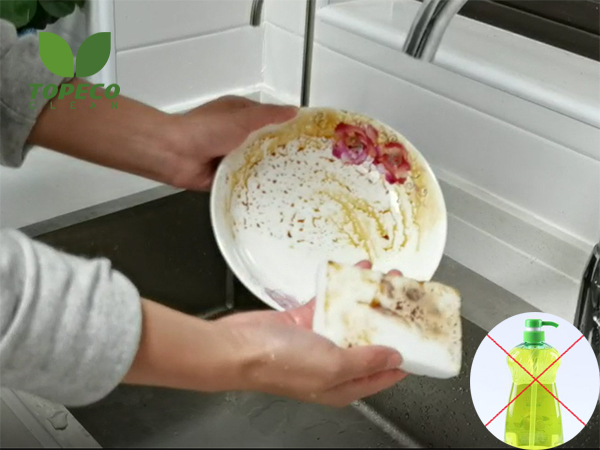 Kitchen Cleaning Magic Sponge
The kitchen occupies more than half of the cleaning job. We have to wash various bowls and dishes and cooking utensil every day. For the stovetop with spilled sauces and oil, microwave, and refrigerator with food residue, and the blackened kettle, we have to scrub them at regular intervals. In the face of massive work, we need to be aided by an efficient tool of the magic cleaning sponge.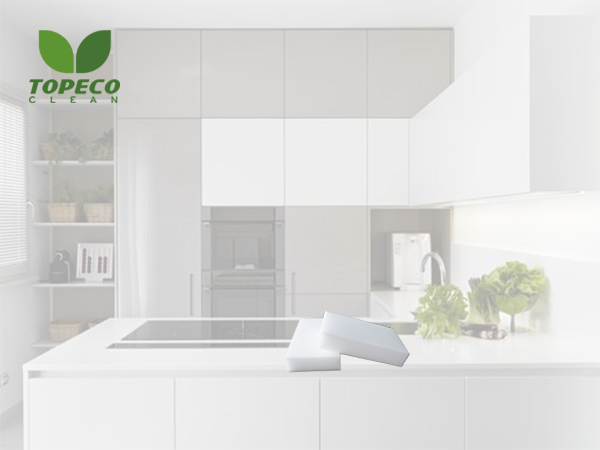 Magic Sponge Bathroom Cleaning
Most families built bathrooms with ceramic tiles, including the porcelain sink or stone sink, porcelain bathtub, closestool, stainless steel faucet, and showerhead and shower caddy. After a while, the tiles and sink and tub have yellowed smudge coming into being. As we all know, stainless steel becomes tarnished gradually. Magic sponge cleaning not only removes soap scum and water scum easily but also burnish the surfaces of stainless steel. The whole bathroom will be pretty sparkling again just by the best magic eraser sponge.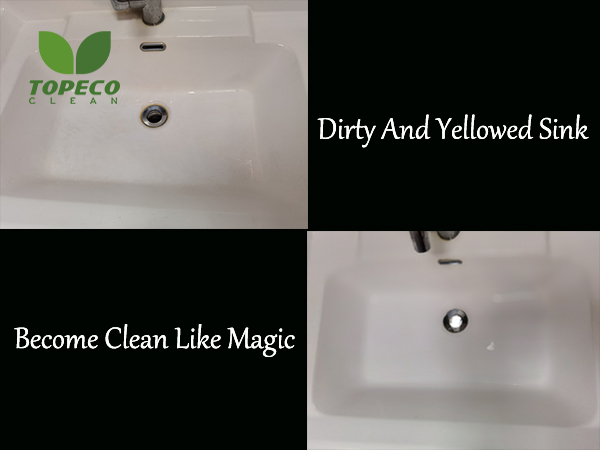 Magic Wall Cleaning Sponge
Every kid is sweet and lively. They have different preferences for growth. 1-4 years old baby prefer to graffiti all over. There is no doubt that the wall and door become the hardest-hit areas. Parents can't reason with kids and also prevent children. So parents have to bear the cleaning job. We totally understand parent's hardship. Topeco Clean magic sponge wall cleaner can easily remove crayons and sticky residue of baby's cute stickers. Just with water, no excess water, and dirty texture left.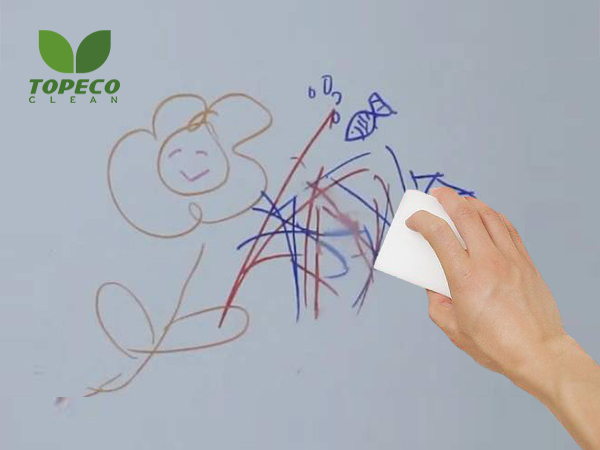 Magic Sponge Window Cleaning
The hardest thing is not washing glass but the window screening. Window screens keep ash and insect entering our house. If we want to clean thoroughly, we have to discharge and put it underwater to brush. Just grab one magic sponge and directly clean the window screen quickly. The dust will stick on the sponge rather than flying around. If you have a large magic sponge for clean, cut it for sizes you need.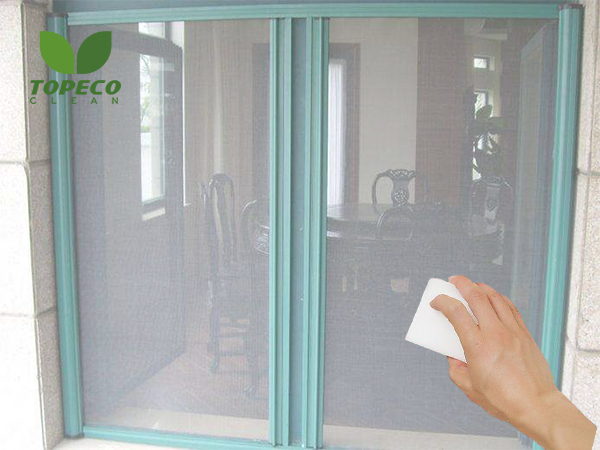 Clean On Leather With Magic Sponge
As we know, any leather should not get wet frequently. Otherwise, the surface layer will cock-up after dry. In general, we choose rag to wipe, which makes a mess of water on the leather surface. For set-in dirt, we have to use some detergent. If not washing out in time, the detergent and water will infiltrate inside. Although the magic cleaning sponge can't be perfect, its powerful ability can remove set-in dirt without detergent. What's more, just moist white cleaning sponge, then you can do clean, which won't leave extra water behind.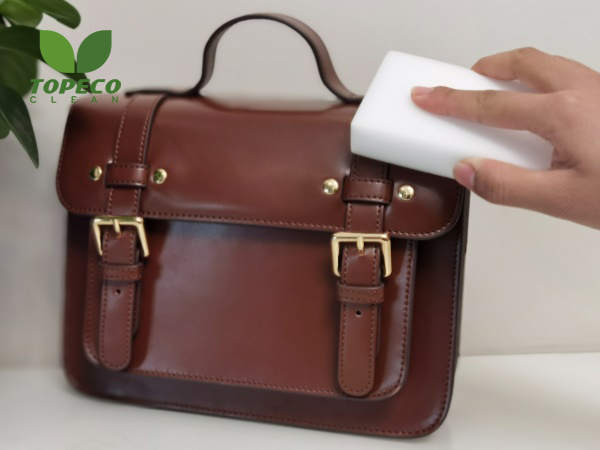 Attention Points for Cleaning Leather
Leather usually has two broad categories, artificial leather, and real leather. In total, the cleaning effect for the real-leather is better than the artificial one. It is easier for a magic cleaning sponge to enter groove on real leather's surface and capture inner stains off. But due to that, magic cleaning sponges are possible to reach and lift away the color on leather. So please try on an inconspicuous area to test before use. If no fading, you can use it.
Shoes Cleaning Magic Sponge
People in modern times love to wear casual shoes, especially white shoes. But the side of shoes is easy to stick dust and mud. We can't brush them frequently, which will cut the lifespan of shoes. Just wiping dust by cloth is hard to reach deep stains and finish cleaning thoroughly. For washing shoes, a magic cleaning sponge is the most useful one. It can get rid of stains on shoes quickly and clearly. Keep one magic eraser sponge on the shoe wardrobe, clean shoes expediently before going out.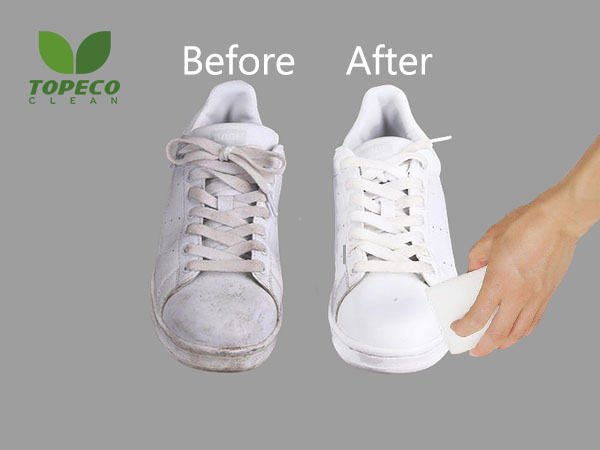 Magic Cleaning Sponge Use for Thicker Grease
For commonplace stains, clean work just with a tool, one wet magic sponge, can be done. Then just scouring magic cleaning sponge under flowing water, the inside dirt will come out then. Also, don't need detergent to wash the magic sponge painfully. For cleaning thicker grease, remember adding a little detergent. If just with water, the oil will stick on the surface of the magic sponge. The surfaces of wonder cleaning sponge can't touch more grime again. But don't use more detergent, because the porous structure of magic sponge melamine makes detergent to generate large amounts of the bubble.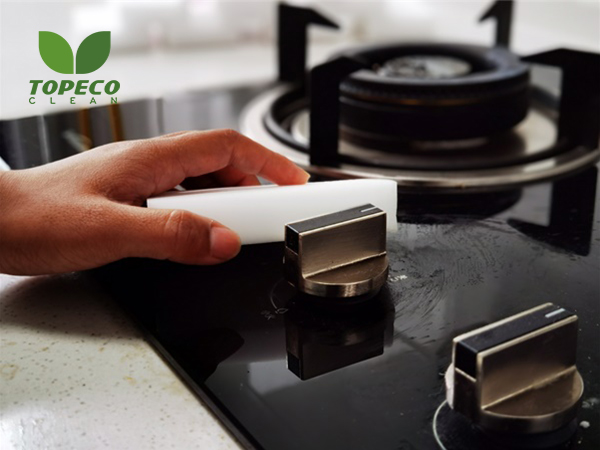 Cheap and Best Magic Sponge From Topeco Clean
Topeco Clean can produce various magic sponge. Our company locates in Henan province in China. The abundant raw material and proven technique make our products get lower prices and the best quality. Topeco Clean sells overseas to the UK and NZ. Besides, we also can manufacture extra-thick magic cleaning sponges with double-thick so that they can be used more lasting.