Why Call It Magic Eraser Sponge?
Magic eraser sponge aims at cleaning all kinds of stains, like a pencil eraser to scrub wrong words. One magic sponge will become small slowly in the process of use. Besides, it also has another feature like an eraser. The magic eraser sponge's target is just removing stains. It is friendly to surfaces of objects like eraser not to scratch notebooks.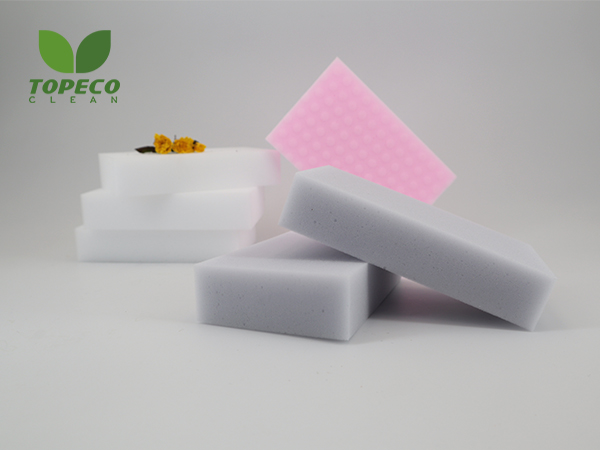 Ingredients of Magic Eraser Sponge Cleaning Melamine
Many fellows will be curious about what is the ingredients magic cleaning sponge contains to make stuff clean so well. The most guess is adding soap or solvents inside. The truth is nothing inside. Magic eraser sponge material is a type of foam whose main ingredient is melamine foam with a slightly abrasive function. The wonder cleaning power comes from its physical structure, micro opening cells, and tough nanofibers.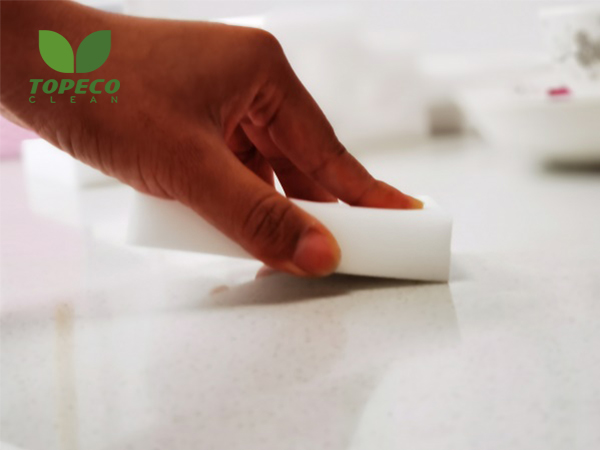 Magic Eraser Sponge How Does It Work?
The internal magic eraser sponge cleaning melamine replies on special 3D mesh with a high self-opening ratio. The linked structures are nanoscale, smaller than the diameter of one hair. At the same time, the small pore diameter can catch tightly with the object, which makes the area of contact become a vacuum status. Thus there is a remarkable adsorption ability to stains and dust. So the powerful cleaning capacity comes from the material of magic sponge erasers melamine cleaner and advanced production technology of Topeco Clean.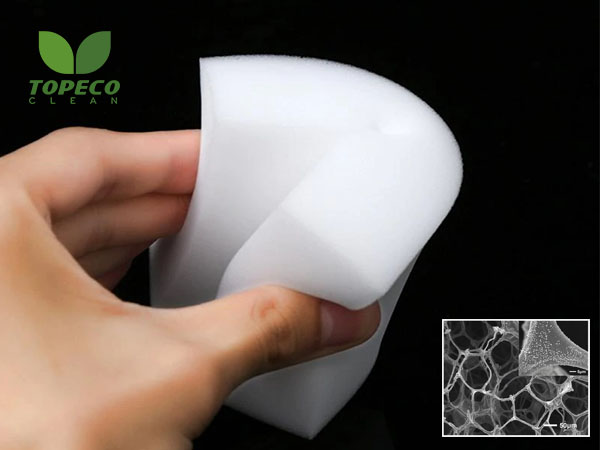 Magic Eraser Kitchen Sponge
For the uses of magic eraser sponge, kitchen cleaning is an important part, including the greasy microwave and oven, the wall filled with spilled sauce, dusty cabinet, sink stuck on stains, etc.. You can shorten the time staying in the kitchen due to its surprising cleaning power. Besides, a clean and tidy kitchen prompts a good mood for cooking delicious food.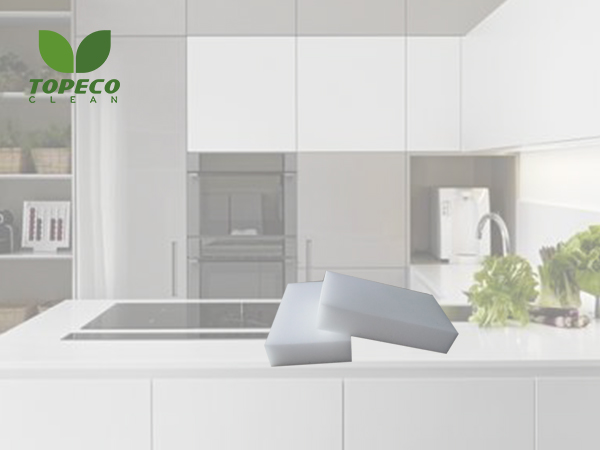 Magic Eraser Bathroom Sponge
At the toilet, all kinds of stains can be cleaned in this most effective method, no matter the yellowed sink, faucet with soap scum, open shelving, tiles and seam, shower curtain, and so on. The magic eraser sponge is the method. The seam between tiles will mildew because of accumulated grime and humid environment. Without chemical detergent, the magic melamine sponge can be easy to reach and rub them away.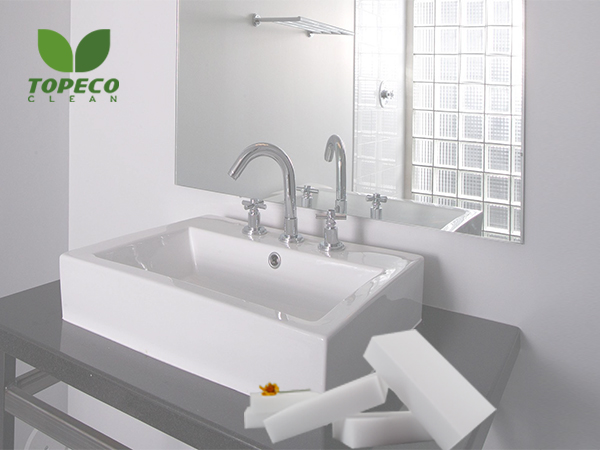 Nano Magic Eraser Sponge For Hot Tub
The hot tub is the place where we release stress. Before you lie in the tub, you have to clean the tub. Magic eraser is an easy method to remove the stains, not only inside but also outside of the hot tub. This sponge comes with an excellent cleaning function, only needs water to clean grime. Microfiber magic sponge is not like bleach and acids to cause surface erosion and not like steel wool to scratch the surface. If you use washing power, you have to rinse the hot tub again and again to ensure no detergent residual.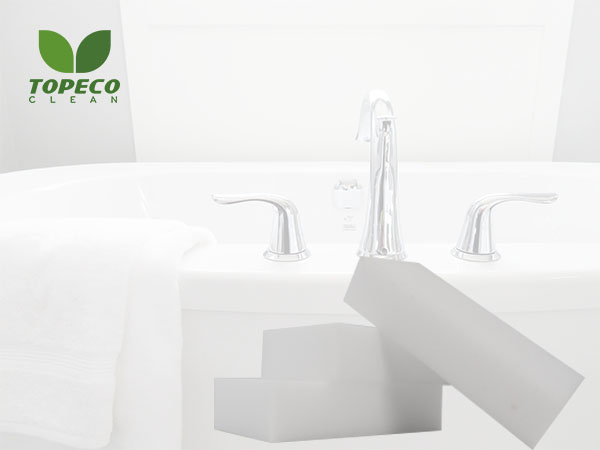 Magic Eraser Sponge For Car
The magic eraser sponge has good performance on cleaning car interior, including steering wheel, seat, trunk, skylight, window, handles, buttons, and various decoration. During a trip, there will be lots of dust on the panel or food crumb and spilled drink by kids. At this time, grab one magic melamine sponge help to clean these messes quickly. Keep a fresh car environment all the time.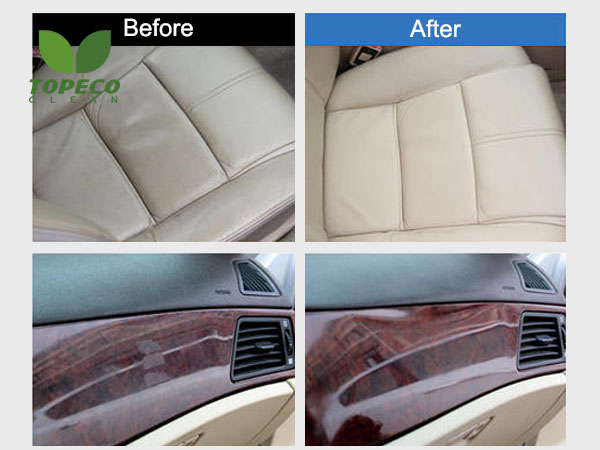 Magic Eraser Sponge On Leather
The magic eraser sponge is very utility for cleaning leather, such as shoes, seats, sofa, and purse. The nanofiber can easy to enter into the groove on leather surfaces to pulled stains away. Don't scrub leathers with much strength unless there are thick stains covered. Due to the leather with different materials, processing, and color, do a test in an unnoticeable place in advance to avoid taking the finish off.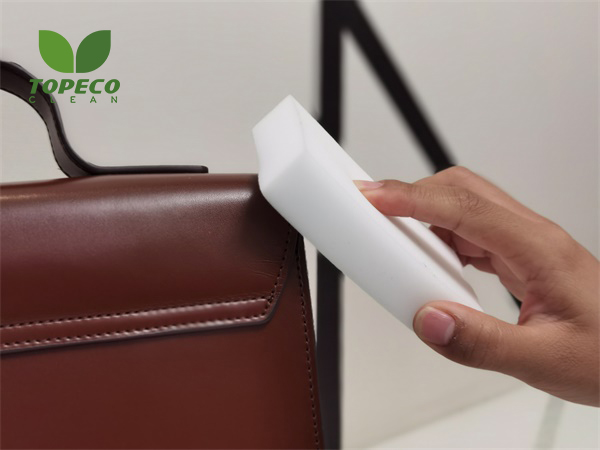 Magic Eraser Cleaning Sponge On Glass
Speak of cleaning glass, except the window, we will think of a mirror. For beauties, a clean mirror is quite indispensable. We always meet problems when cleaning the mirror. Makeup sticks on it carelessly, and water spills on the mirror of the bathroom to leave watermarks. Some girls often use one tissue to wipe, but that can't deliver a good result. Put one magic nano sponge on the dresser and another one beside the washbasin. When cosmetics or water splattering, promptly grab one magic eraser to wipe down without leaving trouble.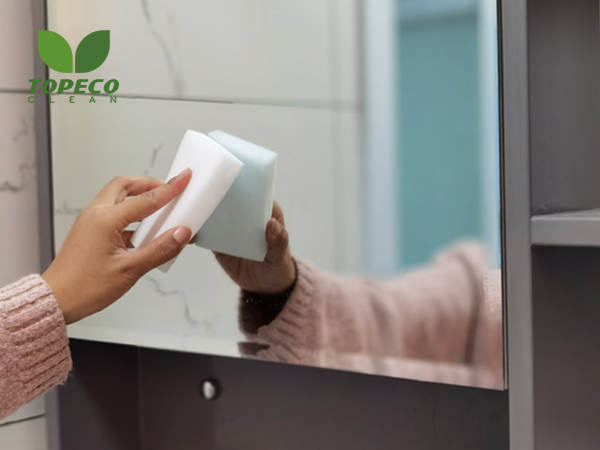 Magic Eraser Polish Sponge
In addition to cleaning, the magic eraser sponge can polish metal production, for example, silver cup or knife, stainless steel faucet, and even car rims. These metals or alloys will darken gradually, which affects negatively beautiful appearance. Magic eraser sponge is very easy to burnish these metal products, but not like steel wool to damage the top layer. Its material is melamine foam. It feels so soft. So, magic eraser foam polishing sponges are the most gentle method of polishing I have never seen before.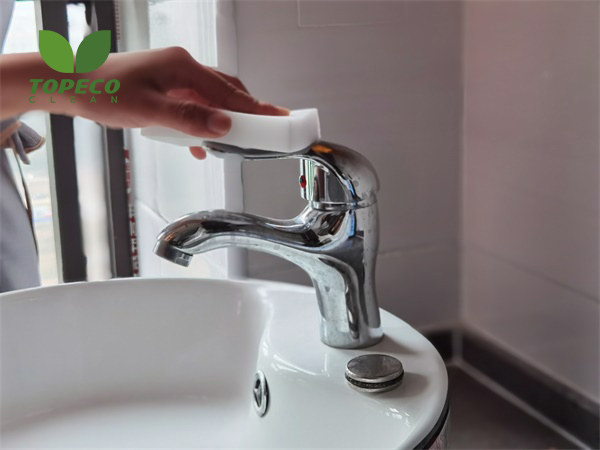 Magic Eraser Sponge For Walls
Babies like to scribble on the wall or spill milk or juice on the baseboard without noticing. When kids running at home happily, kick the wall accidentally. No doubt that the magic sponge wall cleaner can help to address these problems. When kids grow up, teenagers find out their idols and tape posters on the wall. Adhesive tape residue looks distasteful. Magic sponge melamine cleaner can grab it at the fastest speed and return you neat wall surfaces.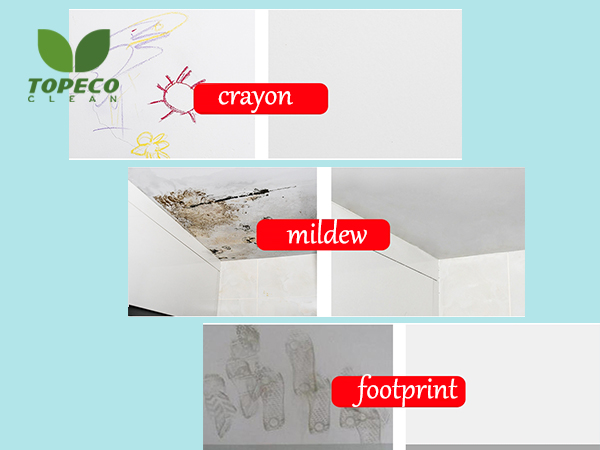 Magic Eraser Sponge For Adhesive Tape And Price Tag
When we bought new dishes, there is a price tag on the bottom. Little girls would like to buy cartoon stickers. But some stickers will be left, hard to tear them off completely. Steel wool will scratch the coating of objects. However, the magic eraser sponge can rub the rest sticker very easily and quickly. Besides, new bowls, cups, and vases all have the same trouble, but for the magic eraser, that is no issue.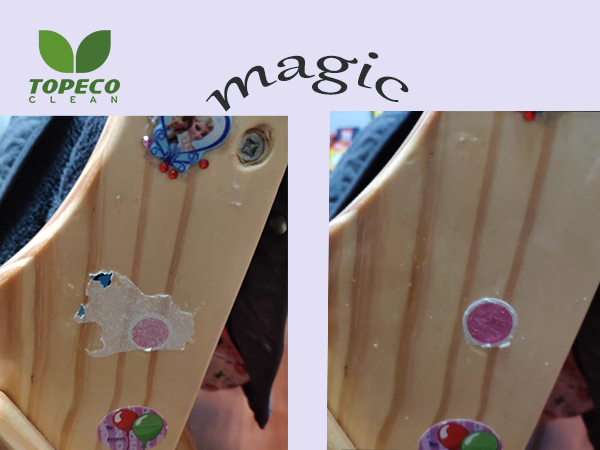 Magic Eraser Sponge In Pool Skimmer
According to a successful test, put a white magic eraser sponge into the skimmer basket of a pool. The water will become clear. According to scientific analysis, the reason is that the magic eraser highly water absorbent and super-hydrophobicity and inside nanoscale holes. Water wash against the fine open cell in the white wonder sponges and get through, but the stains get trapped into the white magic cleaning sponge, including invisible white dirt. Magic eraser sponges have three colors, white, pink, and light gray. A white magic sponge cleaner would be suggested, due to easy to see adsorbing stains.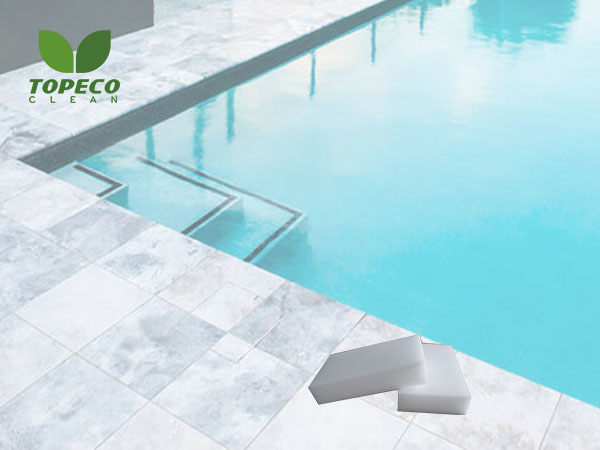 Other Uses of Magic Eraser Sponge
Office cleaning: keyboards, computer, printer, and so on.
Outdoor: tent, collapsible chair, sunshade, moisture-proof pad, and so on.
Suff marks and mud from shoes, especially the rubber around the soles.
Accumulated mildew because of leaking food at the refrigerator.
Hair dye sticking on curling iron.
Smudges on iron.
The waterline on the boat.
Paint on canvas.
Dry nail polish.
Kid's toys.
Yoga mat.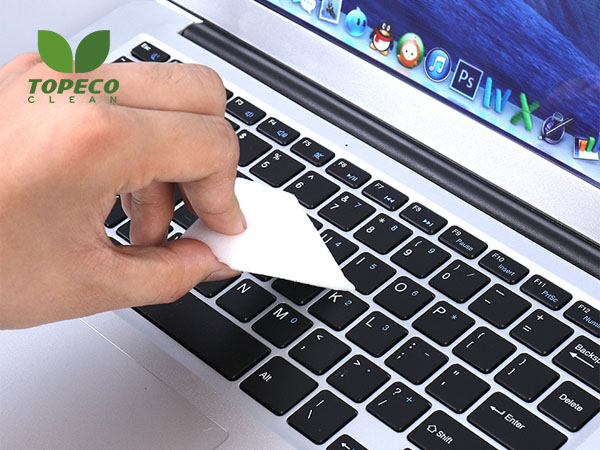 Not Recommended Surfaces
Due to the abrasive, the magic eraser sponge may take off the coating of some delicate surfaces, including surfaces with a high shine, painted surfaces, dark wall, wax floor, electronic screen. That doesn't mean that you can't go about using it. Firstly, don't scrub surfaces so hardly; secondly, try it the inconspicuous and small area to see the effect. More importantly, not use it on the human body.
Dog Ate Magic Eraser Sponge
Recently I watched some videos on Youtube. Maybe because the magic eraser sponges are springy and soft, some doggies prefer to play and eat it. The dog's teeth can tear it off with ease. Although magic erasers don't contain any toxin, some crumbs will enter the stomach to cause discomfort. For the sake of health, keep magic eraser sponges away from the dog. But you can use a magic eraser to remove stains on the doghouse. This paragraph is for pet – owners.
Melamine Magic Eraser Sponge Mop To Cleaning Floors
When encountering big area cleaning, one piece of magic block sponge cleaning melamine is not enough. It works significantly to clean porcelain floors and vinyl floors. Not leaving streaks, magic eraser sponge mop can eliminate stains on the ground quickly. Besides, a mop also can save a lot of time for you. Some customers reviewed that her floor is clean in less than half the time than before by magic sponge mop.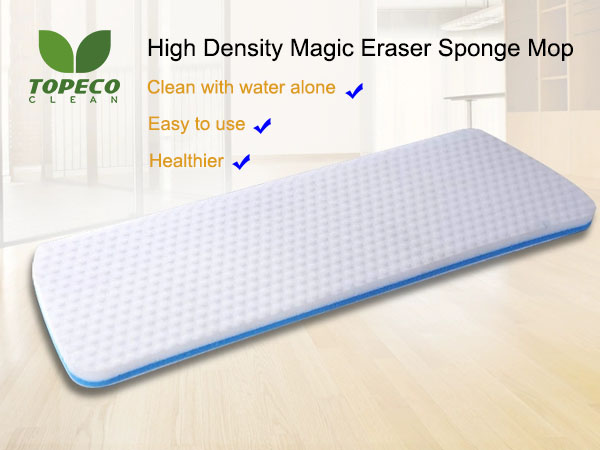 White Magic Eraser Sponge
The white magic eraser sponge is most popular in the market, especially the size 10x6x2cm. Now, new design elements have been added, including wavy edge and raised pattern design. The curvature of wave and style of surface pattern accept customization, which makes monotonous white more fill fun. Besides, Topeco Clean white magic sponge has many different densities, 8kg/m3,12kg/m3, and 16kg/m3, the most utility densities for the cleaning job. The higher the density is, the stronger the durability is.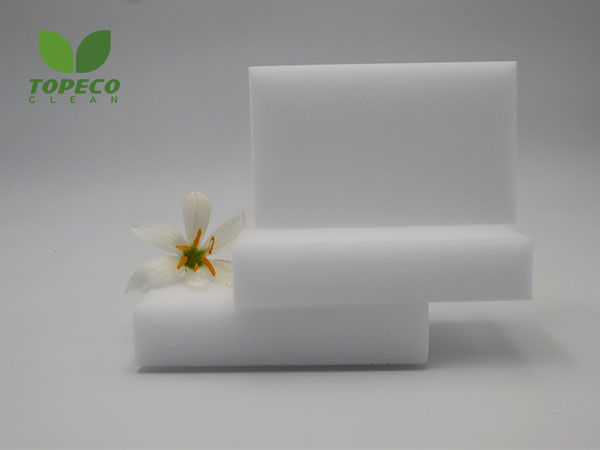 White Compound Magic Eraser Sponge
There is one common cleaning material, the scouring pad, effectively removing caked messes. The scouring pad has various colors, like red, green, blue, and yellow. Now it can bond with the compressed magic sponge. The one new compound magic sponge contains two usages. For example, you can use the side of the scouring pad to shovel upper think oil on the stovetop, then dig in deep stains with the high-density magic sponge.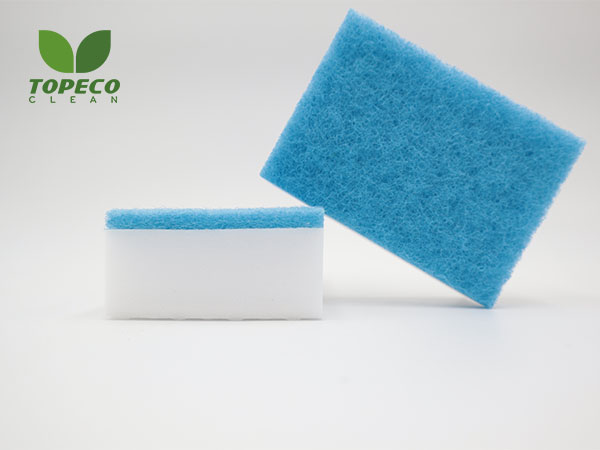 Large Magic Sponge
All magic eraser sponges of Topeco clean consist of eco-friendly materials. We are always noticing and valuing feedback from our customers. Honestly, producing what customers like is our leading meaning. For example, some customers complained that the rectangle magic sponge cleaning pad is too small, so we offer the large and extra magic eraser sponge, such as 10x7x3cm, 11x7x4cm, 12x7x2.5cm, 18x9x2cm, and larger size you need. Customers can cut it by themselves according to the surfaces.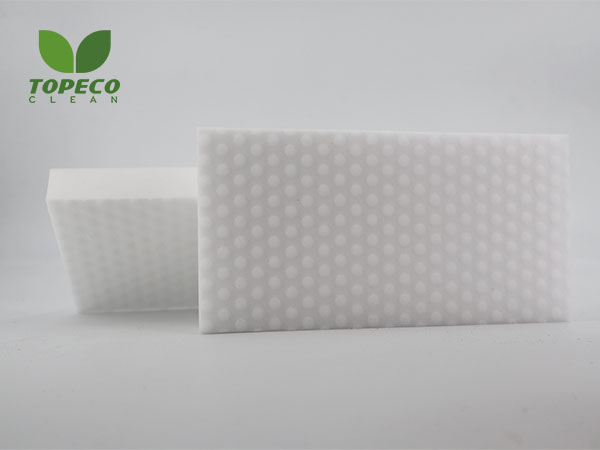 Special Shape Magic Eraser Sponge
The rectangle magic block sponge is the initial shape. With the upgraded cutting technique and machine, the best magic eraser sponge possesses various types, like cloud, round, hexagon, flower, and so on. These funny shapes make cleaning work more interesting. Topeco Clean can offer customized patterns according to the client's requirements by the adjustment of our cutting machines.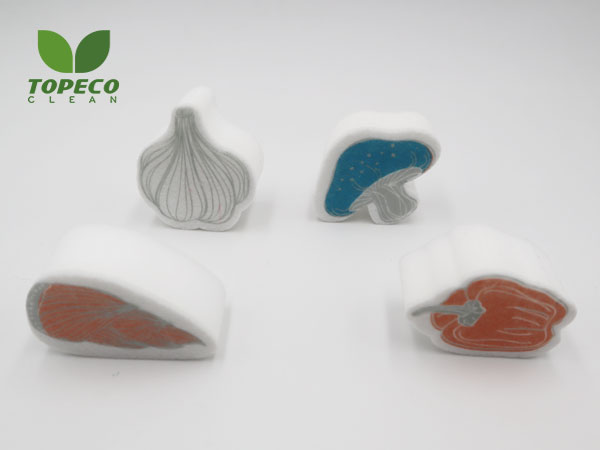 Outer Large Packing
Some users conveyed the meaning of packs of 2 or 4 is not keeping up with use. So Topeco clean can customize magic eraser sponge melamine with packs of 10pcs,20pcs, 50pcs, or the amount you prefer. Besides, we have a different discount for wholesale buying, which also can save some money for customers. What a good chance it is!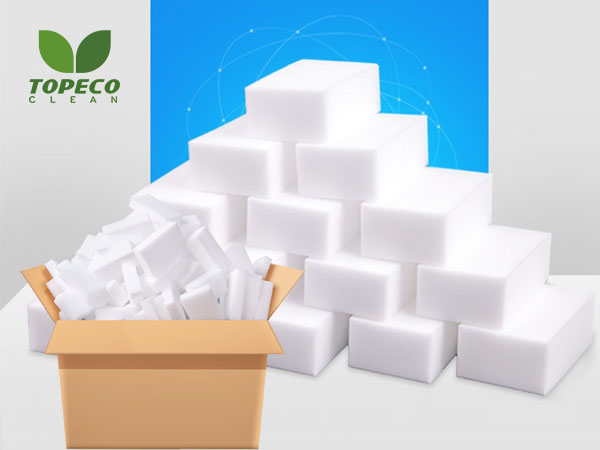 How To Buy the Best Magic Eraser Sponge
In this quite open market, there are numerous products mixed up together. The buyer has to spend more time selecting products. Knowing how to buy the best magic eraser sponge appears important. From color, the main colors have white, pink, and gray. From the appearance, the surfaces look more exquisite, and the open-cells are finer. By pressing it, the compressed magic sponge will rebound immediately. For an unqualified product, you can smell an unpleasant scent at first, then looks dull. If you poke it, it will come back very slowly.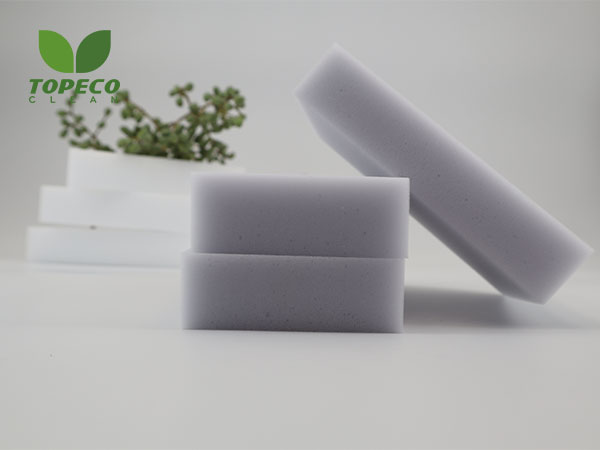 How To Use White Magic Eraser Sponge
This magic sponge removes stain and dust with only water. For high shine surfaces, do a spot clean to test in advance.If you clean the corner, you can cut it into small squares.
Add a little water to get it wet.
Get rid of extra water by squeeze out excess water.
Erase the surfaces of objects gently.
Rinse surfaces of objects and magic block sponge.
Put magic melamine sponge in a dry area after use.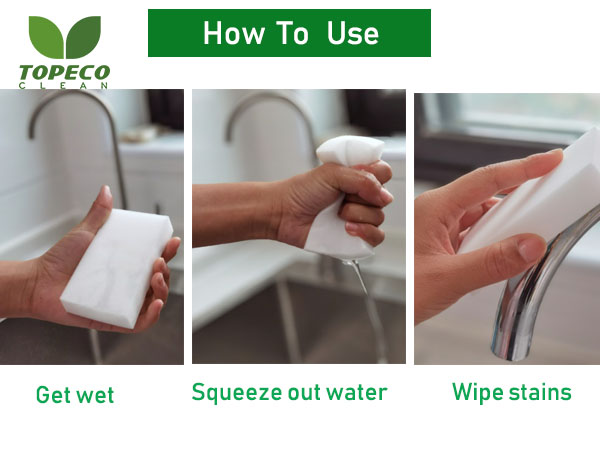 Whether It Can Use Cleaning Liquid
The magic eraser sponge can work with various surfactants, like soap, laundry detergent, floor cleaner, dish detergent, and vinegar. The dirt will wipe down faster due to the function of emulsifying and dispersing stains. By the way, because of the dense and even open-cells on the magic eraser sponges, you can use less detergent if there is needed to avoid excess bubbles.
Can You Use Magic Nano Sponge by Hands Directly?
The material of magic eraser sponge is non-toxic melamine foam, working like fine sandpaper and feeling soft. Unless scrubbing skin hardly, then the skin feel burn due to friction. Besides, you can wear gloves if you need to add detergent.
Magic Eraser VS Sponge
As we know, the magic eraser has a super self-cleaning capacity. After use, rinse it under running water directly, then you will see the grime will rush out immediately. It can keep clean all the time. However, the common PU sponge will be hard to wash over time, even though with dish detergent. The inner stains will breed bacteria and go moldy. The journal of Scientific Report published a research report showing that the bacteria in the used kitchen sponge are up to 362 kinds. Its concentration of bacteria is beyond imagination. If using it again, the germ will attach to kitchenware to harm health.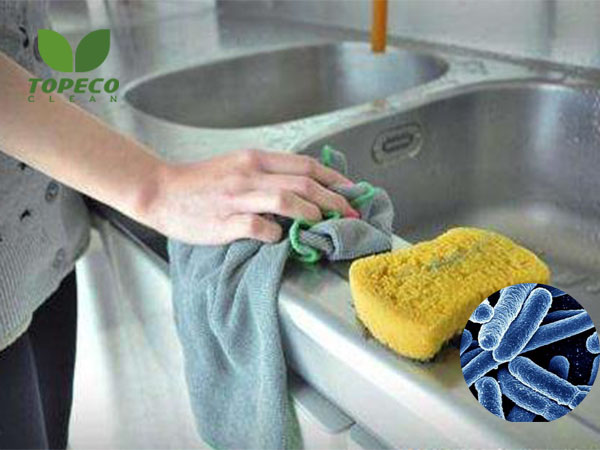 The Comparison Between Original Magic Cleaning Sponge With High density
The original one means the density of 8kg/m3. The high-density refers to 16kg/m3 and above. From the look, they look similar. When touching them, the high-density one feels a little stiffer. No matter wring, poke, and clench, the high-density one will not break. The original one is fine too, as long as you put less effort. As for cleaning ability, they both have good performance, and the high-density is relatively better than the original one. The most important one is that a high density magic sponge more durable. So, of course, the high-density one has a little higher price.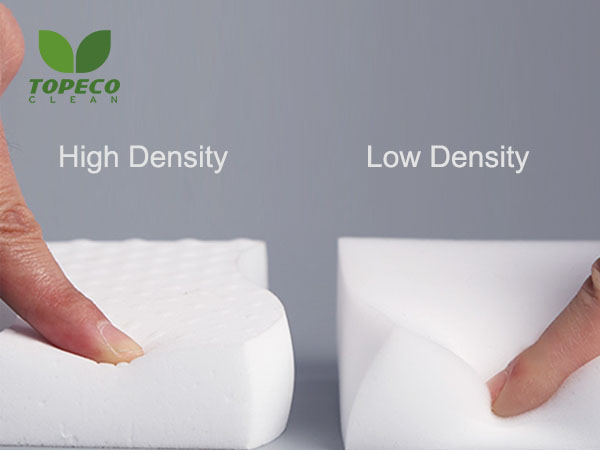 How To Store Melamine Magic Eraser Sponge
Please put it in a cool and dry place.
Keep away from pets and kids to avoid accidental deglutition.
The contain storing the magic sponge doesn't put others anymore.
If you buy large magic sponges, you can cut them according to your habits before storing them. For the next use, you can pick up a suitable one directly.
Magic Eraser Sponge Manufacturer – Topeco Clean
The factory of Topeco Clean, a professional magic sponge supplier, produces and develops the best magic sponge nearly ten years old. There are advanced production equipment and precision cutting machines, and an independent technical team. That means that the quality can get the best guarantee. Besides, the uninterrupted customer service provides you with technical support and deal with any questions about goods. We welcome overseas visitors to our factory so that you can know how professional we are!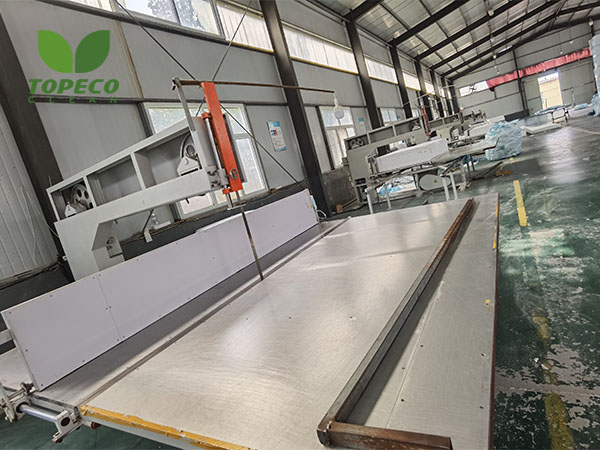 Where To Buy Magic Sponge Near Me?
If you decide to buy or store the magic sponge eraser, you will deal with so much information. You have to read introduces and reviews, compare different products, and scan websites and apps. Topeco Clean is willing to help customers simplify the purchase process. Topeco Clean is committed to being a manufacturer full of warmth and love. We hope our magic cleaning sponge brings convenience and fast to modern people. Through the business between us, we can obtain your trust. I am very confident about that. You don't have to scan so many pages since then.
Customized Service
To satisfy more clients, Topeco Clean can offer customized services, including inner packing, sales, and outer package, shapes, colors, sizes, density, and composite material. Topeco Clean magic eraser sponge has various types, including pad, block, sheet, mop, brush, cute shapes, and so on. Topeco Clean intends to provide one-stop shopping, further saving the client's purchasing time.