A magic eraser mop is a kind of new cleaning tool, which can release fatigue when doing housework. The length and feel of the magic eraser mop and the feeling of use have been scientifically studied and are ergonomic. It minimizes bending and provides you with a comfortable feeling of use. Hair, debris, and stubborn stains on floors are no problem for the cleaning mop. It is safe to use on vinyl, tile, marble, and stone.
Magic Eraser Mop Head
Adopting the compound magic sponge enhances cleaning power, making it last longer than other ordinary cleaning sponge mops. The reason why it works better is that the household magic eraser that combines three cleaning materials into one. Combining a PU sponge or scouring pad with a large magic sponge enhances most of its cleaning principle. The interchangeability of the sponge head also helps you reduce the expense of buying the whole mop. Easy to replace, easy to use.
Because the Topeco Clean magic eraser mop is very absorbent as well as easy to clean, people are using it more and more often. You only need to put it in water for cleaning, and after the cleaning is done, you only need to gently press the handle. So the water on the sponge mop will be squeezed clean, and then it can be used to mop the floor. The life of the sponge mop is also relatively long, but if the sponge mop above the sticky stains is more serious, and there is no way to clean it, then you can also choose to replace the new sponge mop. In the replacement time only need to use a screwdriver to remove the screws on the top can be replaced.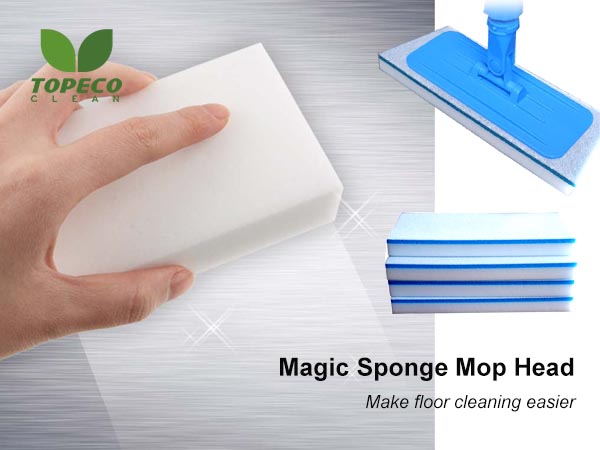 How The Magic Eraser Mop Works
The cleaning principle of the mop is the same as that of the melamine sponge. The material used to make the mop is mainly nanosponge, while the sponge is mainly made of melamine foam. Each small particle inside it is smaller than one ten-thousandth of a hair. Physical decontamination mechanism, its internal capillary open pore structure can automatically adsorb stains from the surface of objects. It has a 99.9% natural antibacterial effect and does not contain any chemical cleaning agent. The mopping will not cause harm to the environment.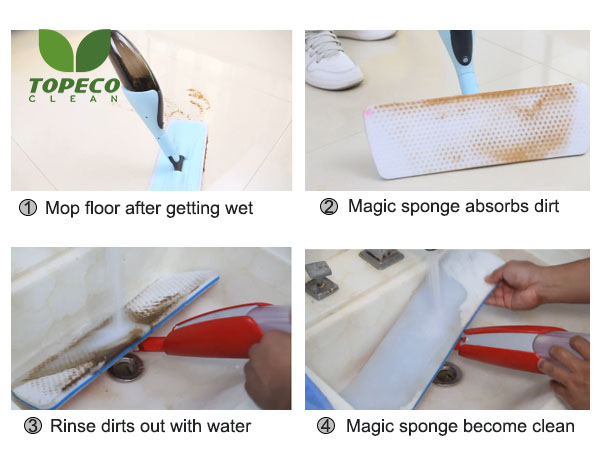 What Magic Eraser Mop Made Of?
The magic eraser mop lies in the magic eraser ingredient, which is made of 100% melamine foam.
Compared with a traditional cleaning mop, a magic eraser mop is not easy to mold and mildew. A regular mop sometimes gets dirty and may get moldy. Then it smells bad. In this case, the bacteria inside will cause secondary pollution to the floor and are even harmful to our health. Even if you use laundry detergent to clean it, you can't wash it again. Magic rubber sponge mop, which can keep itself clean until it runs out, will always provide you with a tidy home environment. Even if you put it in a humid place, it will not get moldy.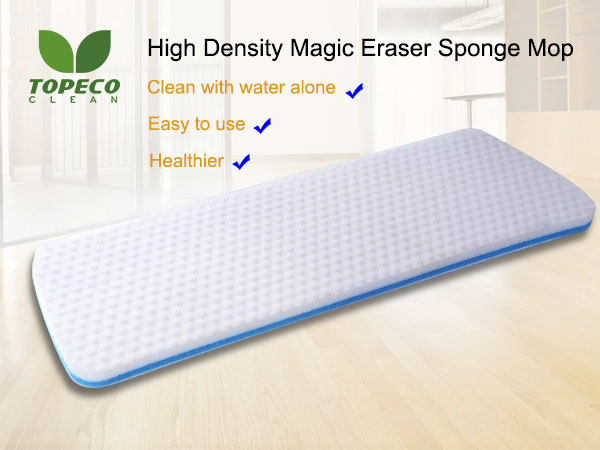 Why is Magic Eraser Mop Sold So Popular?
People like the magic eraser mop mainly because it is safe and economical. There are two main advantages. The first is the powerful cleaning ability, which makes cleaning faster and saves your precious time. In addition, there is no stain that a sponge mop can't wipe off. It doesn't need any detergent, just water to work. Secondly, after washing, gently squeeze out the excess water and the stains inside will flow out easily with the water. No scum will fall off. However, a traditional rag or PU head mop will hide the stain inside after a while.
The sponge will not be hard even when it is not used for a long time. The inner porous structure automatically dilutes the dirt on the floor. In addition, magic erasers mop deep penetrating action gets out grime and dirt trapped in grooves and surfaces. Strong water absorption can absorb water stains on wood floors in time to avoid damage to the floor. It is safe for use on vinyl, tile, marble, stone, and non-wax floors.
The innovative cleaning power of the magic eraser mop works wonders on your floors. The magic eraser mop up messes on your floors, effectively cleaning footprints, dog hair, and drink stains. Moreover, the mop can remove static electricity, so the dust adsorbed on the mop will not fly away. Once rinsed with water, the internal and external stains are easily washed away.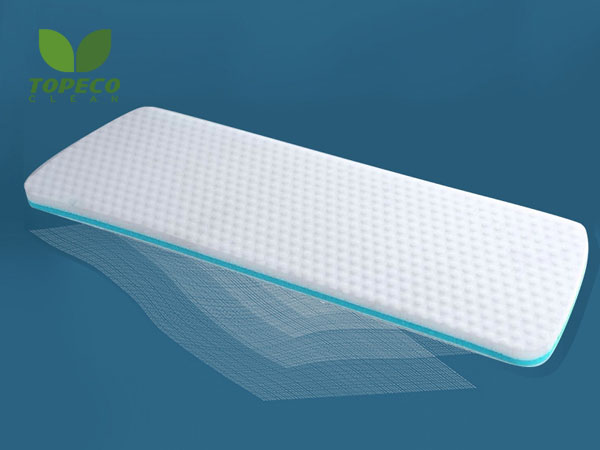 Multifunctional Usages Magic Eraser Mop
The biggest difference between the Magic eraser mop and the ordinary sponge mop is the multifunctional use of the magic cleaning mop. It is reused and flexible.
Wiping glass window. Wiping glass with a magic eraser mop is a very new way to clean. Especially glass in high places. If you want to use it with a glass cleaner, that's perfectly fine. No watermarks are left on the glass after wiping with the mop. When used with a magic sponge cloth, the cleaning effect is simply magic.
Cleaning walls. The magic eraser mop has an anti-static function, and the floating dust on the wall can be effectively removed. Just wet the mop by squeezing extra water, Topeco Clean magic cleaning products show you soon. Whether it's a bedroom wall or a bathroom wall, a mop can make a big difference.
Cleaning shower glass door. Large and dirty glass doors are always a headache in the house. Cleaning with a strong, absorbent magic eraser mop reduces the need to bend over. Easy cleaning job.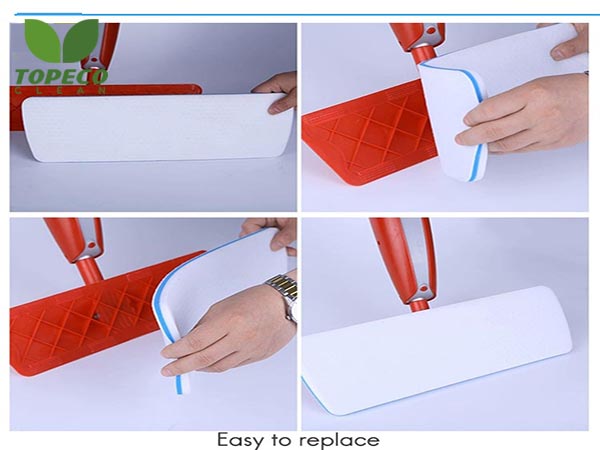 Which Floors Not Recommend To Use With a Magic Eraser Mop?
While a magic eraser mop will clean most floors, some floors that are too rough will not.
1.Concrete floor. Concrete floors are rougher and can wear out the sponge mop head. Reduces its service life.
2.Rough or unfinished wood floors.
3.Wax flooring is best avoided because abrasives may scratch the top coating. It can be cleaned slowly with a clean rag.
With a little attention, the mop can be more beneficial for everyone.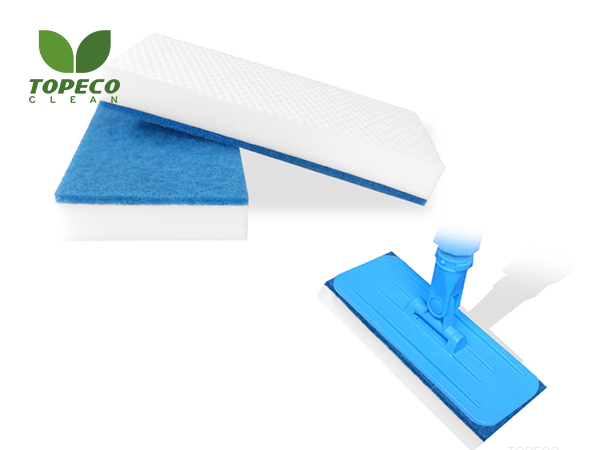 Warnings You Should Know-Magic Eraser Mops
Mr. Topeco magic eraser mop is a very effective cleaning tool. Please test on an inconspicuous surface before use. Not recommended for use on the following surfaces: high gloss, polished, dark, brushed, satin, faux, bare/polished wood, or stainless steel. Do not use chlorine bleach, on car bodies, or factory-made tinted glass. Keep out of reach of children. Avoid accidental ingestion by pets. Do not use it on the skin or other parts of the body. Use on the skin may cause abrasions.
To read more to get deep cleaning information please click here. Our products are sold hot in the market in that we have been concentrating on creating cleaning products that are more suitable for you. Committed to innovation, we are constantly expanding our market to meet your needs. the cleaning products in Alibaba and Made In China have received numerous positive reviews, which appeal to customers worldwide.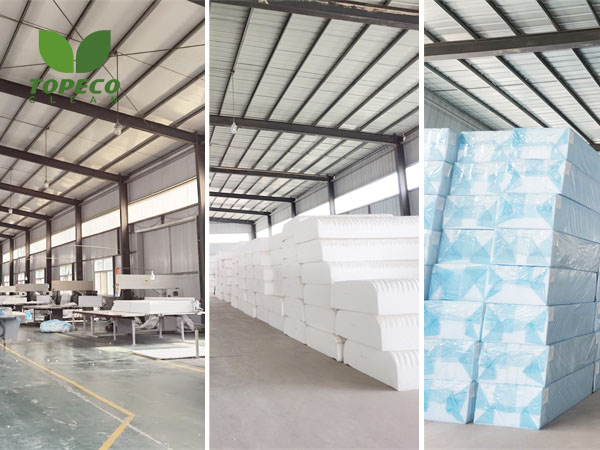 Instructions For Use
Step1. Sweep the dust off the floor with a broom.
Step2. Wet the magic eraser mop with water in the bucket or sink.
Step3. Squeeze excess water. Extra water can influence the cleaning effect.
Step4. Wipe dirt or grime on the floor.
Step5. Wash up used and dirty mop with water. Remove excess water for more time.
Step6. Put it on at a well-ventilated place.
Since the magic eraser mop is a daily consumable, please purchase a high-density and quality mop when selecting it. This will reduce wear and tear and thus reduce expenses. Our products are factory direct sell. As a wholesaler and manufacturer, topeco clean always uphold sincerity and passionate service for you.