High-Density Magic Foam Sponge Without Compromising Quality
If you are interested and curious about how the magic foam sponge works or the secret behind it
, there is no doubt that you've come to the right place. I'll make clear the magic for you, so you can clean smarter—not harder. Flow me.
Melamine foam is the main material made from a magic sponge showing how magic it is behind those sponges. Melamine is a famous material in the cleaning field or industrial field, enjoying safe and cheap fame in the market. Open pores structure and special abrasiveness are what make it such a powerful cleaning agent. Most curious of all, melamine foam is a soft material but is of hard feature in cleaning. It is almost like extremely fine sandpaper.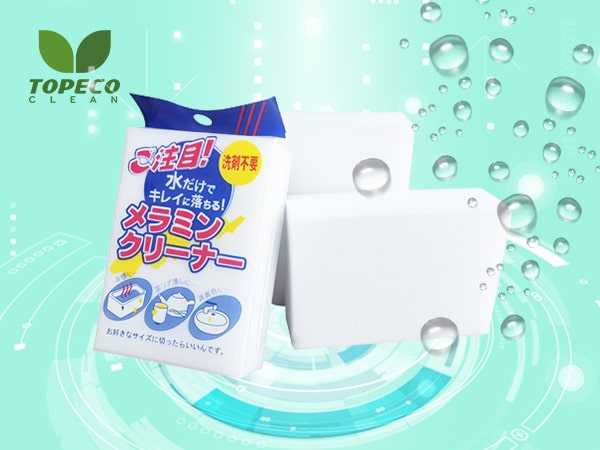 Better Magic Foam Sponge
Magic foam sponge has appealed to the masses' attention in the market if you are active online or flow fashion trends closely. It is not hard to see that magic foam sponge has so many names called by citizens. Magic eraser, magic cleaner sponge eraser, nano sponge, nano cleaning blocks, and cleaning sponge, all extend out of the original nano sponge. There is no surprise that you can see many sorts of the name of it when you first search online. Whatever you see how many names online, the quality Topeco Clean supplied still remains at the best level that we guarantee.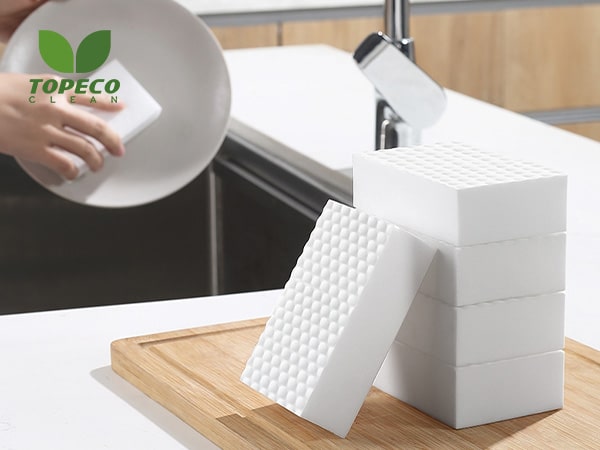 Cheap and Fine Magic Foam Sponge
Magic foam sponges become hot-selling. It is easy to see that many shops supply magic eraser sponges on Amazon, E-bay, or other trading sites. So you can get it on many channels online. Magic Erasers will set you back about $1 a pop even lower. As pencil erasers, magic foam sponge works just consumption consumables since the erasers are so porous. They tend to wear away like a pencil eraser and break down much more quickly than other sponges.
Just like costs a few dollars, you can get a box of high-density and quality magic foam sponges at home. Pay with a lower price, back your high quality. In comparison with traditional cleaning methods, just a piece of magic foam sponge can handle all cleaning problems at home. Their abrasive nature means they are more effective at removing stubborn stains. That said, you can safely leave them to the trickier hassles of using soap and water for fresh food spills. Because there's no magic ingredient, you can also buy melamine sponges in bulk. Also, you can cut it into many smaller blocks as you needed . So that your packets got to survive in cleaning costs.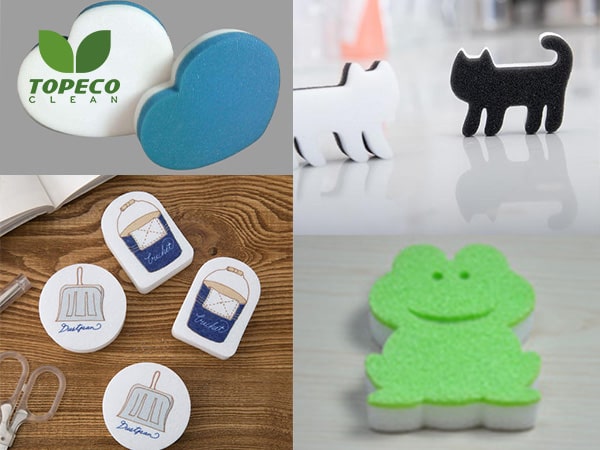 Magic Foam Sponge with Powerful Stain Removal
Magic foam sponge can be used in many places in life. As its so powerful cleaning effect, best home cleaning tool unexpected belongs to the magic eraser. Physical decontamination, non-toxic, used for cleaning and decontamination without only water,environmentally friendly, make magic nano sponge become a household item. As a cleaning tool in the market, it appeals to most people's love in convenient aspect.
Relying on the nano-level capillary open pore structure within the sponge,automatically adsorbs stains on the surface of objects . Besides magic eraser is of 99.9% natural antibacterial effect. For its excellent absorption in water, the magic foam sponge dilutes surface stains and greases easily with small pores.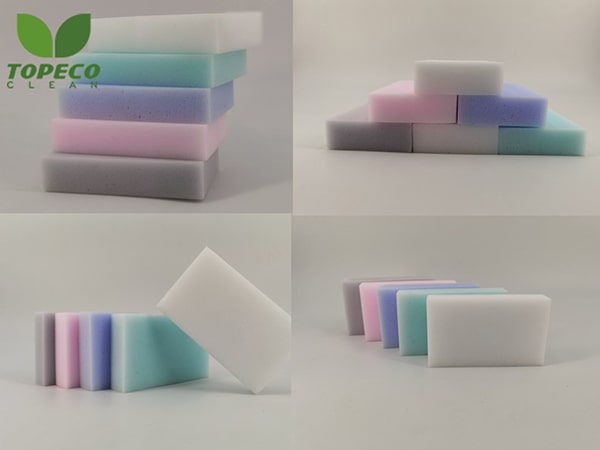 Magic Foam Sponge –Top-Level Fine Wiping, no Scratch
Magic foam sponge made from formaldehyde-melamine-sodium bisulfite copolymer that is safe to use.It looks so soft and dense. Once dampen, tiny pores inside the magic eraser swell made the sponge more elastic than the original one. It looks like a freshly cooked white bun. Soft magicfoam sponges act like extremely fine sandpaper that can wash up unwanted scuffs without any detergent. Not relying on chemical cleaning agents to loosen stains, pure physical decontamination is safe to use.
When a soft and flexible magic foam sponge absorbs grease in the stuff surface, the only thing you need to do is gently wipe stains, tea scales, marks on walls or graffiti slowly disappear like magic. The individual strands of the material are extremely small, which allows them to get into nearly microscopic gaps on almost any surface. But they're also very hard and abrasive, which allows them to remove stains and scuffs from the underlying material.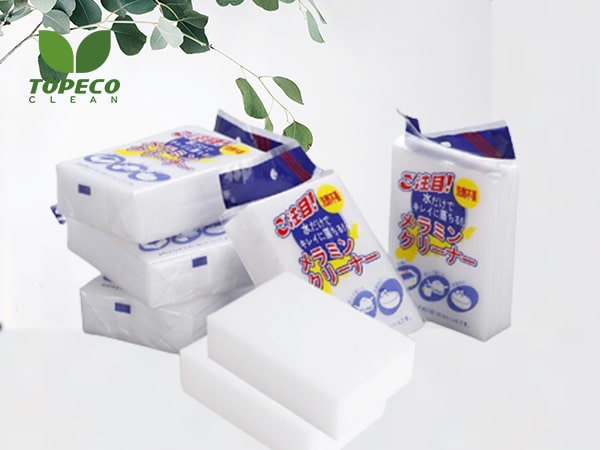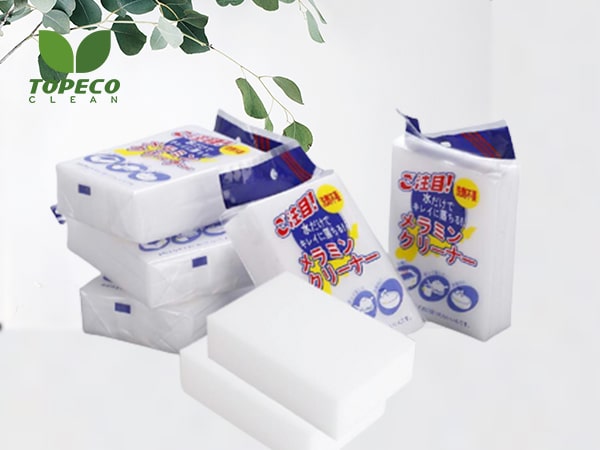 Cut as You Like, Diversified Use
If you are worried about the dead corners or gaps hard to clean between windows or doors or beds, magic foam sponge DIY will be your best choice when cleaning. You can cut it into many types as you want. Any type depending on your imagination can be designed into heat types, cute tiny round shapes, or small acute tetragonal.
The magic foam sponge does not dissolve in water, so when you put the nano sponge in water and squeeze it, the dirt adsorbed on the nano sponge will naturally fall off in the water. MR. TOPCO CLEAN magic nano sponge can be reused again, allowing you to effortlessly complete the cleaning work at home. It brings endless convenience to our life.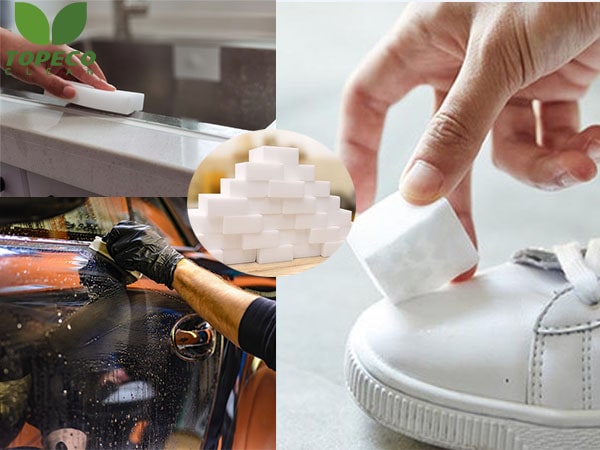 Magic Foam Sponge Using in Multi-Scene Magic Application
A multifunctional magic foam sponge almost can be used everywhere in life. From faucets cleaning at home to tea scales to chemical use in industrial areas.
The sponge alias magic foam sponge, this white foam sponge is a newcomer in the cleaning products market, with strong physical cleaning power. It is easy to use and saves time. Magic cleaning sponge can be used to wash dishes and wipe the stove, and can effectively remove stubborn stains on the surface of objects. But the magic foam sponge is not only limited to these daily cleaning, it has many magical uses that we do not know.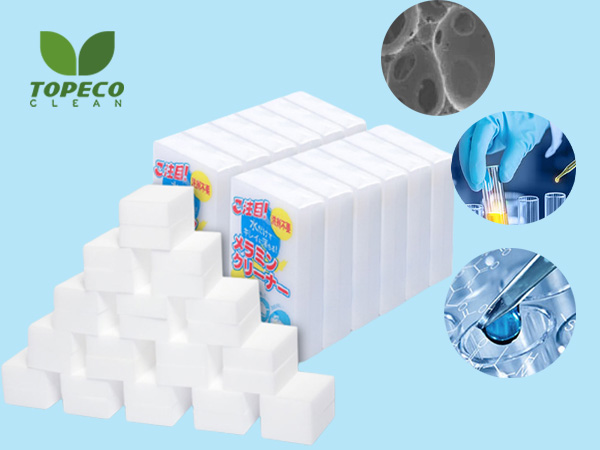 Magic Foam Sponges With Magical Uses
If you forget to take out the paper towels in your pocket when you wash your clothes, they will easily stick to the top of your clothes with fine paper shavings that are difficult to clean. We can use the magic sponge wipe directly to wipe these fine shavings or lint, sticky clothes on the dirt will be easily wiped off.
The magic sponge wipe fully absorbs water and put it in the freezer, and then put the frozen hard sponge in a bag that can be used as an ice pack, or rolled up with a towel, ice packs are also good.
One hand often holds the mouse of the old Internet users when long time playing computer games, in the palm of the hand diagonally below the bone will be worn out a black mark. This is because we hold the mouse when the wrist is without support, so prepare a magic sponge pad in the mouse next, and then put the wrist on the sponge will feel much better.
Some bench legs are relatively rough workmanship, moving on the floor will scratch the ground. This time we can cut the magic sponge wipe into a suitable shape. Take a small thin slice with glue on the bench legs, both to protect the ground from harm and without the sound of harsh dragging.
Those who like to raise flowers and plants can use scissors to cut the magic sponge wipe it to the right size and then pad the bottom of the pot. The magic sponge wipe has good water storage, reducing the flow of water from the bottom and providing sufficient moisture for potted plants.
MR. TOPCO CLEAN is A Trustworthy Partner
In advocating the concept of low-carbon, environmental protection, and energy saving today, the magic foam sponge is a healthy cleaning star of tomorrow. It will gradually replace traditional cleaning supplies, good cleaning helpers, and family necessary.
Here we support customized services, customized package of your company's logo is also available at tpeco clean. We guarantee that quality products have been passed international recognition SGS, MSDS, and CRS. Samples here are also supported by all countries. We will supply optimal prices for you to select. If you tend to establish a cooperative relationship with us, we will feel extremely grateful.