The design idea of the magic sponge brush refers to help to clean the narrow-mouthed cup and deep bottle. These cups and bottles are hard to be washed thoroughly by our hands. What's more, cooperating with its powerful cleaning ability, any stains stuck on the inside cup can be destroyed effortlessly.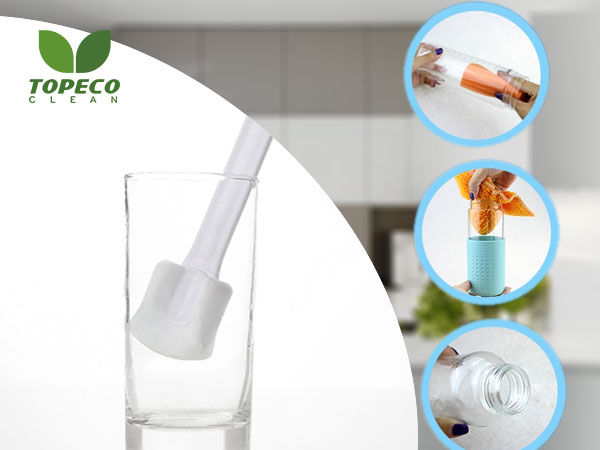 The Size And Packing of Magic Sponge Brush With Handle
The total length is 17cm in maximum. The handle is adjustable for a variety of types of cups. The size of the magic block sponge is 4.0×3.5×1.7cm. Each set of magic sponge brush has one handle and five rectangular magic block sponges. The brush head and handle are available to disassemble. What's more, each magic sponge block has specialized holes convenient to replace. The brush head and handle are secured firmly, don't worry that they will take apart during use. The sizes of the handle and magic sponge block both accept customization.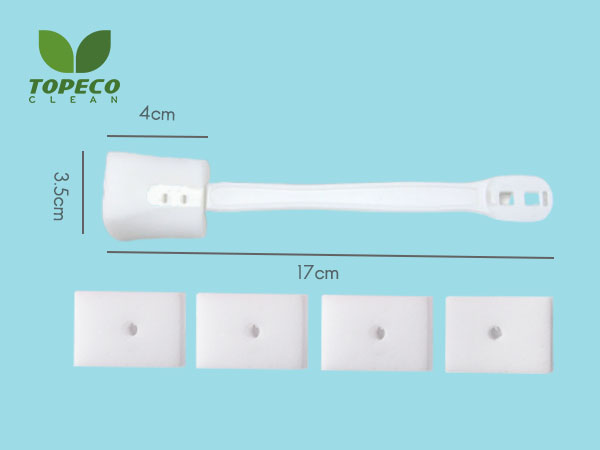 The Color And Density of Magic Sponge Cleaning Brush
The magic sponge block has white, pink, and light gray. Most people prefer to choose white. In General, customers will ask for a density of 16kg/m3 of the magic sponge brush head. So, toughness and cleaning ability is suitable for cleaning cups, not scraping the cups' surface. By the way, the color and density of the magic block sponge both accept customization too.
What Kinds of Cup Can Use Magic Sponge Brush?
Honestly, I can't find the cup you can't brush, such as the plastic cup, glass cup, porcelain cup, even wooden cup cover, and plastic bottle top. It is no problem to hand these cleaning jobs over a magic sponge brush. The Topeco high quality magic sponge makes use of a physical cleaning method, and fine open-pore design and nanoscale fiber can take away grime easily.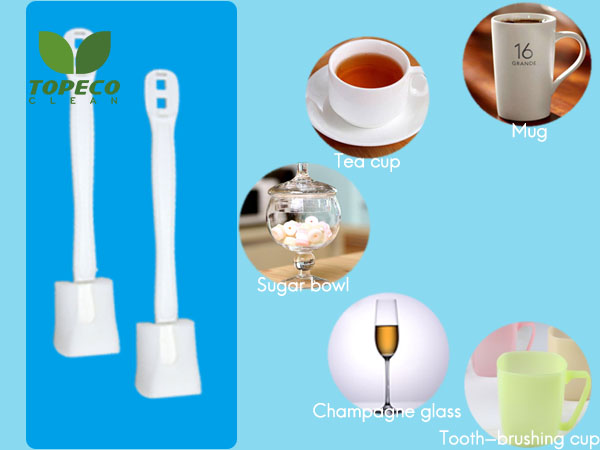 High-Temperature Resistance
Thermal resistance is tested and pass the national standard GB/T 10295-2008. The working temperature is from -292℉ to 356℉. Don't worry that boil water will damage the magic sponge and exude an odorous smell.
Strong Cleaning Ability To Save Your Time
For office workers, the first thing after getting up is to enjoy one cup of coffee to achieve a new start of one day. When afternoon, a cup of tea release the fatigue and prepare a perfect ending of one day work. But how about to handle the coffee and tea stain? They stick on the internal wall of cups or mug closely, especially grime hiding in the cranny of cup and mug. Magic sponge brushes with a strong cleaning ability will scrub them rapidly to save your precious working time.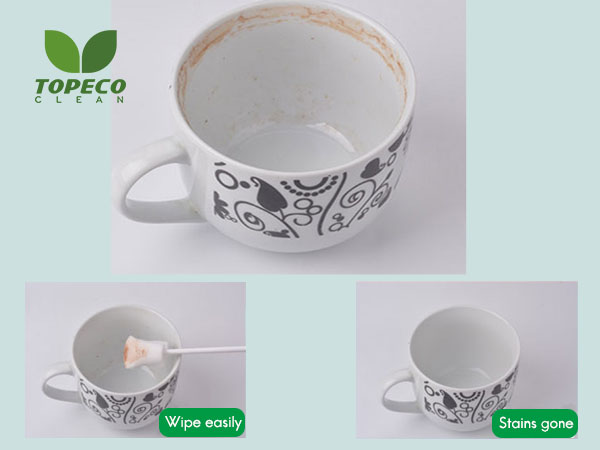 The Handle Adapting To Deep Glass Bottles
Everyone likes a different style of cups to dot life. For instance, glass milk cups, exquisite goblet, champagne glass, mixing glasses, but narrow-mouthed and long wall make them hard to clean. Also, their depths are different. Additionally, an ordinary cup brush has a handle of 17cm, almost matching with all daily cups. We also have another magic sponge brush with handle adjustable. The length is up to 30cm. Besides, there is a hole on the top of the handle, and you can hang on it above the scullery.
Fresh Mommy's Indispensable Tool
For the baby's bottle with the milk powder, mommy will worry whether residual with a long time will affect the health of the baby. With time goes, the baby's bottle will turn gloomy. Magic sponge brush can help fresh mommy to solve the problem with ease. The handle can rotate 360% to clean each inch inside of the bottle.
Magic Sponge Brush For Stainless Steel Cup
At a party, you will enjoy cocktails with friends. The shaker and measuring cup we use are material of stainless steel, in general. After the party ends, we have to wash the set of tools wholly. Otherwise, the juice or wine or something residue will make the cup rusty. Magic sponge brush not only can clean any drink leftover but also polish the stainless steel utensil to reveal a fresh look again.
Application For Various Containers
Below is a simple list of cups for your reference:
For cleaning the kitchen, sugar bowl, milk jug, grain box, juice cup, milk cup, feeding-bottle, mug.
In addition, to the drawing-room, coffee cup, teacup, water glass, teapot, and kettle.
In the bathroom, tooth brushing cup with toothpaste stains and water stains.
At the party, clean measuring cup, red wine cup, decanter, champagne glass, beer glass, vodka glass, etc..
On the road, the portable cup.
In addition to the above cups, you also can use a magic sponge brush to clean the machine's corner, like soybean milk machine, coffee maker, teakettle, and so on.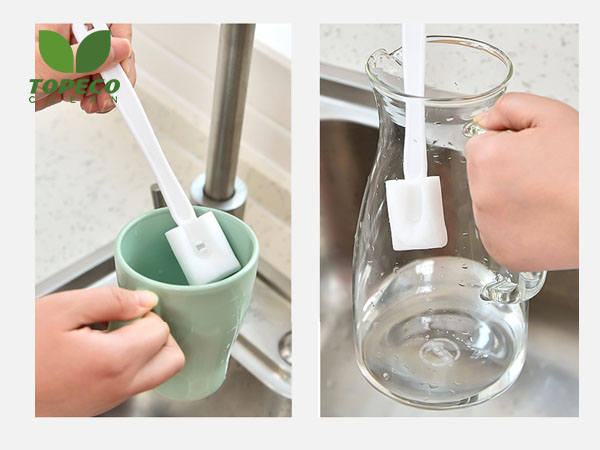 Magic Sponge Cleaning Brush Reviews
We also received some reviews from customers sometimes. Easy to clean stains. One head can be used for a long time, even one month. Rest four heads may support more than four-month. Long handle can clean long wine cups well. Some clients hope the blocks can be more, and the stick is available for a long time.
From the reviews, we know the product is useful for customers. But we need more comments to improve. We will wait for your feedback after using all the time.
The Advantage of Magic Sponge Brush Compared To Normal PU Sponge
Magic sponge brush has three excellent advantages compared to PU sponge. One is soft to touch, don't scratch the surface of the cups. The second one is more unbelievable cleaning power, just with water. For stubborn stain, like tea stain, PU sponge is hard to wipe them only with water. Magic sponge brush doesn't need to match detergent, don't afraid of chemical residues to hurt the health of the family. The third one is easy to reach and clean nooks and crannies. PU sponge is not easy to clean despite adding detergent.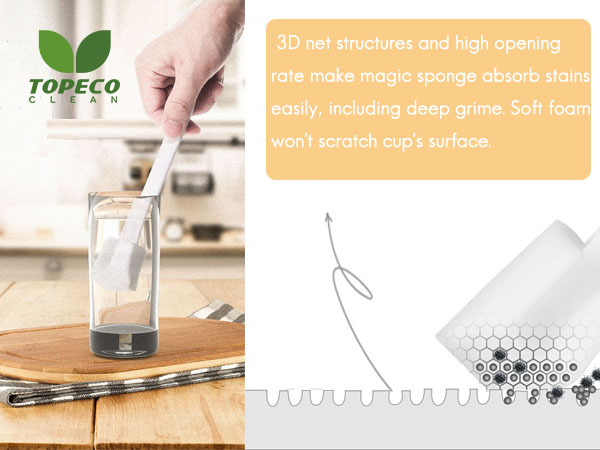 How To Use Magic Sponge Brush With Handle
One set of magic sponge brush has five brush head. One head has been installed with hand. Take this out at first and keep the rest four blocks at dry places temporarily.
Then wet the brush head, get rid of excess water. Hold the handle and rotate brush head to wipe set-in dirt on the bottom and internal wall.
Finally, rinsing cups under running water to make sure no stains left. Also, wash the brush head, then hang on it for the next use.
The brush head is a consumable. After several uses, the brush head will disappear gradually. In the end, if it becomes too small to use again, replace it with a spare head.