What Is Compressed Melamine Sponge?
Topeco clean compressed melamine sponge is manufactured with unique technology, which greatly improves the quality of ordinary magic sponge (density 8kg/m3 which is easy to crack, easy to drop slag, and fast to wear). Thus the multi-purpose function is loved by everyone. It can remove almost all the stains in daily life. It is purely physical stain removal, and its amazing cleaning effect makes it easy for you to do your daily cleaning at home.
In addition, the compressed sponge is also commonly referred to as an eraser. During use, the melamine sponge can achieve a high level of corrosive results. The water-activated nano foam technology provides excellent environmental cleaning. Perfect for use on walls, skirting boards, floors, switch plates, tiles, plastic, and fiberglass in kitchens, bathrooms, and throughout the house.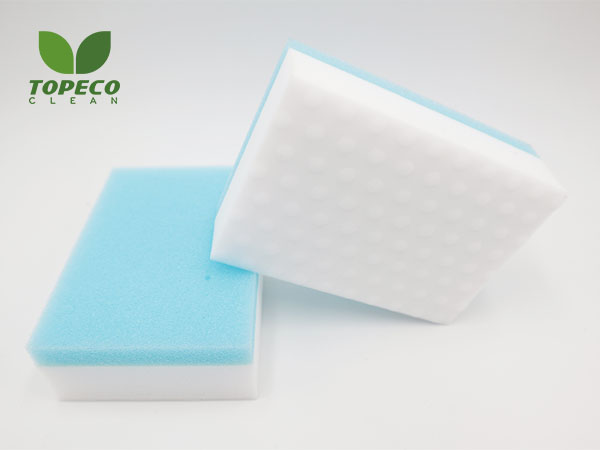 Is Compressed Melamine Sponge The Same As a Magic Eraser?
These two are quite a product, just different names. The compressed melamine sponge have many names, melamine sponge and magic eraser are one of them.
They are all made of melamine foam. When it comes to ingredients, melamine foam and magic eraser are the same. Melamine foam is much cheaper, and some Chinese melamine sponges are much more durable and of higher quality. magic eraser is already a registered trademark on the market. melamine sponge so it is a little cheaper. China is one of the world's largest suppliers of melamine foam. Topeco clean produces high-quality melamine sponges. The cleaning products here all have got international quality. The results of magic eraser and melamine foam in terms of composition are the same.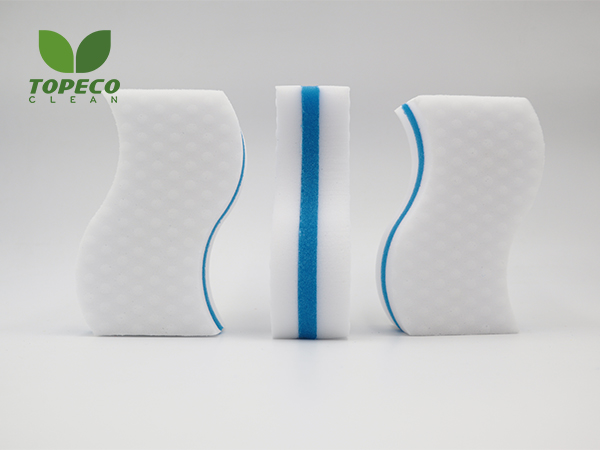 Can Use a Compressed Melamine Sponge On My Teeth?
The efficacy of the compressed melamine sponge to whiten teeth made it to TikTok's Hot Topic and everyone wanted to try it. But since I'm not sure if she is suitable for use on teeth or not, I'll share it with you today.
It is worth noting that studies have shown melamine sponges to be effective in teeth whitening. After trying the hack on my front teeth, you can definitely see a difference, and they do look whiter.
One study found that: "Compared to traditional toothbrushes, compressed melamine sponge can remove stains from tooth surfaces more effectively and with less damage to the teeth." However, this test was later questioned. Because it was tested on extracted teeth, it was not certain that it would apply to teeth in the mouth. However, many tests by the general public have also shown that it is possible. The adverse effects depend on the application technique and time of use. Frequent repetitive use or hard rubbing can lead to tooth wear. It is safer if used infrequently or without force. Still, be careful not to accidentally swallow the melamine sponge block when using it.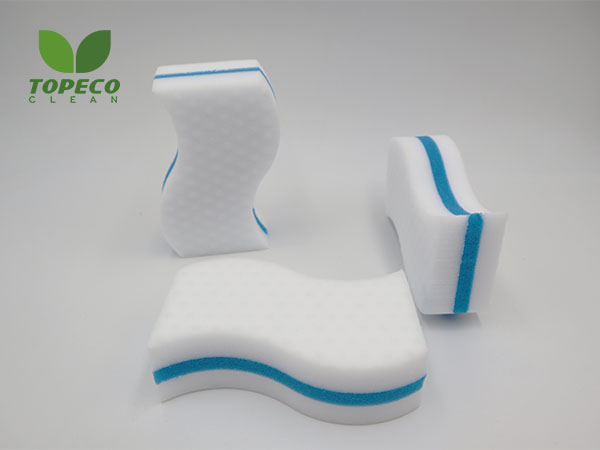 What Is Compressed Melamine Sponge Used For?
Clean the gaps in your home floor
Remove dog slobber from window sills
Wipe dirt & grease marks from our white doors
Clean the white vinyl screen door
Remove dirty fingerprints from the white pantry door
Make the see-thru doggie door see-thru again
Wipe dust and dirt from white baseboards
Clean chrome fixtures
Remove dirty fingerprints from our white light switches
Clean up the hair on the sofa
Restore the mirror clean, no watermark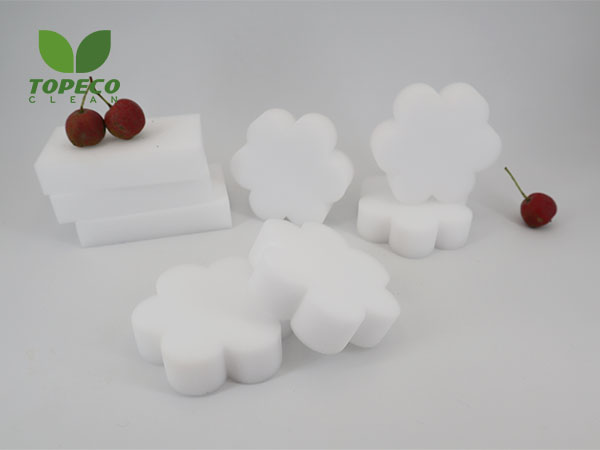 Why Are Compressed Melamine Sponge So Good?
Magic sponge wipe is a good and labor-saving cleaning tool. It can especially show its powerful cleaning ability when dealing with stains that some rags are not good or can't handle. Because it basically only needs water to remove stubborn stains, the thing being cleaned to achieve the effect of removing the old like new. You may ask here, how it can have such an amazing effect? No hurry, now there is a small to answer for you under.
To start with the material and structure of the magic sponge wipe. Compressed melamine sponge is made of melamine foam, and its internal three-dimensional mesh open pore structure. This structure allows the magic sponge wipe dipped in water in the wiping process can automatically absorb the stains on the surface of the object. Magic sponge wipe is purely physical stain removal, both safe and environmentally friendly. The internal structure holds the stain firmly and disappears with a single rinse. The white magic sponge is an essential cleaning product for your home.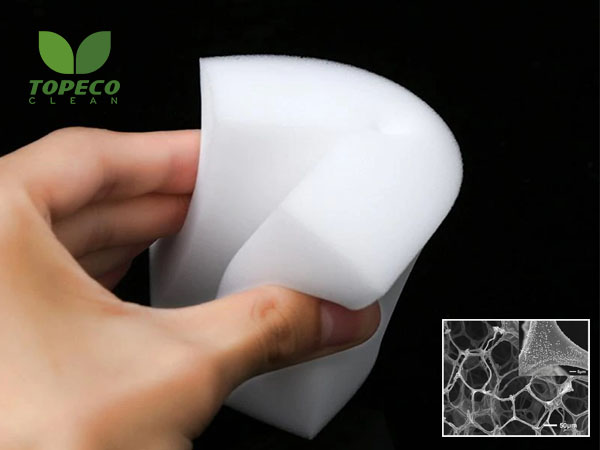 What Difference Between Sponge And Compressed Melamine Sponges?
The compressed melamine sponge is actually our newly developed 2x density cleaning product. Through an improved process, it has a higher performance than the original sponge. In addition to the 2x extra compressed magic rubber sponge, Topeco Clean also offers 3x and 4x compressed products. The compressed melamine sponge with 16KG/M3 higher density with higher open porosity and more strong cleaning ability. If you want to know more information, click the link below to find out.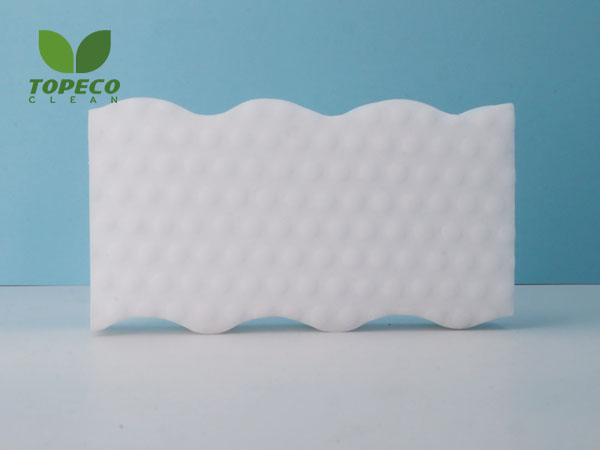 Melamine Sponge Manufacture
Henan Topeco Clean Import & Export Co., Ltd. has been in the household cleaning products market for a long time as a melamine sponge manufacturer and white magic sponge supplier. It is a company specializing in the foreign trade business.Topeco Clean adheres to the business philosophy of professionalism, concentration, and focus. With the corporate culture of solid and steady, harmonious and aggressive, and thick and thin. We have an excellent management team, good technical achievements, and a strong operation team to keep moving forward.
The cleaning products here include a magic eraser sponge, magic cleaning mop, and cleaning cloth. Except for the original magic sponge, topeco clean also produces a compound magic sponge for cleanings, like magic sponge with PU, a magic sponge with non-woven fibers, and a magic sponge with a scouring pad.
Topeco clean melamine sponge manufacturer has its own factory and has been producing magic sponges for more than ten years. We have nearly ten years of experience in the production of magic sponges. We offer a customization service. Packaging customization, color customization, and shape customization are all feasible. Factory direct sales and wholesale prices give you the lowest discount. We also provide free samples, please contact us if you have any questions.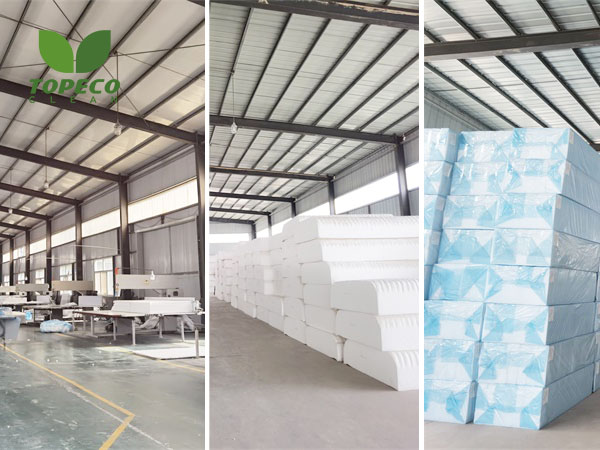 Unique Compressed Melamine Sponges
The uniqueness of the compressed melamine sponge lies in its greater density. It can be integrated with different designs. For example, compressed sponges are embossed with different patterns. Different shapes can fully demonstrate the characteristics of the sponge. For example, the s-shaped compressed melamine sponge is a combination of ergonomic development. The purpose is to facilitate hand-holding. When cleaning can reduce hand fatigue. There are also round sponges, dealing with shoes, and small areas of stains are very effective.