The compressed magic sponge has more dense melamine foam with greater cleaning power. The defects of ordinary magic sponge are all made up, like crumble and breaking easily. Also, it can use longer than the original magic sponge of the same size. As the most effective and eco-friendly cleaning tool available in the market, the premium magic sponge can help you to finish almost all jobs. The below picture shows 16kg/m3 melamine foam with different sizes.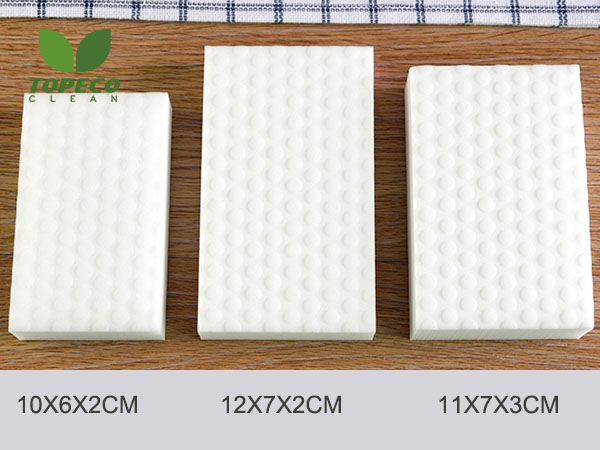 Compressed Magic Sponge From Topeco Clean
Topeco Clean focuses on producing and designing higher quality magic sponge. The compressed sponge, working like a miracle, has named the best buys due to its high-cost performance. The ultra-durable series products use high-intensity and high-density melamine foam, which enhances cleaning ability to deliver further maximize decontamination results. Topeco Clean provides the most practical compressed densities with 12-50kg/m3, and 16kg/m3 accounts for the maximum proportion of total sales.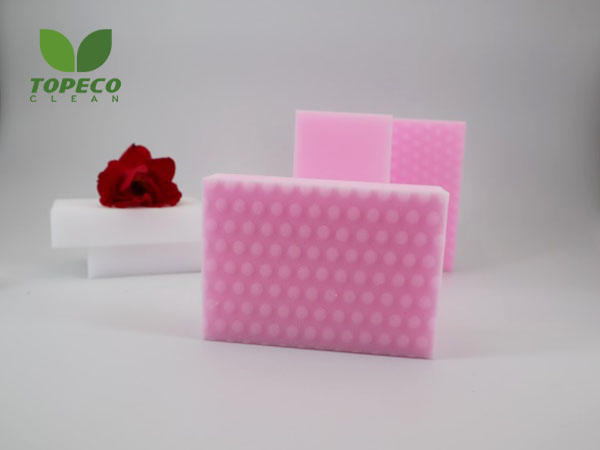 Why Compressed Magic Sponge Has Stronger Toughness?
Relying on the close inner 3D nanotube structures with a high opening rate, the magic sponge touches with the surface of objects without any seam, which makes the magic sponge generates powerful adsorption capacity. However, the compressed wonder cleaning sponge contains more nanotubes, which enables it to have strong toughness. You can simply think of it by this metaphor. It is easy to break one stick, but two will be harder to break.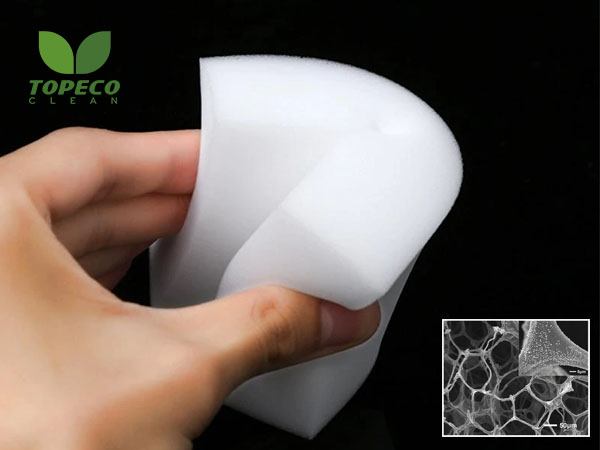 Super Self Cleaning Power
The compressed magic sponge doesn't contain any chemical detergent, adopting physical decontamination with the help of its nanotube structures with a high opening rate. After using, rinse it in water, and the inside dirt will come out. Thanks to the countless nanotube, the stains can flow out smoothly and don't use detergent to dissolve. However, the PU sponge and scouring pad can't deliver the effects.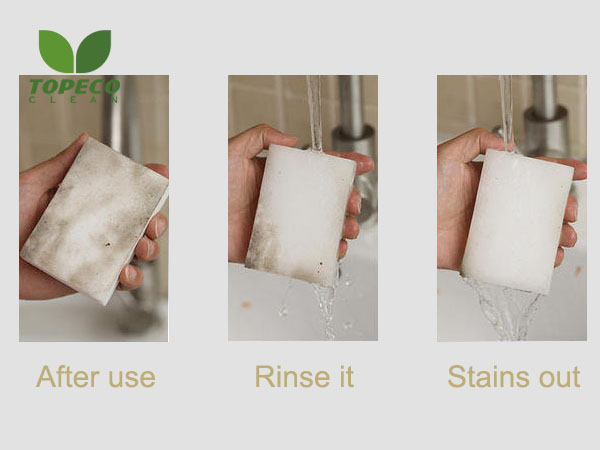 The Difference Between Compressed Magic Sponge And Ordinary One
From the appearance of them, take the example of a white magic eraser sponge, it has a tighter texture and looks whiter than the ordinary one. Furthermore, the magic sponge feels more flexible and stiff. No matter how to wring or fold it, it won't tear. The ordinary magic sponge feels softer and has good resilience too, but it will break if you screw it.
Compressed Magic Sponge VS General Quality
The density is higher as more than twice as the general product, which enables it to obtain more than a 2X cleaning ability and toughness, especially for deep stubborn dirt. Also, when squeezing out the remaining water, you can pinch it arbitrarily. Because of not easy to break, it is suitable for cleaning more surfaces, even if uneven surfaces. The compressed magic sponge has strong wear resistance, durability, and almost no dross when using. However, the general magic sponge will fall apart easily.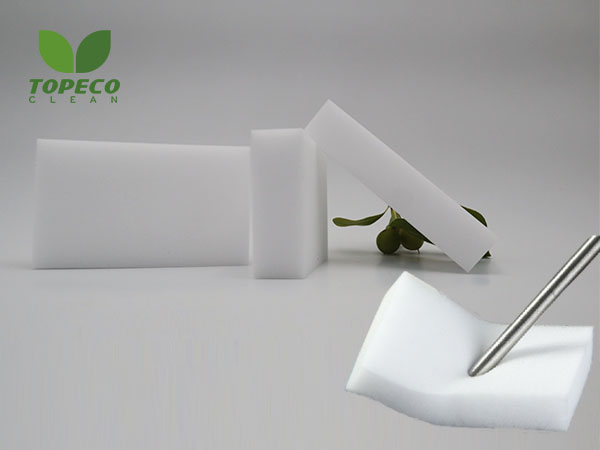 The S-Shaped Edges Design
The compressed magic sponge with a rectangle is already not the latest model. When the design of S-shaped edges emerged, the product captured many customer's attention soon. Later markets seemed to confirm that. According to one industry survey of the first half of 2020, the S-shaped microfiber magic sponge has exceeded the rectangle in total sales volume. Besides, now S-shaped magic sponge can combine with PU sponge. The PU has outstanding toughness strengthening durability, which also allows the white magic cleaning sponge to play an even big advantage. Besides, the overall appearance looks more charming.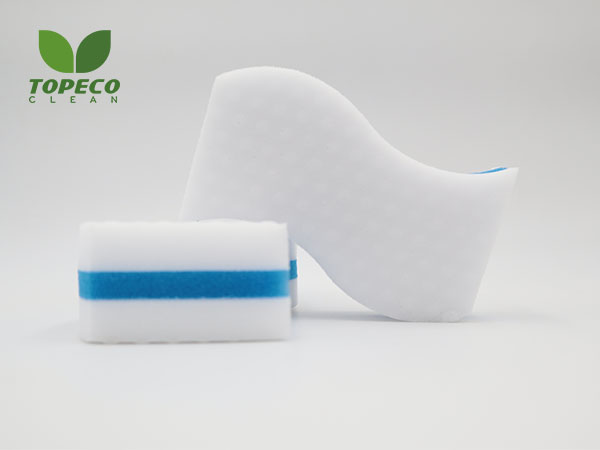 Various Shapes of Compressed Magic Sponge
Topeco Clean is a mature manufacturer always valuing the shape designs with utility and fun meanwhile. Now the main shapes that we can provide include the wave shape, circle, flower, hexagon, laciness, bear, and other forms you want. Besides, these compressed magic nanosponge with particular shapes can combine with PU, scouring pad, and non-woven fabrics. There is so many various compound magic sponge of Topeco Clean for you to select. We can offer bespoke shape, size, density, and color.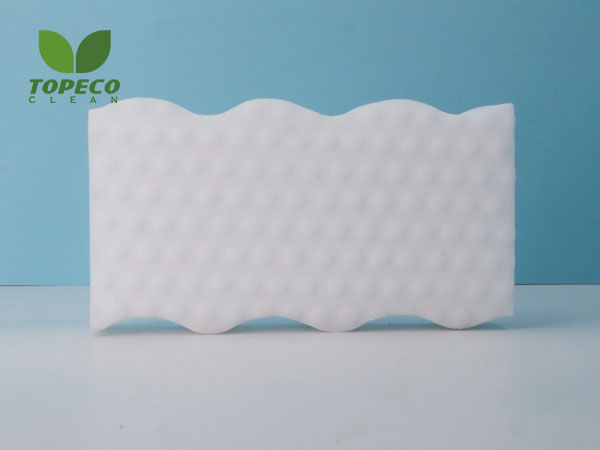 The Application of Compressed Magic Sponge
The top compressed wonder sponge can assist in doing all kinds of housework, such as sinks, tub, sofa, table, vase, decoration, cooking utensil, vacuum cleaner, and so on. In addition to the household job, it also can be used on other sites, like office, school, yoga class, gym equipment, engineering devices, and so on. The compressed magic sponges, except for clean stains, can polish metal products, like stainless steel, chromed, and silver products, and also can filter dirt and oil from water.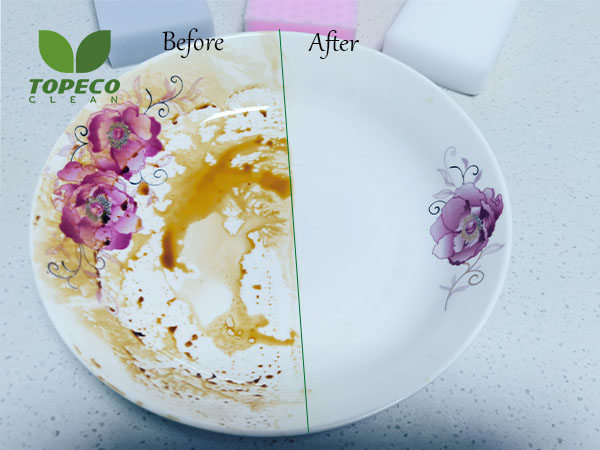 Great Results of Compressed Magic Sponge for Cleaning Car
Due to the powerful cleaning and flexibility, the compressed magic sponge can deliver good results on cleaning whole cars. The interior includes the leather seat, car console, steering wheel, car armrest, gear lever, and trunk. The high-density magic sponge has very excellent toughness and flexibility, and not only can dig out deep stains not also can lifting hidden dirt in corners away. What' more, the external includes bumper, car hood, windows, rearview mirror, lampshade, tires, and rims. Every driver should have this multipurpose compressed magic sponges used by only water.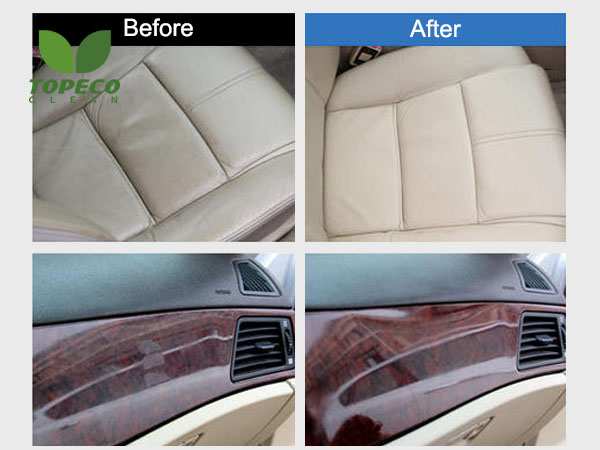 The Good Performance for Cleaning Oil
I guess the oil is troublesome for everyone. After cooking, the first thing is to clean the gas stove and the wall with oil splatter. The compressed magic products have a higher cleaning power to tackle nuisance. In fact, the material of the compressed magic sponge is alkali-resisting, which means it also can clean cooperating with cleanser essence. But remember to add a little cleanser essence because the porous structures create plenty of bubbles. If the oil has pasted on the cooking utensil, you can try this way.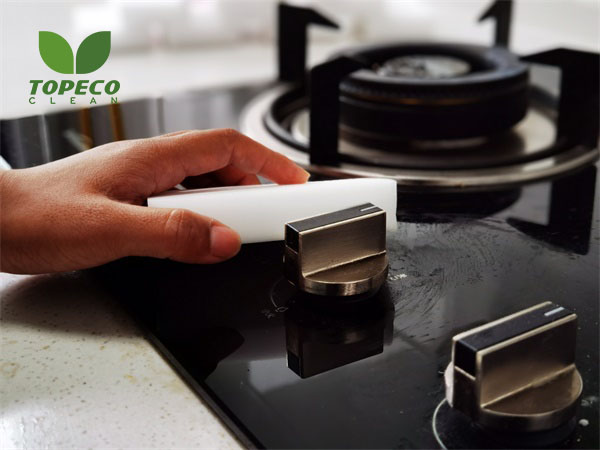 Excellent Disinfection Tool
The compressed magic sponge has excellent corrosion resistance. In 2020, the disinfection received more attention. If you want to disinfect furniture, the high-quality magic sponge is a fine choice, and it also can do a cleaning job incidentally.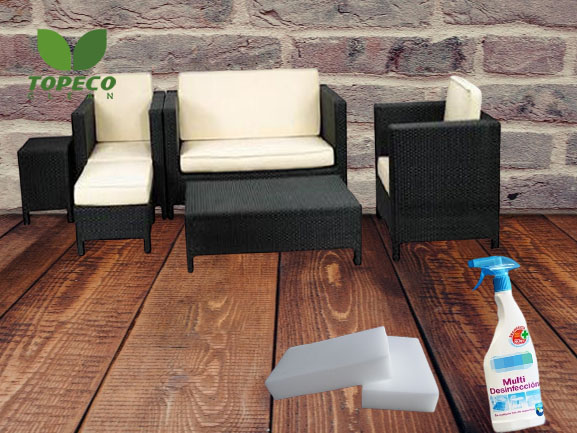 Cleaning Products of Best Meeting Modern Requirements
As the compression technique continuously improves, the magic sponge of Topeco Clean is following the modern lifestyle with low-carbon, eco-friendly, and energy-saving. The more durable compressed magic sponges reduce the amount of replacement. Excellent cleaning power reduces significantly chemical detergent. Just water can activate it, and soft surfaces don't hurt hands. To get a free compressed magic sponge quote, please leave a message for us.