Our large magic sponge consists of superior quality melamine foam. But, the small magic block sponge doesn't last long and cannot meet lots of different cleaning work. More and more customers reviewed that they want large magic melamine foam sponges. Yes, Topeco Clean noticed that and fixed the problem already.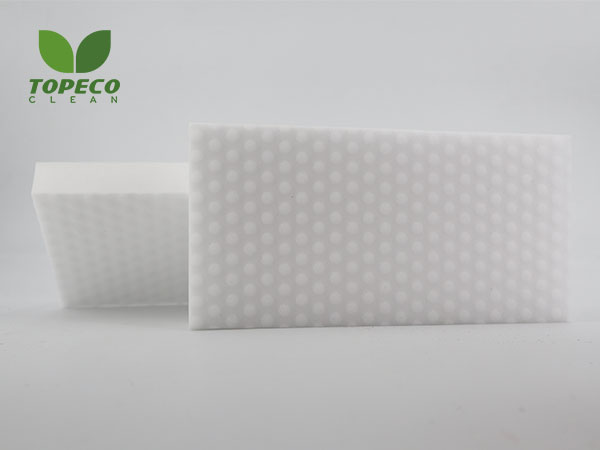 Large Magic Sponge On Market
In the market, some manufacturers declared that they could provide extra-large sponge. But the true size is 0.36 x 0.20 x 0.13inch (11 x 6 x 4cm). This is just a basic size extra large, Topco Clean can produce it definitely. What is the most appropriate biggest size of a giant magic sponge? Look down Topeco Clean's answer.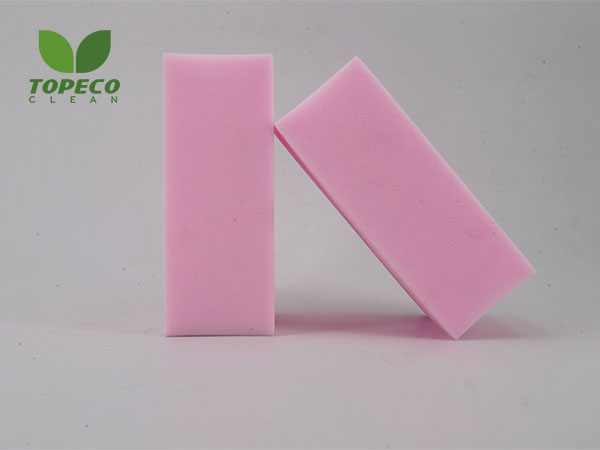 Large Sizes From Topeco Clean
Through serious market research, Topeco Clean decided to produce a more proper largest magic sponge with 8.20 x 3.28 x 0.92 inch(250x100x28cm) eventually. Not too big and not too thick. They also are serviced as semi-finished products. Some local enterprises import our large melamine foam to further processing. Easy to hold and easy to cut. By the way, Topeco Clean also can produce other sizes certainly, like 10x6x2cm, 10x7x3cm, 11x7x3cm, 11x7x4cm, 12x7x2.5cm, 28x12x5cm, and any size you need.
Why Do I recommend To Choose Large Magic Sponge?
There are two top advantages. Plenty of different cleaning works, just one size cannot be appropriate for all surfaces. Tiny pieces used to clean corners, medium blocks for various tabletops, and a little large magic eraser sponge for wall and floor. But if you have one chunk, you can cut it into multi sizes you need. Besides, purchasing large magic sponges is like wholesale. You can get one unbeatable price. A penny saved is a penny earned.
How To Store And Use Large Magic Sponge
Prepare a chunk large magic sponge and a scissor.
Cut the chunk roughly according to the size of your storage space.
Dry cartons and cabinet would be better to keep them.
Try to cut it into flat edges.
Take out one stored piece, cut it into sizes based on your different cleaning work.
Get one piece wet and erase stains.
Rinse and put it aside for the next use.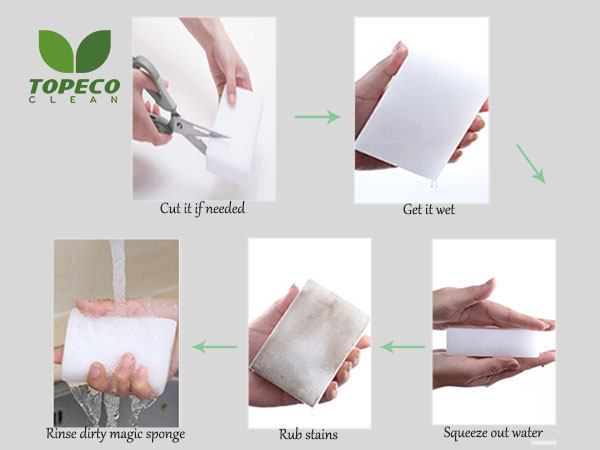 How To Cut
The simplest way is to cut a large magic sponges into a rectangle or square. It is vital that keep edges straight and smooth. You also can cut it into shapes you like if you can do it, such as flower, circle, cloud, and so on. By the way, Topeco Clean also produces and sells these shapes directly. There is a tip for cutting. To ensure cut smoothly, you can use a pen to do some signs at first before cutting. If there is leftover material, don't discard them. These are good at cleaning small corners, like keyboard, mug handles, refrigerator door handles behind, corner of the window, slits of ceramic wall and floor.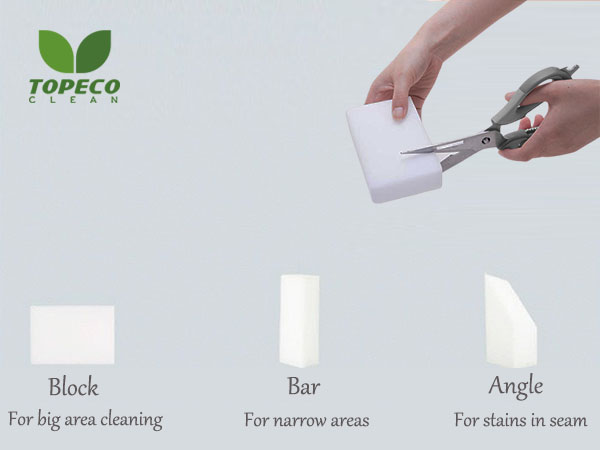 Adapt To Different Sizes of Hand
Everyone has different sizes of hands and different habits for cleaning. That will lead to various demands when choosing the magic sponge cleaner. Someone prefers to use a small one, others like a little big one. Buying extra magic sponges, you can make your own exclusive magic cleaner eraser.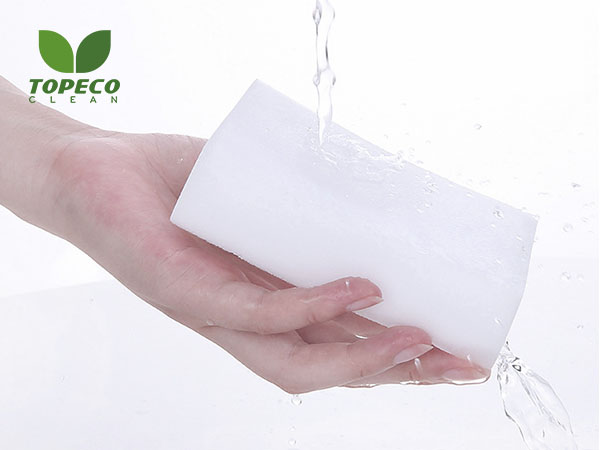 Large Packaging
If you don't like the handwork of cutting and still want cost-effective products. In fact, I already considered that problem. We have magic block sponges with 10x6x2cm, 10x7x3cm, 11x7x4cm, and 12x7x2.5cm. Their independent packing has 20pieces, 30pieces, 50pieces, and more pieces to support using for a long time. The prices are also very economical. Besides, offer customized sizes for bulk purchasing. If you can't decide how to choose or need a quote, please let me know, then I will show you the more detailed information.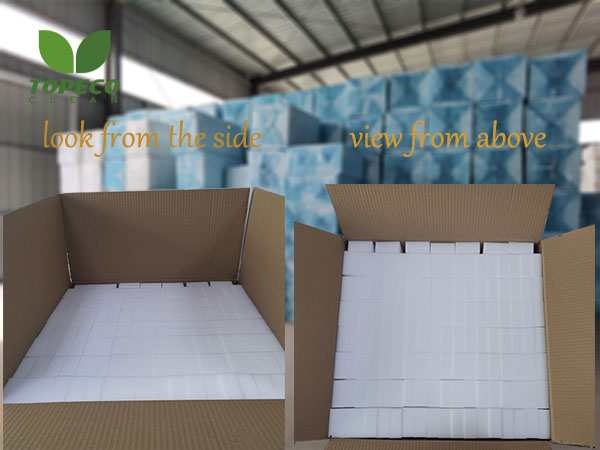 Large Magic Sponge Made of Melamine
The material of large magic sponges is melamine. Besides, it has three colors alike in the magic sponge block, white, pink, and light gray. It is prominent for cleaning mildew stains, soap scum, tea stains, limescale, mud, ingrained dirt, etc.. More importantly, the cleaning only has physical change, like a pencil eraser. Why? Please scan the below paragraph to find the reason.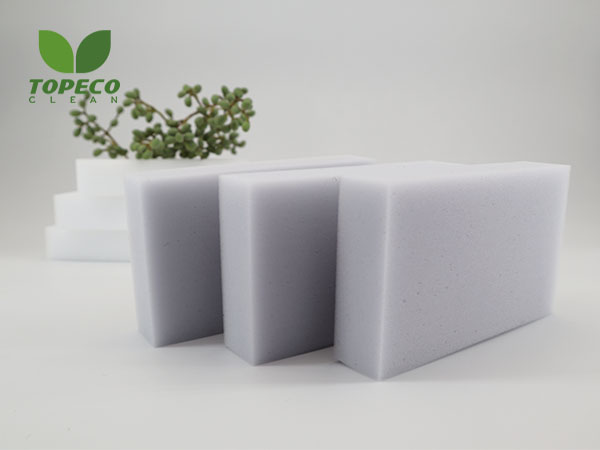 3D Cellular Structure of Large Magic Sponge Eraser
Large magic eraser sponges have highly effective cleaning ability because of the inner 3D cellular structure. Then, it is like a firm net to hook stains and carry off. This characteristic enables us to clean just with water and don't need any chemical agent. So we call it eco-friendly cleaning. That is the mean of physical cleaning. When soaking it wet, you will find that there is no dropping to cause a mess of water. 3D cellular structure enables the magic sponge to keep water inside well. Just remember to squeeze out excess water before using it.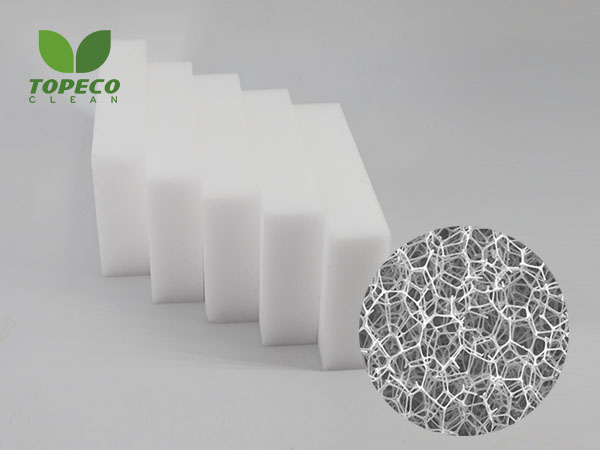 Original and High-density Large Magic Sponge
The original giant magic sponge is the most familiar kind. It feels soft. If you put some strength to wring or pinch it, the sponge will rip through. For the large compressed magic sponge, they go through more than double compression. So, the denser 3D cellular structure allows this sponge to clean better. The more muscular physique enables it to use durably.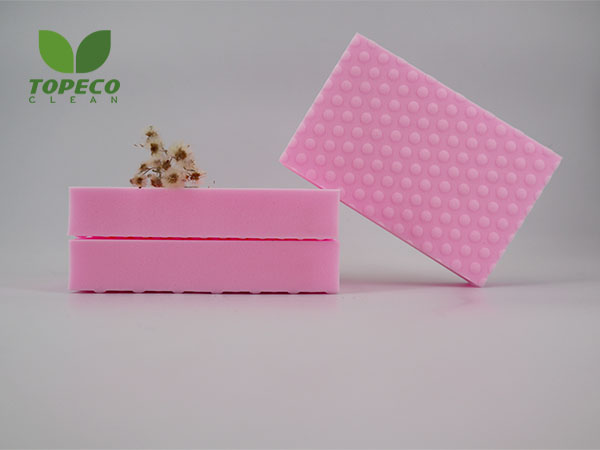 Compound Large Magic Sponge
The large magic sponge also can be combined with PU, non-woven fabrics, and scouring pad. This technology not only enables large magic sponges eraser to be more colorful but also makes the original whole melamine foam block firmer. By thy way, the participation of new materials will open your more creative space when cutting.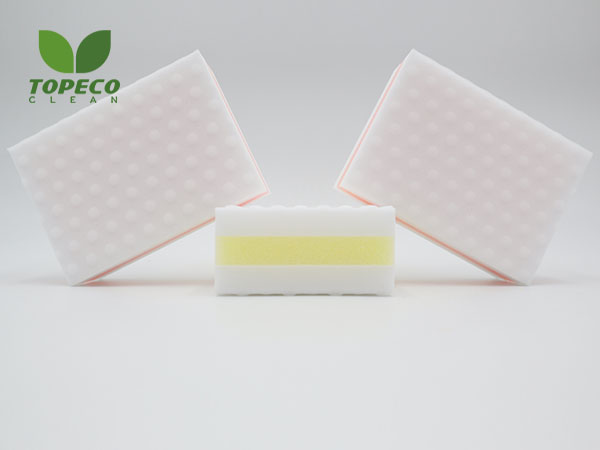 Large Magic Sponge For Oil
To handle large-area oily surfaces, like a kitchen countertop, dining table, and car fuel tank, a little large magic eraser can help you fixed them all. If the covers are too greasy, you can add a little bit of detergent to clean. The 3D cellular structure of the magic cleaning sponges will rub abundant bubbles, so don't use too much detergent to avoid rinse difficultly.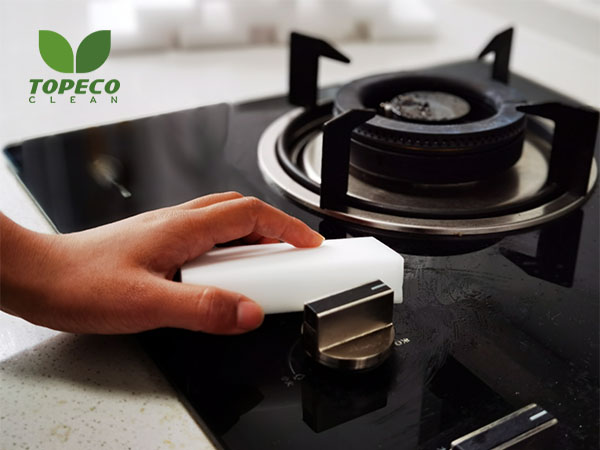 A Necessary Tool For Picnics And Outdoor Barbecue
On the weekend, we all enjoy a picnic with family or an outdoor barbecue with friends. Before starting, remember to put one large magic sponge eraser in the trunk. It is very convenient to clean spilled grease and sauce and juice. It also can help to remove quickly at that time even the clothes get dirty. After finished, you can use it to wipe away the dirt on the tent, moisture-proof mat, children's toys, and shoes.