The compound magic sponge is composed of the melamine sponge and PU sponge or scouring pad, which is a new cleaning product. Compound magic sponges could still release remarkable cleaning power. Besides, combined with the toughness of PU or scouring pad, the product mix reveals more advantages. The product is more durable, not easy to break and damage, and prolong the service life of the magic sponge. The compound products include magic sponge mop, magic block sponge, distinctive shapes of magic melamine sponge, magic sponge sheets, and high-density compound magic sponge.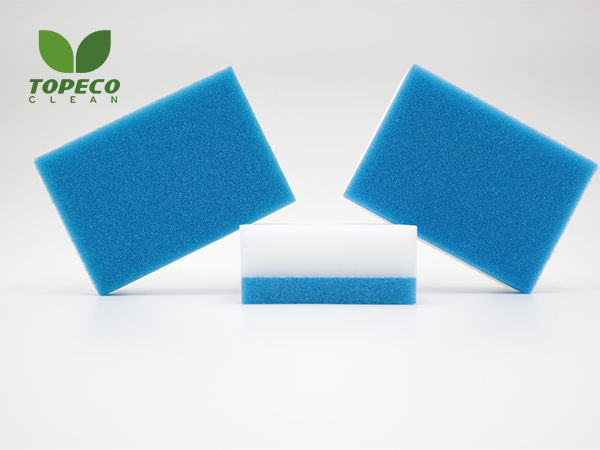 Topeco Clean's New Compound Product With Non-Woven
The cleaning job merely with magic sponge blocks seems to be blind. We want to create more fun and personalized compound magic sponge. Though many tests to seek new material, the non-woven emerged smoothly in the end. It is not only colorful but also is very safe for daily cleaning. Besides, Topeco Clean enables design printing on non-woven surfaces, such as leaves, cartoons, landscapes, and so on. We accept customized patterns. You can choose any printing, even your Logo.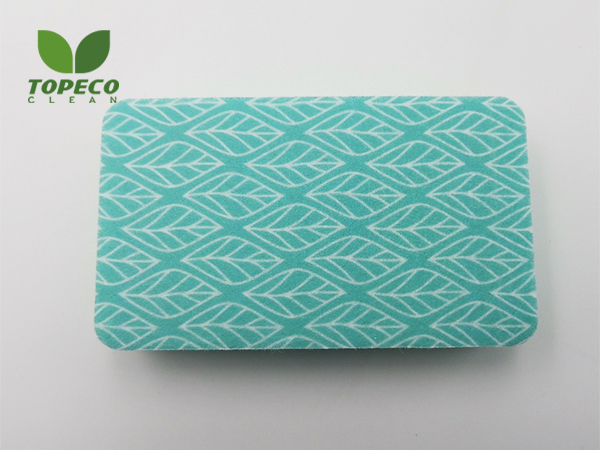 The Advantages of Compound Magic Sponge With PU Sponge
As we all know, magic melamine sponge only has three colors, white, pink, and little gray. However, PU sponge has rich colors, like orange, purple, red, gray, blue, or other colors you adore. The collocation looks more aesthetic. PU sponge takes on super toughness and water absorption. Thus compound magic sponge is not easy to fall apart, better to play powerful cleaning ability under the assistance of PU sponge. What's more, PU sponge can enables melamine sponge to be more durable and used more for a long time.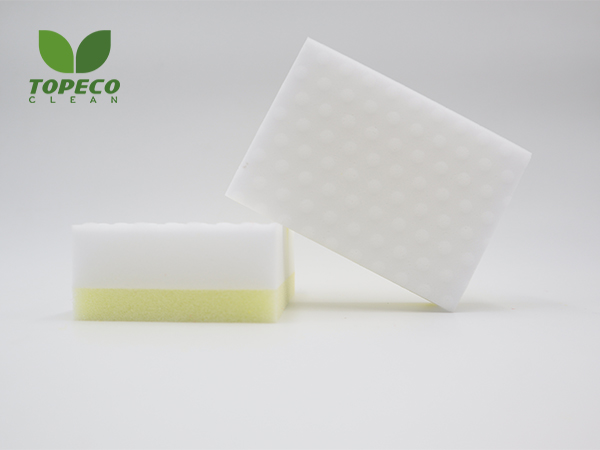 The Good Performance of Compound Magic Sponge With Scouring Pad
The scouring pad also has various colors like PU sponge. The scouring pads are formed by rough fiber and abrasive ore, with open network three-dimensional structures. So it has very powerful friction. In addition to colorful appearance, the compound magic sponge also gains a solid cover. When eliminating thick stains, like a greasy stove or burnt-on messes, shovel upper grimes by scouring pad side and then scrub deeper stains by magic sponge side. Perfect match! By the way, Topeco Clean can print patterns on the side of the scouring pad. Patterns are entirely arbitrary.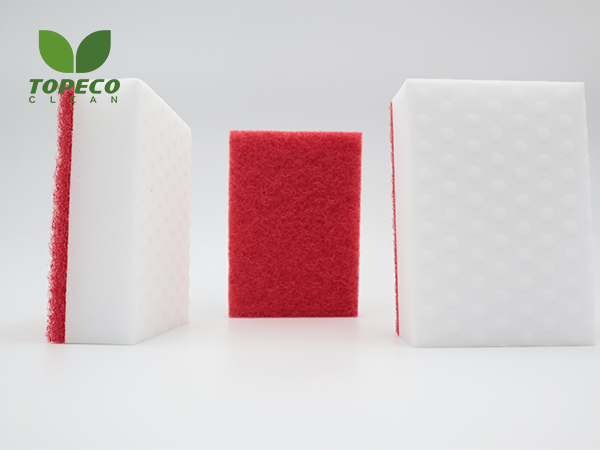 The Multiple Combination Method
PU and scouring pad is the most commonly used composites. PU sponge can be pressed on the surface of the magic nano sponge and also placed in the middle. The latter is thicker than the former. The non-woven and scouring pad is only able to combine with the surfaces of the white magic cleaning sponge.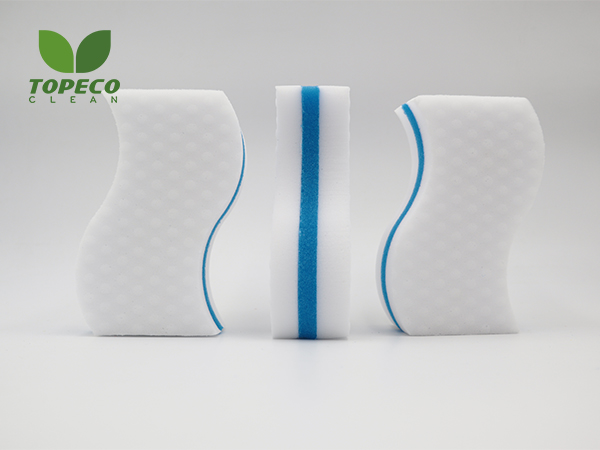 Wavy Shape Edge of Compound Magic Sponge
The design of the wave-shaped edge is not just for getting a pretty appearance. It also conforms to the habit of holding. That accelerates cleaning speed, to a certain extent. PU sponge, scouring pad, and non-woven also make magic sponge block easy to be cut into wave-shaped edges. Especially the PU sponge in the middle of the melamine sponge. The curved radian can be freely selected.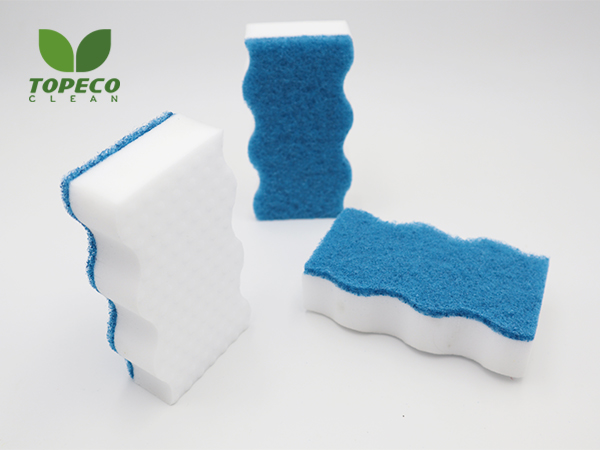 Textured Surface of Compound Magic Sponge
Through mature hot pressing, the side of the magic sponge can present all kinds of textured surfaces, for example, round embossment, rhombus, and triangle cutting line. Textured surfaces can not only attract the buyer's attention but also can increase the cleaning ability of the magic eraser exactly. By the way, the only high-density magic sponge can have textured surfaces. Low-density, 8kg/m3, can't bear hot pressing. Also, Topeco Clean can provide the customized design of textured surfaces.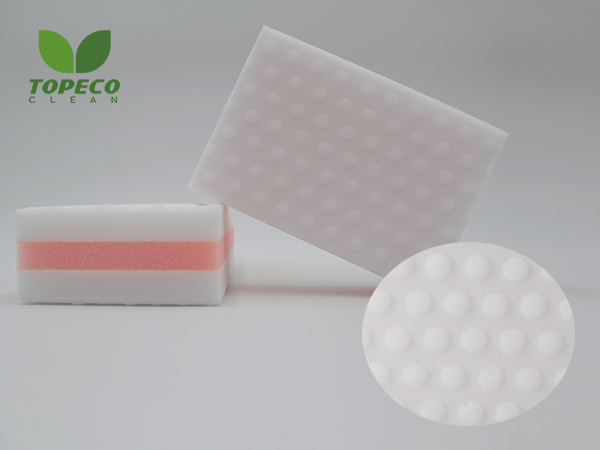 Special-Shaped Compound Magic Sponge
The most classical shapes are rectangle and square, called the magic sponge block. Now Topeco Clean possesses great cutting techniques, can create plenty of figures, like a flower, circle, cloud, heart, and hexagon. These shapes are for your reference. Also, they can have textured surfaces. Topeco Clean supports OEM for shapes of compound magic sponge. What kind of appearance you want, you could tell Topeco Clean in time. We will try our best to satisfy your wish.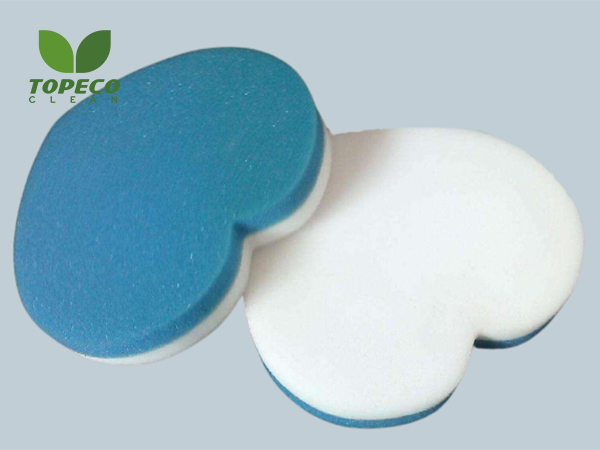 Funny Shapes of Non-Woven Fabric Magic Eraser Sponge
Now Topeco Clean also can produce shapes according to various printings on non-woven fabric. For example, if you want to print a mushroom on non-woven, we can make the magic sponge shaped like a mushroom. The unique design of this compound magic sponge contains more market potential, analysis of market researchers showed. A wise choice for you!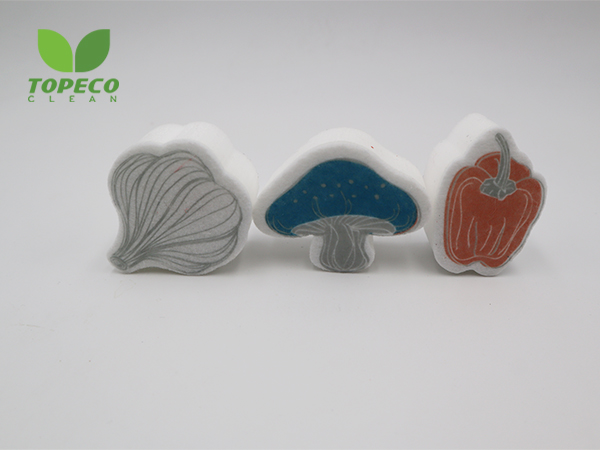 Compound Magic Sponge For Kids
When children are growing up, parents will face so much cleaning trouble. Like, doodles on the wall and floor, dirty shoes after playing outside, and stained toys. The magic sponge can help parents to deal with these troubles quickly without problem. Besides, parents can use the compound magic sponge with amusing shapes to help kids to establish good cleaning habits. As we talked about above, there are lots of cute shapes very suitable for children to use. Topeco Clean also can provide shapes customers like. The use method is so simple. Get wet and wipe grime!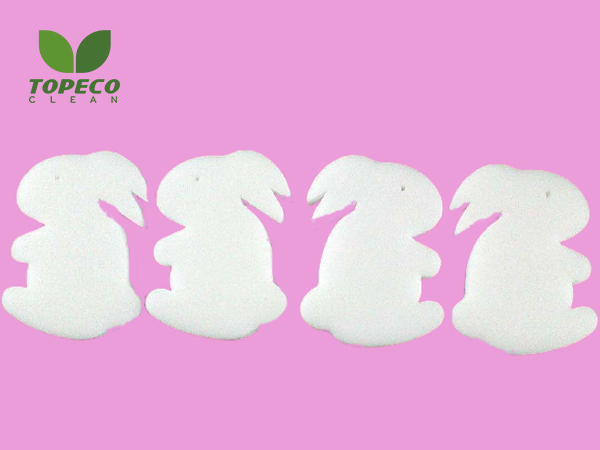 Sizes of Compound Magic Sponge
Topeco Clean has its independent melamine sponge factory. That means we can bear responsibility for our products. Furthermore, we can produce any sizes that you need, also the usual types of size, like 10cmx6cmx2cm and 10cmx7cmx3cm. Topeco Clean has the fairest price. For instance, for the standard size of 10cmx6cmx2cm, we only charge $0.032/pcs. For the thickness of composite material, we can design according to the client's demand, such as 1cm, 0.8cm, and 0.5cm. If you still have a concern, we can provide a free sample for you in advance.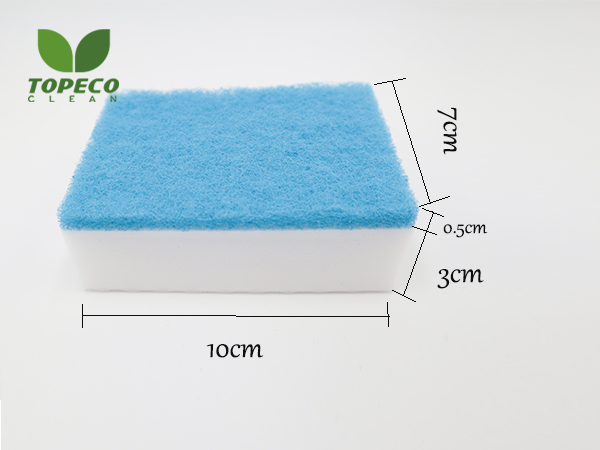 Polishing Compound Magic Sponges
Anyone compound magic sponge can polish stainless steel products perfectly. The magic sponge itself can do it. Now PU sponge and scouring pad enable the cleaning job to finish more efficiently. For example, a stainless steel scullery. The scouring cloth can remove food residue quickly. Then the magic sponge carries out deep cleaning and polishing. The PU sponge with strong water absorption washes the whole scullery faster.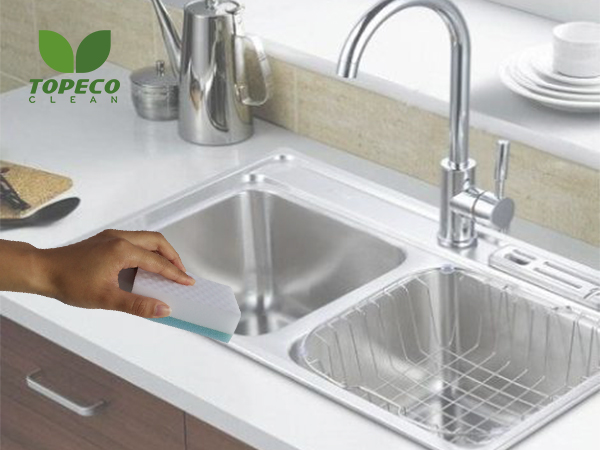 Compound Magic Sponge Company
Topeco Clean sets up an online shop on Alibaba. It is worth mentioning that our company has a long term supplying relationship with many online stores on Amazon. A variety of compound magic sponges motivate purchase desire. The clients can select at will. Mature technology and nearly ten years of production experience allow Topeco Clean to provide compound magic sponge with higher quality and reasonable prices. In particular, you can choose these elements to build your products, composite material, shape, density, color, texture, packing, Logo, etc..