Magic sponge cleaning tool can help us to solve all household cleaning problems. Before, there is the rectangular magic block sponge, limited to cleaning some places. The small corner, deep cup, handle, and junctures, magic block sponge is hard to reach. Besides, the big area, like the floor, ceramic tile wall, glass shower door, just using the magic eraser sponge will extend the time of doing a chore. But now, don't be afraid anymore. We have new cleaning 'weapons'.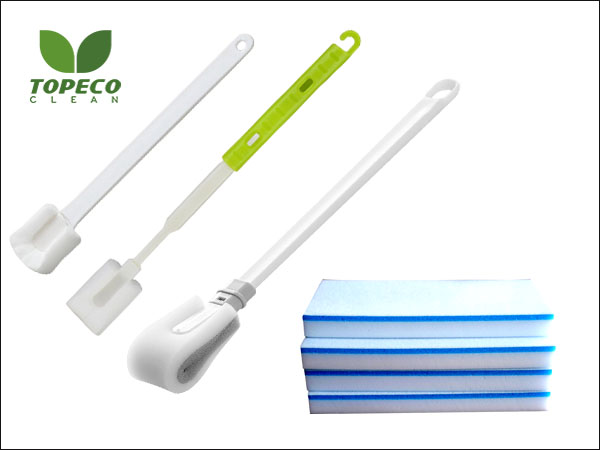 Magic Sponge Brush
The first magic sponge cleaning tool is the brush. It can clean daily mugs and cup effectively. Besides, the teapot, coffee maker, and other deep contains, the inside walls and bottoms are hard to reach just by hand. At the same time, the tea and coffee stain is hard to be pulled away with an ordinary rag and sponge. So, the magic sponge brush not only can reach nooks and crannies but also can remove set-in stains without dish detergent quickly.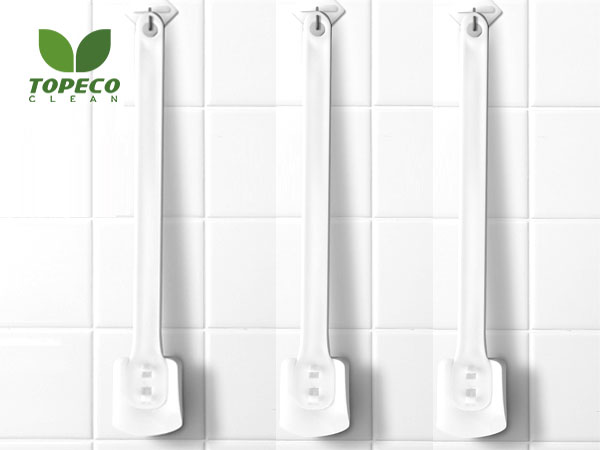 Topeco Clean Magic Sponge Cleaning Brush Tool Review
The magic sponge brush with handle is composed of small rectangular blocks and a handle. Topeco Clean has both types of handle, fixed length and extensible. Customers can choose as you wish. Magic sponge brush with handle can reach small corner easily. Topeco Clean utilizes premium high density magic melamine sponge as the material of brush head, more durable and better cleaning effect.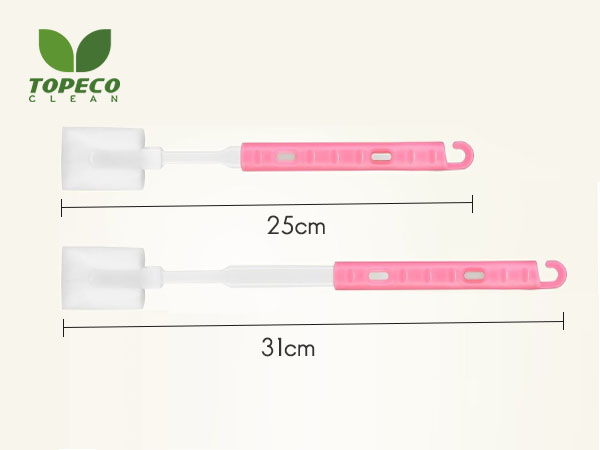 The Compound Magic Sponge Brush Cleaning Tool
Recently, the magic sponge cleaning brush tool upgrades once again. We use a composite white magic eraser sponge with PU foam. The appearance looks more classic. At the same time, the composite material PU makes the brush head tougher, bending along with the shape of the object. That means compound magic sponge cleaning brush is easier to deliver thorough stains removal. Besides, the extended handle, reaching a length of 27cm, feel better during use.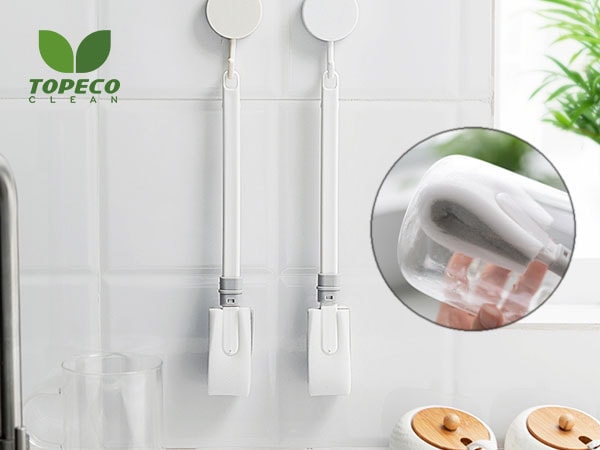 What Is the Significance of Magic Sponge Cleaning Tool-Brush?
Do you meet troubles like that? No time to brush the morning coffee mug? Hard to clean the milk attached to the glass cup? How to get the sediments in a vase? At these times, a fast cleaning tool with strong decontamination ability features prominently. Save the day with this handy stain removal magic sponge brush.
Magic Eraser Sponge Mop
The second magic sponge cleaning tool is the mop. For the stuff mark, soap scum, and dry water stain on the floor, ordinary sponge mop can't make them disappear easily. However, the magic eraser sponge mop has strong physical cleaning power due to the 3d mesh structures of melamine foam. It even doesn't need the assistance of floor detergent. So, users don't worry about how to rinse and how harsh detergent is for the wooden floor.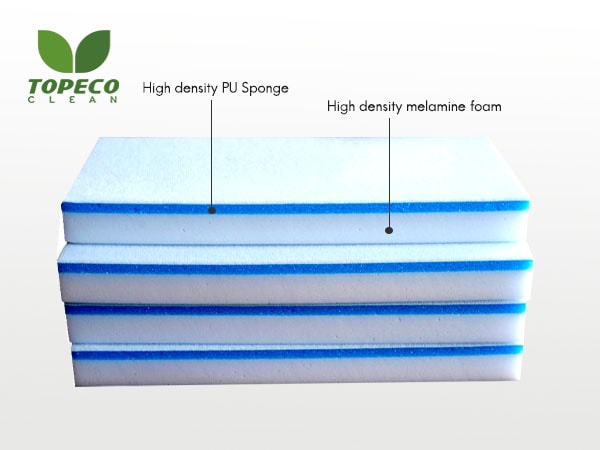 The Comparison Between Magic Eraser Mop Cleaning Tool With Magic Block Sponge
Many users like the convenience and fast cleaning of magic block sponge without water. Besides, the magic sponge feels soft, good at cleaning the wood floor. But just the magic block sponge is too small, users have to bend down to clean arduously. However, the magic eraser sponge can solve this problem and has super cleaning ability only by water.
Magic Eraser Sponge Mop Cleaning Tool Review
Magic eraser sponge mop adopts high density magic sponge. With round embossment, the mop head gets more friction to reach one better cleaning effect. In the meantime, with composite PU foam, the magic eraser sponge obtains stronger toughness to applying to rough floor cleaning. The PU sponge has good water absorption too, not leaving streaks smearing.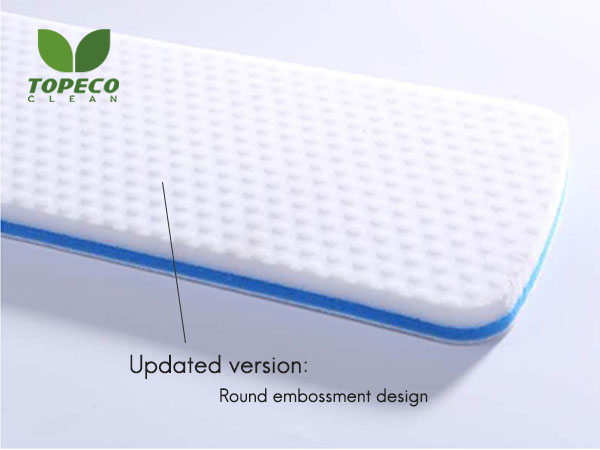 The Manufacturer of Magic Sponge Cleaning Tools
Henan Topeco Clean Import&Export Co., Ltd is one China cleaning tools manufacturer, keeping up with customer needs. Every year, we will invest in market research. We insist that satisfying the customer comes first. Besides, OEM service is provided. According to the different liking of each country, customers can custom their own brand name, package, size, color, and so on. Topeco Clean is not only one supplier for eBay online shops but also has its Alibaba shop and many offline clients from Thailand, Australia, the UK, NZ, and so on.
Free Sample of Magic Sponge Cleaning Tool
As one capable company, we are willing to provide free samples for purchasing customers, particularly during COVID-19. That also means that we have absolute confidence in the quality of our magic sponge cleaning tool. If you have other demand for products or need a quote, leave a message to us, you will get a soon reply.