What Is Magic Block Cleaner?
When it comes to magic block cleaner, the detergent definition may come to our mind. However, it is a washing detergent or cleaner. Magic block cleaner is magic sponge, a cleaning product hot-sold in the market. As we all know, magic sponges are popular by many names such as nano sponge, magic sponge, magic eraser, and melamine sponge… Its cleaning power can fix stubborn stains, water stains, and other cleaning messes outdoors or indoors. Topeco Clean magic block cleaner has 2X stronger cleaning performance than the leading all-purpose bleach spray and ordinary sponges, so it can remove your home's toughest messes like magic. Magic sponge uses can be applied in many places. It is a wall cleaner, bathtub cleaner, oven door cleaner, light switch cleaner, and more cleaner, all rolled into one.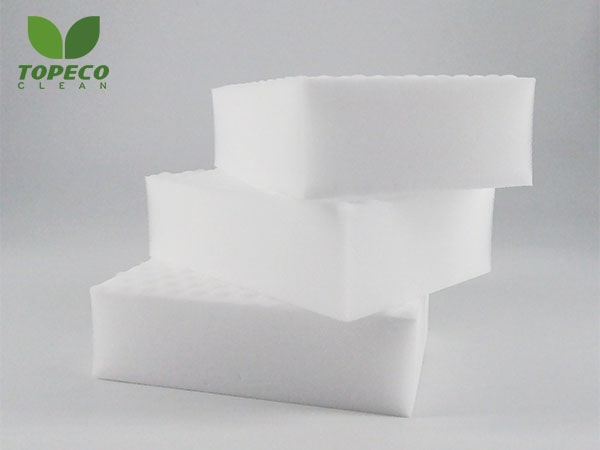 How Does Magic Block Cleaner Get Rid Of Stains?
The cleaning principle of magic block cleaner is like a pencil eraser, which can get rid of stains that you thought stuck with you forever. But with the magic melamine sponge appears, stubborn stains are now not a problem. They can easily be fixed by those magic cleaning tools, your home will like new. That's why we call the magic sponge an easy eraser pad.
Magic block cleaners are made of melamine foam might be your need. The cavity-ridden porous structure of melamine foam is where the major boost to its stain-removing capabilities comes in.
The stains have already started to come away with a few quick runs of magic block cleaners erasers. Because of internal extremely hard microscopic filaments.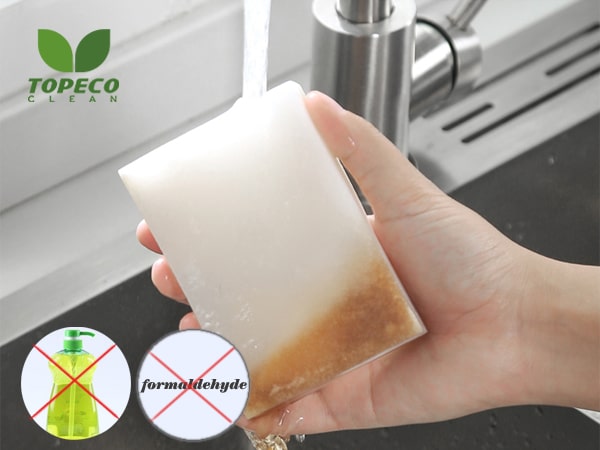 5 Things You Should Never Clean With a Magic Block Cleaner
One of the magic cleaning products is the magic block cleaners, which can remove scuff marks off desks, stains off clothing, clean white sneakers, and remove soap scum off the glass in your shower. But it does not works on everything, on some items, the magic sponge could do more harm than good. Here are five things you should never clean with a magic block cleaner.
1.Electronic Screens
Although magic block cleaner is best for smooth surfaces, electronic screens can not be cleaned with it. Electronic screens like your tablet, phone, or TV need to clean gently with a cloth but with a magic eraser. Mucky fingerprints can be solved by a magic melamine sponge but not on these screens. A magic eraser is a big no-no for these delicate electronic screens, or else you run the risk of completely destroying them.
2.Car Paint
Although the magic block cleaners can wipe car shells, I generally do not recommend that you do so. The main reason is that using the nano sponge to wipe the car shell will ruin the car paint. The strong physical decontamination power of the magic block cleaners may ruin the paint layer when it is in contact with the paint. This is not because the nano sponge contains something corrosive, but because of its natural characteristics. It is like taking hard sandpaper and rubbing it against the car shell.
Will the magic block cleaners clean the car will not hurt the car paint, mainly depends on what you have done before wiping the car. Normally, is to use a high-pressure water gun to knock off all the mud and sand on the car, spray foam to wipe the clean side, and then dry it with a towel. After, blow dry the remaining water at the seams with the high-pressure air pump. If directly wiped with a melamine sponge must be harmful, because the car shell is not cleaned well. In the case of not being very dirty, more bubble to clean is also available.
3.Nonstick Pots And Pans
Magic block cleaners may not suitable for nonstick pots and pans. It will more or less scratch the surface of the cookware and strip the non-stick coating. Releasing chemicals from the coating into your food may also emerge. But this situation is not absolute. You can wipe gently on the outside of the pan without using strong force. This reduces the rate of damage and cleans our pans at the same time.
4.Stainless Steel
Too much scrubbing with a magic block cleaners can cause the high gloss finish that seals most stainless steel appliances to break down, resulting in a dulled. Sometimes scratched patina is too much wiping with the magic sponge. The appearance of sponge looks very much like a normal sponge, but the using effect is very different.
5.Delicate Countertop
The nano-coating forms an invisible protective layer on the marble surface. If you wipe it with a strong cleaning nano sponge, the internal open pore structure will invariably hurt its surface. That's why you should avoid using it on granite and marble counters or any other fine stone surfaces. No one wants to make a mess of delicate countertops around the house.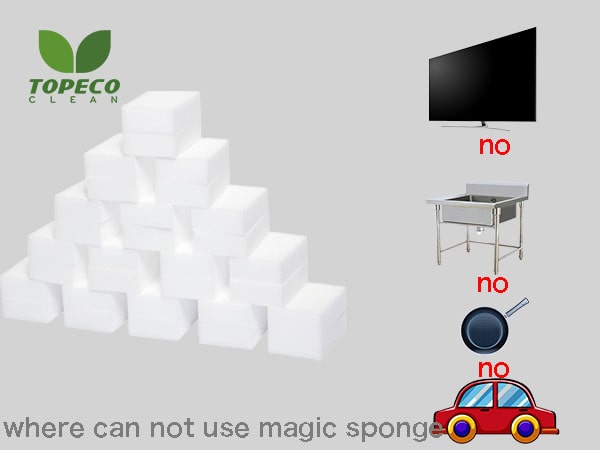 Can Magic Block Cleaner Be Used For Bathing?
Although the topeco clean white magic sponge can help people clean up dirt, in general, I do not recommend that you use it to rub the bath. Not to mention that it is only applicable to the cleaning of the items above, on the surface its cleaning strength also easy to hurts the skin. So we must use a special bath towel when rubbing the bath.
Using a magic block cleaners to scrub a child is not recommended, after all, magic block cleaners are listed mainly as a cleaning tools. In addition to not being able to wipe your face and scrub with the magic cleaning sponge, it can wash dishes, wipe shoes, wipe cups, wipe glass, clean switches, and car interiors, etc.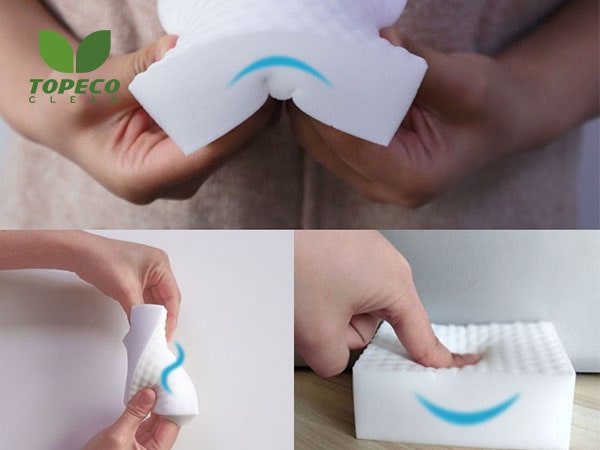 Is Magic Block Cleaner Just a Foam?
No. Magic block cleaner is a kind of top-class cleaning foam but different from ordinary sponges. Magic block cleaner is a kind of low-weight, high-density structure, high open rate, flexible high-temperature resistant nano microfiber foam. It is made of melamine foam, which is the best cleaning material with non-toxic and cheap according to Wikipedia. Its internal capillary open pore structure can automatically adsorb stains on the surface of objects; with 99.9% natural resistance to bacteria effect.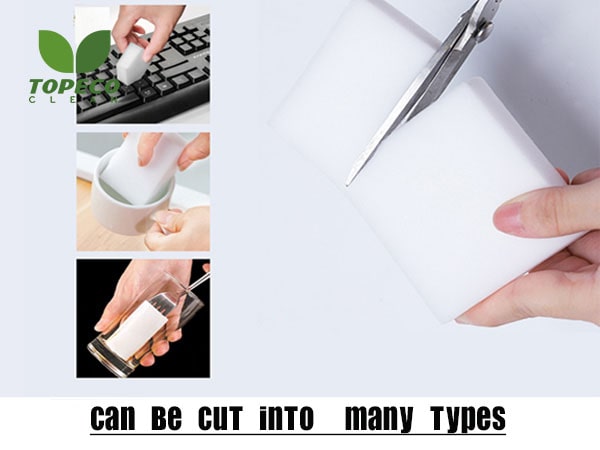 How To Remove Stubborn Scale From Shower Doors With a Magic Block Cleaner?
The physical adsorption power of the magic block cleaner is relatively strong, I used it with water to wipe the cup of pigmentation and stubborn stains, surprisingly a wipe clean. Remove the scale in minutes, and effortlessly solve my cleaning problems. So how to do it?
1.Wet the magic block cleaners and shower door just with water alone. No need to wring the sponge, only squeeze dry water.
2.Test on an inconspicuous spot, if no abnormal situation, you can go on cleaning.
3.Wipe the scale located in the same direction. Wiping more times when facing stubborn stains. There is no need for any detergent or cleaner during working with a magic sponge block.
4.After finishing, rinse out dirt wiped on the surface. A clear and amazing magic show is already done.
5.The magic block cleaner will wear away when wiping, but it is normal. That is because the internal cleaning mechanism is working. Then, wash up the stain sponge and put it in the vent for next use.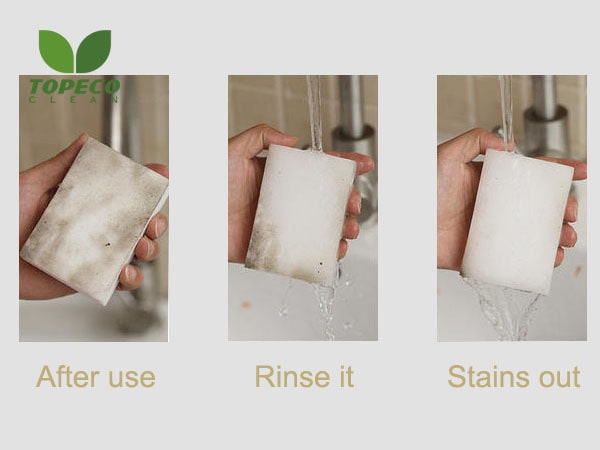 Do Magic Block Cleaner Work Better Wet Or Dry?
Topeco clean magic block cleaner is a magic cleaning tool, but without water, it can not show the magic. When using it, all you need to do is add water to activate them. Only to activate its internal porous structure, much hard grout are not a problem. You will find that when it is dry, more crisp they are. Wet it with water, more durable and soft they are. So adding water actually can help soften them.
Although the magic block cleaner is easy to wear and tear, it is not a disposable product, the nano sponge can be used repeatedly. If you are just cleaning tableware that holds fruits or where the stains are not so serious, we rinse the magic sponge and dry it naturally for next time.
The stains adsorbed on the magic block cleaner are rinsed under water, without much wringing, the stains will automatically dissolve. The sponge will be clean again, and some lint adhering to the corners can be easily removed by hand. Magic sponges usually become fragile after absorbing water, so we just do not be too brutal, after washing can be reused many times.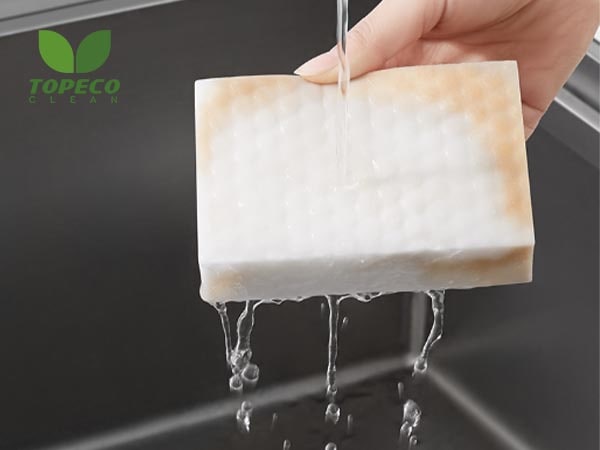 OEM Service For Magic Sponge You Should Know
Oem service about magic block sponge is supported by Topeco Clean, the cleaning products here are all can be customized. Logo, package, and product design are available in topeco clean. With a special design like embossed magic block cleaner with PU, different fashionable colors, and composite magic sponges combined with other cleaning products, Mr.Topeco will try best to meet your needs. Topeco clean, as a household cleaning supplier, experienced in the household cleaning field for about 20 years. We more or less may give you authoritative suggestions when you make a purchasing option. So if any problems, contacts Mr.Topeco to feel fee.