The new hot cleaning product of the 21st century – magic white sponge cleaner. When faced with muddy shoes and skirts, don't panic, look at Mr.Topeco magic sponge. The small white sponge is twice as strong as generic bleach. It's a wall cleaner, bathtub cleaner, oven door cleaner, light switch cleaner, door cleaner, and more all in one. Stubborn grease stains in the kitchen, graffiti on the wall, limescale in the bathtub, and other tricky dirt can be solved with a cleaning sponge.
The magic white sponge cleaner is a popular modern universal cleaning product, and its versatile use is one of the reasons why everyone is fascinated by it. But he doesn't mean that any surface can be cleaned. Here's an explanation of where sponges can't be used to.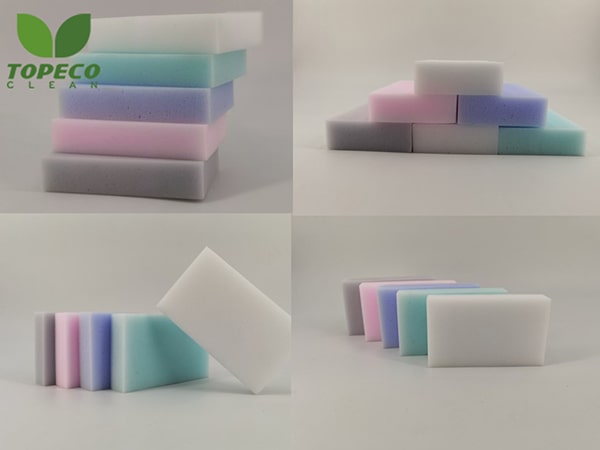 Possible But Not Recommended Usages-Magic White Sponge cleaner
Stainless steel
Don't try to brighten stainless steel. Magic white sponge cleaner is soft, it is best to avoid using your cleaning sponge pad on any stainless steel surface in your home. Because of the extremely fine porous structure inherent in sponges, too much scrubbing can cause the high-gloss surfaces that seal most stainless steel appliances to break down. The effect of using it will brighten the surface, but it will also cause the surface to dull and sometimes scratch. Not conducive to the long-term preservation and use of stainless steel products.
Polish your car's paint
The eraser-like surface of the sponge may seem perfect for polishing the paint, but please note that it is not. The sponge is a great tool for wiping the interior of a car, but not for wiping the exterior of a car to achieve the effect we want. It's not because the sponge is of poor quality, but because of its special structure. Once wet sponge, it has 3000 sandpaper abrasion. They will rub off the paint on the surface, which is why it is important to avoid using them on finely painted surfaces.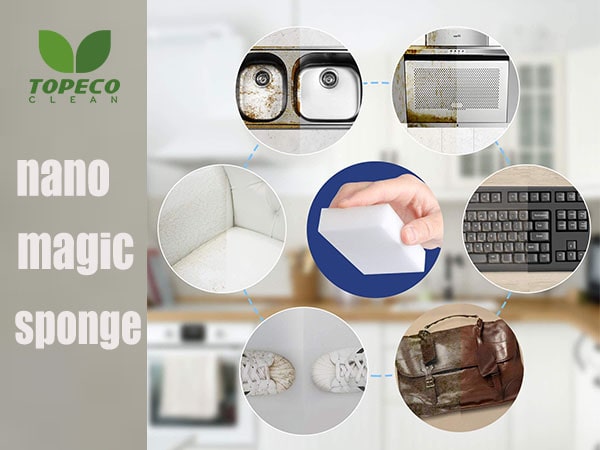 Marble and Granite Countertops
Magic white sponge cleaner is abrasive and can damage the surface layer of the countertop to some extent. So avoid using it on delicate countertops. It will damage the sealant in the long run. And may make the countertop looks dull. So it is recommended that you do not use it on such surfaces as much as possible.
Please test it on a small inconspicuous area before use, if there is no damage please feel free to use it. The melamine sponge is suitable for most of the surfaces of living things. If any questions, please feel free to contact us.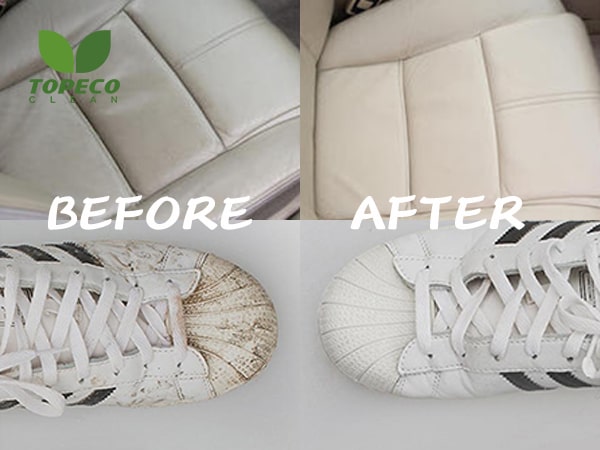 What Can Magic White Sponge Cleaner Do For You?
If you want to make some big changes during the cleaning period, try the magic sponge. Give your home a new glow. Magic white sponge cleaners can be used in many places, removing stubborn stains around the house. Let's look at it.
Clean bathroom glass doors, mirrors, floors, and sinks.
Clean grease and yellowed stains next to the kitchen boiler.
Make a greasy, dull stovetop shine again.
Whiten and clean up your dirty shoes.
Remove layers of soap scum from sliding shower doors.
Remove dirt and scuff marks from walls.
Sparkle your bathroom faucets and handles.
Magic white sponge cleaners can be used for much more than that, almost any surface can be cleaned with a sponge. If you have any information you would like to know, click here to get more.