Magic Sponge Eraser Melamine Cleaner
Magic Sponge Eraser Melamine Cleaner's Strong Cleaning Ability
Topeco Clean magic sponge eraser melamine cleaner is made from melamine. Different from the normal sponge we see in daily life, magic sponge eraser melamine cleaners are a new type of foam plastic with high open porosity and three-dimensional grid structures. The particles are the hexagonal body. Its composition particles are extremely small, less than 1/10000 of one hair.
Due to these characteristics, the magic sponge eraser melamine cleaner has a very powerful cleaning ability. Besides, magic sponge eraser cleaning melamine also has better absorption and dehydration, making cleaning more smooth and no water drop.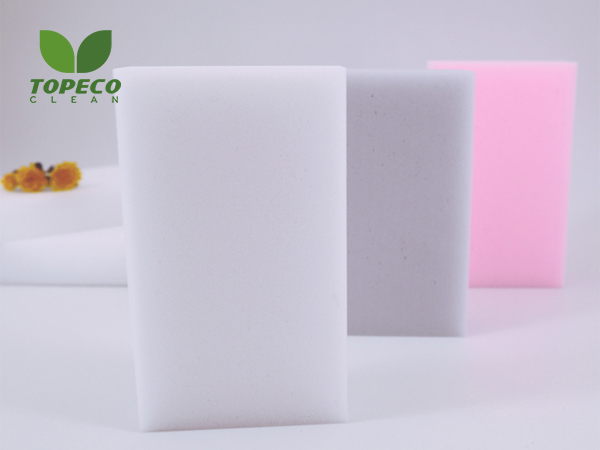 Safe White Magic Sponge Eraser Melamine Cleaner
Topeco Clean magic sponge eraser melamine cleaners possess unique high-temperature foaming technology.
It has no residual free formaldehyde, already reaching the request for food sanitation. That means our magic sponge eraser melamine cleaners are totally safe to clean your kitchen appliances and tableware.
Eco Friendly Magic Sponge Eraser Nano Melamine Cleaner
Another benefit of Topeco magic sponge eraser nano cleaner is eco friendly, because of no detergent during cleaning. Melamine cleaner only needs water to wipe stains out, amazing, right? It is not only easy to handle to save your time, but also can avoid scratch smooth surface. What's more, also importantly, your hands will not be injured by detergent and chemicals anymore. After using, just washing it under the following water. Magic sponge nano erasers melamine cleaner can restore clean, bacteria and residue stain will be hard to enter.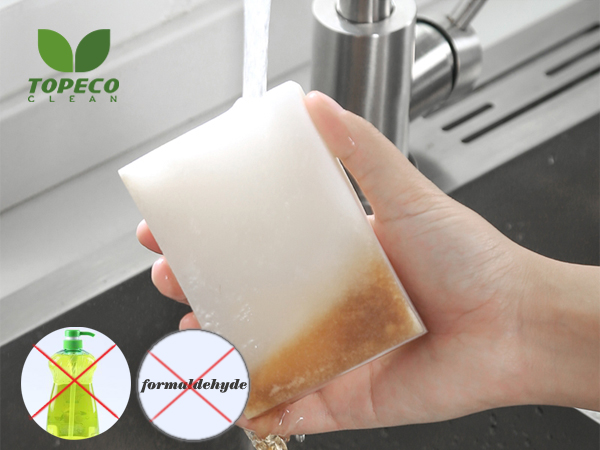 Various Shape of Magic Eraser Melamine Cleaner
Though cutting, whittling, turning, and other machining methods, magic eraser melamine sponge can be processed into various shapes, such as bulk, curve, bump design, circle, flower, mushroom, and even cute bear and so on. You can clean everywhere you want, not limit by the shape of sponges. By the way, magic sponge eraser melamine cleaner is a good choice for helping kids to love housework.
Under these shape, popular measurement include(mm)100x60x20,100x70x30,120x70x25,110x70x40,110x70x30 and so on.These measurements are right-hand when cleaning. Also, if you need a bigger or smaller magic sponge eraser melamine cleaning pad, we also can customize it absolutely.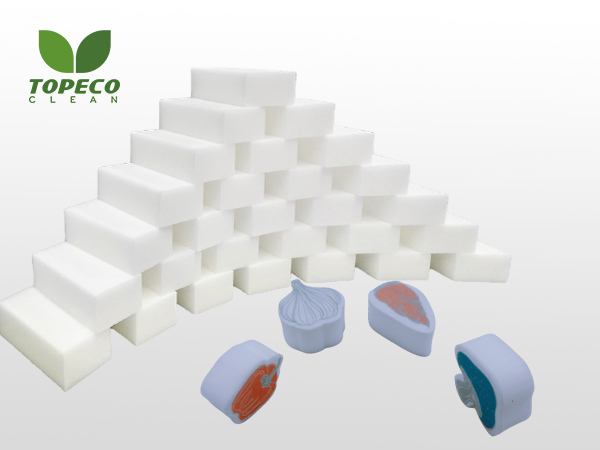 Different Density of Magic Sponge Eraser
Topeco Clean magic sponge eraser melamine cleaner has many densities. Normally Lowdensity, middle density and high density, are 8kg/m3 and16kg /m3,24kg/m3, 48kg/m3 respectively.The higher density magic sponge has, the stronger toughness and durability are. In the meantime, friction will be stronger too, but the hygroscopicity will fall slightly. So Topeco Clean magic sponge eraser melamine foam can provide different density according to customer requirements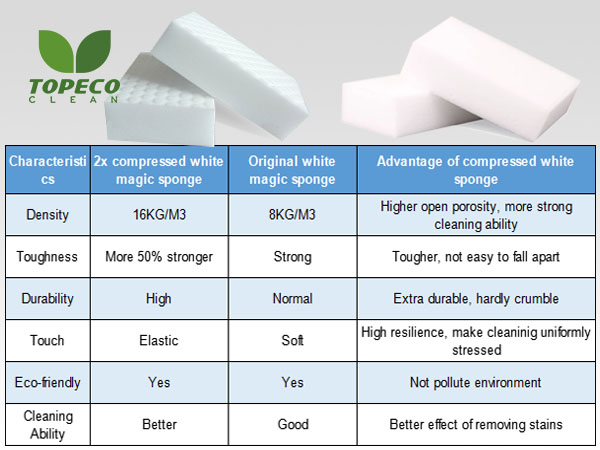 Composite Magic Sponge Eraser Melamine Cleaner
Composite magic sponge eraser melamine cleaner is a new feature product. Besides ordinary melamine sponge, we also have compound magic sponge combined scouring pad or polyester fiber sponge through the Topeco's special process. You can not only use magic sponge eraser cleaning melamine for powerful cleaning ability by the nano sponge side, but also other functions of the other compound side. Composite magic sponge eraser melamine cleaners achieve a sponge for two using purposes.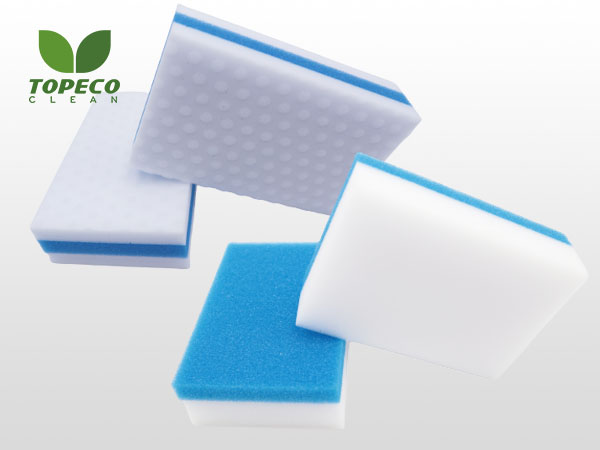 The Application of Melamine Cleaner Sponge Magic Eraser
Choosing the magic eraser melamine cleaner helps you possess a better and neat life, no matter home, work, or public places.
Office area: cleaning the computer, phone, printer, pantry, office desks and chairs, and so on.
House area: kitchen appliances, bathrooms, floor and wall tiles, toys, window panes, sofa, and even shoes.
Advantages of Magic Sponge Melamine Cleaner On Cleaning Car
It is quite easy by magic sponge melamine cleaner to clean your beloved car. No matter interiors and exteriors, leather seats, glass, automotive front. As above stated, due to various shapes of magic sponges eraser cleaner, cleaning itty-bitty corner will be a problem no longer. You can use a small one to reach easily. No need for detergent, magic sponge eraser melamine cleaner is very friendly for your leather upholstery. When you go to work in the morning, fresh and clean will make you happy in the whole day. When going on picnics with the family weekend, you and your family will enjoy a comfortable time in fresh and sweet cars.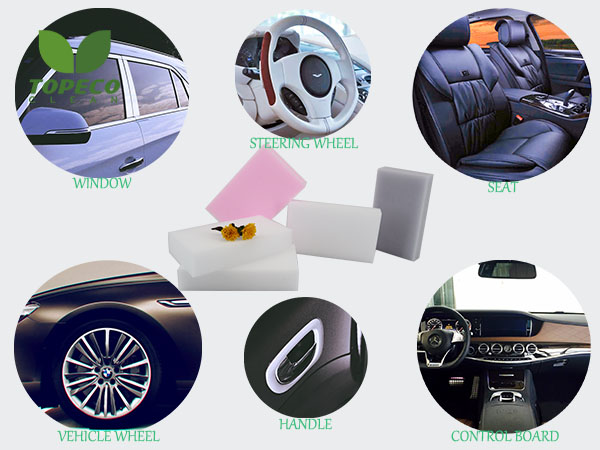 How To Last Service Life of Magic Sponges Eraser Melamine Cleaner
Magic sponge eraser cleaning melamine is consumable. As the service time increasing, it will become smaller and smaller inch by inch. In order to add usage time, we have to pay attention to some points.
Absorb water before cleaning. Make sure your magic sponge eraser cleaner wet. Wipe objects in one direction. Don't scrub it hardly. Please use scissors or a knife to cut magic sponge eraser melamine cleaner if you need small blocks. Even cutting edges will extend usage.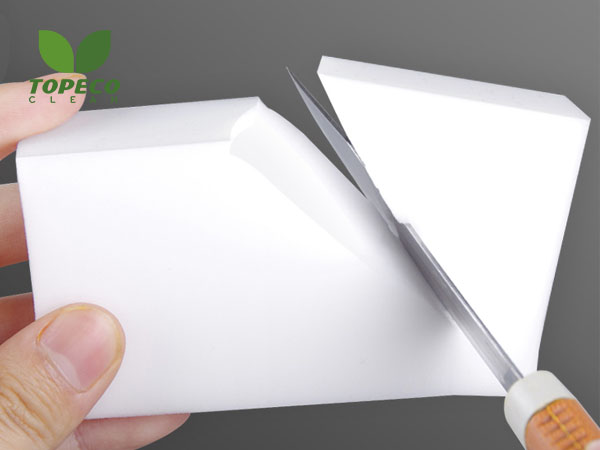 Tips For Cleaning Stubborn Stains
If there are lots of stubborn stains, like much greasy kitchen smoker or stove. Thick grease will stick on magic sponge eraser melamine cleaner. In addition, oil is hard to remove just by the following water from the sponge. In this condition, please use detergent to clean at first. Then do further and thorough cleaning with our magic sponges eraser melamine cleaner.
Matters of Using Magic Sponge Eraser Cleaning Melamine Pads
Topeco Clean magic sponge erasers melamine cleaner is eco-friendly and soft cleaning. But some objects should be concerned before cleaning, such as cleaning leather goods, like shoe, bags, sofa, and polished surfaces like car.
Other Notes When Using Magic Sponge Melamine Foam
Magic sponge erasers melamine cleaners have a great effect, especially on real-leather, since magic sponge eraser cleaning melamine has strong cleaning and absorbing ability. Please try on invisible areas. In the case of removing coating and color. Please try to avoid wiping the screen of electronic products, like the computer, smartphone, TV, to prevent to reach screen coating and affect the visual experience.
If you use it to clean tableware, like dishes, coffee cups, folks, please wash them thoroughly under running water.
How To Use Magic Sponge Eraser Melamine Cleaner
Soak your white magic sponge eraser cleaning melamine in water. Then squeeze eraser to get rid of exccess water. Gently rub sponge over stain, smudges and scuff marks. Rinse eraser between uses by following water.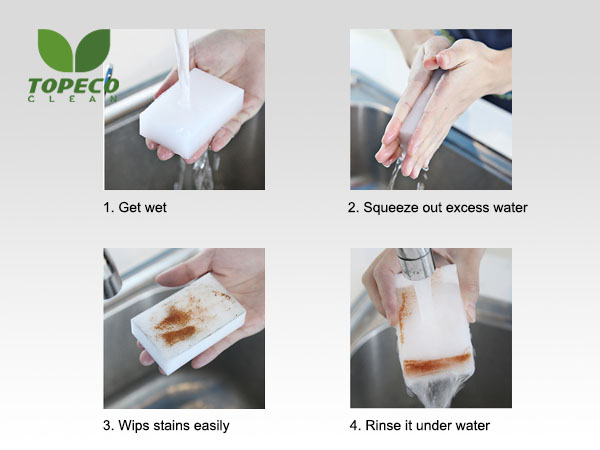 The Characteristics of Melamine Magic Sponge Erasers
Magic sponges eraser melamine cleaner is able to work from -364℉ to 464℉. Also, it is hard to be fired, no need to add flame retardant. Topeco Clean magic sponge eraser meets German standard for low combustible materials for class B1 specified by DIN4102. China GB/T8624-2012 Medium B1 (refractory) flame retardant standard. American Insurance Institute UL94-V0 Standard. In case it reaches open fire unexpectedly, for example, by the stove, magic sponge eraser melamine cleaning pads will carbonize directly and no droplet flow, non-toxic smoke.