Magic Sponge For Walls For Doodles
What do you know about the magic sponge and magic sponge for walls? Are you always think a magic sponge only can clean up stains in the kitchen? The answer may be easy or not. Let's together lift the veil of the magic sponge. Magic nano sponge has become more and more popular in the market and online. It is made from melamine foam, which is also known as nano sponge, melamine sponge, magic eraser, etc., is safe melamine as raw material by high-temperature foam. It is made of bendable and flexible open foam.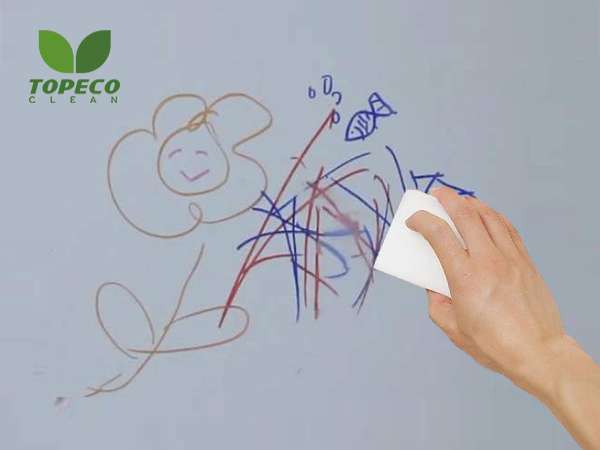 The special three-dimensional mesh structure of the magic sponge forms nano capillaries. These capillaries come into contact with the stained surface after wetting. It is generating a strong adsorption force to suck up the dirt from the surface of the object. What's more, a magic sponge is capable to contact objects well, resulting in an almost vacuum between the contact surface of the magic sponge and the object. Thus that can generate a great adsorption force.

A multifunctional magic sponge not only can help you clean up stains in the kitchen but also works efficiently on the wall. Doodling is the nature of the child. It is the baby's creativity and imagination to show the party. So doodles kids made everywhere at home. Doodles cleaning has stumped a lot of parents. A Nano sponge in the Topeco clean can easily solve these problems. Just wipe the spot where the graffiti is located with a dampened magic sponge, no detergent is required. Then the stain disappears from the wall with the light wipe.
Magic Sponge For Walls Easily Clean Stubborn Stains?
According to chemical authority experiments, the reason why a magic sponge can easily clean stubborn stains will be verified. An expert engineer explained that a magic sponge is made of melamine and formaldehyde polymerization of two ingredients, but people should not panic about them. Because, the resin synthesized from these substances is harmless to the human body after the polymerization is complete. We will also do formaldehyde removal treatment to get rid of the excess free formaldehyde.
If the polymerization reaction is not complete, part of the free melamine and formaldehyde remains, and there is no treatment, it will be harmful to humans. Because the resin synthesized from these substances is harmless to the human body after the polymerization is complete. But topeco clean will also do formaldehyde removal treatment to get rid of the excess free formaldehyde. If the polymerization reaction is not complete and some free melamine and formaldehyde remain and are not treated, only then will they be harmful to human beings.
Nano magic sponge is that the product adopts the mechanism of physical decontamination, relying on the nano capillaries within the nano magic wipe. In the wiping process, automatically adsorbed on the surface of the object aged dirt, like countless super micro-vacuum cleaners at work. Due to the special decontamination mechanism of the nano sponge, it has a special effect on stains on uneven surfaces. So magic sponge is absolutely residue-free, safe and healthy, and better protects your health and that of your family.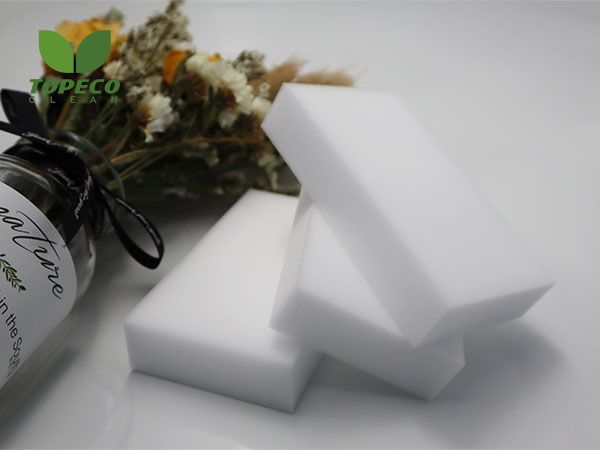 Magic Sponge For Walls- Strong Elasticity
Do you know how to choose a high-quality nano sponge? Trepanning, smell, elasticity, and use of feelings, these four aspects that people should notice.

As to trepanning, surface workmanship is rough, coarse nano sponge is not recommended to buy. The best option is to choose a delicate one. The high-quality magic sponge looks like the surface of the paper, smooth and glossy. As far as smell, high-quality nano sponges do not smell pungent and unpleasant, while ordinary nano sponges smell like a faint and very unpleasant odor.
Concerned with elasticity, quality nano magic sponge with enough flexibility. Elasticity is very good. The soft surface of the sponge is actually very elastic. Nano magic eraser is not easy to break when using a hand to pinch and squeeze. After touching the water can still maintain a certain prototype, and enjoy the knead-resistant feature. In terms of use feelings, quality nano sponges that topeco clean supported not only clean off stubborn stains quickly but are also resistant to wear and tear and more durable when used. It hardly drops scum, and although it wears out and gets smaller, the wear and tear are slower.

All in all, choosing a nano magic sponge embodies several expert aspects of it. So feel free to contact topeco clean if you have any questions can not handle.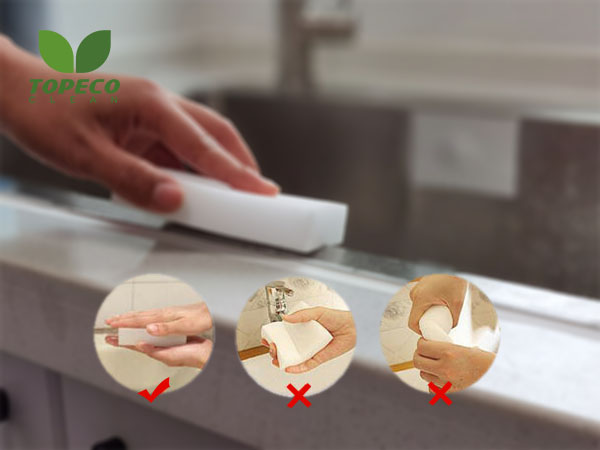 How to Use Magic Sponge For Walls ?
Artwork from your kids is fun to get, but we are not so thrilled when their self-expression lands on the walls. So there is big trouble with how to remove doodles on the wall. Thankfully, topeco clean know how to get crayon off walls.

Nano magic sponge is a very new type of environmentally friendly cleaning product. It consists of extremely fine hexagonal particles, has a harder texture, uses the principle of micro-abrasion, and enjoys a super cleaning ability. It easily erases stubborn stains and is exported to dozens of countries such as France, the UK, the USA, Russia, etc. Nano melamine sponge is unanimously recognized by customers at home and abroad. In fact, the steps are important when used.
Firstly, soak the magic sponge in water, and squeeze out the excess water with both hands.
Secondly, gently wipe the stained part of the wall.
And finally, wipe off the floating stain with a wrung-out clean rag, and leave the wall dry as before.
If you don't believe in its magic, you might as well do the cleaning yourself with a nano sponge!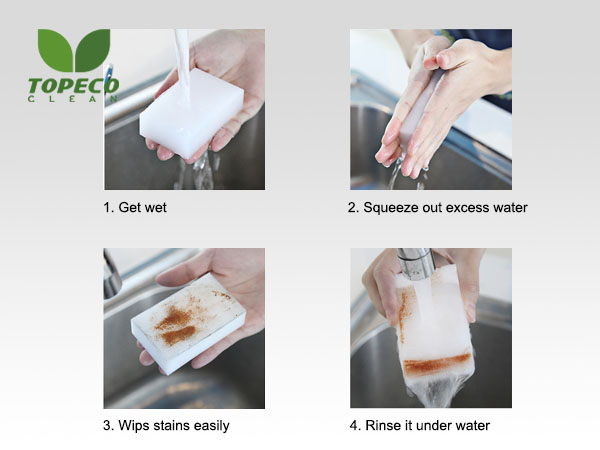 Magic Sponge For Walls Clean Dead Corners More With Less
Cleaning is the most important project of family life. Kitchen cleaning is one of the trickier aspects, relatively speaking. Even families that clean regularly can have a little trouble with dead corners in the kitchen. Here are a few good ways to effectively clean up the dead corners of your kitchen, so that you can maintain a clean kitchen.

Dead corner 1: Cabinet panel. When cleaning an embossed applique cabinet panel, choose a thick soft nano sponge. Do not use metal wire balls, so as not to damage the surface of the cabinet. Topeco clean nano sponge soft and absorbent, scrub up to cover the embossed pattern of the bump, such as encounter omissions or stubborn stains, no need add detergent, the cabinet will be new.

Dead corner 2: Gaps in the wall. Because the gap is small and narrow, it is easily forgotten part when daily cleaning. But the dust accumulated over the years will affect the overall aesthetics of the room, so it is a good time to use the magic sponge. Wet nano sponge, wipe where you want to. This way, most of the dirt on the track is cleaned out and the track soon looks brand new.

Dead corner 3: Range hood cleaning. The hood is the most tangled role in the kitchen, on the one hand, the dry grease is difficult to remove, on the other hand, also because the material of the wooden body of the hood, if you used as a wire ball and control wash, will scratch the surface. Magic Nano sponge with soft surface and strong cleaning power. It will not scratch the surface of the machine and also retains the original luster.
In daily cleaning, many dead corners can be easily accomplished with the nano sponge.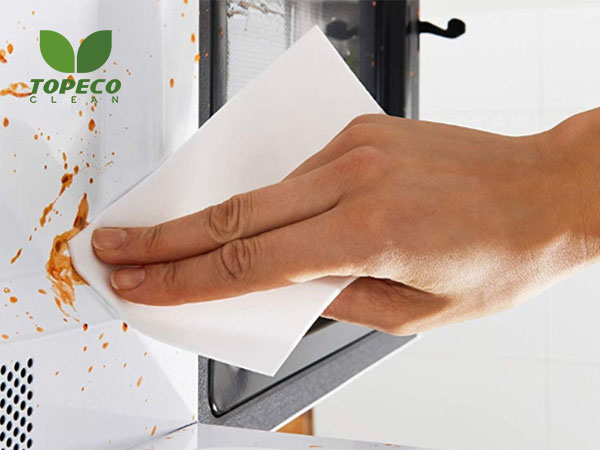 Magic Sponges For Walls Cleaning Like New
When it comes to nano sponges, high cleaning power always shows in people's minds. Nano sponge, also called a magic sponge, nano magic eraser, and high-density sponge uses new nano-technology research and development of special structure foam. It is a new environmentally friendly cleaning product in the 21st century, with no smell, no toxicity, and no harmful characteristics.
The biggest difference with the traditional cleaning sponge is that the product uses a physical decontamination mechanism. Its internal capillary structure can automatically adsorb stains on the surface of objects. It has a 99.9% natural anti-bacteria effect. Does not add any chemical ingredient, the effect is very clear. The material is excellent and does not hurt the skin. Removal of stubborn stains with only water, clean and environmentally friendly. It is suitable for cleaning uneven surfaces and deep stubborn stains. It can be easily cleaned and leaves no scratches. Simple and easy to use.

As for cleaning walls, a nano sponge exerts its maximum function in this situation. Whether its handprints, oil stains, pencil drawings, crayon scribbles, or discolored front marks on the wall, when you use the magic sponge, wall marks and stains will virtually disappear. So you can say goodbye to scuffs, fingerprints, and pencil marks on the wall, among other things.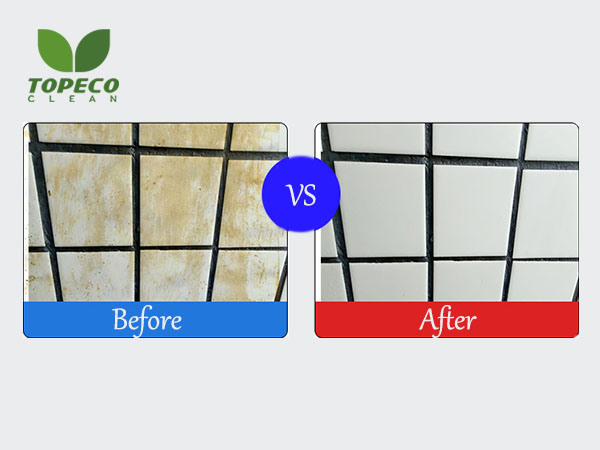 High-Density Magic Sponges For Walls
Topeco clean support different high density magic sponge. It can be design as 8kg/m³ ,10kg/m³ ,16kg/m³,24kg/m³,32kg/m³,48kg/m³. Popular design might be 8kg/m³ ,10kg/m³ ,16kg/m³. Higher density means the product is denser, and higher density implies higher prices.
The size of the magic sponge melamine, includes 10*6*2cm, 10*7*3cm, 12*7*2.5cm, 117*3cm, and 11*7*4cm. All the products that topeco clean offerd can be customized according to people's needs. I think the magic sponge melamine will be an excellent cleaning partner to accompany you every day.
Besides, a wide of shapes supply to you in topeco clean, such as Design types include rectangle, circle, octagonal, hexagonal, small waist, flower, S shape, and wave. Each type possesses multiple designs but with the same function and cleaning power.

Apart from special shapes and densities, beautiful colors are also popular among people. Gray, white, and pink all are your options. More people are concerned with magic melamine erasers as an essential tool for home cleaning. Without a doubt, the nano sponge was the best choice.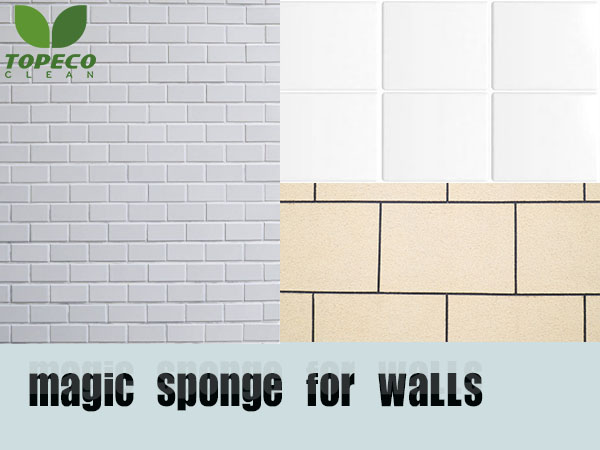 Why Choose Topeco Clean as Your Helper
Topeco Clean is one company setting scientific research, production, and management. We are pursuing the progress of technology all the time to provide more dense and even micro-hole melamine foam. The production plant and warehouse cover an area of some 30,000 square kilometers to ensure orders are on time. At present, Topeco Clean can already produce almost all magic sponges on the market.
We support close service, technical checking, and high-quality products. In our company, you can enjoy a full range of services, including inquiry, design, plan confirmation, make samples, confirm samples, sign a contract, product, and delivery. Finally, custom-made service is also a classical way in topeco clean.