White sponge cleaner is perfect for your impossible messes all around your house. Its cleaning power and cleaning performance are better than the leading universal bleach spray. The reason why the magic sponge received positive comments all over the world will disclose below. Let's together find out!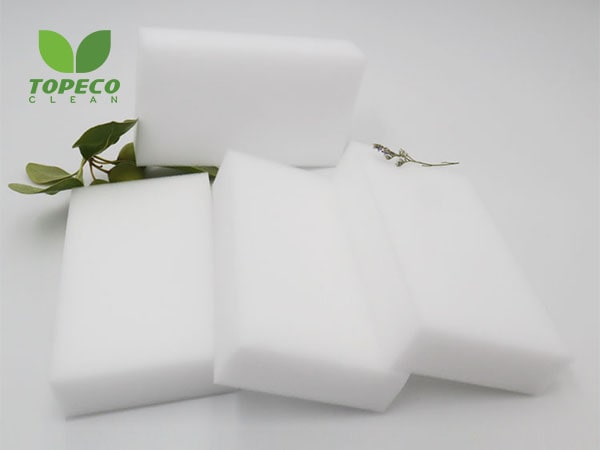 White Sponge Cleaner-Perfect To Remove Stubborn Marks
Are you ever curious about why the small block-white sponge cleaner can work so well? Frankly, its considerable cleaning effective merit lies in the internal material. The white sponge cleaner is made of melamine foam, which manipulates undergone heat compression to increase its durability. It is the active ingredient of many abrasive cleaning products or cleaning tools, especially white sponge cleaners. Similarly to a pencil eraser, the melamine foam sponge cleaner will wear away slowly during use, leaving behind a slight residue that can be rinsed off. That is a common situation because the sponge is absorbing stains when working. What's more, melamine sponge is the view as top cleaning material or component in the household cleaning field.
White sponge cleaner is a highly unique cleaning tool that clean with only water to remove stubborn marks or grease. For its function, I believe the magic melamine sponge overmatch other ordinary cleaning sponges. The white sponge cleaner works on most smooth and non-porous surfaces outdoors or indoors.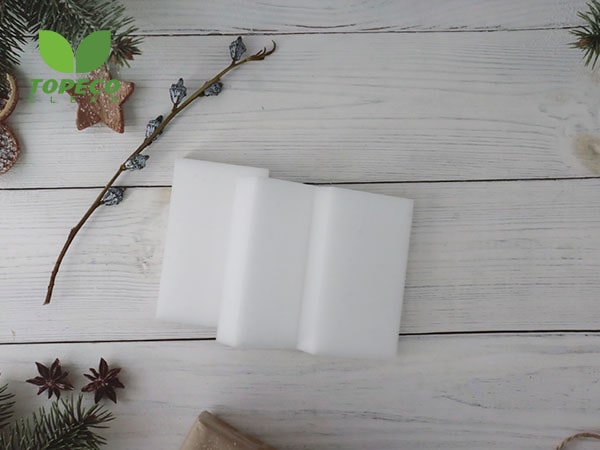 White Sponges For Cleaning Walls
The little magic sponge block has been around for quite some time now but there are still some people who do not know the cleaning wall function. And those also do not believe in its strong cleaning power. Now, you have in the right place. Whether it is a splash or grubby hands from the kids, you do not want to be repainted every few months, so we are going to share with you exactly how to clean walls. This is in our opinion the best way how to clean painted walls.There is a quick and cheap choice for you to fix the walls that is full of crayon and sticker marks.
The white sponge cleaner works fantastic on smooth and gloss walls. For removing scuffs and dirt from walls, bathroom doors, and windows, magic sponge wall cleaner can handle that for you easily. many more areas and marks you can use the magic eraser on. If I find a stubborn mark I always see if the magic eraser will remove it. In addition, the use step is much easier. First, wet the sponge with water, and squeeze extra water. Second, wipe stains located without any detergent or washing cleaners. Finally, wash off the sponge with water alone.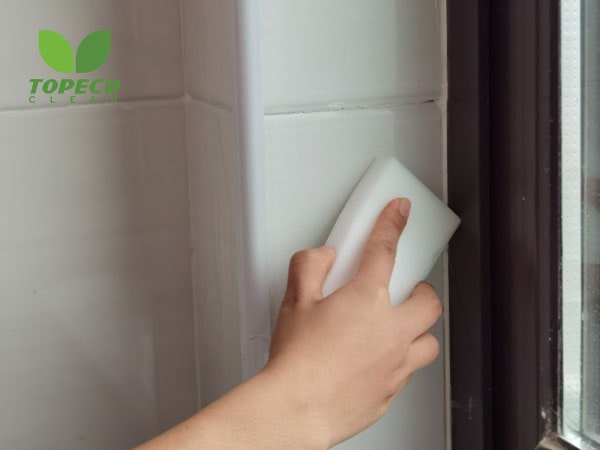 Why Does White Sponge Cleaner Turn Yellow?
When we buy the magic sponge, the color of the sponge is very normal, but after using it long, the white sponge cleaner will gradually turn yellow, so what is the reason? Why would this happen?
From natural causes, melamine magic sponges undergo oxidation at high temperatures, and exposure to ultraviolet light can likewise trigger yellowing. Just as apples exposed to the air will yellow, sponges and nitrogen oxides in the air react, and over time can naturally change their color. So the yellowing magic sponge block is not necessarily a poor-quality sponge, it is just a natural phenomenon. To prevent it from yellowing, it is necessary to put it in the right places-Ventilated areas that avoid sunlight. Moreover, the aspect of quality is an important point when you choose a better white sponge cleaner. Topeco clean might be a good choice in that the quality here is guaranteed by international quality recognition, such as MSDS, CRS, and SGS. You can enjoy OEM and professional design services here.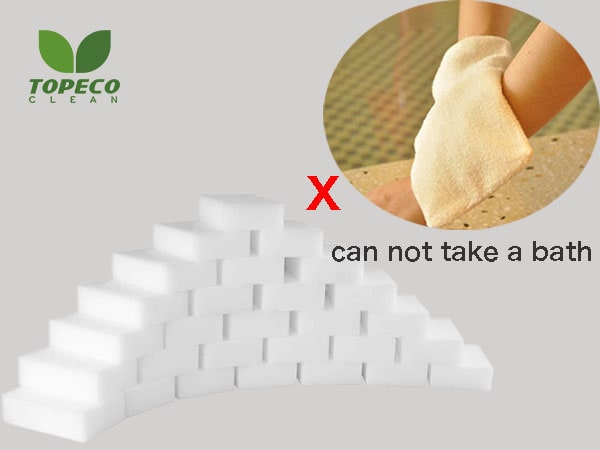 Are White Sponge Cleaners Safe?
It is non-toxic for white sponge cleaners when used. Stain removal is because of the porous three-dimensional mesh structure of the melamine. Open pore structure can automatically adsorb stains on the surface of the object in the wiping process. White sponge cleaner is a multi-purpose cleaner that effectively removes stubborn marks without harmful chemical cleaners. It is of physical decontamination and using water alone. The magic sponge is mainly made of melamine foam, so it has super cleaning and decontamination ability. And it has good physical stability itself, insoluble in water, and all parameters meet the standard.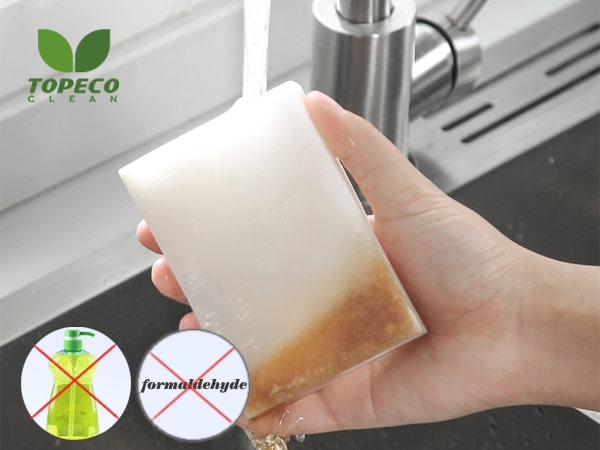 What Is The White Sponge Cleaner Good For?
Magic sponge uses are wide across many areas including most stains, dirt, and grime removal. It can handle all kinds of dirt.
Remove mildew marks and sticker residue from walls and baseboards.
Remove dirt and grime from light switches.
Remove layers of baked-on grime from oven doors.
Clean up grout and scale on the window or glass door.
Remove marks from crayons, pens, and markers from walls, furniture, and surfaces.
Eliminate drinks or tea or coffee stains on the countertop.
Whiten or remove grout and yellow from shoes and sneakers
Make your outdoor furniture look new again.
Eliminate dust or scale from the keyboard.
Remove stuck-on splatters from the inside of your microwave.
Remove layers of soap scum from sliding shower doors.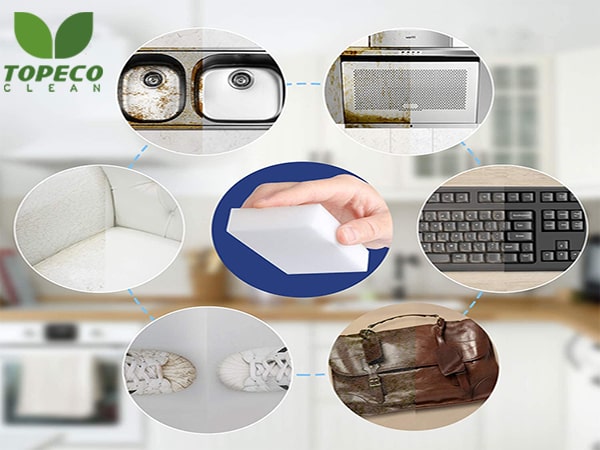 Can You Use White Sponge Cleaner To Clean a Shower?
No. White sponge cleaner is a cleaning product best for household cleaning. Although it is safe to use, it is easy to get hurt the skin, so we must use scrubbing special bath towels when rubbing. This function does mean white sponge cleaner does not work, but once internal material is activated just like super sandpaper. After all, the nano sponge is mainly used to clean objects, except that you can't use the magic cleaning sponge to wipe your face and scrub, it can wash dishes, wipe shoes, wipe cups, wipe glass, clean switches, and car interiors, etc.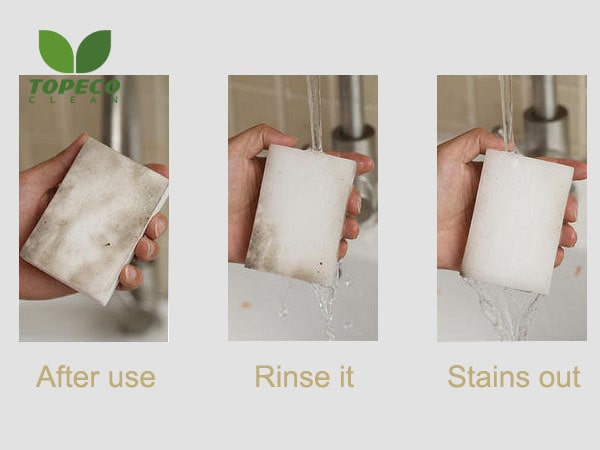 White Sponge Cleaner For Yellowing Shoes
White shoes, especially rubber-soled sneakers, can easily turn yellow after a period of wear. Although there are many causes of yellowing, the basic principle is that direct sunlight breaks down the compounds used to produce the bright white color of sneakers. Magic sponge for shoes may help you a lot. Now, here are easy application ways to save your yellowing shoes.
1.Soak the shoes in warm water. You can add soda or white vinegar aim to dissolve grout and stains from the shoes.
2.Rinse the magic sponge with water, then squeeze extra water without much strong force.
3.Hold the white sponge cleaner with your hands, and clean the stains located. For hard dirt, you can cut it into many small pieces or blocks.
4.After using, wash off the sponge with just water, stains glued to the white sponge cleaner will disappear with water.
5.Wrap the whole shoe in the paper. Put it in a ventilated place and avoid direct sunlight.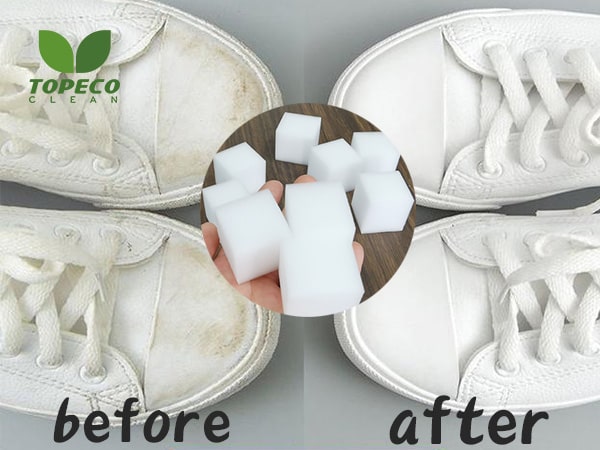 Can You Use White Sponge Cleaner On Everything?
White sponge cleaners may seem like the ultimate cleaning tool in our daily life, but they may not be excellent in everything. So please do not use a white magic sponge on these surfaces, or surfaces like them.
1.Outside of your car. It is because of its strong cleaning ability, so now many car owners will use it for car cleaning. But the magic sponge is an extremely strong adsorption ability, if the use of improper mastery of strength, it is easy to destroy the car paint surface of the dye layer.
2.Delicate countertop. When facing granite and marble counter cleaning, white sponge cleaners may not be a good option. It works like sandpaper thereby damaging those surfaces.
There are other surfaces that you can not use on, view more to click topeco clean website. If any question, please contacts us at any time.