Have you ever tried the magic sponge for cleaning? After the whole working day, the last thing-household care and cleaning may be your sticky business. Especially after dinner, kitchen messes and household cleaning will trouble you a lot. Now, there is a handy and all-purpose cleaning tool that is hot-sold in the market. The magic sponges for cleaning, a new type of cleaning sponge in recent years, can remove mildew and stubborn stains and almost every surface around your home. Do you want to try it?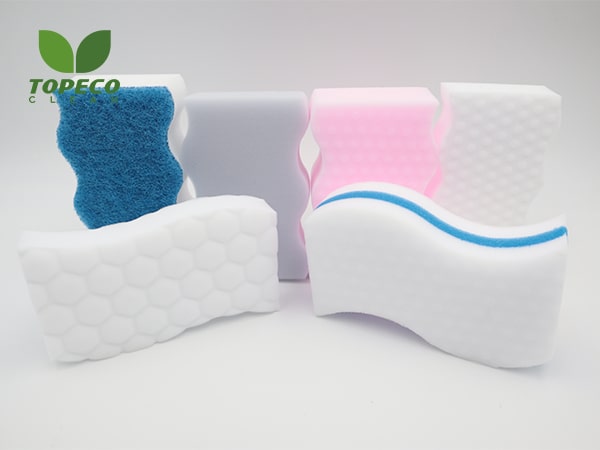 Magic Sponge Ingredients
Why magic sponge for cleaning received many positive comments and feedback online and offline? The main magical effect internal the magic sponge for cleaning lies in the material behind the sponge. Magic sponge for cleaning is made of melamine foam, which is an effective sponge-like material. Melamine foam is also received numerous good reputations in the household cleaning fields. It is a combination of carbon, hydrogen, and nitrogen. With melamine foam, a magic sponge for cleaning works like a powerful dust collector. However, it is precisely because of the melamine foam as well, magic sponges for cleaning are accused of being toxic. The facts do not like what we see online. It is with double side when we google it online. Those who accused it of unsafe function and toxic, who just use the magic sponge for cleaning in the wrong ways.
If you use the magic melamine sponge on your skin, of course, will hurt your skin. If your children suck or chew on it, minor irritation to the mouth is unavoidable. If you use it on delicate surfaces, scratches are also inevitable. The above situations do not mean magic sponge for cleaning is not safe. As a matter of a fact, a magic sponge doesn't release toxicity in use.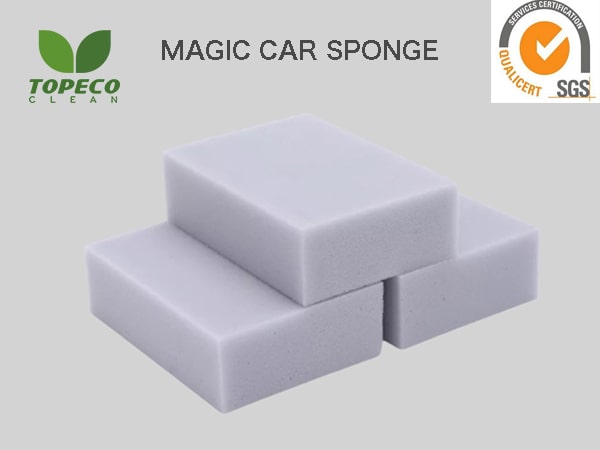 Can You Magic Sponge For Cleaning Without Gloves
In general, you need not wear gloves when using magic eraser sponge pads. However, for protecting our hands, it is better to wear gloves when you use the magic sponges for cleaning. Now, l listed some situations in which you'd better wear gloves.
1.Stubborn stains. For stubborn stains, such as scale and tea stains, you can use the magic sponges for cleaning with gloves.
2.Sticky grease. Sticky grease places are full of heavy oil. Gloves can protect your hands from oil damage.
3.Long time cleaning. If you do the household cleaning works along with the magic foam sponge, you should better wear gloves
4.Clean with cleaners. As we all know, cleaner contains a professional chemical, which is harmful to our hands. You can use the magic sponge with gloves. It is safe for us.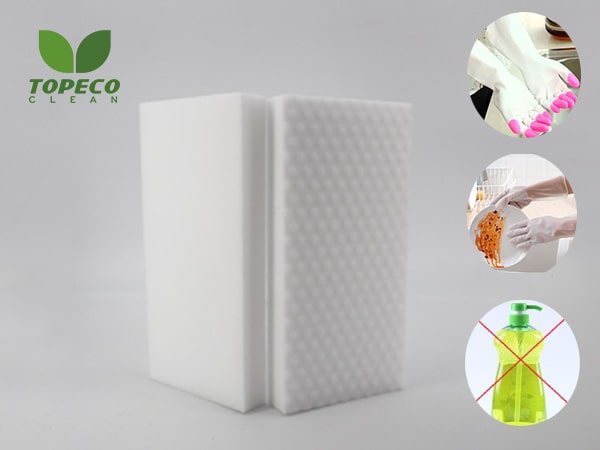 Can You Reused Magic Sponge For Cleaning
Yes, the magic sponges for cleaning can be reused a few times. It is a consumable cleaning product in the household cleaning field. Quality magic sponges for cleaning is extremely durable and can be reused many times. Melamine foam blocks can strongly attract dirt and grime because of the material-melamine. It can be used over and over until it has worn down to a point that it is no longer effective. Generally speaking, a block of magic sponge can be used 3-4 times. However, using time is also relying on the specific surfaces and quality of the sponge. For coarse surfaces and long use time, a magic sponges for cleaning may just use 2-3 times. If you use the quality magic sponges for cleaning, it will be reused more often.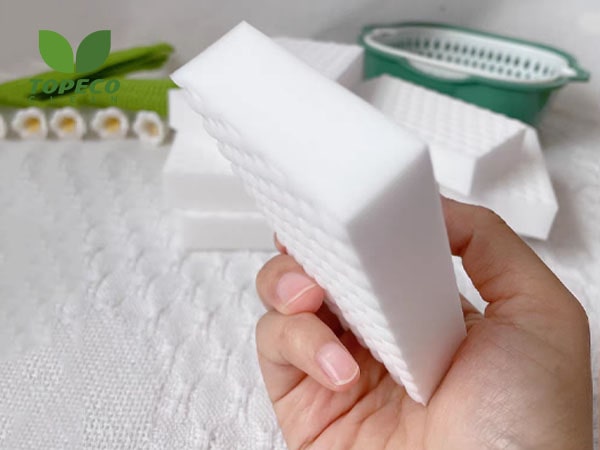 Does Magic Sponge Damage Surfaces?
To some degree, a magic sponge will not damage surfaces. Magic sponges for cleaning is of physical decontamination and not harmful. But it is not a perfect cleaning tool when using, there are some surfaces that magic sponge can exert damaging effects when using. Now, I will list some areas that you can pay attention to.
1.Outside of your car. Once the magic sponges for cleaning is activated by water, its working effects are just like sandpaper. The eraser's abrasiveness can do damage to your car's paint. However, it is suitable for car interior cleaning.
2.Delicate countertop. The abrasive magic eraser can damage the finish and make it look dull and uneven.
3.Skin. It is not suitable for skin use. The abrasive function can hurt the magic sponge to some degree.
4.Wood surfaces. Wood surfaces belong to delicate surfaces. You should be careful with this surface cleaning with the magics sponge for cleaning.
5.Nonstick pots and pans. Although magic sponges for cleaning is soft and durable, it may cause scratches to the surfaces of nonstick pots and pans.
Magic Sponges For Kitchen Cleaning
Normal cleaning products can only target a certain category and the scope is relatively small. But using a magic sponge for cleaning can help you quickly solve the cleaning problem around the kitchen. The amount of daily cleaning is very economical, just a small block, can figure out kitchen cleaning. After cooking the stove, you can use the magic sponge for cleaning to wipe it off. For cabinets, faucets, countertops, microwave ovens, range hoods, windows, and so on. Magic sponge for cleaning is a handy and cheap way to handle kitchen stains. Magic sponges for cleaning may help you the most. Feel a box contracted a year of housework! And stain removal power is very strong. The key is no pungent smell, the key does not hurt the hands, and after using the hands do not dry not wrinkle. Magic sponge use can apply in many places.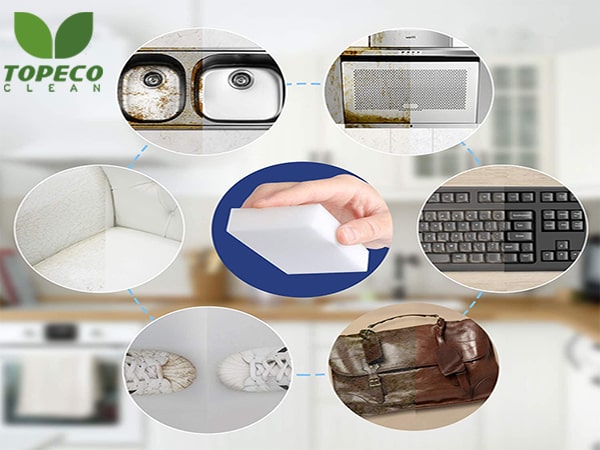 Magic Sponge For Cleaning In Cups
Magic sponge uses can apply in many areas including shoe cleaning, window cleaning, office cleaning, cup cleaning, and other items cleaning. Cup cleaning is the best part that the magic sponge's functions can do.
First, wet the sponge with water alone and squeeze extra water. Second, hold the sponge to clean tea stains and coffee scales in the same direction. Third, rinse out the sponge with water alone. you can see that stains on the sponge will be washed out with water.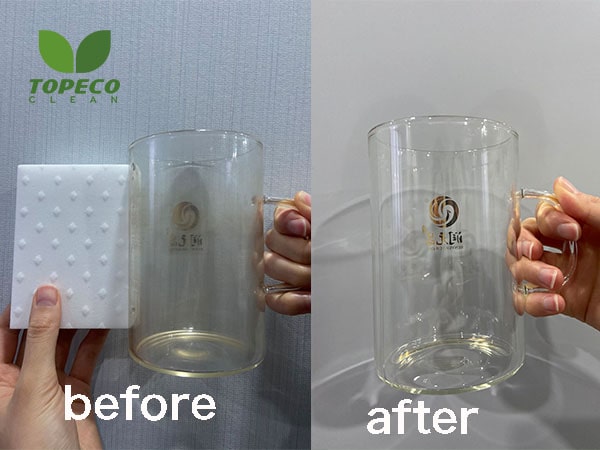 Cleaning Tips For Magic Sponge For Cleaning
To make better use of the magic sponge, please follow the steps below:
Fully moisten the magic sponge with water.
Then gently squeeze the magic sponge to squeeze out the excess water, do not twist and turn; keep it moist.
Gently wipe the surface of the stain parts in the same direction, for stubborn dirt, you can increase the wiping strength.
After wiping and floating (not absorbed) dirt, please use a rag or paper towel to dry it.
Magic sponge will be put in water to rinse or soak, no need to wring or rub, dirt can be self-dissolved and can be used repeatedly.
For the sense of experience, high-quality melamine foam is better for use. So how to choose quality magic, sponge suppliers? You can search for it on shopping platforms like Amazon, Alibaba, and Made In China, and explore its product category and company information. Then google it, the more information about the company, the more authority it is. Have you ever heard of topeco clean? it is an experienced manufacturer and supplier in the household cleaning field. If not, the topeco clean website will convince you what I am saying.