Daiso shoe cleaning sponge will be a nice gift for sneakerheads and shoe lovers! If you're looking for the ultimate present for your sneakerhead who treats their sneakers like a precious treasure, check out and click here! Ready for it?
Why Choose Daiso Shoe Cleaning Sponge?
Why choose the magic sponge for shoes? The secret behind it is its material. Daiso shoe cleaning sponge is made of melamine foam, which is a popular cleaning material in the market. Melamine foam sponge is the generic term for a magic cleaning tool. It works sorcery mainly through physical decontamination and a strong cleaning effect on removing dirt and stains from gloss surfaces. The cleaning principle is like sandpaper on the bottom of your shoes or cloth surfaces. Its amazing effectiveness on shoe cleaning attracts many people.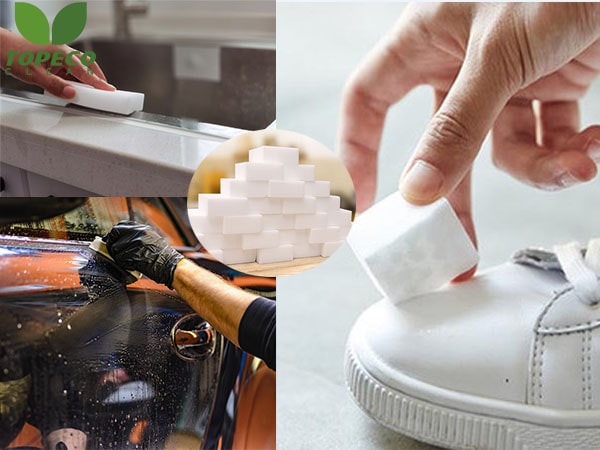 How To Do With a Daiso Shoe Cleaning Sponges?
Step1. Remove excess dirt. Wipe off all dirt with a soft bristle brush or microfiber cloth to remove excess dirt from your sneakers. If you have shoe mops, stuff the sneakers with them. Makes it easier for you to clean the dirt from the creases.
Step2. After removing loose debris on the shoes, the next project is to clean them. Damp the sponge with water alone and start working away at the stains and discoloration on the shoes. When wiping, you will find the sponge will slowly wear away. So be sure to do this over a garbage can or lay out a paper to catch it.
Step3. wipe it again with a damp towel. Put each shoe separately into the two dust bags prepared and tie the bags to avoid dust from entering.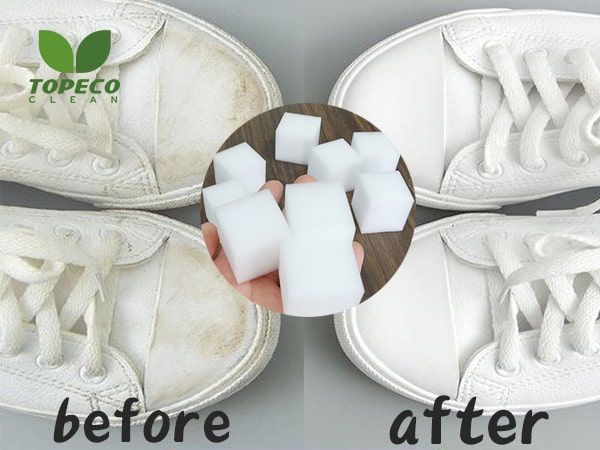 6 Notes For Daiso Shoe Cleaning Sponge On Sneakers
Do not use bleach, so that the shoes have glue-bonded parts for a long time and will be degummed.
After washing, please do not get the sun, which is easy to make the gum part of the shoe yellow, and after the sun will easily brittle gum part, which will cause the shoe too a short life phenomenon.
If you are using tap water to wash directly, be sure to shade dry, that is, place it in a cool, dry, ventilated place, and so it dry. Because the chlorine in the water & algae due to photosynthesis easy to make the white shoes yellow.
Avoid using a hair dryer, dryer, and not drying with a heater.
If the shoes turn yellow, use super fluorine toothpaste, put the shoes in boiling and cooling warm water to soak wet, then use a toothbrush with toothpaste and brush slowly, then shake dry or use the washing machine to dehydrate and then shade thousand can be.
You can lightly pat a layer of itchy powder on the canvas shoes, so that even after some time dirty, only with water can easily wash off the dirt.
For more information about shoe cleaning please contact Topeco Clean. Cheap price and OEM service we support authoritatively.