The melamine foam density is 8-16 kg/m3. Commonly used colors are white, gray, blue, and pink. It is one of the lightest materials in the foam on the market today. Compared to existing conventional materials, it has lower density but higher cleaning power.
What Is The Range Of Melamine Foam Density?
A melamine foam sponge is a porous open-cell foam made from melamine resin. It is widely used in the field of cleaning products. It is light in weight and has high cleaning power. Melamine foams density is known for its high strength-to-weight ratio and resistance to water and heat. Melamine foam panels are typically available in densities ranging from 8 to 16 kg/M³. Higher densities or custom densities are now also becoming more popular. Topeco clean can increase its density by compressing the foam. This results in a denser, more durable foam sheet that can be used in a variety of applications. Due to its unique properties, melamine foam is an increasingly popular material used in a variety of industries. It is uniquely good in both the industrial and cleaning sectors.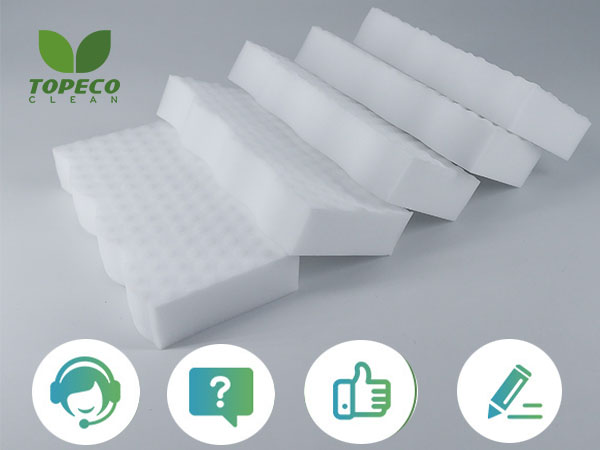 What Density Of Melamine Foam Is Best Suitable For Cleaning Sponges?
The density of white magic sponges commonly used in daily life can be low density. The open pore structure inherent in the sponge is activated when it encounters water. It works as hard as sandpaper. The higher the open pore rate, the better the cleaning effect. 8/kg/m3 density has the highest open pore rate and better cleaning effect. However, a compressed melamine cleaning sponge has higher density and is not fragile. Topeco clean melamine sponges are cheap and efficient, so they are now a must-have cleaning product for households. However, not all melamine foam density is the same. The density of the sponge has a close relationship with its cleaning power. The higher the density, the longer the service life. A higher porosity means a better cleaning effect of the sponge. 8/kg/m3 is the optimum density for melamine foam. This density provides the best balance between effectiveness and durability.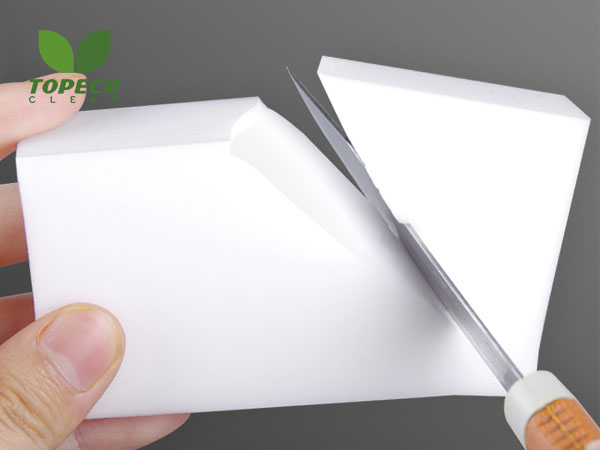 Is The Melamine Foam Density Customized?
YES. The melamine foams density can be customized. Not only the density but also its shape and color can be customized. Melamine foam density varies with intrinsic porosity and dose volume. This means that the number of openings affects the density of the sponge. A higher porosity will produce a lighter, softer, and more elastic sponge. Density is an important factor to consider when selecting a sponge. Higher density means it has better performance and is more absorbent.
If you have special requirements for melamine foams density, Mr, Topeco will provide you with professional and useful information to help you customize your ideal density. The finished cleaning sponges will be shipped to you as soon as possible. We have our own factory and all cleaning products are shipped directly from the factory. If you are interested, please write to topeco clean.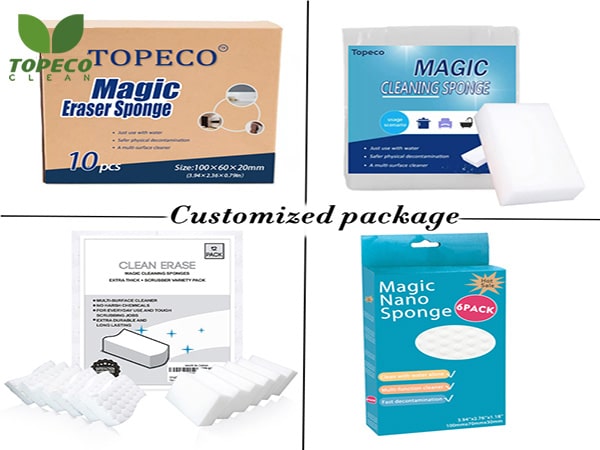 How To Identity Melamine Foam Density?
The quality and density of the sponge vary, which also makes it difficult to distinguish. You can refer to the following methods to identify. The magic sponge block gives a more intuitive feeling in its elasticity and softness. So the sponge can be divided into a high rebound, low rebound, hard, soft, and super soft points.
In the selection of a sponge, mainly to its touch and elasticity as the primary factor in determining. Touch should have a soft touch and ductility.
Smell the sponge has no pungent smell, if so, please do not choose.
In addition, one of the most practical ways to identify the sponge is folded in half, rubbing each other. If you do not rub a few times to drop sponge flakes, they should be eliminated.
Finger press the sponge, high-quality sponge generally has high rebound.
The melamine foam density is better to identify. The thick and hard sponge is basically high-density.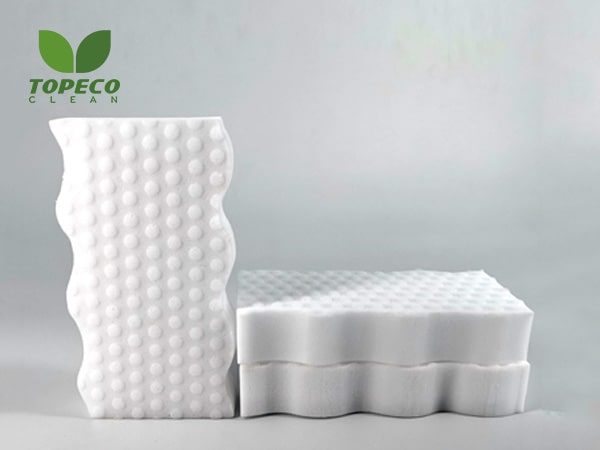 High Melamine Foam Density Compressed Sponge
High melamine foam density compressed sponges will have a relatively high density. It works on the same principle as the classic melamine foam sponge. Compressed sponges require only water to effectively clean most stains. No chemicals or additives are needed. Visually, they behave and feel almost like any other sponge, but the similarities are limited to that. Melamine foam can be a porous material that acts similar to very fine sandpaper to gently remove stains. Although the surface may feel soft to the touch, each type of eraser is actually uniquely abrasive. Stains are removed after wetting using small air pockets on the material.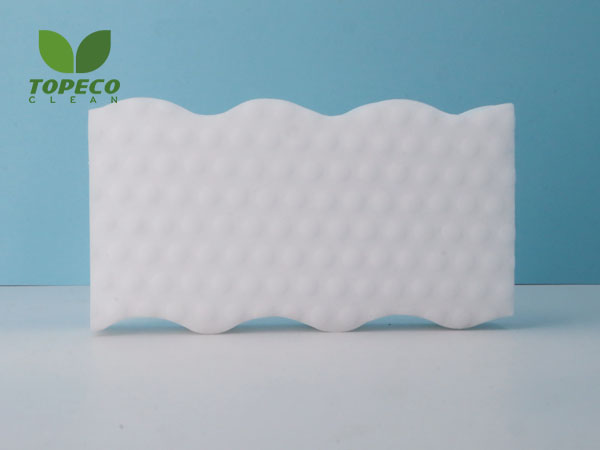 Melamine Foams Density With Better Cleaning Effect
The abrasion resistance of melamine makes it suitable as a cleaning foam. Melamine foam density is used to remove dirt and grime from a variety of surfaces such as glass, ceramic oven tops, wall and floor tiles, doors, car, and bicycle rims, etc. Surfaces that are easily scratched, such as varnished surfaces, should not be cleaned with melamine foam. The best results are achieved if the foam is slightly wetted by water and no detergent or special cleaning agent is needed. Its cleaning effects appeal to us the most.
High Melamine Foams Density Vs Low Ones
High-density sponges feel harder to the touch, and low-density ones will be looser. But both have the same cleaning power. The sponge is a consumer cleaning product, it will wear away with using frequency. Also, the strength of use will also increase the loss of sponges. But this is a normal phenomenon. The high-density sponge will be more wear-resistant, longer service life. The low density is slightly less.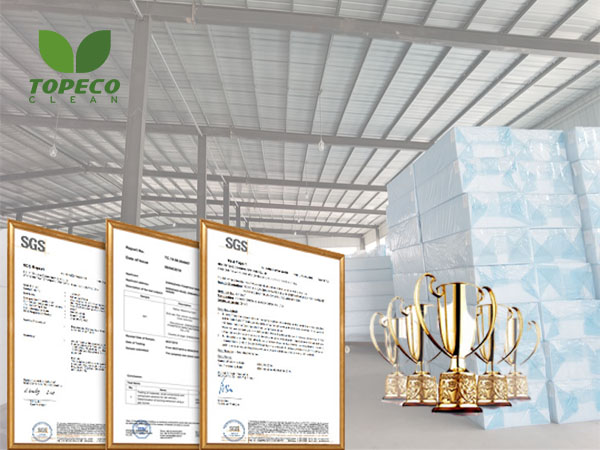 Melamine Foam Density-Ideal For Stains Removing
Melamine foam density removes stubborn stains with just water. Using the physical principle of cleaning is both economical and environmentally friendly. Time-saving, labor-saving, and convenient. Remove dirt with a light rub. The nano-dense amine cleaning sponge can be cut into different sizes (can be cut with a razor blade) to facilitate different items or ranges. Its multifunctional uses really attract me.