Magic sponge density in the market is divided into two categories: high-density and low-density magic sponge. No matter if the density of the magic cleaning sponge is low or high, its strong cleaning power and all-purpose uses are the same.
Higher Magic Sponge Density Vs Lower Magic Sponge Density
In the field of magic sponges cleaning, its density is mostly 8-24kg/m3. When the density of magic eraser is higher, the process is more complicated and the cost required increases, and of course, the quality is better. High cleaning sponge density is a compressed sponges made by hot pressing based on an ordinary nano sponges, with greater density and better toughness, which improves its wear resistance and durability while also improving the cleaning effect. Low magic sponges density do not mean its cleaning power is the same as low. In general, low magic sponges density will wear away faster when used. That is because it's internal porous is more fragile.
What's more, both magic sponge densities are better for daily cleaning. Higher represents its long-lasting. Melamine foam density can be customized to your requirements.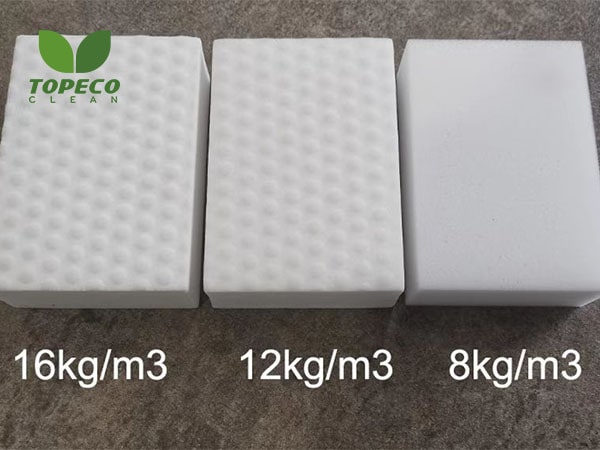 Which Magic Eraser Sponge Density Is Best For Household Using?
Because magic sponges density cleaning only needs water, no detergent, super stain removal, and a gentle wipe to remove stains, is both an economical and environmentally friendly household cleaning product, so more and more loved by everyone. For daily household cleaning use, 8 kg/m3-16kg/m3 is better.
For shoes. Low magic sponges density will suit you well. Magic sponge for shoes is the best sponge for shoe cleaning in that its economical and multifunctional usage. You can cut the magic sponge into many small pieces or blocks for convenience.
For walls. High melamine sponge is better in that it wears away slowly to avoid change frequently. A large magic sponge with high density is a good option. Magic eraser for cleaning can help you remove scuff marks and stubborn grout.
For windows. Both high and low magic sponge densities are suitable very much. The cleaning step is easier. Just hold the melamine sponge that is wet just with water alone. Then, wipe the stains located.
For faucets. High magic sponge density is better. A higher density is of strong water absorption. For removing mildew and yellowed stains, a melamine foam sponge is professional for that. It will be your good household helper.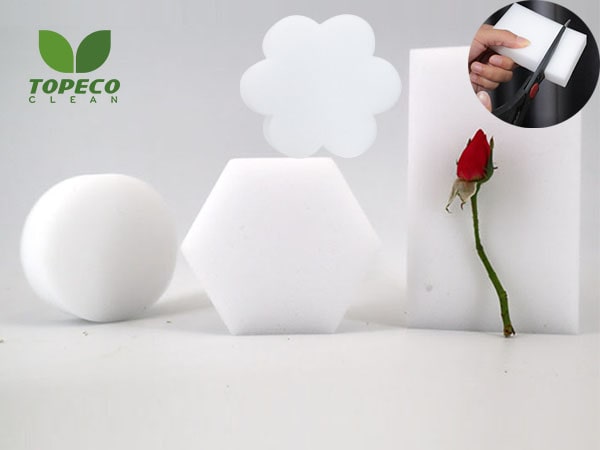 Magic Sponges Density With Compound Material
The designs of the magic sponge are plentiful including magic sponge with PU, magic sponge non-woven fiber, and magic sponge with scouring pad. Combing with two cleaning material render its cleaning effect maximization.
As we all know, the magic sponge is made of melamine foam, which is the best cleaning material in household cleaning areas. Composited magic sponges naturally enlarge useful life and density. For an instant, when facing hard stains on the mirror, the side of PU or non-woven fiber can easier and faster fix that. For cleaning coffee or tea stains or scale, the magic sponge brush will surprise you a lot.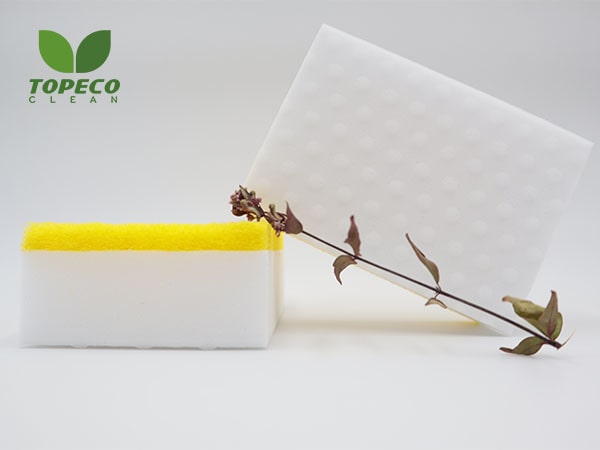 Compressed Magic Sponge Density
Compressed cleaning pad is a kind of high-density household melamine pad. More durable and thick are the only differences between compressed magic sponges density and low-density ones. Moreover, more designs can be compressed on the surface of the magic sponge. The design of the honeycomb and other patterns are available here. The shape of the magic sponge cleaner pad is also multiple including rectangle, round, flower, and other customized are all supported in topeco clean. The cleaning tools in topeco clean can be trusted in that the quality here is most. If any questions, please contact us at any time.