The microfiber magic sponge uses a quite material distinct, unlike wood fiber, bamboo fiber, or cotton we usually see. Its fibers are made of the superior melamine foam, as hard as tough strands, and look like 3D mesh. Each particle inside is smaller than the 1/20000 diameter of one hair. There are a large number of fine open-cells inside to enable the magic sponge to catch stains and water messes.
Powerful Cleaning of Microfiber Magic Sponge
The microfiber magic sponge block feels so soft that you will be surprised by its powerful cleaning. The largest source of strength is not external friction. It is tough microfibers! They can go deep into stains and destroy them, like abrasive sandpaper. With the help of water in micro open-cells, the magic microfiber sponges suck stains into it. The cleaning work doesn't need any dish liquid or other household cleaners.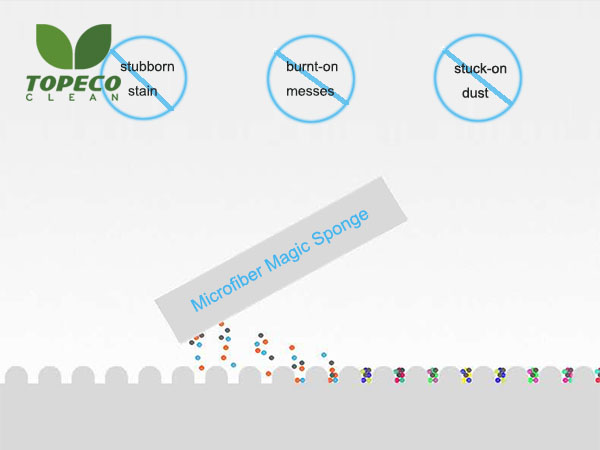 The Sizes of Microfiber Magic Sponge Topeco Clean Offers
The factory of our Topeco Clean can produce all kinds of practical sizes, like 10.0×6.0x2.0cm10.0x7.0x4.0cm, and 12.0×7.0x2.5cm. Large sizes can be accepted by customization until 250x100x28cm. Topeco Clean is mainly engaged in exporting microfiber magic sponges in large quantities and supplying bespoke services on size, color, type, density, and outer package. Some online shops on Amazon are selling our products and acquire pretty good ratings and reviews.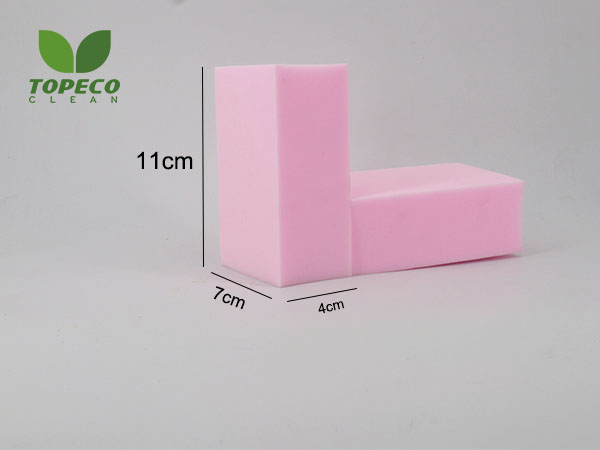 White Microfiber Magic Cleaning Sponge
White is the dominant color for the magic cleaning sponge. You could see stains removal clear. Additionally, the white magic sponge can bond with other colorful cleaning materials, like PU sponge, scouring pad, and non-woven. The compound microfiber magic sponge takes on a nice-looking appearance, appreciated by more and more people. It even replaced the leading position of pure white magic cleaning sponge gradually.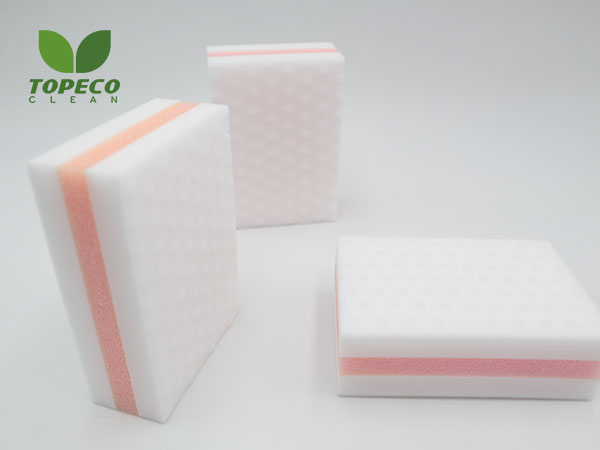 Compound Microfiber Magic Sponge
Compound magic sponges have more performance of firm tenacity. You can randomly bend it, which also means that you can use a longer time. One magic block sponge has two uses. For Example, scouring pads can remove baked-on stains by their strong friction, white magic eraser sponge can do deep cleaning for dirt in the groove on surfaces.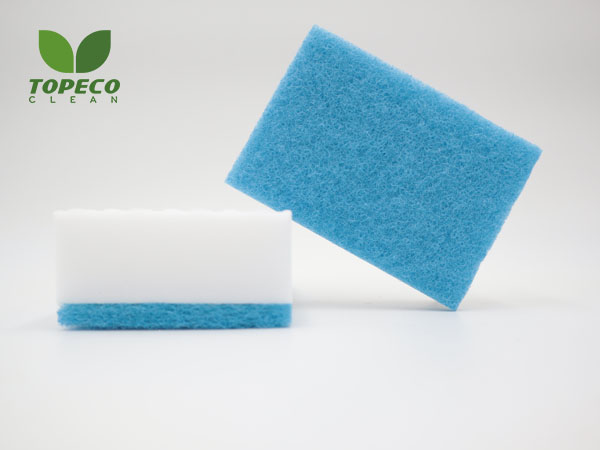 Microfiber Magic Sponge With Wave Shape
With the improved precision of cutting technique, the microfiber magic sponges not only have straight cutting lines but also have smooth wave edges now. The meaning of this design makes it easy to hold by hand. Also, the new shape looks more adorable. At the same time, this type can contain different densities, like 8kg/m3, 12kg/m3, 16kg/m3, and other density you prefer.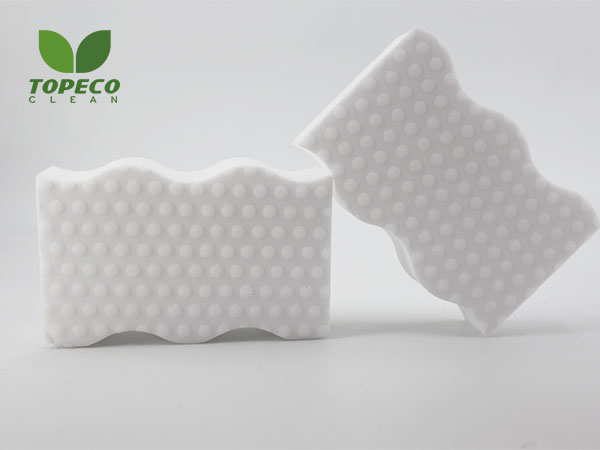 Can It Clean Hot Hair Curler?
A hair curler is a utility tool for every girl. After longstanding use, there will be black caked stains, hair dye residual, or rust on them. On the internet, you will get some tips about baking soda, alcohol, or oxalic acid. The theory is to corrode these stains. At the same time, these chemicals will damage the surface of the hair curler carelessly. The soft magic melamine sponge can lift away these only by a little water. Don't scratch the surfaces. By the way, the microfiber magic sponge can work under 464℉. Even a hot hair curler will not deform it.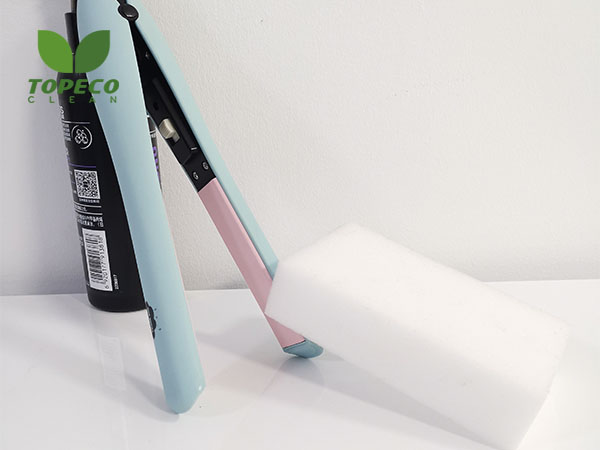 Can Microfiber Magic Sponge Sanitize?
Does microfiber magic sponges vanish bacteria? The microfiber magic sponge can help us clean deep messes and dirt, such as walls, floors, baseboards, sinks, and shoes. Even neglected corners, flexible magic nano sponge also can dig in and pulled stains away. Furthermore, the microfiber magic eraser can cooperate with disinfectants to further kill residual bacteria due to its good performances on anti-acid-alkali.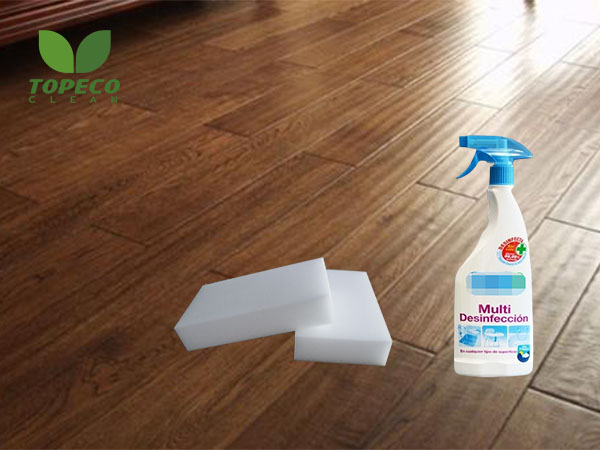 Can You Use Microfiber Magic Sponge On Teeth?
The teeth will become yellow or black with age because of plaque formed by accumulated food residue and bacteria. We need to find a doctor to do dental cleaning. But washing your teeth frequently will reach the enamel protecting your teeth. Our microfiber magic sponge has a more fantastic effort than any toothpaste. With a pure physical cleaning method, it can take stains away from teeth quickly. What's more, it is portable. You can put one magic microfiber sponges into a jacket or purse directly.
How To Eliminate Sticky Price Tags
When you buy a new dish or cup or other things with sticky price tags, tearing it off is a headache for all of us. Maybe some experienced people will teach you to use boil water, alcohol, and a hairdryer. I always think that these methods make trouble more troublesome. Only one piece of microfiber magic sponge can fix it and not scrape your new belongings.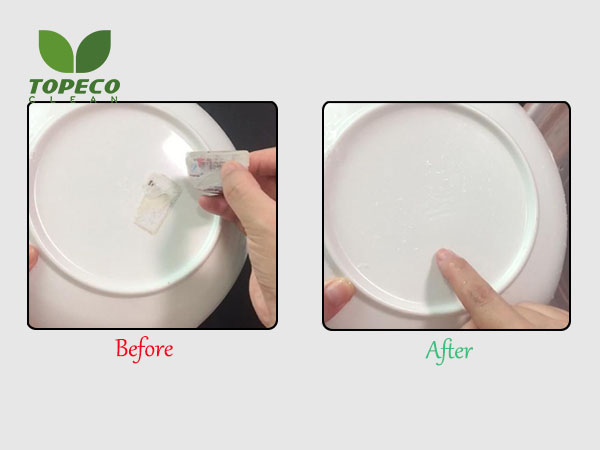 Does Microfiber Magic Sponge Clean Boat?
There will be waterline marks and adsorbent dust and microorganism on the bottom of the boat. Besides, the salt in seawater also corrodes the bottom. Regular wash for your boat is essential to expend a lifetime of the coating. The magic microfiber cleaning sponge is mild for the hull surface but can remove stains with ease.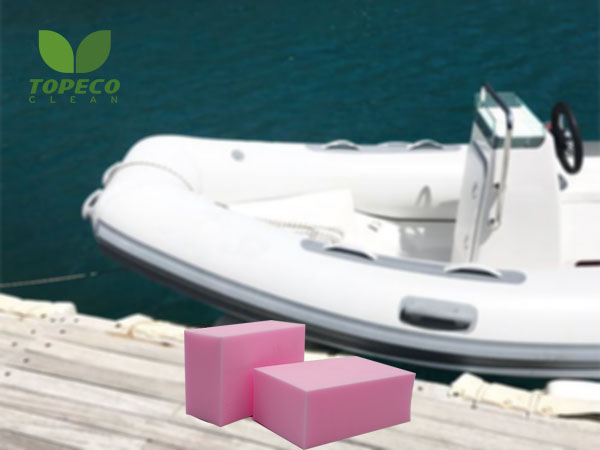 The Advantage of Microfiber Magic Sponge Compared To Other Fibers
The structure of the microfiber melamine foam shows fine and even open-cells, completely connected by fibers. However, the original sponge, like PU sponge, its material has semi-open structures with low porosity. Structurally, we can understand the reason why microfiber magic sponge can take stains away easier than PU. What's more, the interior of fibers has nano-particles, which make magic cleaning sponge be the lightest plastic in the world.
Not-recommended Usage
The hyperfine microfibers in the magic sponge is as hard as glasses, working like mildly abrasive sandpaper. According to long-term users' experience, it might take a little finish off for some surfaces, including car coating, real leather, highly polished wood, and some delicate materials easy to losing color. If unknown to one object, you can ask us. Or do a test in an inconspicuous area before using one.
White Microfiber Magic Sponge Supplier – Topeco Clean
Because Topeco Clean offers unique services, we earn the trust of many customers from the UK, USA, and NZ in 2019 and 2020. The first one, comprehensive teams of sales and after-sales help to solve your problems with magic microfiber sponges. Secondly, advanced production techniques and machines in-house and skilled workers enable us to create superior bespoke shaped microfiber magic sponge. Thirdly, Topeco Clean can maintain a price advantage by relying on a powerful factory. Also, the order will accept processing at the most rapid speed here.