Magic eraser bath scrubber sponge is like a piece of rubber with a stain on it. It can be used to clean many parts of the bathroom, especially the sink. Stains splashed everywhere from washing, washing hands, and disinfecting every day. After prolonged use, a layer of yellow stains will appear on the countertop, which is difficult to clean. The Nanotechnology magic sponge cleans with just some water. In addition to cleaning bathrooms, it can also clean dishes, white sneakers, etc. Magic eraser bath scrubber sponges have received a lot of accolades because of their multifunctional usage than other ordinary sponges.
Compressed Magic Eraser Bath Scrubber Sponge With With Higher Costs
The presence of nanosponge makes people's home cleaning much easier. Topeco Clean magic sponge appearance replaced many cleaning tools and also replaced tedious cleaning steps. You will hear about the use of the sponge and the good reviews through various channels, such as Google, Alibaba, and the words from the mouths of neighbors, relatives, and friends.
The quality of nano sponge is really slightly better than traditional cleaning sponges. This is recognized and praised by everyone. The magic eraser bath scrubber sponge is constantly improving to meet the needs of the public. Topeco Clean sponge is stronger and more durable when compressed with its inner material. Different densities for the same cleaning effect and lower cost. The compressed magic sponge still feels as soft as before, but its durability and toughness have increased. Manufacturers will also print different patterns, different sub-shapes, and different colors on the surface of the sponge when making. Moreover, all the designs are made according to contemporary fashion trends. Customizing and providing sample services are also the best buying options Mr. Topeco can do for our customers.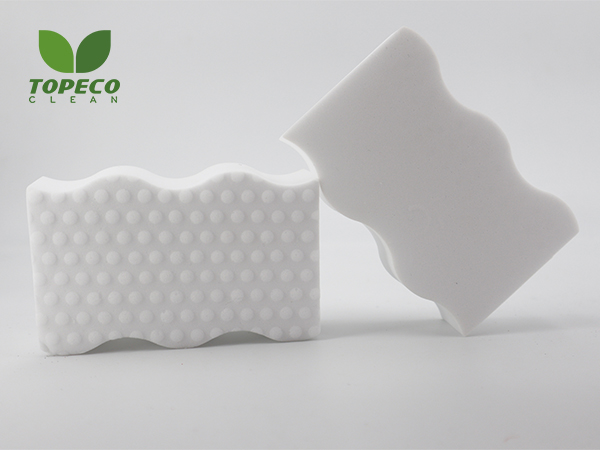 Magic Eraser Bath Scrubber Sponge For Special Cleaning
Special cleaning is an important household part of life, but the cleaning task is not easy for everyone. You may choose to call a cleaner for convenience, one time may cost about 300 yuan one time. Then you have to do it yourself. This side to recommend a good tool by the way – nano sponge magic wipe. The magic of this magic eraser bath scrubber sponge lies in what cleaners are not used, only need to dip the water gently wipe no need for any chemical cleaner and detergent, the original so dirty microwave oven interior immediately shiny as new. Used to scrub tea cups is also great, coffee and tea stains can easily scrub, and no longer need to squeeze toothpaste with a toothbrush is so troublesome. And like the corners of the wall-breaker is usually difficult to wash off with a rag, with this magic wipe all kinds of nooks and crannies can be taken care of, very good!
Clean window. Cleaning windows with a wet nano sponge is easy, using only water without foam. After cleaning with a wet sponge, use a dry rag or a dry sponge to wipe off the water droplets on the windows.
Clean sofa. Don't worry about stains on the sofa, keep the sponge at home to clean up the snack residue on the sofa at any time. Instead of toilet paper cleaning, simple and good.
Clean dead cleaning corner. Cutting the nano sponge into many small pieces is the best way to clean dead corners around your home.
Wipe up the floor. Internal microfiber structure helps magic eraser bath scrubber sponge works so well. Hair and food residue is not a problem for a magic sponge eraser.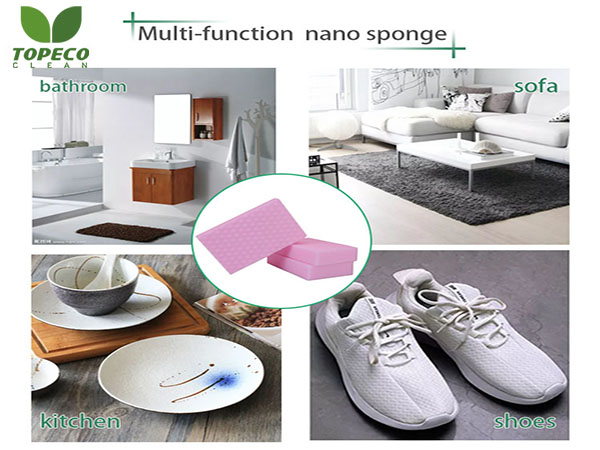 Black Tech-Magic Eraser Bath Scrubber Sponge
The effect of the sponge only after you use to understand what the Internet says is true or false. I had doubts about his magic before I used it, and only after using it personally did I understand the mystery behind the sponge.
Magic eraser bath scrubber sponge is mainly made from melamine foam, as an abrasive used by many people. Melamine foam sponge blocks are clean with water only, without any detergent. It has powerful functions such as super stain removal, time-saving, labor-saving, and convenience. Removes stubborn stains with a simple wipe. The high-density cleaning sponge uses a physical decontamination mechanism, relying on the nano-capillary open pore structure within the sponge to automatically absorb aged dirt from the surface of the material. When cleaning, the interior works like a myriad of ultra-powerful micro-vacuums at work. Magic eraser bath scrubber sponge with 99.9% natural antibacterial effect, no chemical cleaning agents. It is non-toxic and safe, super effective, and does not hurt your hands. It is both an economical and environmentally friendly characteristic cleaning product. The cleaning effect of the sponge is like black technology, with a light wipe, the stubborn stains are removed.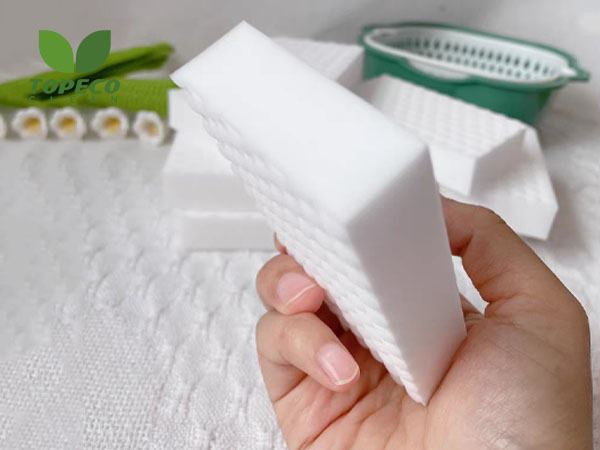 Low Price But With Higher Cleaning Power
Cleaning magic sponges are widely used by people not only because they have many applications, but also because of their low price, which is the most popular point. Since the cost is very low, the selling price in the market is also generally very low. In supermarkets, you can see sponges are sold by the packet. For only about $3, you can get a large pack of sponges. Then the wholesale price will be even lower.
Topeco Clean specializes in providing utility household cleaning products. We are a reliable manufacturer, already recognized by our customers, with professional production and marketing of magic sponges and other cleaning tools, exporting to many countries such as the USA, Southeast Asia, Europe, Australia, and South Africa. Of the high quality and enthusiastic service, we received many highly favorable reviews from our clients.
The cleaning products here have got international quality recognition like SGS, MSDS, and CRS. Free examples and OEM, and ODM are available for you.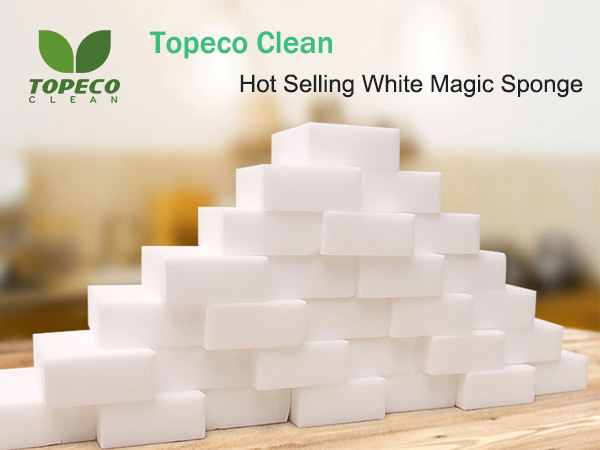 Compound Magic Eraser Bath Scrubber Sponge
If you think the single-design nano sponge can't meet your needs, the compound sponge we launched will surely get your favorite. Combining a scouring pad, non-woven fibers, and PU into one multifunctional magic sponge enhances the cleaning power and durability received by more people in the market. A nano sponge with non-woven fibers, designed with two cleaning items may better clean up all stains.
The unique design is not only reflected in the combination of materials, but also in the color of the sponge. White, pink, and gray is the popular color, other colors can be customized according to your needs and like. What's more, the shape of the magic sponge show you like S-shaped, wave-shaped, and so on.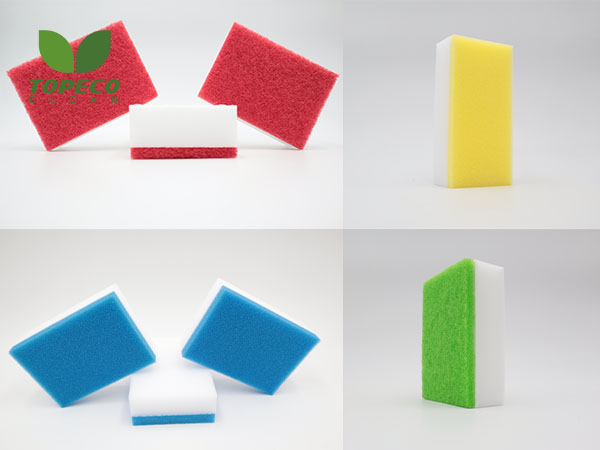 Magic Eraser Bath Scrubber Sponge Brush
A cup is an essential daily drinking container, and cleaning it is an important part of your daily routine. Different cup mouth design and different cup shape design makes cleaning the cup a problem. Coffee stains, tea stains, and limescale on the mug affect the appearance of the mug and the mood of the user. A melamine cleaning sponge brush with a long cleaning handle greatly reduces the burden of cleaning. You can adjust the handle of the cup when cleaning longer cups.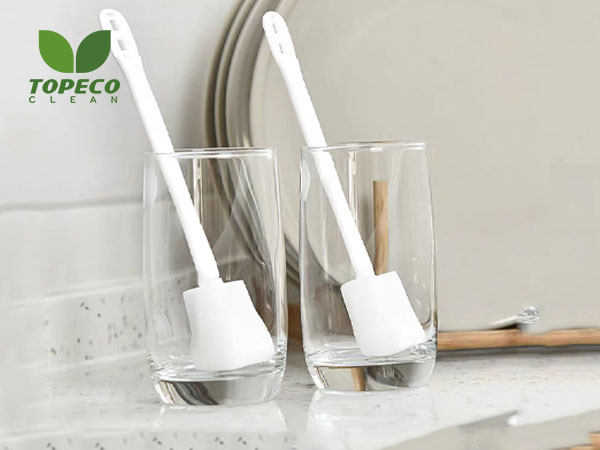 Is The Magic Sponge Toxic?
Magic wipe sponge is non-toxic. Many people believe that the magic wipe sponge toxic is due to excessive formaldehyde, but a series of experiments show that there is no formaldehyde over the limit. It has good physical stability itself and is insoluble in water. All parameters meet the standard and can be used with confidence. One of the characteristics of formaldehyde is extremely soluble in water, usually use the nano sponge magic wipe dishwashing is first soaked in water before using. And with a pore structure of over 95%, it is easy to absorb water. So even if there is some formaldehyde inside the nano sponge magic wipe, after dissolving in the water there is very little residue. And formaldehyde is not in a confined space when used, and can not wait for the enrichment of how much, it has dissipated.
I really recommend everyone to use the nano sponge. Ground floor environmental protection, save water. It is a new contemporary cleaning tool. In my first use, simply can not stop.