The magic eraser sponge is the lightest and most effective cleaning product in the world, so what are magic eraser sponges made of? It can clean stains quickly without any chemical detergent required. The soft surfaces will not scratch objects. Also, it is not like some detergent leaving chemical residue dangerous for health. Let's talk about what are magic eraser sponges exactly made of together. Who gives magic eraser sponges the cleaning talents?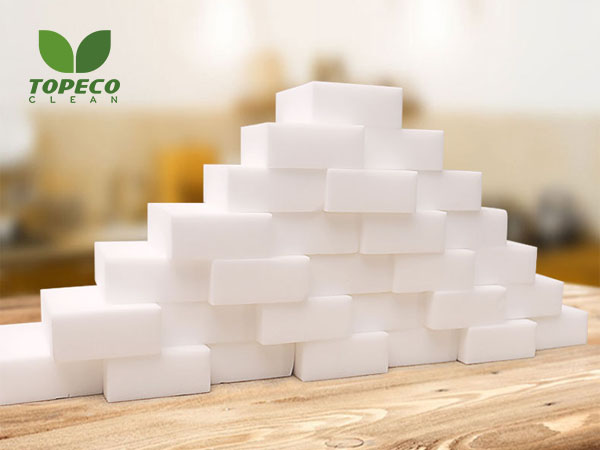 What Material Are Magic Eraser Sponges Made of?
Many people want to know that what are magic eraser sponges made of. Some people guess that there must be transparent chemical detergent inside. But this statement is inconvincible obviously because there is no bubble during use. As a matter of fact, magic eraser sponges are made of formaldehyde-melamine-sodium bisulfite copolymer. The main components are melamine foam that is a kind of lightest plastic. Therefore, some people will ask again how plastic get powerful cleaning ability.
Why It Performs So Well On Cleaning?
Since we already know what are magic eraser sponges made of, I will tell you melamine foam how to work. Through processing, it will become magic eraser sponges. It consists of 3D mesh structures with even and intact open-cells. These nanostructures are so hard as glass. Given its countless open-cells, it feels soft. After wet, water can activate magic eraser sponges. Make use of the capillary phenomenon, the magic sponge can dig in and adsorbing stains from object surfaces.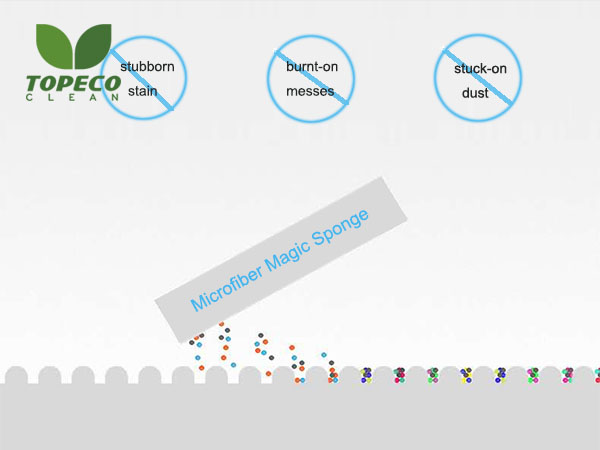 Other Characters It Has
High flame-retardant. It has reached GB 8624-2012 B1 class, DIN4102 B1 class, and UL 94 v0 class. If exposing to fire, it will be carbonized directly and stop further burning.
The sound absorption properties. The 95% high open cell ratio makes noise easily enter in sponges and disappear soon.
High-temperature resistance. The magic eraser sponge can work under -220℃ to 240℃ for a long time.
Heat insulation. The 3D mesh structures can block air convection to carry out heat insulation and preservation.
The lightest plastic in the world, the density can be a minimum of 4kg/m3.
The Wide Applications About What Material Magic Eraser Sponges Are Made Of
The material that magic eraser sponges are made of possesses all the above characters. Except for daily cleaning, aircraft manufacturers also make full of lightweight to increase the plane's speed. Its fire resistance and heat insulation enable the buildings to be safe when an unexpected fire broke out. The excellent sound absorption can effectively reduce the noise at stations and airports.
Professional Manufacturer – Topeco Clean
Topeco Clean provides the magic cleaning eraser sponge for many years. Cleaning is the service direction that we pursue. The manufacturers need to adjust processing techniques to different fields. The magic eraser sponge is necessity for household cleaning, which asks for more elaborate and eco-friendly processing techniques. However, Topeco Clean aims at unremittingly developing and producing the magic sponge cleaner with high quality and novel style products for clients from all over the world.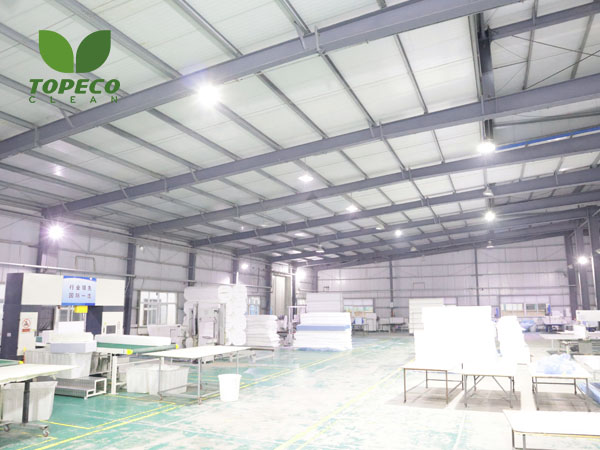 Why Do People Call It Magic Eraser Sponge?
The magic sponge is like a pencil eraser, only taking away stains but not hurting surfaces. Besides, the nanostructures will break gradually during use. The magic eraser sponges are consumables and will become small slowly as you use them.
The Rumor About What Magic Eraser Sponges Are Made Of
About whether it will harm our health, as long as you buy the products from regular manufacturers with a proven technique, like Topeco Clean, you can use it trustingly. In our life, the production of many items makes use of formaldehyde, like the sofa, table, dishes, PU sponge, and child's toys. That not means that all these products are dangerous to our health. The finished magic eraser sponge is totally non-toxic. The formaldehyde only exists during the processing and becomes tough resin non-toxic after mixed with melamine. You will be safe forever as long as you don't use it on cleaning your skin and swallow it.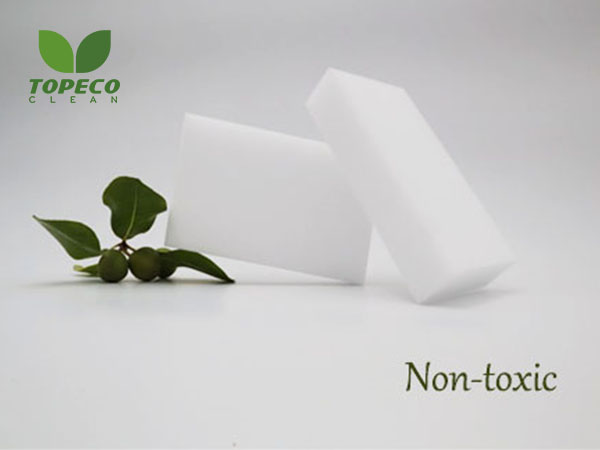 One Warning Label
After talking about the material magic eraser sponge made of, we know they work like gentle sandpaper. The magic eraser sponge has strong absorption for stains. It is not suitable for some painted and highly glossy surfaces, like leather, car body, and vinyl flooring. However, that not means that you can't use it absolutely. Before you start to work, you can gently erase an inconspicuous area to test.
Where To Use Magic Eraser Sponges?
The prime usage of the magic eraser sponge is to cleaning the home, including the kitchen, bathroom, wall, and floor. But it doesn't stop here. For car, office area, boat, outdoors, you all can use it to clean almost all surfaces. Due to its excellent stain-removing capabilities, some property companies and homemaking companies have already made use of magic eraser sponge to raise work efficiency. But not recommend to use it on resin, glossy, painted, screen, and rough wood surfaces.