The Mr. Topeco magic eraser sponges household cleaning for sale in the market including Alibaba, E-bay. Many types and designs in the topeco clean are hot sold online such as nano sponges with PU, nano sponges with scouring pad, and nano sponges with non-woven fibers. These multi-purpose magic sponges are perfect for your impossible messes all around the house like marks on walls, stubborn bathroom soap scum, and baked-on kitchen messes.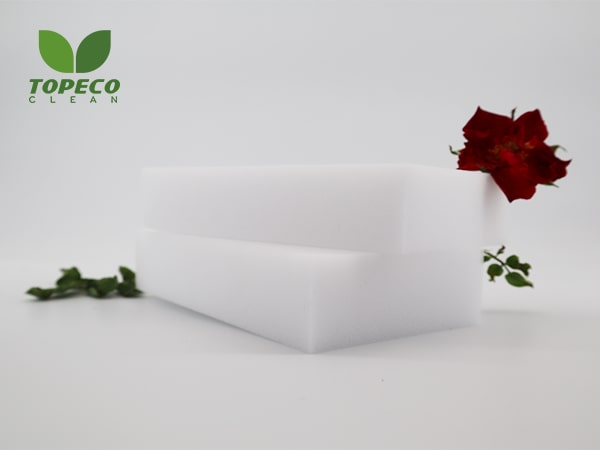 Why Magic Eraser Sponges are So Popular?
Features
Excellent Cleaning Power. Internal porous structure makes the magic sponge erasers absorb tiny dirt so well. Besides, melamine foam magic sponge also has 99% natural antibacterial ability.
Eco-Friendly. Physical decontamination is the main part that consisted magic eraser sponges. No need for chemical cleaners. Cleaning just with some water.
Light. The magic melamine foam held in the hand a completely weightless feeling.
Micro-structure. The sponge relies on the nanoscale capillary open pore structure inside the sponge to automatically absorb stains on the surface of the object during the wiping process.
Save Money: Using a nano magic sponge erasers instantly saves money on detergent and reduces the amount of water used for washing.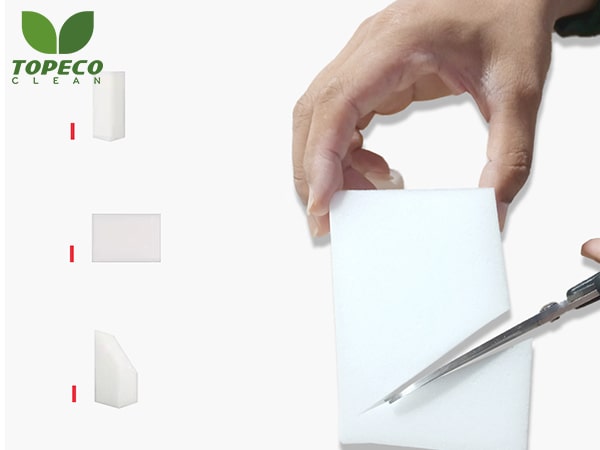 Applications
The sponge can contact with the object well, so that the contact surface of the nano sponge and the object almost becomes a vacuum, thus generating a great adsorption force. Suitable for cleaning uneven surfaces, and deep stubborn stains. Easy to clean, no scratches. Simple and easy to use.
Remove clothing stains
Blotting a clothing stain with a dampened magic eraser sponge does a good job. Whether it's ketchup or grease, the sponge can remove it for good after rinsing it clean.
Refresh white sneakers
Stuck with white sneakers that are caked with dirt or mud? Give the magic eraser sponges a chance. Fret not, a damp magic eraser sponges can remove anything from grass stains to scuff marks in seconds. Refresh your sneakers almost like new.
Clean and polish your jewelry
Looking for a way to freshen up your gold and silver jewelry without taking it to the cleaners? Just grab a moist Magic Eraser and delicately scrub them until they shine.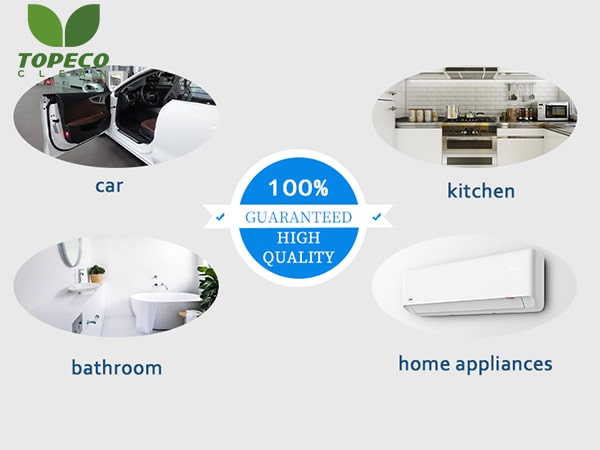 Mr. Topeco Magic Eraser Sponges
Topeco clean enters the household cleaning power for over 10 years. The sponge products here have passed SGS, MSDS, and CRS international quality recognition. Feedback received from our customers over the world point out that we are worth being trusted. We support customized services like logos, packages, and colors made by our professional designers.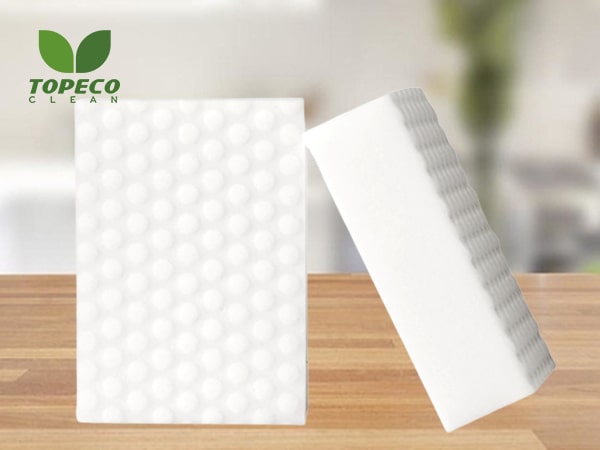 Cautions
Do not rinse the food utensils with water after using this product.As the magic eraser must be used with water, please do not use it for electrical products that are not suitable for contact with water.
This product may break when used on a convex surface or when wiped too hard.
Please do not use bleach or hot water clean poison will make the sponge yellow and deterioration.
Wipe the leather chair, please note that do not repeatedly wipe with excessive force, will cause excessive loss of sponge and injury to the leather chair.
When using this product, please keep away from power and fire.