Magic sponge pink is truly incredible for household cleaning or cleaning stuff just like its name implies. It can be used everywhere. From scrubbing off that stubborn ring that's been on your bathtub for ages to removing scuff marks from your favorite pair of sneakers, magic sponge pink handles those messes for you easily.
Why Is Magic Sponge Pink So Good?
First of all, we have to start with the material and structure of the magic sponge pink. It is made of melamine foam using advanced nanotechnology foam, its internal three-dimensional mesh open pore structure. This structure allows the magic sponge wipe dipped in water in the wiping process can automatically adsorb stains on the surface of the object. Magic sponge pink belongs to the pure physical decontamination, both safe and environmentally friendly.
What's more, it is not like a normal sponge. Magic sponge pink is blocks of melamine foam, comprised of microscopic air bubbles encased by threads of hardened melamine resin. When internal pores are activated, their clean power as tough as glass. The blend of melamine and those microscopic air foam work together to clean when you rub magic sponge pink across a surface. Because of the structure of the internal openings of the magic sponge wipe, its adsorption on the stain in the water squeeze rinse can be discharged. After that, it can be used again, which is very convenient and hassle-free.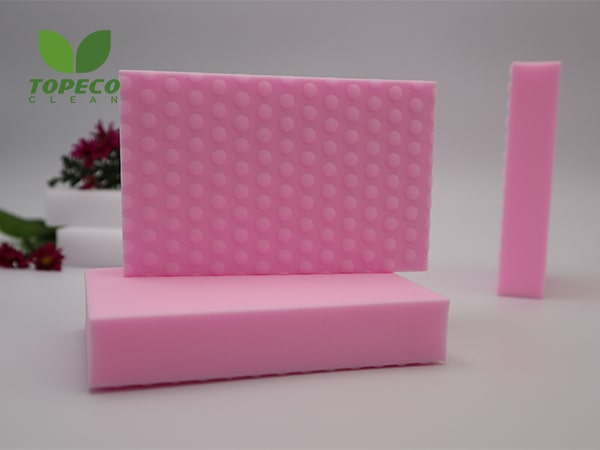 Magic Sponge Pink Sheet For Cleaning Keyboard
If you think the sponge block is not good for wiping the dust off the keyboard, then the sponge sheet must be suitable for you. How do you always clean the keyboard? Wipe it with a wet rag? Or directly unplug the keyboard and power rinse with water? If you are tricked, please read this article, will certainly open the door to a new world for you.
First of all, the keyboard is an electronic product, water will damage its circuitry or even cause danger. Take a sheet of magic sponge pink, wet it, and wipe it on the surface of the keyboard. The nanosponge is very absorbent, so do not worry about water seeping into the keyboard. It is just thick enough to fit into the cracks of the keyboard. Wipe back and forth a few times you will find that whether it is handprints, grease or fine dust, or even the spoils we can not see, magic sponge pink can be thoroughly clean.
Next, you can use a dry sponge sheet to wipe the keyboard again. Absorb excess water droplets on the surface of the keyboard. Shine the surface of the keyboard. Thus, the keyboard will look new.
If you have magic sponge pink and sponge sheets at home, you can use them together. You can also cut it into the shape you need for cleaning.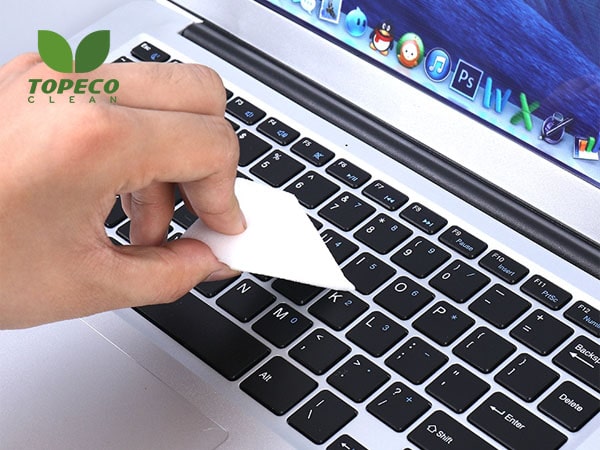 Magic Sponge Pink For Bathing The Plants
Greenery is a very good potted greenery that many friends keep at home. However, the leaves of the greenery are more, and after a long time of breeding, there will be a lot of dust attached to the surface of the leaves. If the dust is too much, it will affect the photosynthesis and respiration of the leaves, causing the growth of the greenery to be affected. The fact is that you need to scrub the leaves of the greenery regularly to ensure that they are clean and hygienic. So how do you clean a dirty green leaf?
Wipe with a nanosponge. First, wet the sponge with water, press dry water, then use one hand to hold the blade, and one hand with a rag to wipe off the dust on it. If the sponge is dirty, you need to wash it just with water and wipe it more than a few times to clean. Wipe the process needs to pay attention to the strength. Soft magic sponge pink both to wipe clean leaves, but also do not hurt the leaves. This way the dust will be absorbed by the magic sponge pink and the leaves will become much cleaner.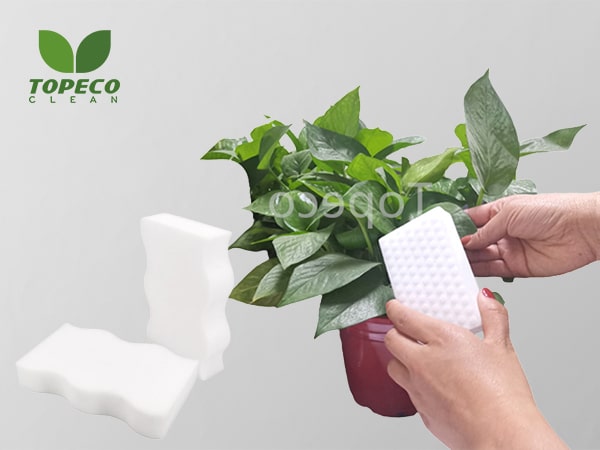 Magic Sponge Pink-Save Your Bedrooms
One-third of the day is spent in the bedroom. That's why a neat, clean bedroom environment is so important. Today we share with you tips on cleaning your bedroom with a magic sponge pink to make your stay more comfortable.
Glass Cleaning
Glass is often scrubbed, but there are always water stains or dust that can not be cleared. That is because you have not mastered the method. Use a dampened sponge block without excessive moisture. Wipe several times over the stained area. The water stains and handprints on the glass will be washed off. If you can't wipe from high places, you can tie the sponge to a pole and use it.
Closet Cleaning
Furniture cleaning products wipe with a small magic sponge pink dipped in furniture cleaning wax containing soft abrasive ingredients. Wipe once a month, you can keep your white closet shiny and new for a long time. If it is a soft closet, please first wash a wet Germany Cleaning Cloth with water, wring it out and wipe off the dust and dirt on the surface of the closet. Then wipe the surface of the closet lightly with a care agent one or two times (do not use care products containing wax).
Clothes Cleaning
The dry or dampened nanosponge can also be used to clean lint in your closet. Clean lint from clothes without static electricity. Or to clean animal hairs attached to clothes. No detergent is needed, a simple wipe and the ash layer are effectively removed.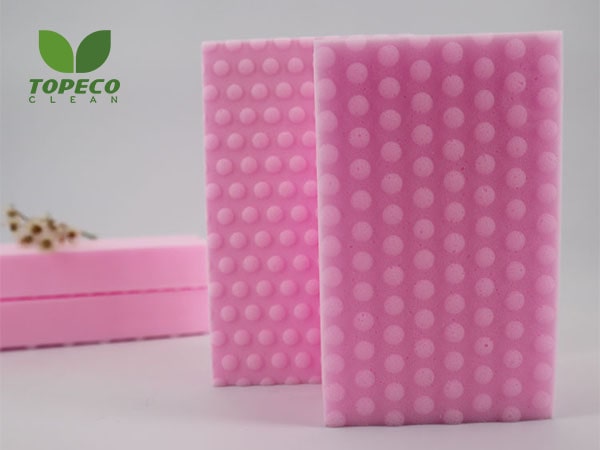 Size Of Magic Sponges Pink
The standard size is 10x6x2cm, and large sizes of 10x7x3cm, 11x7x4cm, 11x7x4cm, and 12x7x2.5cm are all preferences by the world market. Besides, an oversized white magic eraser, like 250x100x28cm, Topeco Clean can make them for you. As a company that strives to be innovative, we offer a custom sizing service. We offer customization not only in size but also in other elements that our customers like. So, please feel free to contact us for any product requirements you may have.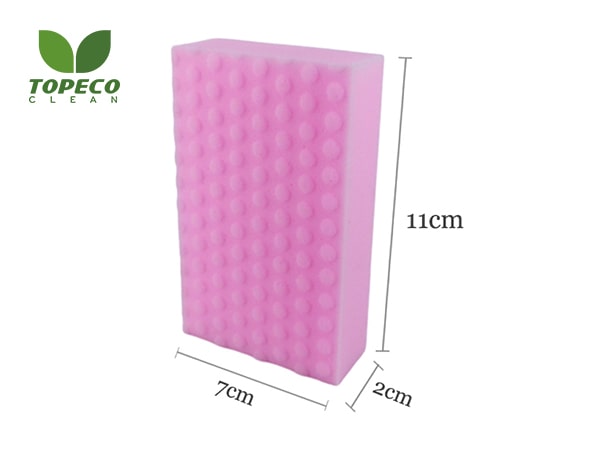 How To Use The Magic Sponges Pink?
Use the following methods:
Magic sponges pink in water wet, with no detergent, care for the skin. Easy to use, can be cut into any size fast.
Hands gently squeeze out excess water, do not wring.
Gently wipe the parts that need to be cleaned to remove dirt. When wiping items, do not use too much force to avoid damage to easily brittle items.
Wipe the dirt floating up after wiping with a rag to dry.
Will be used after the magic sponge pink into the water soak or faucet under the rinse, no need to wring rub, dirt can dissolve on its own, and then repeatedly use.
Nano sponge as an eraser can be used until the last small piece, not waste.
Caution: Due to wear and tear during use, the product volume will gradually become smaller, please dispose of as non-combustible items when discarded. Wash and dry naturally for safe keeping, do not use acid bleach.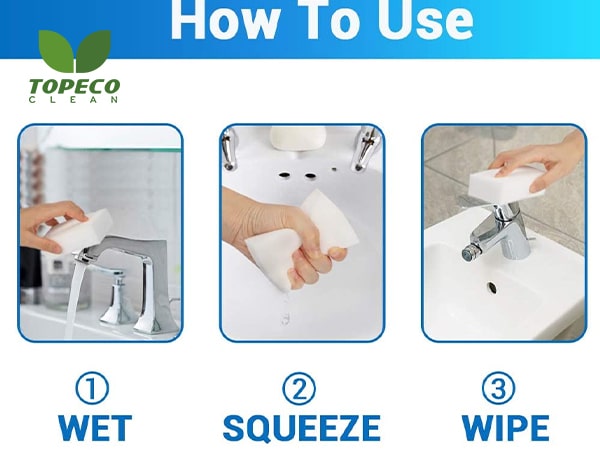 Mr.Topeco Magic Sponges Pink
Topeco clean, is an export and import company, located in China, Henan Province. The sponge products here have got SGS, MSDS, and CRS international quality recognition. We are pursuing the progress of technology all the time to provide more dense and even micro-hole melamine foam. The production plant and warehouse cover an area of some 30,000 square kilometers to ensure orders are on time. At present, Topeco Clean can already produce almost all magic sponges on the market.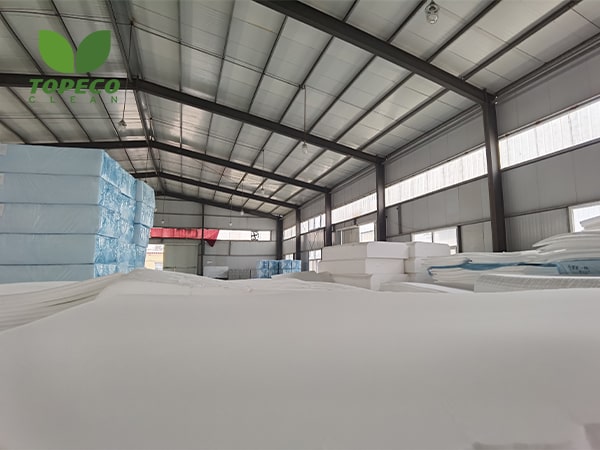 Magic Sponges Pink With More Designs
Multifunctional magic sponges pink can be designed into many types. The popular size of it is 10x6x2cm or 10x7x3 cm. Apart from single magic sponge pink, magic sponge pink with scouring pad, magic sponge pink with PU, and magic sponge with non-woven fiber are also hot selling on Alibaba. The color of the nano magic eraser sponge can be white, pink, gray, and customized color.