The high density magic sponge is suitable for use in many fields, the flame-retardant ceiling at malls, sound absorption on planes, and thermal insulation in the construction industry. In general, the method of distinguishing sponge density is on account of KG/M3, the weight of the sponge per cubic meter. But now the sponge that we talked about is the magic cleaning sponge. Also, the magic cleaning sponge has some different densities. For low density, 8kg/m3, we call it the original magic eraser. To conveniently distinguish, 16kg/m3, 24kg/m3, and 32kg/m3, these were known as the high density magic sponge.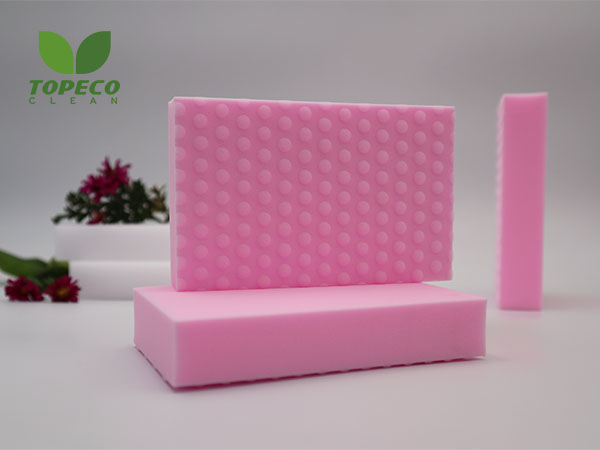 Better High Density Magic Sponge
High-density magic sponges are an enhancement to the original magic sponges. It makes use of high-density foam to deliver excellent cleaning results. Topeco Clean employs a proven production technique and compression process to overcome the shortcoming of low-density sponge, non-durable, and easy to break. The high-density sponge is more outstanding, compared to low density about toughness, strength, friction, lifespan, and cleaning power.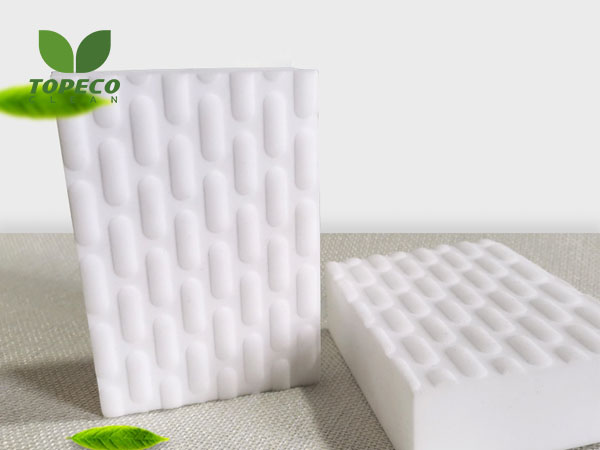 Prominent Advantages of High Density Magic Cleaning Sponge
The innovative nanotube method adsorb stains automatically.
It contains without any chemical detergent.
No harmful for the skin.
Arbitrary cutting.
The firm body is suitable for cleaning rough surfaces.
Reinforce the power of removing dirt prominently.
Clean a much larger scale, such as kitchen, bathroom, office, balcony, and so on.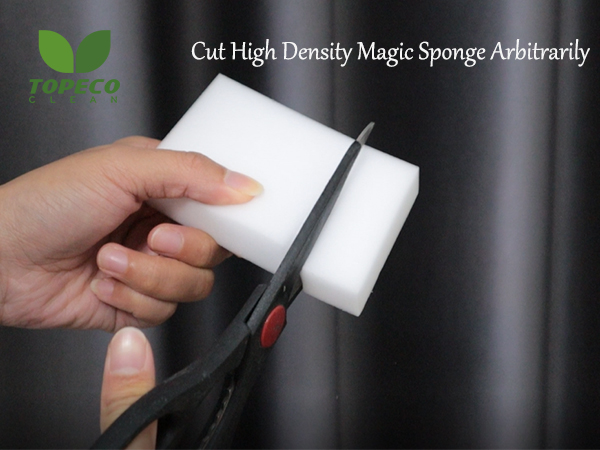 Uses of High Density Magic Sponge
Because of its excellent performance, it will most frequently eliminate more stubborn stains. For example, set-in dirt on white shoes, coffee stain on mugs, grease on stoves, and darken sofa, they are all waiting for the right tools to save them and make glow again.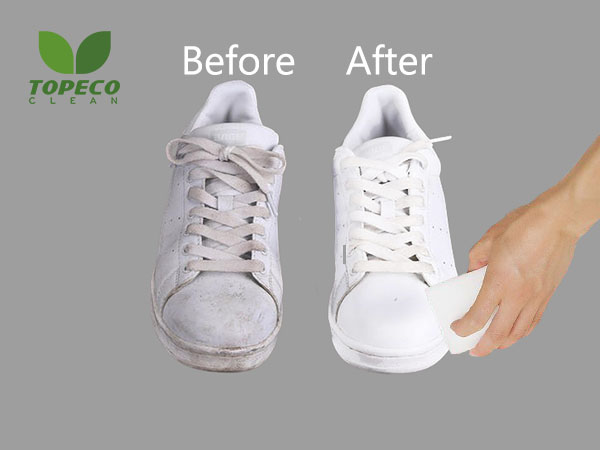 The Kinds of High Density Magic Sponge
The material of high-density magic sponge is melamine foam with high open porosity and physical cleaning principle. 16kg/m3, 24kg/m3, and 32kg/m3, these are three kinds of density through 2X, 3X, and 4X compressing respectively compared to the original magic block sponge. Greater density feels tougher, but the cleaning ability is more powerful, the usage is more durable.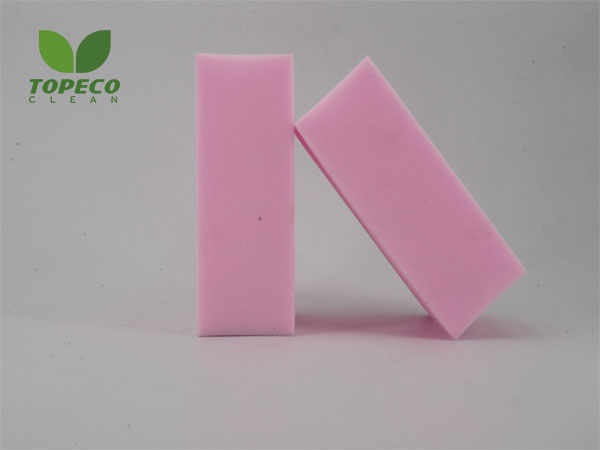 Colors And Shapes of High Density Melamine Sponge
High density magic melamine foam includes three colors, white, pink, and gray. Besides, the most popular one is a high-density white magic cleaning sponge. In addition to the magic sponge square, Topeco Clean also has a high density melamine foam sponge with wave-shaped edges and textured surfaces. What's more, the improved design makes it easy to hold and increases cleaning ability.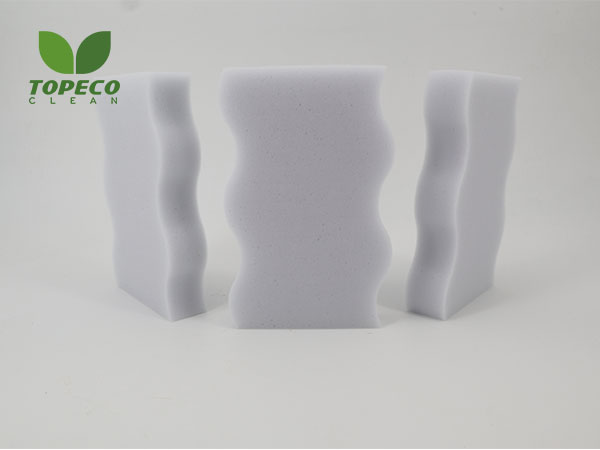 Compound High Density Magic Sponge
When other magic sponge suppliers still study to produce HD melamine foam. Moreover, we have found a new hot-pressing producing process to create the compound magic sponge. Polyurethane sponge or scouring pad can be stuck on the surface of high-density sponge foam. By the way, PU sponge also can be put middle. Also, high-density foam blending wave-shaped edges and textured surface designs have come out too, which meet the different demands of customers.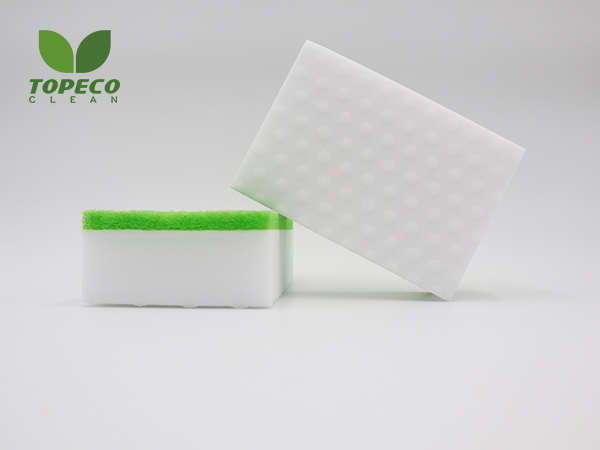 Price of High Density Magic Cleaning Sponge
In a manner of speaking, at per centiare, a high-density magic sponge is immitted by 2X, 3X, or 4X melamine foam. Therefore the price will be higher than the same size's low density for sure. But Topeco Clean has high automation production lines and skilled workers. Consequently, the cost of production was reduced, which means that we can provide customers high-density products with higher quality and low costing.
How To Identify of High Density Magic Sponges
From a distance, they look very similar. But, high-density magic sponges have better flexibility and elasticity. Also, the structure of melamine foam looks tighter. Regardless of poking or wringing, it will not break. The magic sponge acting like an eraser will consume gradually. Consumption speed will slower than low density too. What's more, compared to the original one, high density cleaning eraser aims at dealing with stubborn grime. Melamine foam will disappear gradually after a while, like an eraser. So, a high-density magic sponge can use more exceeding time. The dross after using also is much less than the original magic eraser sponge.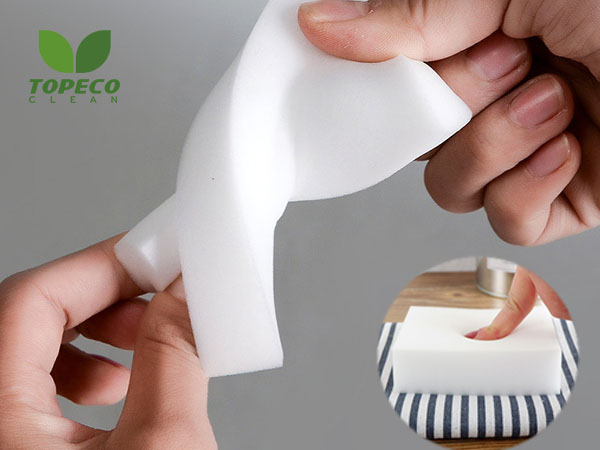 The Low Density Magic Sponge
In general, the open-cells are a little loose. If you put some effort to wring low-density magic sponges, then it will fall apart. For durability, low density magic cleaning sponges are shorter than high density. In conclusion, it is clear that the difference between high-density and low-density from the sheet. How outstanding high density melamine foam sponges are!
| Characteristics | 2X High Density | Original | Advantage of High-Density Magic Sponge |
| --- | --- | --- | --- |
| Density | 16KG/M3 | 8KG/M3 | Higher open porosity |
| Toughness | More 50% stronger | Normal | Tougher, not easy to fall apart |
| Durability | Strength | Normal | Extra durable, hardly crumble |
| Touch | Elastic | Soft | High resilience, make cleaning uniformly stressed |
| Scent | NO | NO | No odorous smell |
| Eco-friendly | Yes | Yes | Not pollute environment |
| Cleaning Ability | Better | Good | More strong cleaning ability |
| Abrasion Resistance | Stronge | Normal | Consume and wear out slowly |
| Lifespan | Long | Short | Longer usage |
2x compressed density vs original magic sponge
Notes of Using High-Density Topeco Nano Sponge
Don't need to match detergent, just with water.
Not use so much water. During rubbing, if inside water flows out, squeezing out excess water before using again.
For thick and tough grime, especially burnt-on messes or grease, shovel them at first and then wipe the rest stains by the magic sponge.
Then, after using, wash out inside stains out immediately. Otherwise, stains and bacteria will get stunk inside all the time.
However, not use it for cleaning these surfaces, like car body, car panel, and screens.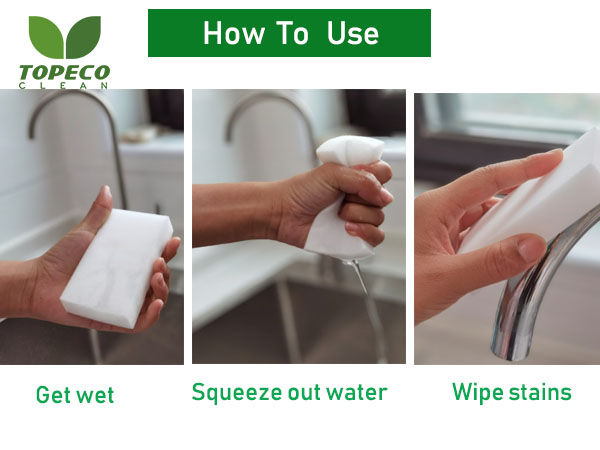 Where To Buy Extra High Density Magic Sponge Near Me?
In the market, there are many suppliers of high density. But for the buyer, they are difficult to distinguish. Sometimes we also are concern that customers buy the incompetent product we know. Besides, the factory of Topeco Clean is one of few manufacturers possessing the production technique of compressed magic sponge. We have nearly ten years of production experience and also a privately owned development team. Export 100% high-quality magic products. For the most part, the packing contains 2 or 4 blocks, and we also have packing with 10, 20, and even much. In other words, Topeco Clean accepts OEM and wholesale, customized packing quantity, size, color, shape, and package type.