Magic sponge sheets of Topeco Clean are a new type of product of magic melamine sponge. The purpose of design is to clear home appliances, especially kitchenware and bathroom. For example, grease or stubborn stain on stovetop knobs, the original magic sponge is hard to reach easily. Topeco Clean gives magic sponge sheets meaning how thin 0.1cm is. It can easily reach and take stains on knobs off. Besides, magic sponge sheets can adopt high density, with more excellent cleaning ability and stronger toughness. The degree of flexibility is also greater. The casual bending will be no big deal.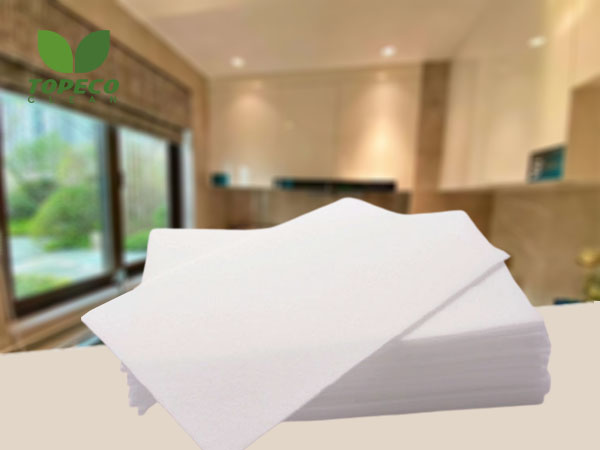 Thinner Magic Sponge Sheets
Magic sponge sheets have two primary advantages, thin and flexible. The thin thickness makes the cleaning easier and thorough, even the tiniest corner and stains in crannies. Using thin magic sponge sheets will be very handy and easy for housework. We can produce various thin thicknesses, 1.0mm, 4.0mm, 6.0mm, and thickness clients need. Due to that, it has another two names, magic sponge cloth or magic eraser sheet.
Magic Flexible Sponge Sheets
The second advantage is flexibility. Our magic sponge sheets can casually reach hard-to-reach places. According to feedback from customers, they love to use the magic sponge sheet very much. But some customers complained that magic eraser sheets they brought from other companies, like Mr.Clean, fall apart too easily. I guess that the reason is immature enough technology. However, our factory uses advanced compress and cutting technology, the magic melamine sponge sheets have super toughness and power for removing dirt. Same price and higher quality here!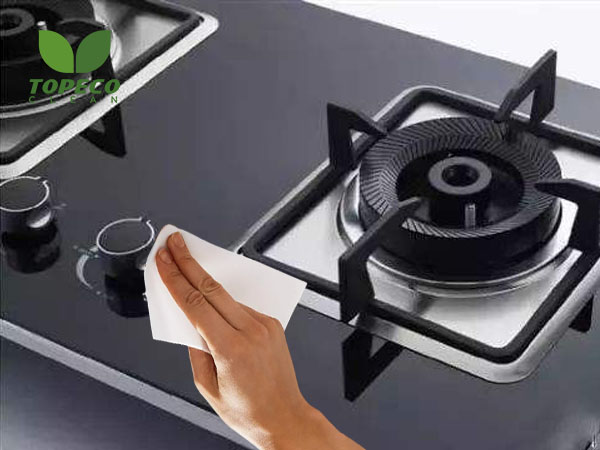 The Application In Kitchen And Bathroom
In our happy daily life, we often meet some cleaning trouble. Like greasy stove, kitchen cabinets, microwave corner cleaning, grimy handles, stainless steel, stained counters. Also, some icky grim, like the yellowed sink, tiles of the bathroom, shower head grime, soap scum. Besides, magic sponge sheets work with water alone. Then don't worry about how to wash out chemical detergent at a small corner.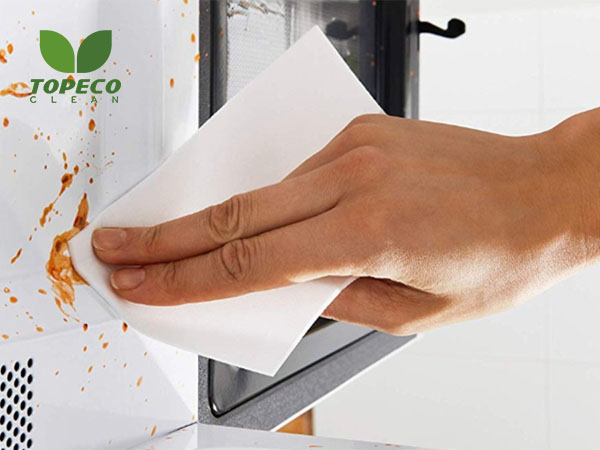 The Size And Color of Magic Sponge Sheets
Topeco Clean can provide any size of magic sponge sheets customers need. The handiest size is 14x9x0.1cm for home cleaning. As I mentioned above, you can choose the thickness arbitrarily. At present, the magic melamine sponge has three colors white, pink, and gray. The white magic eraser sponge is the most ordinary and popular. If you see other colors called magic sponge sheets, like purple or green, these sponges have no same cleaning ability as Topeco magic sponge. By the way, Topeco also offers OEM service, customizing your size, shape, color, and packaging.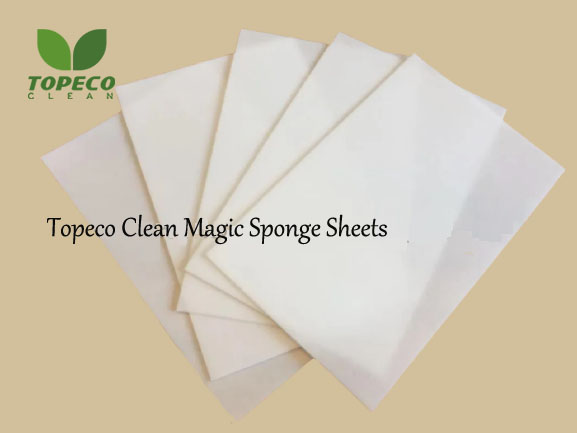 Disposable Magic Eraser Cleaning Sheet
Some cleaning trouble is from our family members, like baby seats covered by the residue of food, cage with doggie's or kitty's excreta. For these, I guess that you are not willing to touch the magic sponge cloth again after using it. Don't worry, disposable magic sponge sheets can help you totally.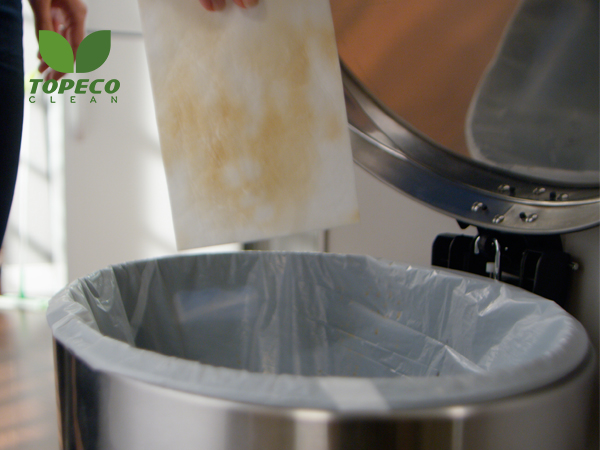 Non-Woven Composite Magic Sponge Cloth From Topeco Clean
Recently we created new and excellent production, combining non-woven with magic eraser sheets. Then the toughness of the product will be enhanced, satisfying customers' requirements about tenacity sufficiently. Another highlight is rich colors, and we can use different color's magic sponge sheet each day. Also, the thickness of the composite magic sponge cloth is still very thin, only 0.5cm and 0.7cm. This Innovation makes the magic cleaning sponge more long-lasting. Customers will never complain that it is easy to tear off.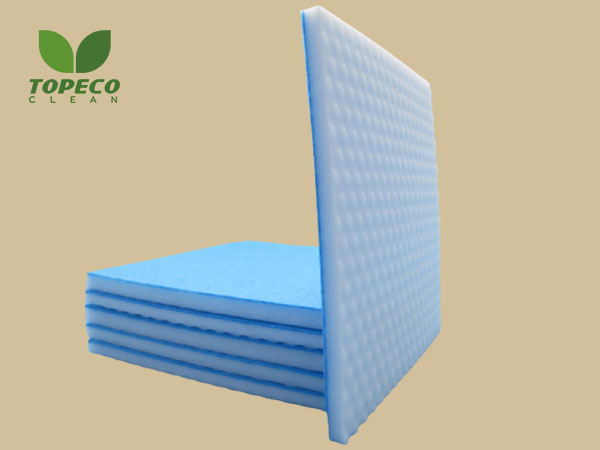 The Packing of Topeco 's Magic Sponge Sheets
The factory packing is the plastic bag and big carton, and the largest packaging unit can contain hundreds of magic eraser sheets. More importantly, to the buyer, Topeco Clean can offer packaging service, inner packing, and sales packing, totally accepting customization. For example, the book page design, like Mr. Clean magic eraser sheets, Topeco Clean can also provide. If you have any thoughts and questions or need some professional advice, please tell us at any time, we will try to help.
The Difference Between Magic Sponge Sheets And Magic Block Sponge
Compared to magic sponge blocks, under the same high density, magic eraser sheet will be thinner and softer. Magic block sponge is often used to clean relative large surfaces, like table, floor, wall. However, magic sponge sheets can clean small corners and icky messes. Magic sponge blocks can be reusable. Its thickness is 2cm at least. Due to that, it is a little hard to reach stains in a tiny place. But, use magic sponge blocks to clean heavy grease or disgusting, which will speed wastage of the magic block sponge. Disposable magic sponge sheets can solve the two problems perfectly.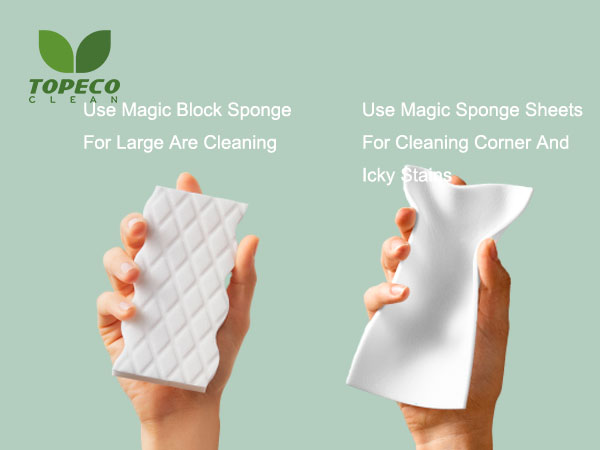 Notes of Using Magic Sponge Sheet
It is disposable goods and can be discarded into a rubbish bin directly. But it is also reusable, especially the type of white magic eraser sponge composite with non-woven. If it is not dirty and isn't consumed after the first use, rinse it under running water. Put it there for the next use. Before cleaning work, remember to soak water. Don't use it dry. Then squeeze excess water out, don't wring it. Or use a spray bottle with water to get the sponge sheet wet during cleaning. By the way, remember to scrub grime in one direction.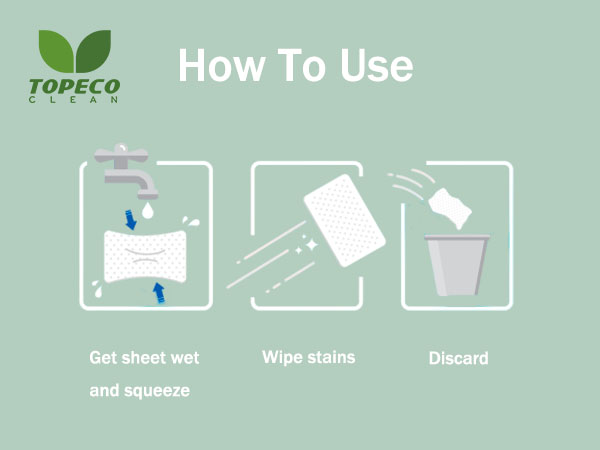 Tips For Storing Magic Eraser Sheet
Don't close to the flame.
Keep away from kids and pets.
The container you put the magic sponge sheet into doesn't refill others, except the magic melamine sponge.
Should I Use Several Sponge Sheets For Once Cleaning?
Maybe you will have some concerns. Is disposable magic sponge sheet wasteful? How many sheets that we should use to clean stains? The truth is you only need one to address once cleaning, including table surfaces, cabinets, sink, tiles. Long-standing dirt also has no problem. Cleaning will become an easy thing. Also, the price is very reasonable, welcome your inquiry. Doing cleaning jobs in a fast and cost-efficient way!