Melamine sponge to clean walls is becoming a hot and popular cleaning way. One of the important parts of home decoration is a wall painting, however, it is especially important to protect the walls.
Does Melamine Sponge To Clean Walls Damage?
As long as you use the sponge correctly, it will not cause harm to the wall. As we all know, there are multiple cleaning tools in the market, but which one is the best may confuse many people. We can't spend a lot of money to buy every kind of tool and try it out. Fortunately, I found a treasure for wall cleaning-melamine sponges to clean walls.
The first time I used the melamine sponge to clean was inspired by Topeco Clean and every article on the page struck me. As it said, melamine sponges to clean walls sold online or offline are very cheaper. A box just needs a few dollars.
After wipe stains on the walls with a piece of magic nano sponge, I just answered this question. Melamine sponge does not ruin the walls under the right using steps. May someone question why need the right using steps? Because melamine sponge is made of melamine foam. Which material is active when combine with water work like sandpaper? Internal open cells automatically absorb stains. So, when using a melamine sponge to clean walls, no need to use too much force.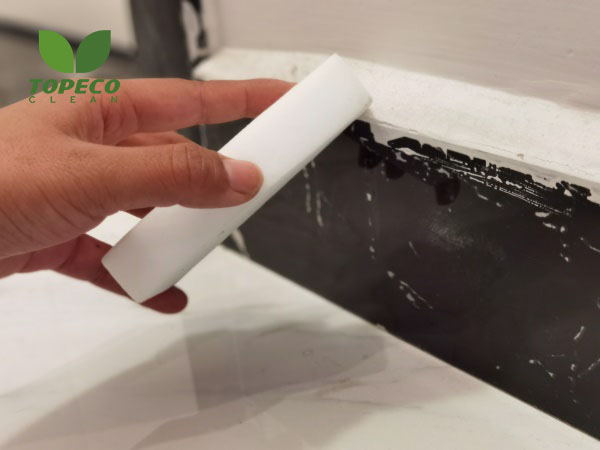 Using Steps Of Melamine Sponges To Clean Walls
1.Soak the cleaning sponge in water and squeeze off excess water with both hands to keep it moist.
2.Gently wipe the stained area with a melamine sponge in the same direction. Keep the sponge wet, otherwise, the cleaning effect is not good.
3.Then wipe off the dirt that floats up after wiping with a cloth or paper towel.
4.After wiping a few times, put the product into the faucet to rinse or soak in water, do not wring rub, dirt can be dissolved by itself, and can be used repeatedly
After wiping, just leave the wall to dry. The sponge can be used many times, so you can wash it up and it put in the vent. If there are any questions when using it, you can contact Mr.Topeco feel free.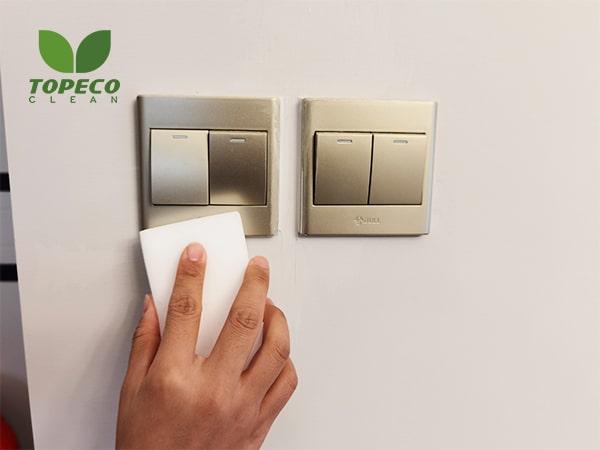 How Does The Melamine Sponge To Clean Walls Show It Is Magic?
The magic melamine sponge has been around for nearly two decades, invented in 2003, and has since become a regular shopping list for many people across the country. The melamine sponge to clean walls also effectively removes stains and wear and tear. But what makes this soft, white sponge work so magically? Topeco Clean's white cleaning tool is made of melamine foam, a material that is both porous and abrasive enough to wipe away marks. Think of it as a very fine, sandpaper-like sponge that cleans differently than most chemicals.
Because the foam is so small, it won't damage most surfaces as badly as real sandpaper, but they work in a similar way. Add a little water to activate the sponge and you're ready to go. The magic melamine sponge to clean walls effortlessly removes most stains from walls and skirting boards. Ideally, you'll want to wipe the stain off when it's fresh, but don't worry if you catch it too late. Active it with water, wipe away crayon marks, fingerprints, or other traces, and watch it magically disappear.