The multifunctional magic sponge for sneakers is highly used in life, not only can clean large objects, but small items cleaning up is also not a problem. Today to explain to you the effect of its sneakers polish.
What's the best way to efficiently get my sneakers yellowed and clean? Everyone should have encountered this problem, and the most common method is probably to mix several ingredients to make so-called cleaning water. For example, using baking soda with vinegar, using a whitening toothpaste, or using lemon water. This approach is effective, but it is more troublesome. It's a waste of time and a waste of supplies. And it is especially important to find a simple and effective method and tools for cleaning sneakers.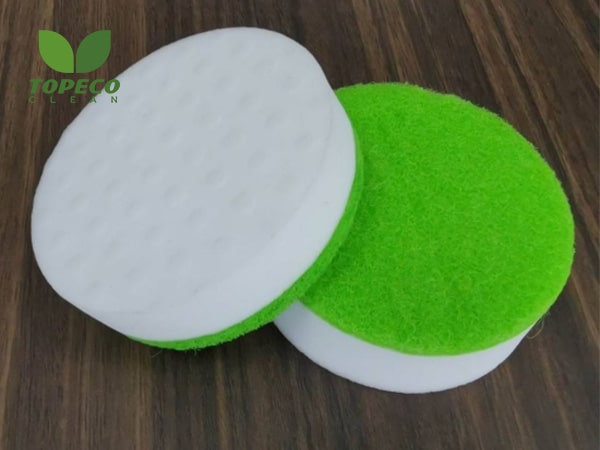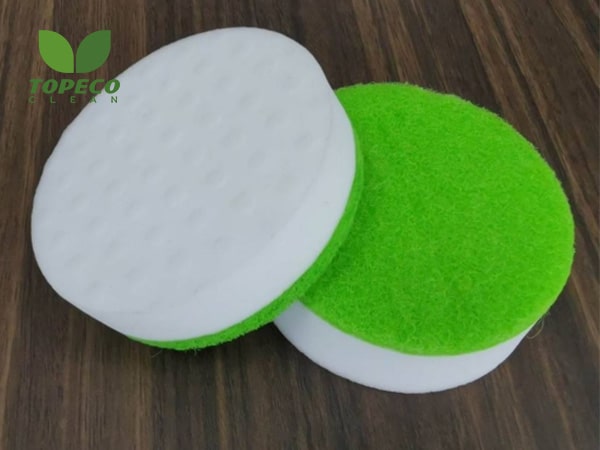 Why Choose Magic Sponge For Sneakers?
As for household cleaning sponges. The magic sponge wipe should be familiar to everyone, it is a smart helper for household cleaning. But he hides little tricks that everyone should also know. Now, do you know it? The product lies in a purely physical stain removal mechanism, relying on the open pore structure within the sponge to absorb surface stains. When working, the white magic sponge can automatically adsorb stains on the surface of the object. This cleaning principle is a common cleaning sponge that can not do. Moreover, it has a 99.9% natural antibacterial effect. It does not contain any chemical cleaning agents, and is super effective and made of fine material.
Then, a magic sponge for sneakers is very suitable. First of all, magic sponge wipe clean up only with water, without adding any chemical cleaning agents. It is easy to operate and saves water. Secondly, it is cheap and very effective to use. Below I will talk about the steps to use, you will know.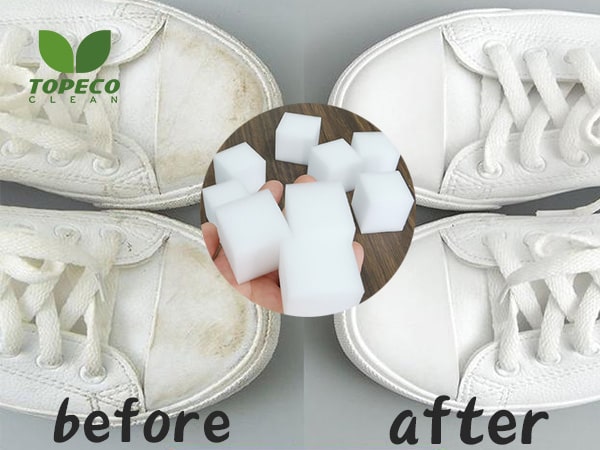 How To Use Magic Sponge For Sneakers?
Step1. Soak the sneakers in water first and clean the fabric first with a shoe brush.
Ste2. Wet the sponge with water, do not need to leave too much water on the sponge.
Step3. Start wiping the dirtiest parts of the upper, the areas that are not easy to clean need to be cleaned a few more times.
Step4. Then use a damp rag to clean the shoes after wiping
Since magic sponge is a daily consumable product, it will slowly wear out like an eraser when cleaning. Do not worry, this is a very normal phenomenon. Because the sponge is made of melamine foam, which will naturally lose while diluting the spoils.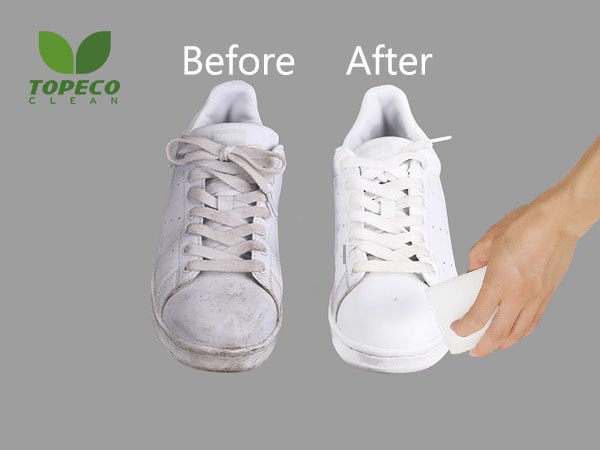 Cleaning Tips
The magic sponge is suitable for the smooth surface most, please focus on the sole, toe box, eyelets, and wedge.
Magic sponge wipes should not be used with bleach or other household cleaners.
Sponge in a dry situation is easy to break, please do not pull it at will.
Do not use it on the skin or other parts of the body. Use on the skin may cause abrasions. Please keep it out of reach of young children and pets.
What's more, Topeco Clean supplies many types of magic sponges, compound melamine sponge is also hot in the market. The product like melamine sponges with non-woven fibers, magic sponges with PU, magic sponge scouring pads, and so on. View more please click here, we are building an amazing cleaning world.