What is a Magic Sponge ?
Do you know Magic Sponge DIY? What made of magic sponges . Magic sponge knows as magic cleaning sponge, magic nano eraser, nano melamine sponge, and compound nano sponge which is mainly made from melamine foam. Melamine foam is safe melamine as raw material made of high-temperature foam, with a porous three-dimensional mesh structure. Automatic adsorption of surface stains during the wiping process, with strong cleaning power.
The element inside the magic sponge is smaller than one ten-thousandth of a hair. It is safe to use, non-toxic, harmless and has physical decontamination. The best function for home cleaning.
Magic nano sponge enjoys many useful functions such as fireproof, efficient cleaning, sound absorption, thermal insulation, thermostability, and lightweight, environment-friendly and cheap. In addition, it can be made with compound material. Nano sponge with PU, nano sponge with non-woven fibers, and nano sponge with scouring pad are all extended by signal nano sponge. Special design and variety of colors mainly attract many people coming to Topeco Clean.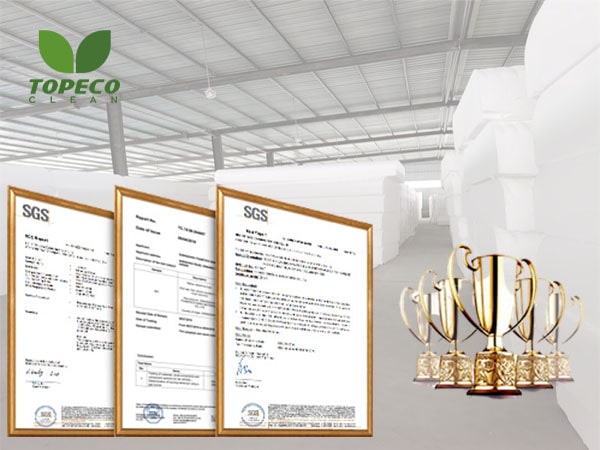 The Magic Sponge DIY can Cut Into the Piece as You Want
A multifunctional magic sponge can be used in many spaces outside or inside the home. The magic sponge block you bought from the market definitely makes cleaning easy. Now, magic sponge cleaning power like its name that be enchanted magic. Many people notice that magic sponges have produced good results after using them. And it is also popular online and offline.
However, there are only a few people can find its magic using way in life. Cutting into smaller pieces is the secret behind the magic sponge. If the object is large, you can use the whole sponge. If the stuff is smaller, you can cut the magic sponge into the small block as you need. Use a knife or scissors to cut it into a shape that is easy to use. Then wipe the object gently when wiping. Brute force will accelerate the loss of the sponge block.

If you just in time got a block of nano magic sponge, then it may be worthwhile to experiment. A smaller square magic nano sponge is most suitable for cleaning your shoes or dead corners in the kitchen. Shape models like heart, animal shapes you like, smile face, and so on. Cutting shapes depending on your favorites and imagination. One scissor, one block of magic nano sponge, easily remove stains, developed the ability to outwit. I think that is your best choice for coming to Topeco Clean.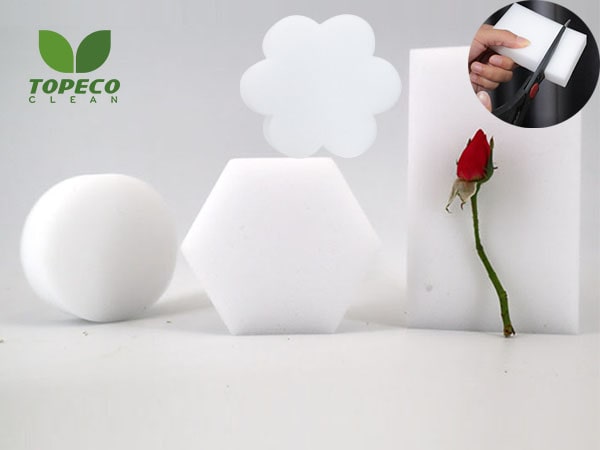 Notices for You When Using the Magic Sponge DIY
Are you clear about when to use and when can not use a magic sponge? Firstly, when can not use. It can not be eaten. If you eat it, it is certainly not good for the human body. For example, we usually use paper, usually with no harm, but eating it will hurt the stomach. And nano sponge has passed the international SGS environmental certification, so you can rest assured that the use of.
There are also some to note such as computers, TVs, camera lenses, and other screens should not be wiped with a magic nano sponge, so as not to wipe away the coating, affecting the use. What's more, the magic sponge adsorption capacity is very strong, easy to lose color or stained leather products. You should first be in an inconspicuous place to try to wipe, confirm how the effect, and then decide whether to use it.

Secondly, for when can to use. This topic is hot among people. Due to its benefits, the magic sponge includes a wide variety of uses, such as porcelain cleaning(dishes, tableware, tea set, bathroom, bathtub, toilet, sink, mop pool, etc), home appliance cleaning(television, refrigerator, microwave oven, oven, air conditioner, fan, rice cooker, etc), leather cleaning(automobile and its interior, leather furniture, sofa, leather bag, travel shoes, etc), office cleaning(desk, computer keyboard, printer, copier, telephone, file cabinet and other surface stubborn stains), kitchen cleaning(faucet, sink outlet, wash basin, stove hood, gas hood stand, etc), and glass cleaning(door and window glass, decorative glass, fitting mirror, vase, lamps and lanterns, and other stubborn stains).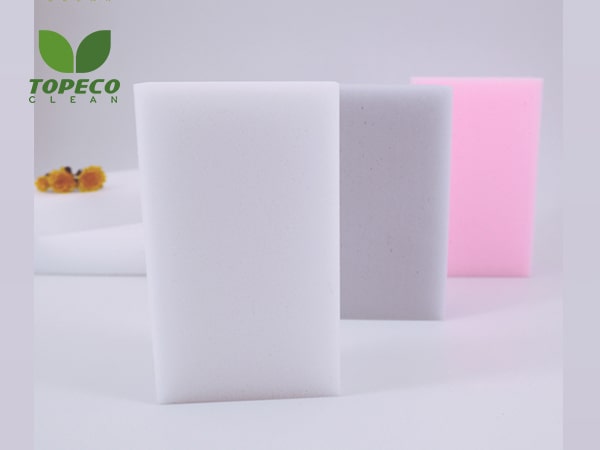 Nano Magic Sponges Have Some Uses You didn't Know about
Sink Cleaning
Are you always worried about cleaning the pool at home? Everyone knows the pool is green and will beautify the overall arrangement outside the home. This topic of making your pool new like a cloud in the sky appeal to people's attention. A magic eraser can be performing its great function for meeting your needs. You should just throw one of these in the skimmer basket, automatically it will absorb water granulated slag. The magic sponge is non-toxic and odorless, physical decontamination.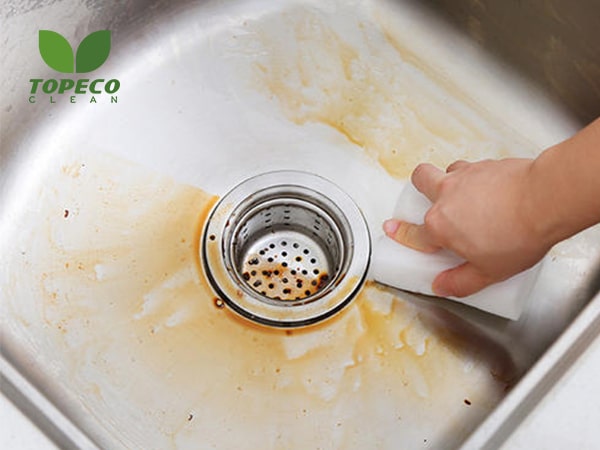 Stylus Cleaning
Magic sponges are not only cheaper than any commercially prepared solution but they give you actually much better results with it than you ever did using a traditional cleaning sponge. Best cheap prices for you: you can buy a package of Topeco Clean magic sponge in the supermarket for a few bucks. Besides, the magic sponge worked out well for you and your stylus seems none the worse for wear for having used it. For more caked-on dirt or smaller stuff, the Magic Eraser is a really good option that will produce good results.
For the money, you can't beat it. If you're really into saving money, just buy some topeco clean melamine foam. It is cheap but with a significant effect. Just cut the magic sponge into the smaller piece as you need, and lower the needle onto the magic sponge a couple of times with a gentle wipe of the stylus. You'll easily tell a difference after using it.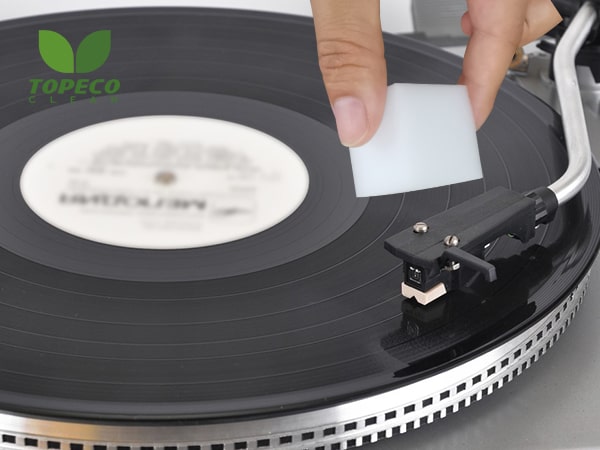 Used in a Flowerpot.
Place the magic sponge at the bottom of the pot and cover the flower soil with the nano sponge. When watering the flowers the sponge will act as a water reservoir and will provide sufficient water to the flowers for a longer period. Which not only alleviated the problem of saving money on cleaning but also saved water resources and time.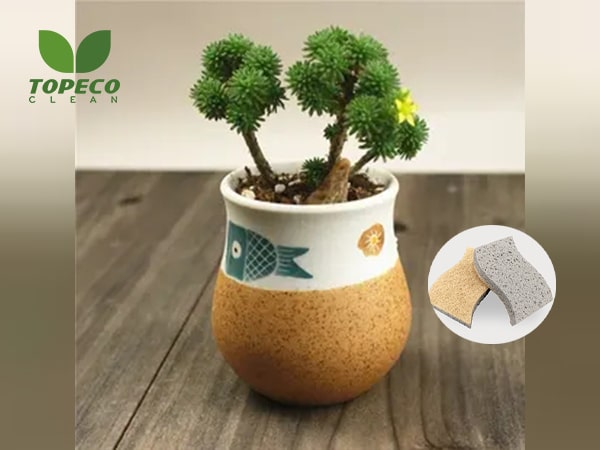 A Magic Sponge DIY can be Used Instead of Soapbox
High-density nano sponge cut into a shape suitable for placing soap size, use high-density nano magic sponge instead of soap box. Place the soap on the high-density magic sponge, and the high-density nano sponge will absorb the water from the soap after each use. Keep the soap dry. You can also use the bottom side of the high-density magic sponge as a cleaning sponge to clean the sink, killing two birds with one stone.